Radishes (Raphanus sativus) are a popular addition to the home garden, and many growers are interested in how to plant radishes. These veggies come in different varieties, adapted to environmental factors such as light and temperature. They're available in a stunning array of colors and shapes, including round, rectangle, cone shapes, and white, red, yellow, purple, and multicolored versions.
Varying types of radishes are crisp but have different tastes and spiciness. Radishes are root crops similar to parsnips, with a surprising versatility; serve them in several ways. There is a good range of radish varieties the home gardener may choose from.
If you're ready to start planting radishes but unsure about how far apart to plant radishes or how to produce a large harvest of these edible root vegetables, this article covers the many sorts of radishes, typical forms of radishes, and how to grow them, whether you're looking for new radish types to extend your palate or hunting for the perfect radish variety to grow in the garden.
Planting Radishes – A Comprehensive Guide
Radishes are a popular root vegetable known for their tangy flavor and crisp texture, and they're one of the most uncomplicated veggies to cultivate. Are turnips and radishes the same? They are different veggies but have similar growing requirements. Early spring and early fall planting ensure a steady supply of crisp, spicy roots, whether radishes or turnips.
Radishes are a terrific garden companion plan and a good source of vitamin C; every part of the radish is edible. Though these peppery roots are typically used in appetizers, stir-fries, and salads, they're delectable roasted, steamed, or sautéed.
To begin planting radishes, read on to find out how to plant radishes, how far apart to plant radishes, how to care for and harvest your produce, and what to plant after radishes are done producing.
Types of Radishes for the Home Garden
Getting ready to plant radishes begins with selecting the most appropriate variety for your garden and tastes and purchasing high-quality radish seeds from a trusted source such as Burpee.
Each cultivar offers a unique flavor profile and appearance, some being colorful and rich while others are pale and pithy. Radish varieties are also classified by their growing season, with spring varieties or early varieties, midseason varieties, and late or winter varieties.
Spring radishes mature in 20-30 days during the milder months of early spring and fall. Midseason varieties of radishes, which are more heat resistant, are planted in succession from May to late summer for a steady supply.
Summer radishes are smaller and grow in 30-40 days. Plant radishes in zone 6 around June or July. Late-season radishes, known as winter radishes, are planted all year in hot weather areas and cool weather climates from late summer until October. Winter radishes have more broad roots and take longer to grow, taking 60-70 days.
How to Plant Radishes
The best way to plant radishes is to choose a spot in full sun with rich, loose soil that drains well. Growing radishes in containers indoors or out or in a raised bed is an alternative to direct sowing. Because radishes grow quickly, it's possible to plant them amid slower-growing plants like carrots as the radishes are ready to harvest before the other plants demand more space.
The ideal way to grow radishes is to plant radish seeds after the last frost by gently pressing each seed into the soil to about a half-inch depth. Water the radish seeds and cover them with a black plastic row cover or plastic bags to encourage germination.
How Far Apart to Plant Radishes
Correct radish plant spacing is critical for success when planting radish seeds, whether you grow your daikon radish plants or Cherry Belle. Radishes are good for loosening up the soil, but ensure the greenery around them doesn't shadow them.
They tolerate partial shade and thrive with at least six hours of sun each day. Similar to growing parsnips, plant your radish seeds 1-2 inches apart and about 1/2 inch deep. For the optimum crop, place rows three inches apart to allow room for growth.
Radish Plant Care for a Huge Harvest
Radishes prefer full sun, and those in partial shade may survive, though they expend more energy on cultivating leaves rather than root growth. They like loamy or sandy soil rich in organic matter that drains well and has a pH range of slightly acidic to neutral.
The ground must not be too heavy or compact to allow the roots to grow properly. Radish plants, on average, require one inch of water every week and mulch aids in water retention.
Dry soil or higher than optimum temperature cause plants to go to seed or bolt, lowering the radishes' quality by making them pithy. Common radish pests to avoid include flea beetles and root maggots. Treat any signs of pests quickly to prevent a reduced or destroyed harvest.
Harvesting Radishes
Check the seed packaging to know when your radish type is ready to harvest. Generally, you may harvest radishes when the roots attain a diameter of about one inch. The radish plant's heads frequently climb above the soil, but you may have to take a radish out to determine if it's ready.
Harvest radishes as soon as possible to ensure good flavor and delicate texture. Pull up the entire radish plant and chop off the tops and thin roots to harvest. The radish bulb loses moisture and nutrients if the leaves are left on.
Enjoy the green tops raw or cooked; they keep in the refrigerator for a few days. The bulbs last 1-2 weeks when stored in the refrigerator drawer. They're great raw or cooked and ideal for soups, salads, and other foods.
Radishes are a delightful gardening project for any grower level, and they grow in even the tiniest of gardens, raised beds, or containers. Radishes are annuals belonging to the Brassicaceae family of vegetables, along with cabbage and kale. They are fantastic contributors to the vegetable garden, just like the other cabbage family members.
Because there are so many types of radishes, adding something distinct to the home garden is simple by choosing radish varieties that aren't commonly found at the grocery store. Add a few radish cultivars to your garden and reap the benefits of fast-growing, flavorful root vegetables.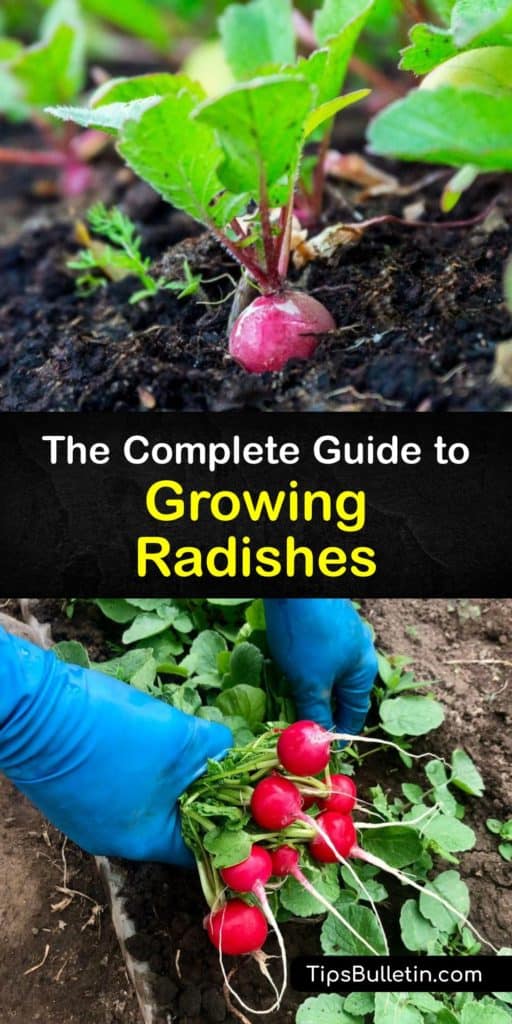 If you loved this article on how to plant radishes, please share these clever tips for planting radishes with your friends and family on Pinterest and Facebook.