Scallions are versatile and easy-to-grow veggies, making them an ideal choice for any garden. The green tops and small bulbs get used in fresh salads, as a garnish, or lightly cooked in soups and stir fry. In this article, discover how to plant scallions in your garden, raised beds, or in a pot on your patio or kitchen windowsill.
Scallions are also called bunching onions, green onions, spring onions, and Welsh onions. They're in the Allium family and are closely related to chives, garlic, leeks, and shallots.
Their common names usually refer to Allium fistulosum, a cultivar of perennial, non-bulbing onion plants with a mild flavor. Sometimes regular onions, or Allium cepa, are harvested early and sold as green onions.
What to Know about Planting Scallions
Scallions have a remarkably short growing season and are ready to harvest in as little as 40 days. They require a place to grow that gets full sun and has rich, moist soil. Read on to find out all you need to know about planting scallions at home.
Growing scallions in your garden is incredibly straightforward as long as you provide them with the proper growing conditions. Select a planting site that receives six or more hours of direct sunlight throughout the day. Since they're perennial plants, be sure to select a site where they can grow undisturbed year after year.
How far apart to plant scallions depends on which variety you're growing. Read the seed packet or plant label for cultivar-specific planting recommendations.
A week or two ahead of planting scallion seeds, add a generous amount of organic compost to your garden soil. It's also beneficial to cover your garden bed with a layer of dark-colored mulch or black plastic to warm the soil to help the seeds germinate faster.
On average, scallions require one or two inches of water per week, depending on heat and rainfall levels. Scallion plants have shallow root systems and suffer when competing for space, water, and nutrients with weeds. Use a generous layer of mulch to protect the soil, hold in moisture, and reduce weed growth.
What is a scallion? A type of onion, scallions are heavy feeders and benefit from a fertilizer boost while they grow. Use an organic, nitrogen-rich fertilizer every four to six weeks throughout the growing season for optimal results.
There are two options for harvesting your scallions. Snip the fresh green leaves as needed once they're at least six inches tall, or harvest the whole plant after six to eight weeks and use the white bulb and stalk as well as the leaves.
How to Plant Scallions from Seeds
Since the different types of scallions grow so fast, most gardeners take care of growing scallions from seed directly in their garden beds as soon as they can work the soil in early spring, or purchase nursery-grown seedlings from your local garden center for transplanting after the last frost date for your area.
Plant scallion seeds or a scallion replacement like green onions a quarter-inch deep, then gently water them in. Take care not to displace the seeds. Scallion seeds normally germinate in seven to 14 days when the soil temperature is between 60-75℉.
Germination takes a bit longer in cold soil. There is no difference between shallots and green onions or shallots when it comes to planting seeds.
When to Plant Scallions
The best time for planting scallions is generally in early spring, as soon as the soil temperature is consistently above 40℉. However, they're an ideal fall crop, too.
For a spring scallion crop, sow seeds around the typical last frost date for your area. In the fall, plant scallions six to eight weeks before your desired harvest date.
In mild climates, it's possible to keep your scallions growing throughout the winter in a cold frame or unheated greenhouse. Otherwise, the plants go dormant until the following spring.
How Far Apart to Plant Scallions
For the best possible harvest, it's essential to know how far apart to plant scallions when you grow scallions at home. Once mature, the plants form clumps that grow up to two feet wide and three feet tall. Spacing between plants should be at least two to three feet.
Planting Scallions in Containers
If you don't have a veggie garden or raised beds at home, don't worry. Planting scallions in a container is also possible. Grow them on your patio, porch, or a sunny kitchen windowsill.
Use a pot at least six inches deep and eight inches wide and has drainage holes at the bottom. Plant your scallion seeds directly in the pot.
Choose a potting soil blend that's well-draining and rich in organic matter. Ensure it has added perlite for drainage, coconut coir or peat moss for moisture retention, and organic compost or fertilizer for slow-release nutrients. You can also prepare a DIY potting mix using this easy recipe.
Mix the ingredients in a wheelbarrow or large bucket using a hand trowel, spade, or garden fork. Try to use all of your homemade potting mixture at once if feasible. Otherwise, store it in a sealed container in a cool, dry place.
If you're feeling up for a fun and rewarding DIY project, make the most of your kitchen scraps by regrowing scallions from the root end. For the way to grow scallions from scraps, trim the stem where it turns from green to white and submerge the roots in a shallow glass of fresh water on a sunny windowsill.
Within several days, new green shoots begin sprouting. Replace the water every few days and harvest them once they're several inches long. You'll typically get three or four extra harvests from the small bulbs.
Solutions for Common Pest and Disease Problems
Although scallions are generally easy to grow, they occasionally experience pest and disease issues. Healthy plants are considerably more resistant to attacks from insects or pathogens. Appropriate amounts of light, water, and fertilizer are their best defense.
Aphids, leafminers, onion maggot, and thrips are some of the most prevalent insects that feed on scallions. Protect them with floating row covers throughout the spring to keep insects from laying eggs on the tender young plants.
Spray all parts of the plants with an organic insecticide treatment like neem oil or insecticidal soap when you notice the first signs of an infestation.
Keep in mind that the use of insecticides also affects beneficial insects like pollinators and predators. Only spray affected plants, and take advantage of cultural controls like companion planting to repel pests away from your garden.
Downy mildew and powdery mildew are commonplace fungal diseases that thrive in damp conditions. Symptoms include yellow and brown blotches on the leaves that eventually develop fuzzy-looking white, grey, or purple spores.
Allow your garden soil to dry out entirely before rewatering and ensure that your plants get adequate airflow. Treat affected plants with organic copper or sulfur fungicide.
Planting scallions in your home veggie garden is worth the effort. When to harvest green onions is easy. In just a few weeks, you're rewarded with a bumper crop of fresh green shoots. All they need is full sun, well-draining soil, and occasional fertilizing.
Plant outstanding varieties like Guardsman or White Lisbon. They're remarkably cold-hardy and come back year after year. Or, save the root end of scallions from the grocery store and regrow them in a glass of water on your kitchen windowsill.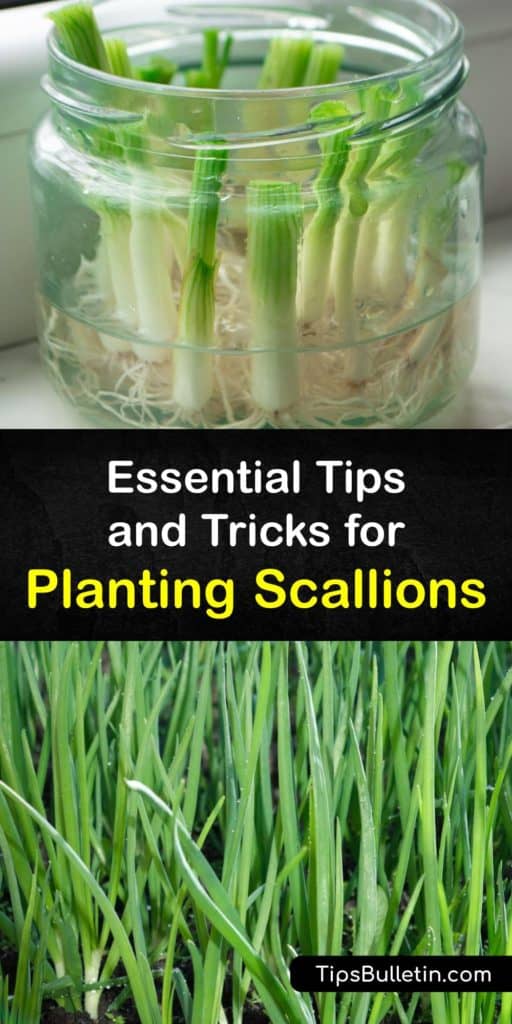 If you found these gardening tips useful, please share this article about how to plant scallions with your fellow gardening enthusiasts on Pinterest and Facebook.