Many believe that the stunning beauty of marble flooring is almost immeasurable with its luster and striking patterns. This natural stone material adds a touch of luxury to any home, whether you use it for countertops, flooring, or marble tile. Knowing how to polish marble floors prevents dull spots from diminishing the natural beauty of marble floors.
Marble is commonly used as a building material in homes and is available in white or variegated coloring. While it is rich in style, marble is a soft and porous stone that needs special care to ensure that it maintains is shine.
While it has the advantage of its richness, it also has some disadvantages. It stains easier than other natural materials and is prone to scratching. In other words, you must do some extra work to keep those floors looking their best.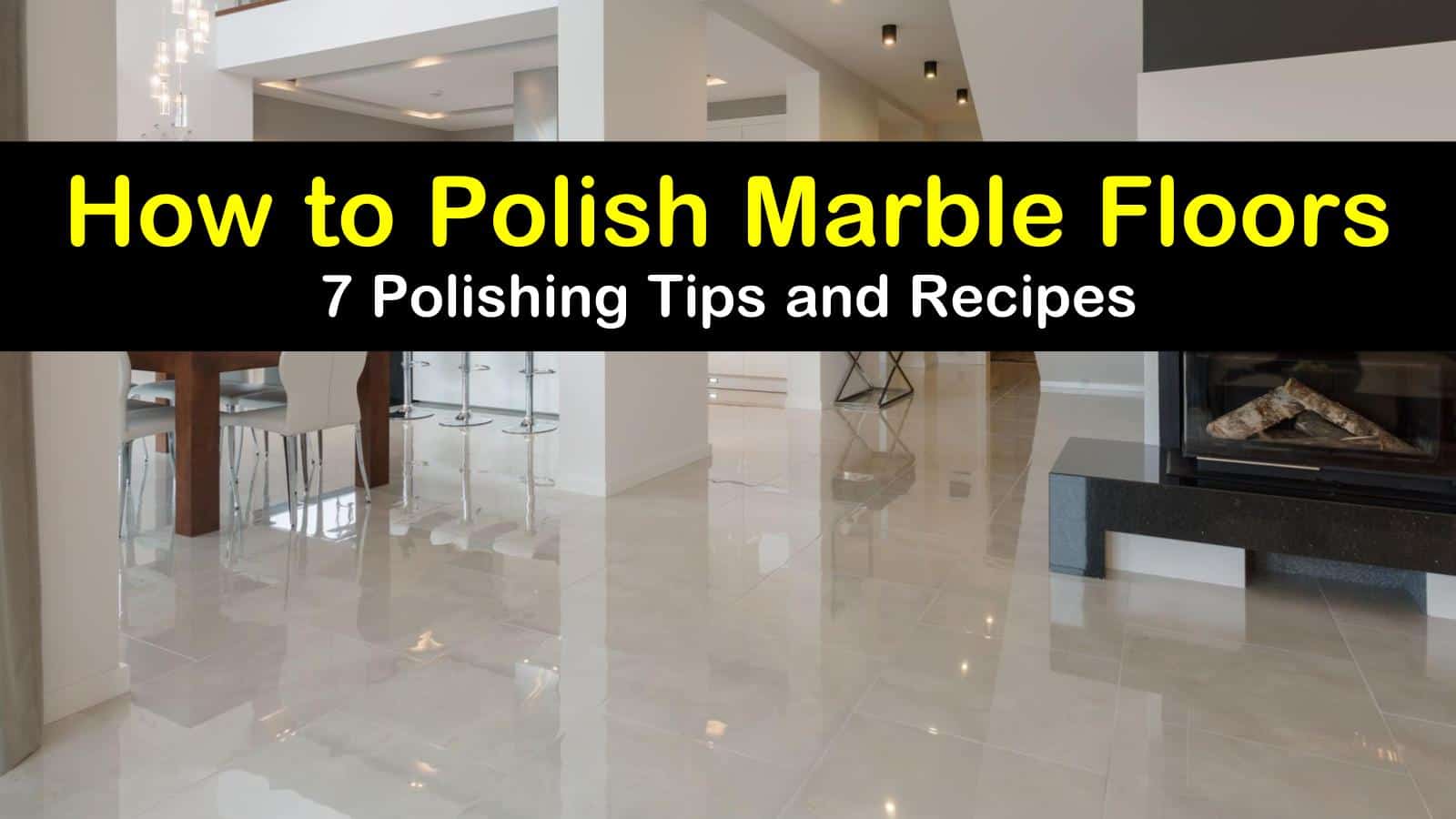 Polishing Marble Floors
With its porous surface, marble floors should be resealed using a proper marble sealer once every six to 12 months. The sealant protects the marble flooring from staining.
We have cleaning and polishing methods you can use for both natural marble floors and cultured marble floors, as well as honed and polished marble surfaces.
What to Do Before You Polish a Marble Floor
Before you polish marble floors, sweep away any dirt or dust and use a marble floor cleaner to prepare the surface for polishing. Not taking these steps before you polish the marble could cause scratching to the surface.
While you can use many standard ingredients to clean marble floors, we recommend avoiding acidic cleaners such as lemon juice or vinegar and abrasive scrubbers.
This simple recipe is the best way to clean marble floors before you polish them. Begin by dry mopping the marble flooring to remove any sand, dirt, and dust. Combine the water, soap, and baking soda in a large bucket and mix.
Dip a soft cloth or sponge into the soapy water and clean the floor in sections, making sure to re-dip the sponge as you move along. Dry the floor with a soft towel as you go over each new area. Your floor is now ready for polishing.
Light Cleaning and Polishing of Marble Floors
This solution works well for light cleaning and buffing of a marble floor to remove dirt residue and bring back the floor's shine. It's also an easy DIY slate floor cleaner that works on almost any surface to eliminate grime.
Fill the bottle with water and squeeze in some liquid dish soap to make a simple marble or slate floor cleaner. Begin at one corner of the room and spray the floor cleaner onto the marble or slate. Use a soft sponge to clean away any dirty residue.
Use a chamois cloth to buff the area dry. Continue until the entire floor is clean and polished.
How to Remove Stains from a Marble Floor
If you notice a stain on your marble floor, it is vital that you take care of it right away and before you proceed with marble polishing. Marble is porous, so stains that sit for too long can be more challenging to remove. Use this method for cleaning marble stains off the floor.
Combine enough water and baking soda in a bowl to form a pasty substance. Apply the poultice onto the stained area of the marble and cover with a sheet of plastic wrap.
Leave the plastic in place for approximately 24 hours to give the baking soda the time it needs to absorb the stain. Remove the plastic, and use a damp cloth to wipe away the paste and stain.
This solution is ideal to remove water stains from marble floors, sinks, or countertops.
Homemade Marble Floor Polish
Polished marble is used most commonly for kitchen countertops but is used for flooring, as well. It doesn't stain as quickly as honed marble but is more prone to scratches. This homemade marble floor polish can be used to bring the luster back to your polished marble flooring.
To effectively clean marble countertops, pour powdered chalk into the container. Moisten the sponge with water and then dab it into the chalk. Rub the sponge onto the marble in sections using circular motions.
Apply chalk to the sponge as you go along. Go back over each area to rinse away the residue using a damp microfiber cloth. Make sure you completely remove the chalk solution.
Polishing Marble Flooring
While honed marble is not as shiny as polished marble, it has its advantages. It is more commonly used for flooring because it is less slippery and more scratch-resistant than polished marble. Use this method for polishing honed marble flooring.
Combine the water and baking soda in a bowl and mix well. Dip a soft sponge into the mixture and apply a thin layer to the floor surface by using gentle, circular motions. Allow the floor to dry for five hours.
Use a slightly wet cloth to rinse away the dried baking soda using the same circular motions. Follow this by repeating the same technique using a dry microfiber cloth to buff the floor.
How to Polish Marble Floors With Commercial Polish
There are a variety of commercial stone polishing and cleaning products on the market if you'd prefer not making a homemade recipe for floor cleaning and polishing.
Find these products at a home improvement store. These steps show you how to clean and polish your marble floor using these products.
Spray the surface of the floor with the marble stone cleaner, use a soft sponge to wipe the area clean, and wipe the section dry with a chamois cloth. If you have a tiled floor, make sure to wipe away the cleaner from the grout lines. Continue moving in sections until the floor is cleaned and dried.
Spray the stone polish onto a portion of the floor and buff the area with a soft cloth. Repeat this process in each section until the entire floor has been polished.
Cleaning and Polishing Marble Flooring
After polishing marble flooring, there are a few steps you can take to ensure that it stays clean and shiny. You can also use this strategy to maintain Travertine and Terrazzo floor surfaces.
The essential step in keeping your marble floor shiny is to use a dust mop to clean it regularly to remove sand, dirt, and dust. It will act as a buffing tool to boost the shine of your marble floor in between cleaning.
Another important tip in maintaining your marble flooring is to step into action as soon as you notice a spill or stain. Begin by using a paper towel to dab the stain off the floor, then make a solution of soap and water to clean away stains from dark-colored marble.
For light-colored marble, use hydrogen peroxide to remove the stain. If you're unsure about using hydrogen peroxide, you can test it in an inconspicuous area for colorfastness. Rinse with water and buff the area with a dry chamois.
By using the right polisher, you can eliminate discoloration and dullness on your marble stone surfaces that are a result of scratches and stains. Using simple ingredients such as baking soda to make a polishing powder can save you both time and money, without sacrificing the final result.
You can now begin buffing your way back to a luxurious and beautiful marble surface, whether it is marble flooring or you have marble countertops.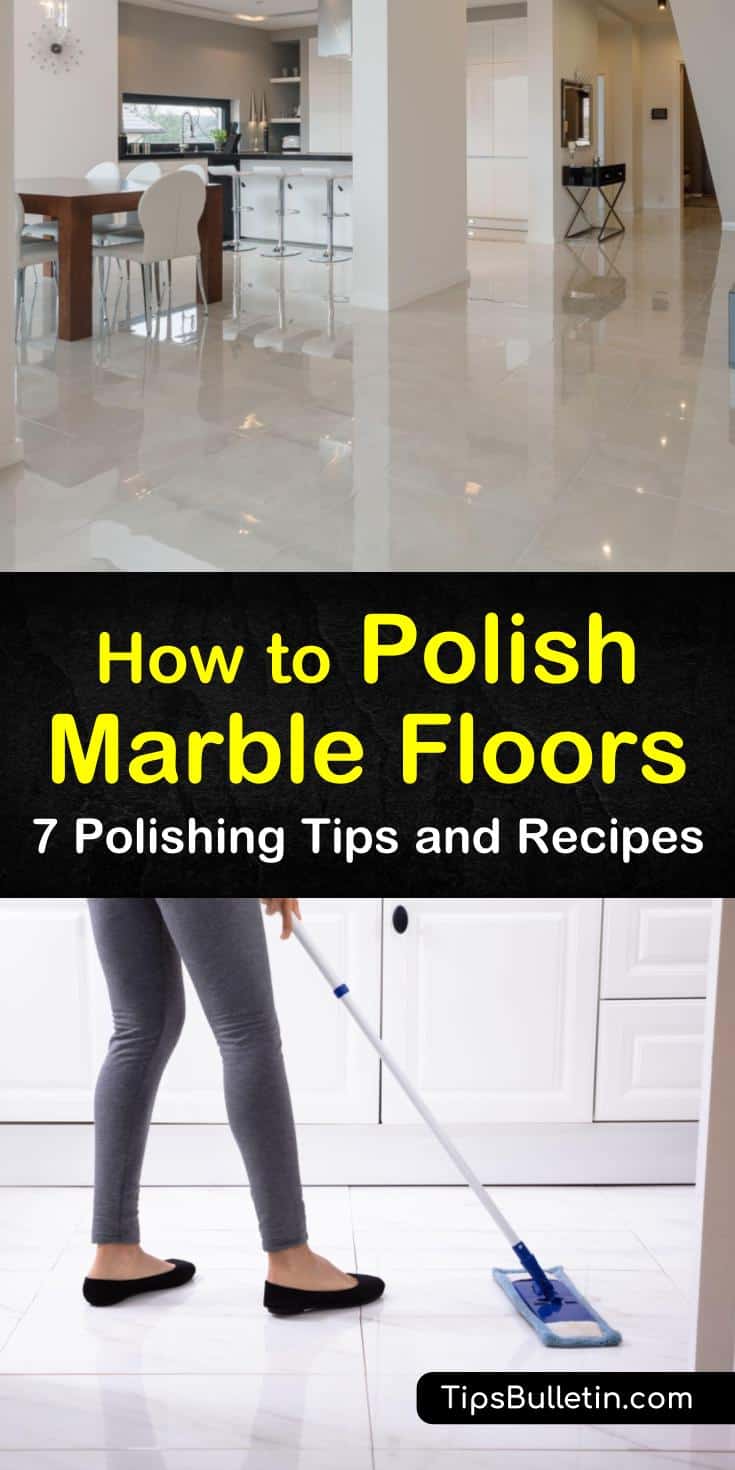 We hope you enjoyed learning how to polish marble floors using mild ingredients and that you'll pass these marble floor polishing tips on to your family and friends on Facebook and Pinterest.