Juicy, sweet ripe peaches are a summertime delight. Read on to find out how to preserve peaches to savor this summery stone fruit year-round. We love eating peaches baked or grilled and in peach pie, perhaps with a scoop of ice cream.
Thankfully, this fruit is nutritious as well as delicious. Enjoy peaches fresh, canned, or frozen to get your vitamin C and vitamin E, beta-carotene, fiber, and potassium.
The first step for preserving peaches is picking ripe specimens at the grocery store or farmer's market. They should feel heavy yet give slightly upon pressure. Look for a strong peach fragrance and vibrant color.
Also, note the type of peach. It's easier to remove the pit from freestone peaches than from clingstone ones.
Another common distinction is yellow versus white peaches. The yellow-fleshed ones have a sweet yet slightly acidic taste, while white peaches are uncomplicatedly sweet, besides being softer.
Preserving Peaches
Before you start preserving your peaches, you need to know how to tell if a peach is ripe. Unripe or overripe peaches will not give you the best result after storing them.
How to Peel Peaches: The Blanching Method
Several ways to preserve peaches require peeling them. Carve an X onto each peach's bottom. To blanch the fruits, heat a large pot of water. Dip the stone fruits into the boiling water for 30 seconds.
Dunk the peaches in a bowl of ice water using a slotted spoon. The ice bath halts their cooking. Rub the cooled fruits to remove their peels. Use a knife if necessary.
Store peeled peaches in antibrowning liquid. Combine one gallon of water with one teaspoon of ascorbic acid crystals or two tablespoons of lemon juice.
Canning Procedure
Canning is one of our favorite ways to preserve peaches, as well as being the easiest way to preserve tomatoes, but has specific steps. Immerse canning jars in boiling water for five minutes to sterilize them. To process filled jars, submerge them in a hot water bath.
Remove the water bath canner or pot from the heat. Wait five minutes with the lid off, then transfer the jars to a towel. Remove their rings.
Test the seal after 24 hours. The lids should be concave in the center and should not spring up.
Preserving Peaches in Jars: Cold Packing
This technique involves pouring hot syrup over peach slices. Two to three pounds of peaches fill one quart jar.
Gently boil the water and sugar in a saucepan to dissolve the sugar, stirring constantly. Pack peeled peach slices into jars, leaving a half inch of headspace.
Ladle the hot syrup into the jars. Run a chopstick along the glass to remove air bubbles—screw on the lids.
Pint jars need 25 minutes of processing, and quart jars, 30. Canned peaches last one to two years somewhere cool and dark. Open jars last about two weeks in the fridge.
Canning Peaches: Hot Packing
Cold packing might result in floating peach slices, the liquid seeping out, and the jar not sealing correctly. Hot packing avoids those issues. Once the sugar dissolves, insert the peach slices. Bring to a boil, then shut off the burner.
Ladle the peach slices into jars and cover them with syrup, leaving a half inch of headspace. Process the jars for 20 minutes for pint jars and 25 minutes for quarts.
Different Ways to Preserve Peaches: Syrup Variations
Modify the sugar ratio to adjust the syrup's sweetness and thickness. You may also replace the honey with sugar.
Alternatively, use apple, pear, or white grape juice instead of water. For four pounds of peaches, bring six cups of juice to a simmer, then add the fruit to the hot liquid. Consider putting flavorings like vanilla beans and cinnamon sticks in the jars.
Preserve Fresh Peaches in Jam
Making jam is another of our favorite ways to preserve peaches and is also a delicious way to preserve fresh strawberries.
Cook the peaches and water over low heat for ten minutes, then add the sugar. Slowly bring to a boil. Stir occasionally until the sugar dissolves.
Continue cooking, stirring frequently, until the jam has thickened—about 15 minutes. Pour it into eight half-pint jars, leaving a quarter inch of headspace. Process the jars for five minutes.
Store the jam somewhere cool and dark for up to one year. Keep opened jars in the fridge for up to three weeks.
Preserving Peaches in Jam with Pectin
If you're feeling slightly more ambitious, try using pectin for preserving peaches.
Bring the peaches, pectin, and lemon juice to a rolling boil in a large pot, stirring constantly. Add the sugar and spice, then boil the mixture for exactly one minute, stirring constantly.
Remove the pot from the heat and skim off the foam. Pour the jam into six half-pint jars, leaving a quarter inch of headspace. Process the jars for five minutes.
How to Preserve Peaches in an Instant Pot
This recipe only requires four ingredients and familiarity with using an Instant Pot.
Add the peach, honey, and lemon juice to the Instant Pot, then seal it. Run the device on manual mode at high pressure for one minute. Let the pressure release naturally.
Carefully open the lid, then switch to sauté mode set to "Less." Let the jam cook for 15 minutes, stirring occasionally, until it has thickened. Turn off the Instant Pot, and add the vanilla.
Store the jam in containers in the fridge for up to one week or freeze it in small jars, thawing them in the refrigerator overnight.
Make Preserves from Peaches
Try preserves if you like a chunkier spread for toast.
Crush one cup of peaches in a large saucepan, then add the remaining peaches. Cook at a low boil over medium-low heat for about 20 minutes until the fruit turns liquidy.
Pour the peaches into a large bowl, then return six cups to the pan with the sugar. Bring to a boil over medium heat.
Gradually add the pectin, and boil for another minute. Remove from the heat, then add the reserved peaches. Transfer the preserves to jars and process them for ten minutes.
How to Preserve Peaches with Flash Freezing
While freezing whole peaches is possible, slicing them is better. To freeze peaches, soak peeled slices in antibrowning liquid. Arrange drained slices on a parchment paper-lined baking sheet. Freeze the tray for several hours or overnight.
Transfer the frozen fruit to freezer bags, labeling them with the quantity and date. Peaches last about six to twelve months in the freezer before they start developing freezer burn.
This simple procedure is also ideal to preserve watermelon, avocado, and a variety of other fruits.
Add frozen peaches directly to smoothies and baked goods. To thaw, stick them in the fridge overnight or soak the freezer bag in cold water for 20 to 30 minutes, then drain the fruit.
Freeze Peaches in a Sugar Pack
Arrange peach slices in a layer at the bottom of a freezer-safe container. Sprinkle lightly with sugar. Repeat with more fruit and sugar layers.
Leave one inch at the top of the container. Let the peaches sit for about 15 minutes until they're juicy, then put them in the freezer.
Dehydrating: The Best Way to Preserve Peaches Long-Term
Dried peaches give granola a boost. Dip peach slices in antibrowning liquid, then drain them well. Place the pieces on a dehydrator tray or mesh insert.
Dry the fruit at 135 to 140℉ until it's leathery and crisp—about 8 to 12 hours. Store the peach slices in an airtight container out of direct sunlight.
Preserving Peaches by Making Simple Syrup
Add peach flavor to drinks and desserts with this colorful syrup.
Bring the ingredients to a low boil in a saucepan and stir, mashing the peaches slightly. Cover the pot and simmer for five minutes. Remove from the heat and let the mixture cool with the lid on. Strain the syrup into Mason jars. Refrigerate it for up to two weeks.
Salsa: How to Preserve Peaches for Savory Meals
One unique way for how to store peaches is to make a peach salsa. Serve this salsa with tortilla chips or fish.
Package the pickling spice in a cheesecloth bag. Soak the peach and apple halves in antibrowning liquid, then drain and cube them. Add the fruit, chopped vegetables, pickling spice, and remaining ingredients to a large saucepan, bringing them to a boil.
Simmer for 30 minutes, stirring occasionally. Discard the spice bag. Divide the salsa between seven pint-sized jars, leaving a half inch of headspace. Process the jars for 15 minutes. Store the cooled jars on a shelf.
For an unusual but tasty alternative, pickle peaches. You can pickle virtually any fruit for a nice twist.
You've now learned different ways to preserve peaches, from traditional methods like canning and freezing to making simple syrup or salsa. Although nothing compares to biting into a fresh peach, enjoying peach flavor in the dead of winter comes close.
Are you feeling inspired? We encourage you to put your newfound knowledge about how to preserve peaches to work. Start by considering how you intend to use the preserved peaches and how much time and effort you're willing to put in.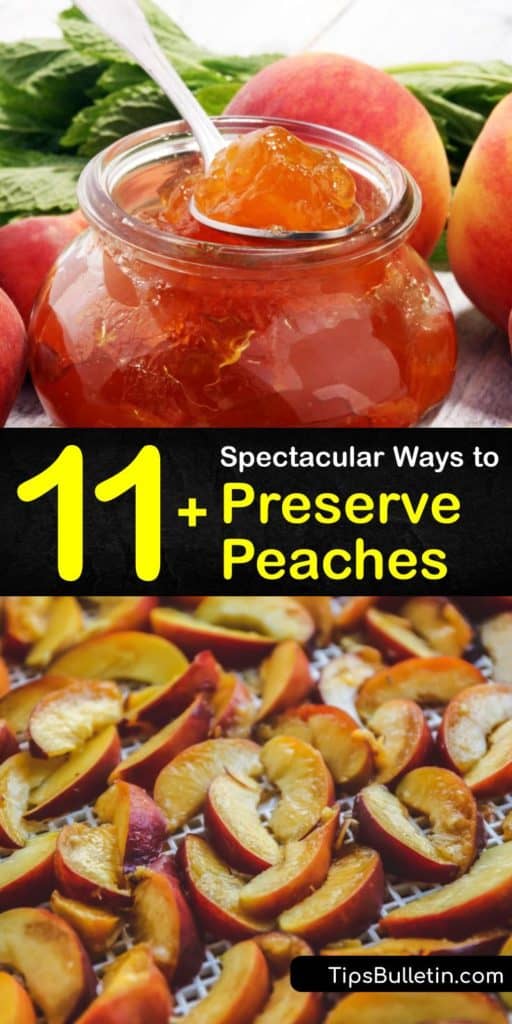 If you enjoyed these peach recipes, please share these food preservation tips with your friends on Facebook and Pinterest.