Ink blotches and permanent marker smudges are some of the most frustrating stains to deal with at home, especially when they make their way onto furniture like your couch. It becomes even trickier to remove them without running them through the washer. However, there are plenty of different ideas available to show how to remove permanent marker from a fabric sofa.
All are simple enough for anyone to follow. Even with removable couch cushions, running them through the washing machine opens up the possibility of shrinking the material and causing irreversible damage.
As a result, identifying new ways for how to remove ink from a couch cushion using some good old-fashioned elbow grease and a DIY solution is ideal. In many cases, you can clean upholstery with baking soda or other everyday household items like toothpaste.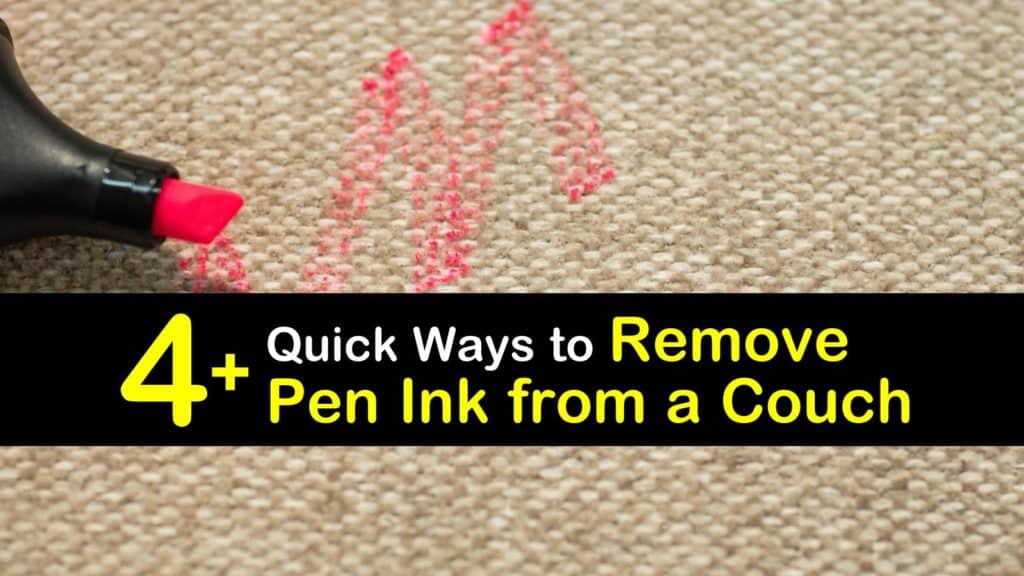 How to Remove Ink From a Couch
When it comes to challenging fabrics like microfiber, however, your options for removing those pesky ink stains narrow significantly. Luckily, we have all the necessary information here!
The first thing you should check before starting the cleaning process is the manufacturer tag, which provides handling instructions and the cleaners that are safe to use on the specific fabric.
Those couches with a "W" label require a water-based solution, while those with an "S" need a solvent-based cleaner. Sofas bearing an "X" need a professional dry cleaner to remove stains and should only be treated by vacuuming or brushing.
Eliminate Permanent Marker Stains With Toothpaste
You may be wondering, "What gets ink out of fabric?" One of the best options for how to remove pen ink from a sofa is using a combination of baking soda and toothpaste. Sharpie does come out of clothes this way, too.
When combined, these two simple ingredients create a fabulous DIY cleaning agent capable of lifting away even the toughest of stains.
A non-gel white toothpaste without bleach added is perfect for the task when selecting the best type of toothpaste.
Combine equal parts of the two ingredients until they blend thoroughly into a thick paste as one way to remove highlighter stains from fabric. Apply the mixture to the spot and begin gently scrubbing it into the material using a toothbrush.
Let it soak into the fabric for several minutes before rinsing away with cool water. Let it air dry when finished. Also, use this method to get permanent marker off walls, stainless steel countertops, or wood floors.
Incidentally, if your sofa has an unpleasant odor, aside from a stain or two, baking soda is an excellent tool to use with vinegar to eliminate the unwanted aroma. Mix the two in a spray bottle and lightly spritz the furniture disinfectant spray on the surface. Wait for it to dry before using the couch again.
How to Remove Pen Ink From a Sofa
Understanding the best ways to get nail polish off a couch poses its own unique set of problems. Microfiber upholstery is a sensitive material that requires an extra level of care and consideration when cleaning, especially when using a solvent-based solution.
The best cleaning products to apply in this case are rubbing alcohol and vinegar. Also, toss in some essential oils to leave the area smelling fresh and clean.
When attempting to clean microfiber chairs and sofas, it is crucial not to saturate the material or the cushions beneath. Instead, mix the ingredients in a small spray bottle, then lightly mist over the area in question.
Scrub the permanent marker stain with a clean cloth using a circular motion until all traces vanish. If the stain remains afterward, use multiple applications of the spray before seeing results.
Once finished, soak up any lingering moisture by dabbing the area with a dry cloth, then vacuum until adequately dry.
Get Rid of Stains on Leather With Hairspray
Leather is another tricky fabric to clean since most stain remover options tend to dry out or bleach the material when it comes into contact with it. One of the best ideas for getting rid of ink stains on couch cushions made of leather is to use an oil-free hairspray.
Start by spritzing the area with the aerosol hairspray, then letting it soak into the material. When eliminating permanent marker on leather, do not scrub the area.
Instead, try blotting at the stain with a paper towel or a clean white cloth until the stain lifts away. For added help, use a Magic Eraser to rub out the stain gently. Avoid using harmful cleaning agents like nail polish remover and bleach.
How to Remove Permanent Marker From a Fabric Sofa
Another simple solution for removing Sharpie is to use hand sanitizer. This method effectively removes most ink stains, including those from a Magic Marker or a dry erase marker. It's an easy way to get permanent marker off wood or other types of surfaces if you don't have anything else handy.
Place a small amount over the stained patch of fabric, then wipe either with a cotton ball or damp cloth. This strategy also helps if you've accidentally applied a permanent marker to a whiteboard instead of the erasable kind.
Using a pencil eraser also helps scrub away part of the stain when cleaning. Run the eraser over the stain when dry to remove as much of the top layer as possible. This procedure may require multiple attempts and a combination of techniques but is generally sufficient.
How to Remove Ink From a Couch
Sometimes the only way to remove Sharpie from your couch is by using more robust supplies. When dishwasher soap, baking soda, and other basic cleaning agents fail to work, adding a little bit of hydrogen peroxide or Windex is another viable option.
One of the first things to check before attempting this method is whether the cleaner stains the material. Apply a small amount of the stain remover to a small inconspicuous area of the couch first, then wait for results before applying to a larger, more apparent location.
Rinse the spot with cold water after cleaning to prevent any damage from happening to the fibers afterward.
While pen and marker stains are unavoidable, they are soon a problem of the past with these easy steps for how to remove ink from a couch. Whether you are searching for the perfect spot treatment or the simplest way to clean removable couch cushions, these are some of the best options.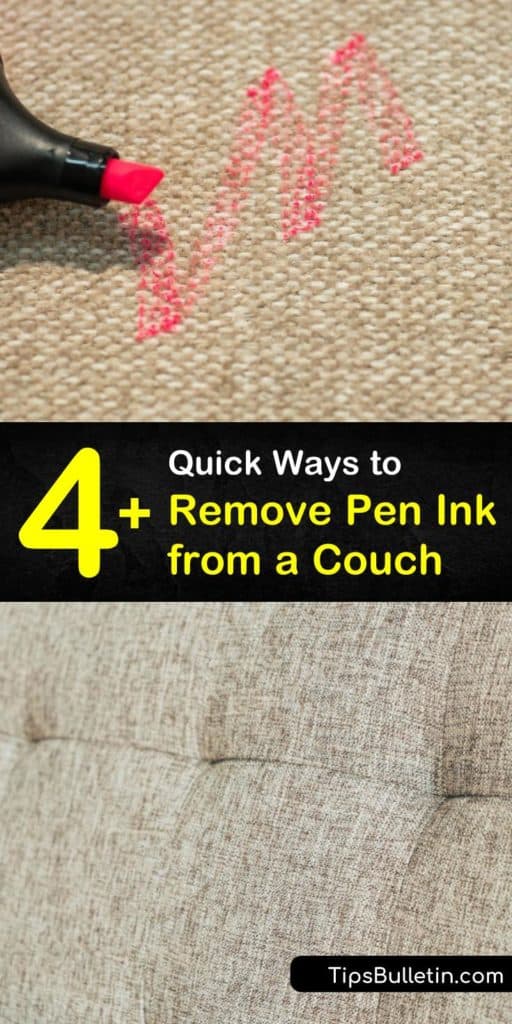 If you found these ink stain removal tips useful, please remember to share how to remove permanent marker from a fabric sofa with friends and family on Facebook and Pinterest.