When it comes time to design your landscape, one thing you need to consider is the best plants for shade. Everybody knows how to survive in life; plants need sunlight and water. What people often forget is that not all plants require the same amount of water or sunlight as others.
Drought tolerant plants require less watering than other plants, while shade-loving plants require less sunlight. All too often people leave shady spots alone in their gardens and flower beds because they mistakenly assume plants won't do well there. The key is picking the right plants that grow in shade.
When selecting plants for shaded areas, you will be limited in terms of choices, but you won't have to sacrifice when it comes to color. There are several perennials and even some annuals that will give your garden that pop of color in full to part shade.
How to Select Plants for Shady Areas
When you are selecting the best shade plants for your garden, you need to consider your growing zone, as some plants thrive better in specific growing zones than others. Once you have narrowed down the shade tolerant plants that thrive in your growing area, pick out the plants that work best for your shade garden.
Your garden and flower beds will have different degrees of shade, so think about shade degrees when making your selections. Choose from annuals, perennials, and beautiful ferns for multiple areas of interest in the garden.
For the back and center of your garden, look for plants for deep shade, while borders and the front of the beds on average receive more sunlight. Match your plants' preferences and tolerances for shade and sunlight when determining where you will plant them in your yard as this will give these plants the ability to reach their full potential.
Sometimes your best choice when looking for shade plants is to find plants native to your area that have become adapted to living in the shade beneath individual trees. You can even find out what vegetables grow in shade or what vegetables to plant in October and plant those, too.
Choose between annuals for full shade and perennials, as well. Annuals offer bright colors immediately and die off at the end of the season, while perennials come back each year.
Think about selecting perennials or annuals for dry locations as well as those for regularly damp areas so you have the right plants in the right locations. It's the best way to ensure that your garden thrives.
Tips on Caring for Shade Tolerant Plants
Maintenance for shade tolerant plants is quite different than those for a sunny environment. As shaded areas dry out slower than sunny areas, you won't need to water the garden as much. You still want to water plants that grow in the shade but check the soil's moisture content before you begin the next watering.
When watering shade loving plants, avoid wetting the leaves of the plant; instead, water the soil, and don't overwater. Overwatering leads to a variety of issues, including rot and pests. Watering leaves of shade plants makes them vulnerable to fungus as the leaves stay wet all day with the lack of sun and air circulation to aid in the drying process.
Beautiful Shade Tolerant Plants for Shade Gardens
It can be challenging to choose just one of the many low light outdoor plants for your yard. We have a few suggestions for you. Even better, mix and match a few of these plants to add interest and texture to your garden.
Some of these plants can be added to containers as well as being grown directly in the ground. Hanging plants that do not need sun are ideal for shady porches.
Bleeding Heart (Dicentra spectabilis) – Colorful Plants for Deep Shade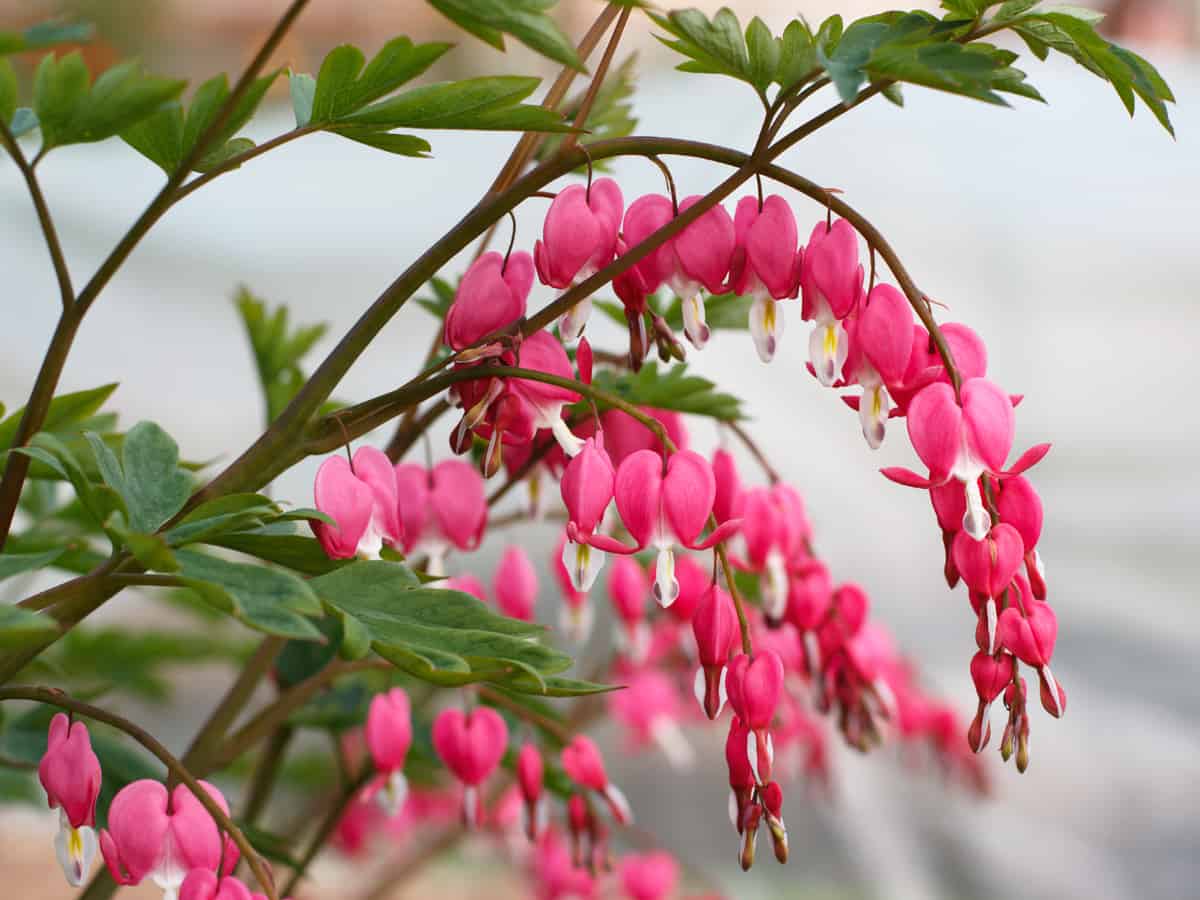 Your Bleeding Heart plant enjoys full to partial shade, making it an excellent choice for the back of your shade garden. The heart-shaped flowers appear on arching stems in the early spring. Before you see the pink and white flowers or the solid white flowers, you will notice bluish-green foliage as the plant comes to life after being dormant all winter.
The Bleeding Heart plant needs regular watering as it prefers moist soil. Since the plant likes organic soil, mix a layer of compost into the soil before planting, and apply organic mulch to the ground each spring.
With the heat of summer, the plant will die back and begin to yellow, which is the time to start cutting back the foliage. Never cut back the foliage while the leaves are still green.
Hosta (Plantain lily)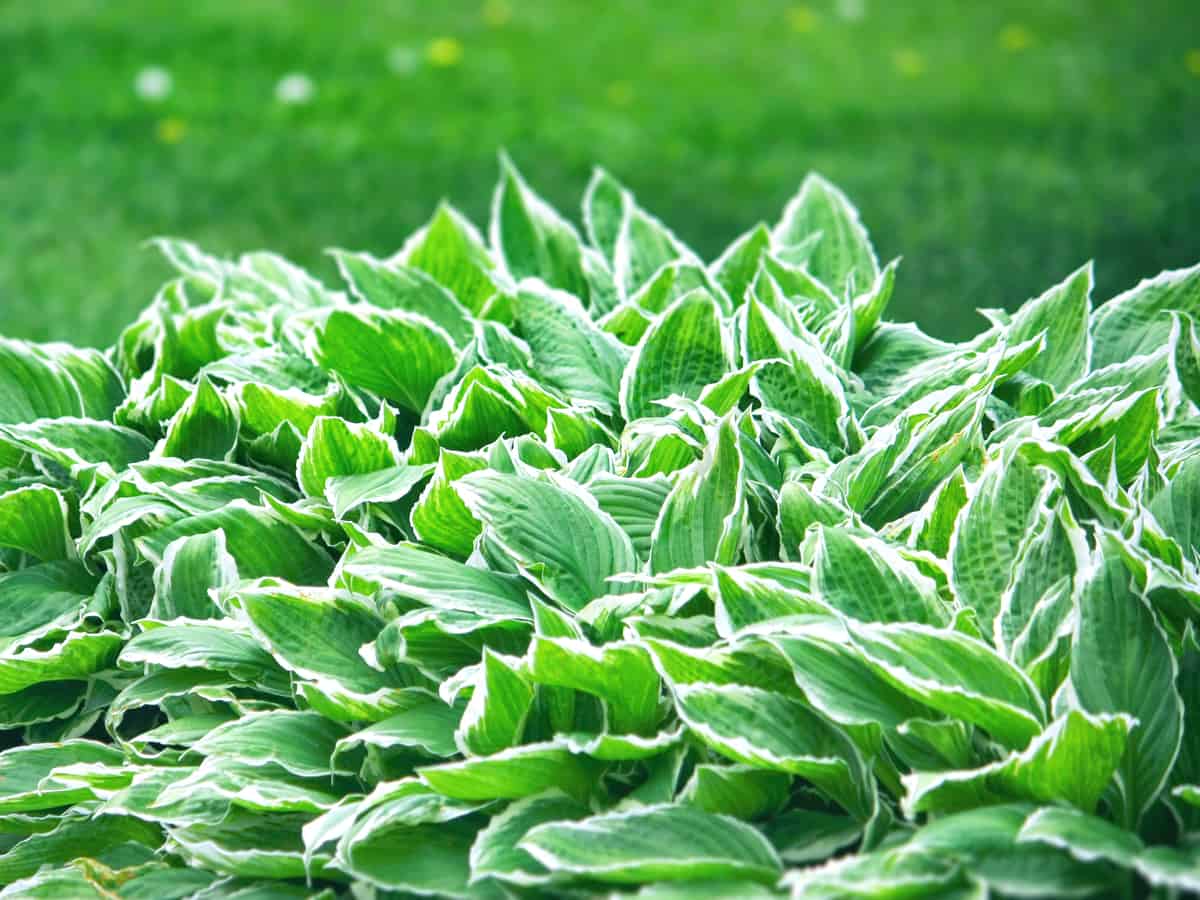 Hostas are a favorite perennial for many gardeners as they are easy outdoor flowers to care for, do well in the shade, and they offer some attractive foliage. Currently, there are over 2,500 cultivators, so you have a huge range of leaf shapes, sizes, and textures to choose from when adding this plant to your landscape.
To retain their beautiful colors, the leaves of Hostas require shielding from direct sunlight. This makes Hosta ideal for planting beneath shade trees where other plants are reluctant to grow.
Leaf color ranges from green so deep it looks blue to soft white and light chartreuse. Many varieties are variegated, too. Deer are attracted to the new shoots of Hostas, so plant it among other plants that are deer resistant to keep these four-legged beauties from munching on your Hostas.
Hostas, as perennial plants for full shade, require slightly acidic and fertile soil. These plants fall victim to crown rot during the dormant season if the soil is too wet, so well-draining soil is a must for primary Hosta care. Planting Hostas beneath trees is allows you to have some added beauty where other plants will not grow.
Plants for Shady Areas – Christmas Fern (Polystichum acrostichoides)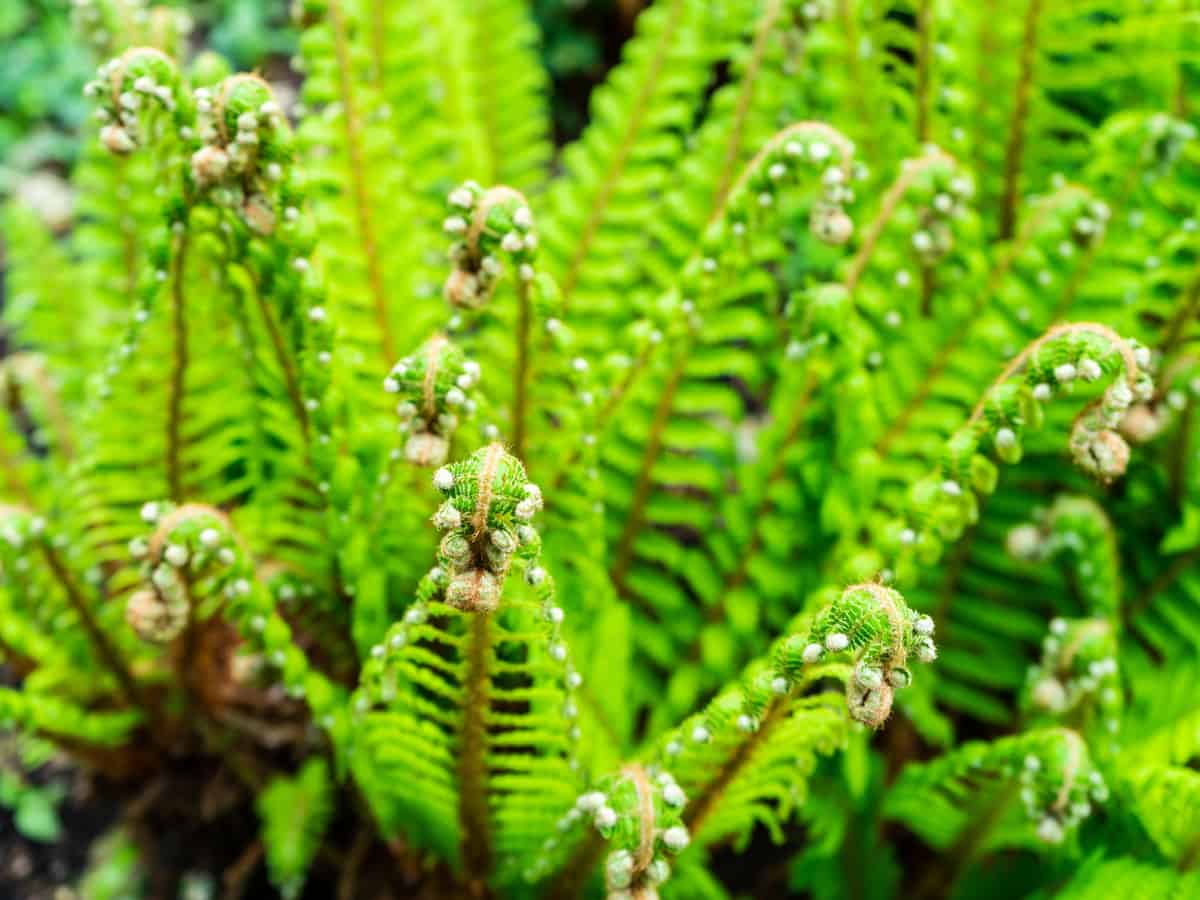 The name Christmas Fern comes from its ability to keep its green foliage throughout the holiday season. The fern offers a cluster of gloss-green fronds that can grow up to two feet in length. In the spring you will see silvery fiddleheads emerge from the plant.
Not all of the fronds are fertile; those that are will appear narrower at the tip. The tip will release spores and then wither and die in the summer.
Christmas ferns grow well in partial to full shade and require moist acidic soil. These plants do not do well in clay soils and require well-draining soil as they cannot tolerate standing water. If the Christmas Fern receives too much sun, it will show signs of stress, which include stunted growth and pale-colored fronds.
Lily of the Valley (Convallaria majalis)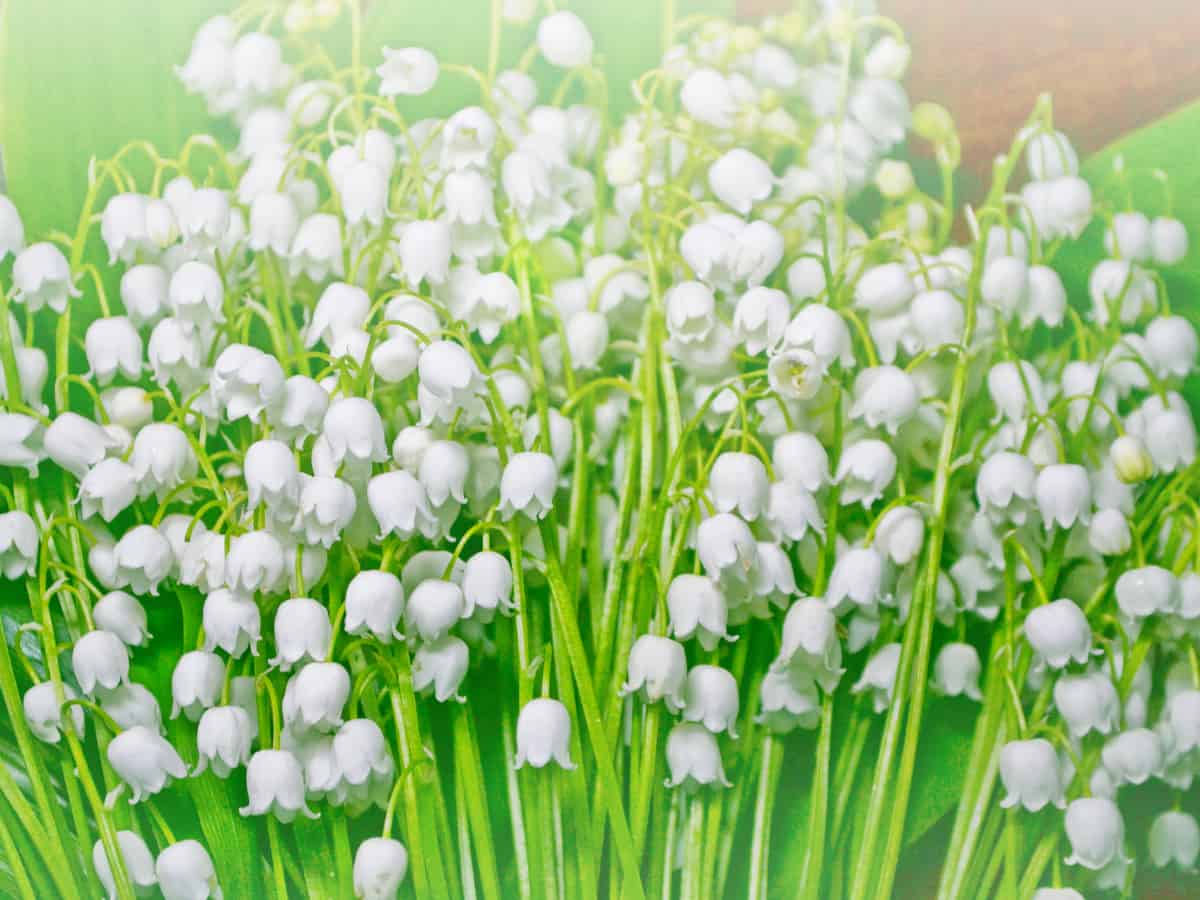 One of the shade-loving plants that smell good, the Lily of the Valley is one you will smell before you can find it. Lily of the Valley offers green leaves paired with white flowers that hang from the stalks of the plant. Be warned that it is a bit invasive, so prepare your spot ahead of time, so the plant doesn't grow out of control.
This herbaceous perennial prefers cooler temperatures, so you often find it in regions with forested or woodland settings. In hotter areas, the leaves dry up and die off, while in colder areas you enjoy the green leaves year round. Keep animals and children away from the plant, as every part from the red berries to the white flowers is poisonous.
Lenten Rose (Helleborus) – Plants that Grow in Shade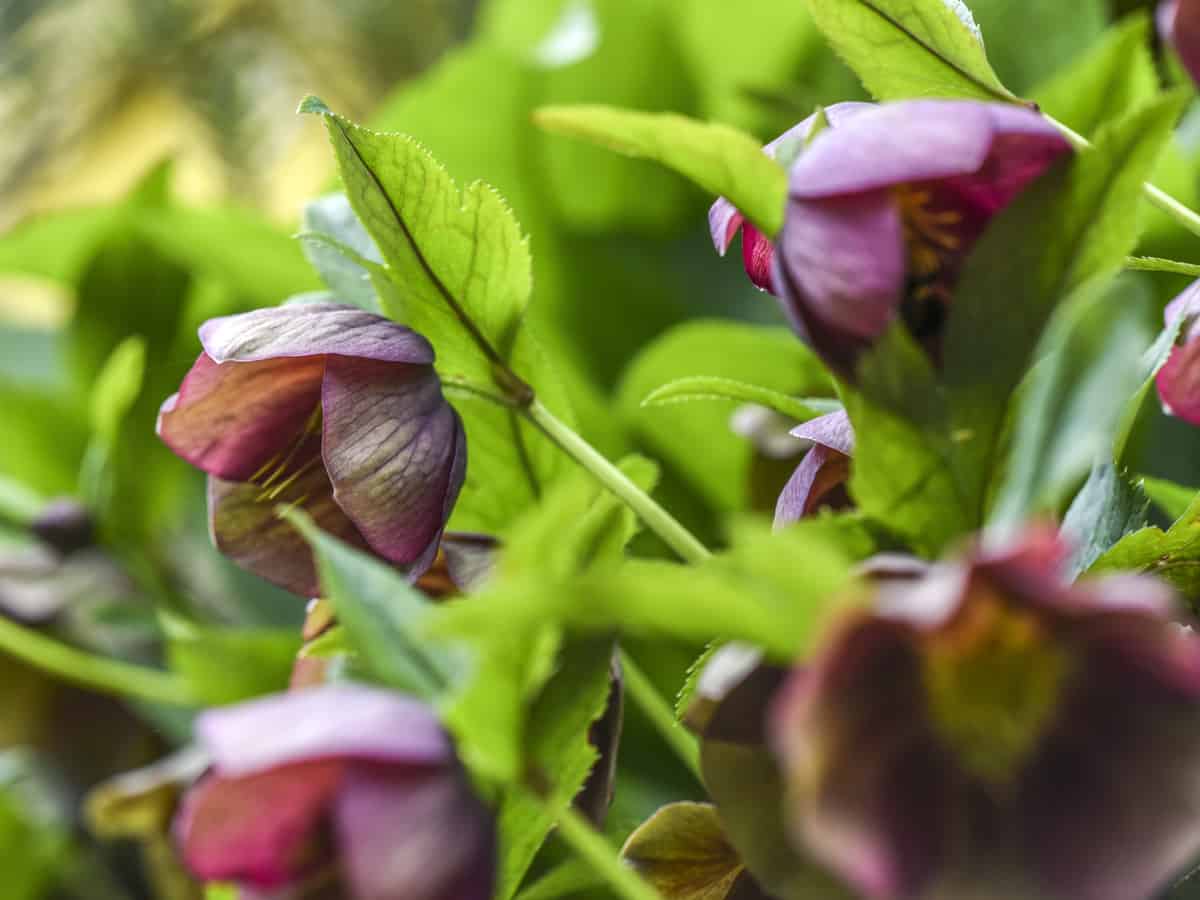 For amazing flowers for shade, you can't get much better than the Hellebore or Lenten Rose. This plant offers leathery leaves paired with some pretty distinctive blooms that make a great addition to your shade garden.
Flowers appear in early spring, and these plants are best grown as a border plant in shady areas or woodland areas. The blooms last up to eight weeks and come in a variety of colors ranging from white to green to purple to spotted flowers.
Hellebore does well in a range of soil types, but check each species for exact soil requirements. Most species of this perennial plant require at least partial shade with well-draining soil.
Their deer resistant properties make them an excellent choice for border plants. Plants should be cut back in late winter before new growth begins for the best blooms in the spring.
Coral Bells (Heuchera)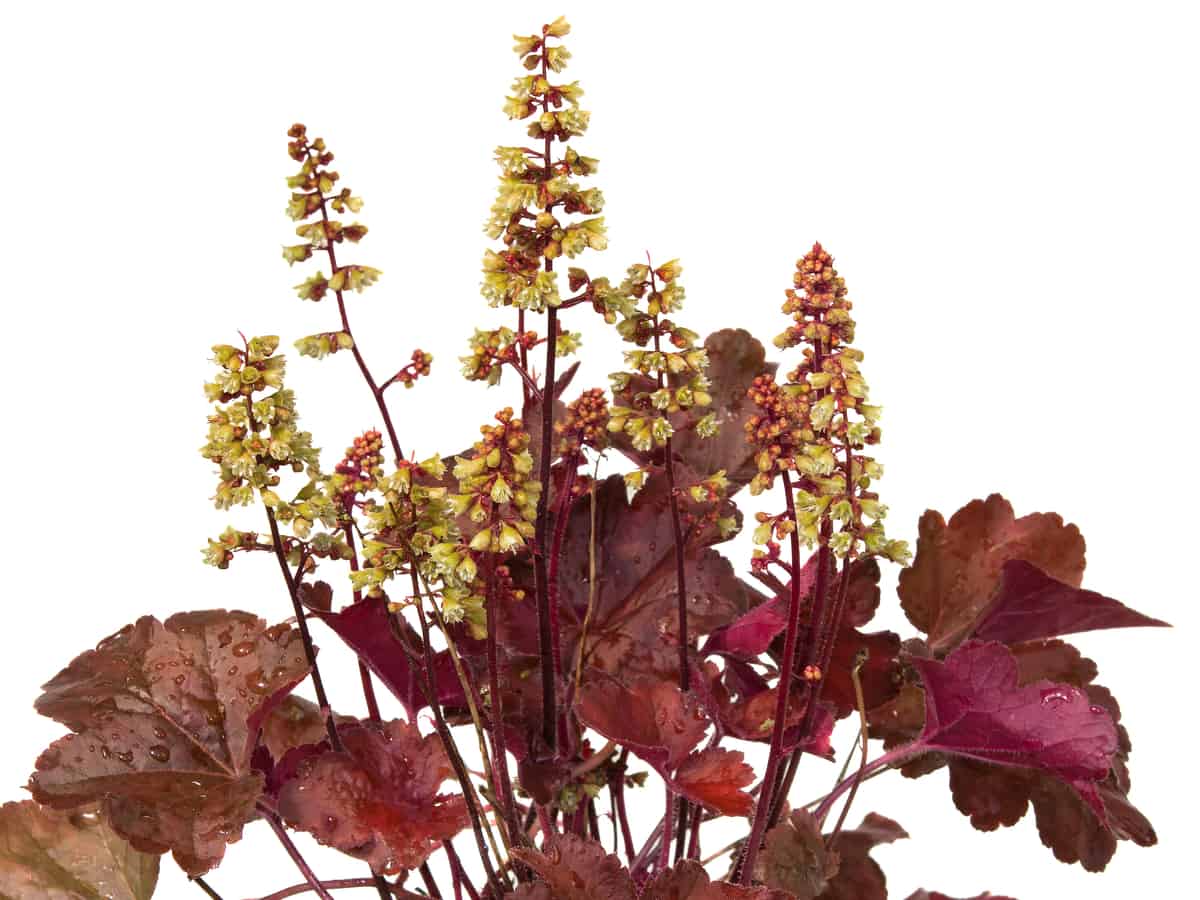 Coral Bells makes a great addition to shady gardens with their many variations in leaf colors. You can find salmon, rusty orange, burgundy, silver, and many more colors to provide your garden with some colorful stimulation.
The leaves are topped with tiny bell-shaped flowers that attract hummingbirds. The red, white, and pink flowers make lovely arrangements inside your home.
As an edging plant, Coral Bells do their best when planted in groups and work wonderfully with other shade-loving perennials like Bleeding Heart or Coreopsis. Once the plant flowers, you need to cut back the flower stalks to encourage new growth. In late summer watch for black vine weevil larvae, as these pests will kill the plant.
Shade Tolerant Plants – Dead Nettle (Lamium maculatum)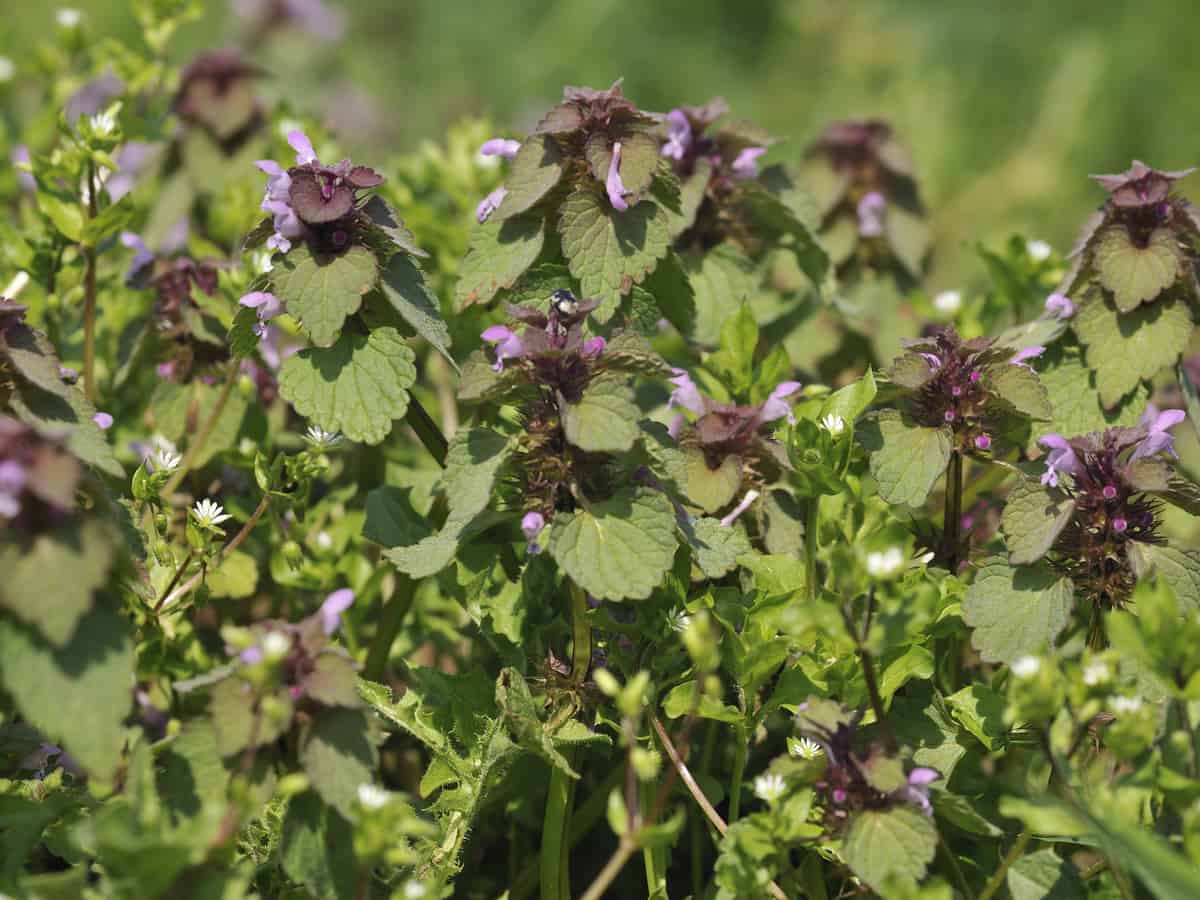 Dead Nettle is a low growing plant that spreads quickly among your garden when planted in the perfect conditions. The silvery foliage is paired with red, purple, pink, or white blooms that appear in the early summer.
As it thrives in shady locations, you might find yourself with more plants than you want. You can easily tug out a whole section to thin it out.
While this plant does thrive in the shade, it can tolerate part sun. The low maintenance plant is deer resistant, as well as drought tolerant once it is fully established. Use either for erosion control or as a ground cover that provides your yard with a pleasant fragrance.
Foamflower (Tiarella cordifolia)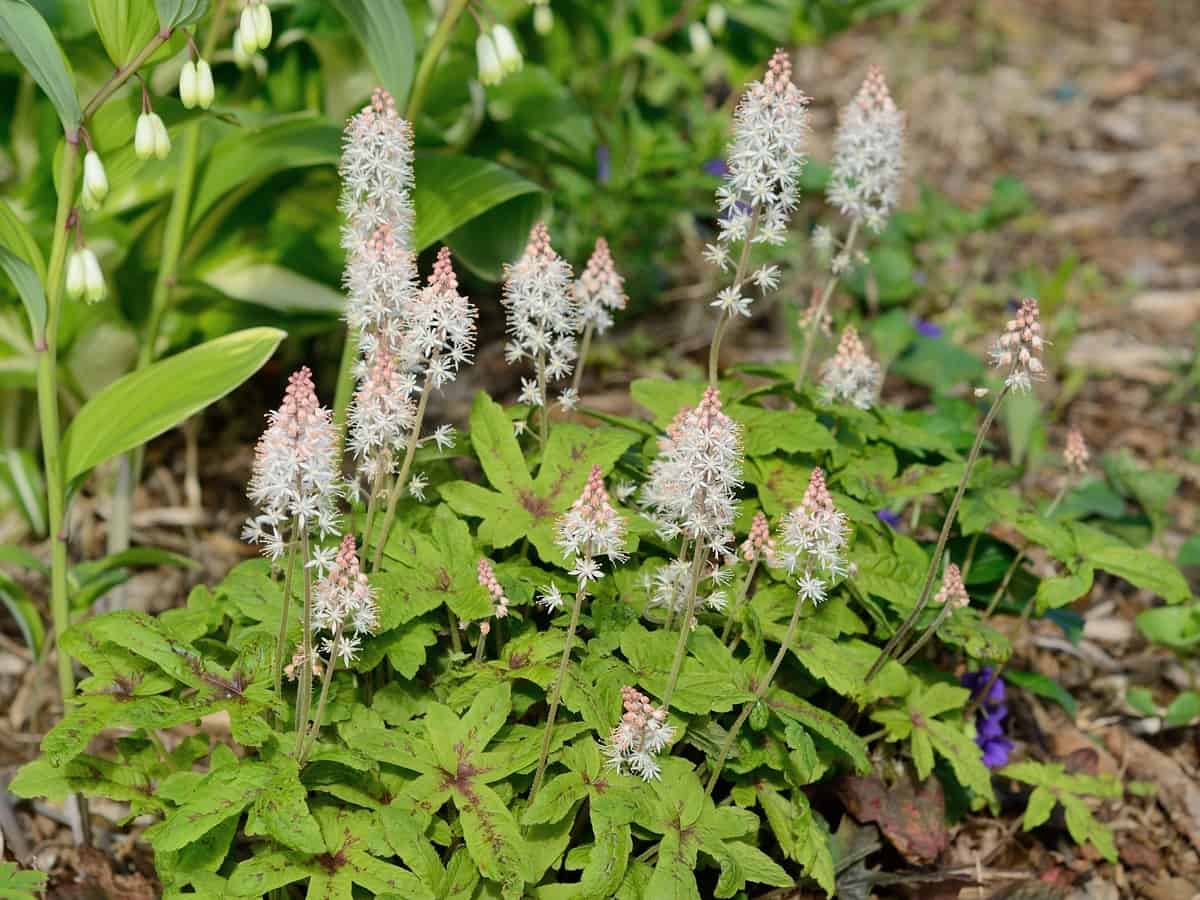 Foamflower looks similar to Coral Bells in terms of leaf shape and plant form. Rather than the shiny leaves, Foam Flower offers a matte leaf which provides these shade perennials with a natural look. The heart-shaped leaves turn a reddish-bronze color in the fall and winter.
The white flowers have a foamy texture that first makes an appearance in the late spring, they last for about six weeks, and feature pink flower buds. These flowering plants are easy to grow in part to full shade.
They require well-drained soil that is organically rich and has excellent moisture retention. Never allow the soil to dry out, but also watch for overly wet soil. To improve the plant's appearance, pinch off flower spikes after they finish blooming.
Lungwort (Pulmonaria) – Plants for Shade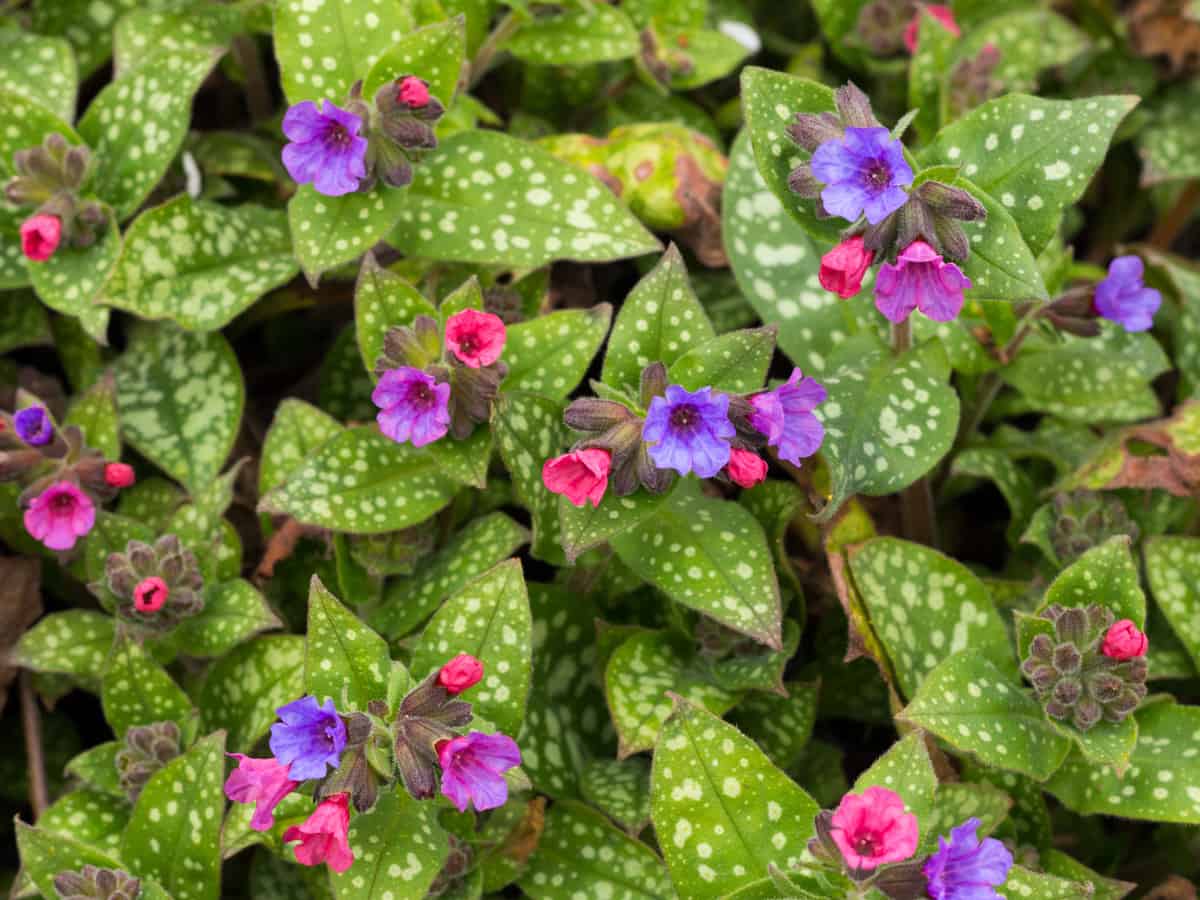 Lungwort plants offer long and narrow leaves that range from all silver to spotted or splashed with silver. The silvery foliage is paired with white, pink, or blue flowers with some plants featuring several different colored blossoms at the same time. As a woodland plant, Lungwort prefers the shade but can handle some sun as long as it's kept in a moist location.
Blooming in early spring, before your shade trees that grow fast have leafed out, the plant does best under these trees as the leaves protect against the harsh summer sun. This perennial reaches up to 14 inches tall with a width of about two feet.
When planting Lungwort, choose a location that features organically fertile soil that you can keep moist. The plant itself is low growing; it is the floor stalks that reach up and grab your attention at a foot and a half tall. The white-flowered variety pairs well with a variety of plants with dark green foliage.
Foxglove (Digitalis)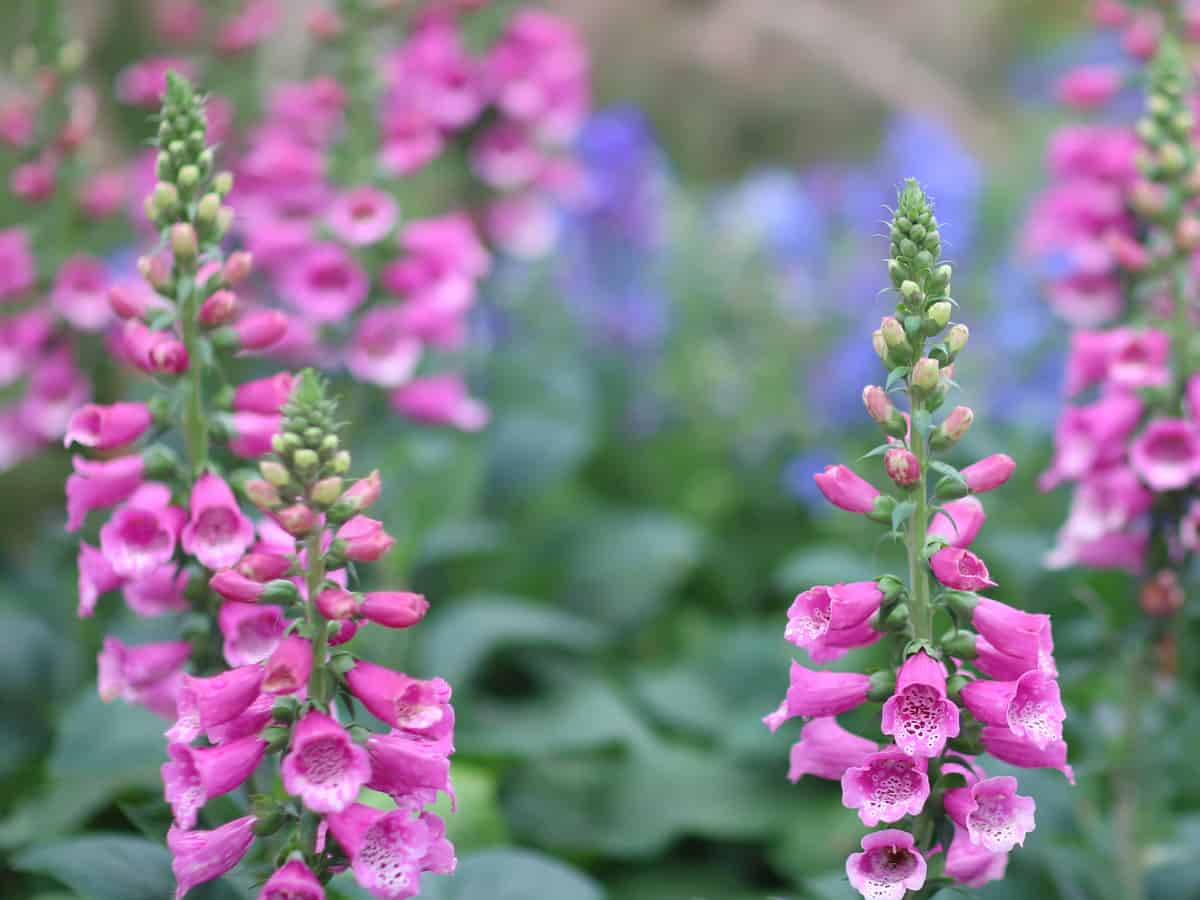 Foxglove is what we refer to as a biennial. The first year the plant focuses on growing its foliage, it's not until the second year that flowers appear. As soon as the Foxglove flowers, the plant dies off, but as the plant reseeds itself, you typically don't have to worry about planting new ones every year.
Out of all of the varieties, Digitalis grandiflora is the easiest to take care of. As this plant grows vertically rather than horizontally, it is an ideal choice for small spaces. The plant features stems that can reach up to six feet tall and provides clusters of lavender, pink, red, white, or yellow flowers in a tubular shape.
Foxglove tolerates full sun to full shade. Where you end up planting it depends on how hot your summers get. In warmer areas, select a location that offers mid afternoon shade.
Plants that Grow in Shade – Japanese Forest Grass (Hakonechloa)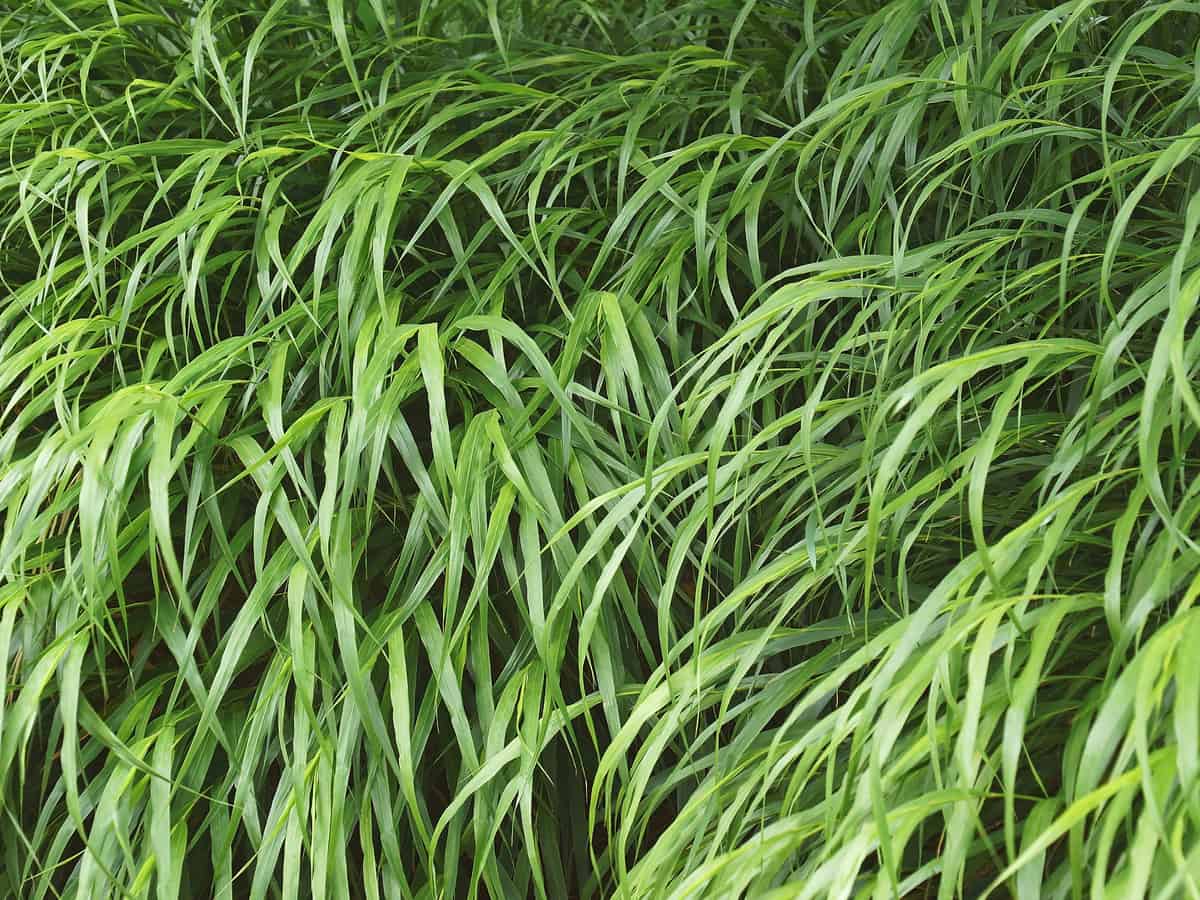 Japanese Forest Grass, unlike a variety of other grasses, does best in partial shade. The grass grows in short clumps only reaching a height of about 15 inches. The narrow leaves of the grass do not grow upwards; instead, they cascade down the clumping form.
Foliage on Japanese Forest Grass maybe lime green, gold green, or a variegated variety with some plants turning purple, orange, or red in the fall and winter. The slow-growing ornamental plant is not invasive and does well in zones 5 through 9, but will also survive in zone 4 with some protection and mulching.
When planting Japanese Forest Grass, do so in moist soils in partial to heavy shade. The nutrient-rich soil needs to be well-draining for best results, as wet but not soggy soil is required for optimal growing conditions.
Too much sun will cause the blades to turn brown. Always cut off dead ends of the blades to improve the plant's overall appearance. Consider planting Lemongrass if you are looking at what plants repel flies.
Blue Mistflower (Conoclinium coelestinum)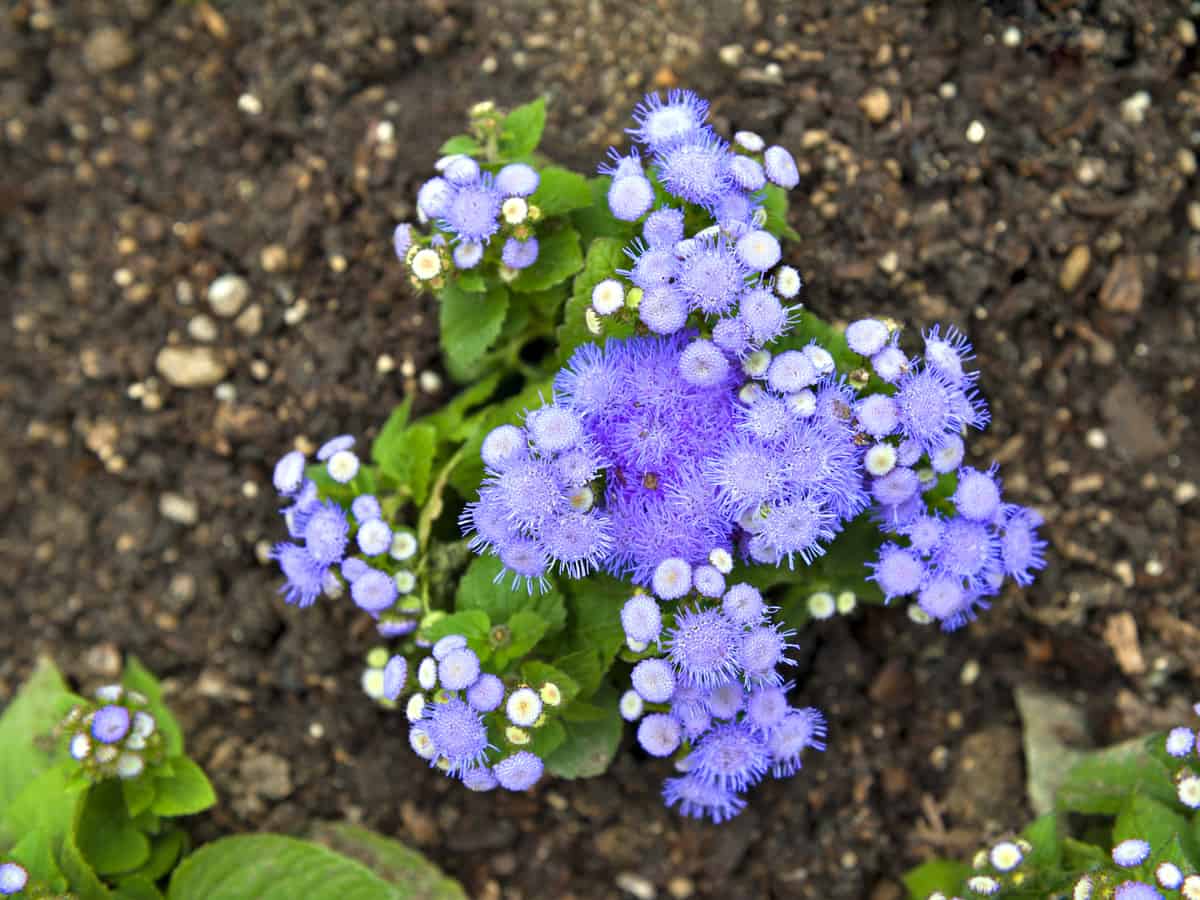 The Blue Mistflower is a native plant in Virginia that thrives in wet landscapes. When selecting a planting location for the Blue Mistflower, choose a place that offers medium to wet soil with good drainage. The plant requires moist, but not soggy soil, so don't let it dry out.
The Blue Mistflower spreads through self-seeding, so divide the clumps in early spring and cut back taller plants in the summer. The Blue Mistflower, sometimes just called Mistflower, blooms in the late summer to early fall.
The plant looks similar to the Ageratum, which is an annual. It is sometimes referred to as Hardy Ageratum. The purplish stems grow up to two feet tall and are topped with tubular, fluffy blue-purple flowers that you will see from July to October.
False Goat's Beard (Astilbe) – Shade Tolerant Plants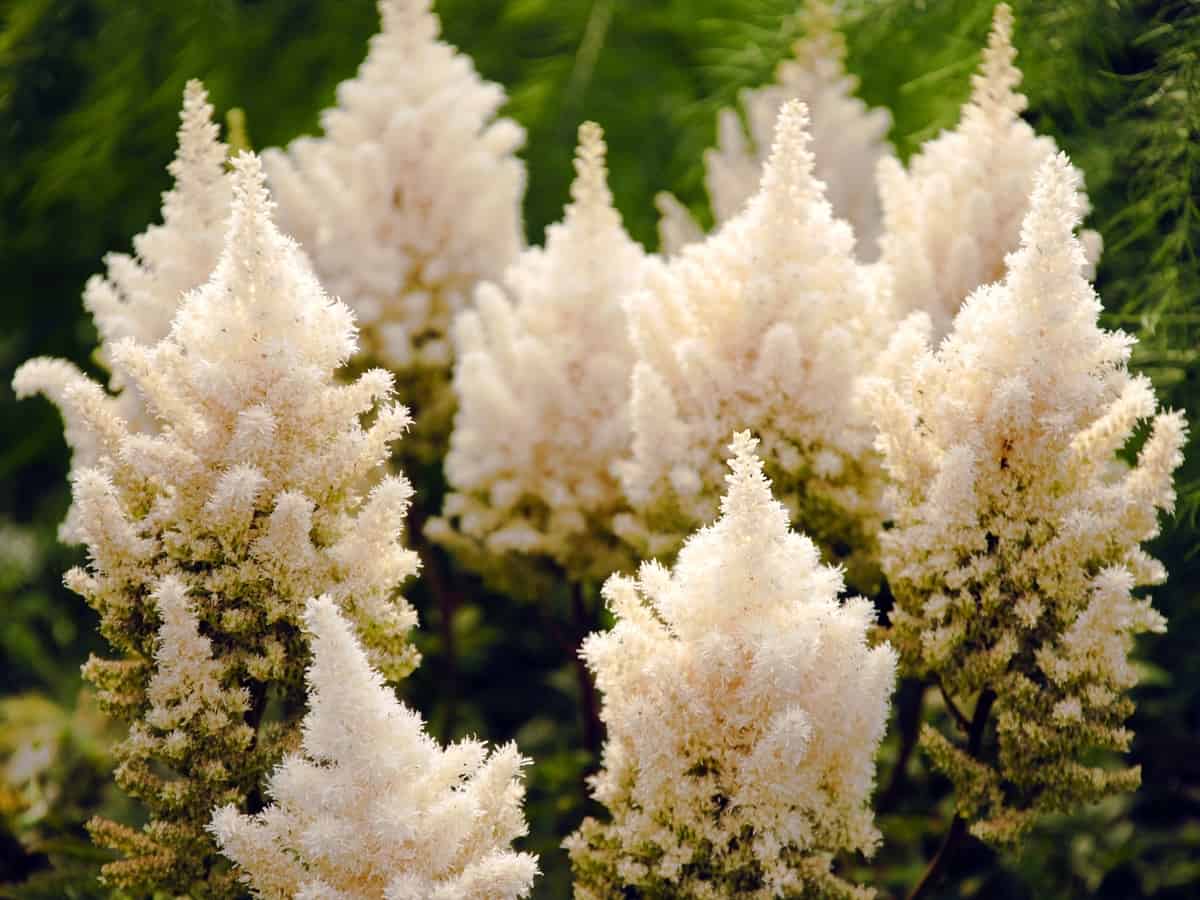 False Goat's Beard offers showy flowers that sit on top of green, glossy foliage that looks similar to ferns. The perennial is a great way to add texture and color where other flowering plants won't survive. False Goat's Beard needs at least moderate shade, as full sun burns the plant.
As False Goat's Beard doesn't enjoy soggy soil or puddles, you need well-draining soil that you can keep slightly moist. Once the blooming finishes for the season, cut off all dead blooms and stems.
With these attractive, easy to grow plants for shade, the foliage remains attractive throughout the fall, and deadheading does not encourage new flower blooms. Once the first frost hits, the plant will begin to yellow. You can leave it as is or trim the yellow leaves. Either way, new growth will appear in springtime and is a welcome sight after cold, dreary days.
Lady's Mantle (Alchemilla)
What makes Lady's Mantle such a great addition to your shaded areas is how water on the leaves looks like jewels. The pleated leaves of the plant are paired with yellow-green flowers that make their appearance in early June. For standard-sized areas opt for Alchemilla mollis, while the Alchemilla erythropa is perfect for small spaces as it only reaches six inches tall.
Plus, the low maintenance plant works well with other perennials that bloom in the spring. Be warned while the plant is eye-catching while in full bloom, its attractive appearance fades after the flowers have died.
Pair it with purple and burgundy foliage to create a stunning effect with its green foliage. The plant will tolerate full sun and full shade, but it thrives in partial shade and if the climate is hot, afternoon shade is a must as the sun will burn the plant.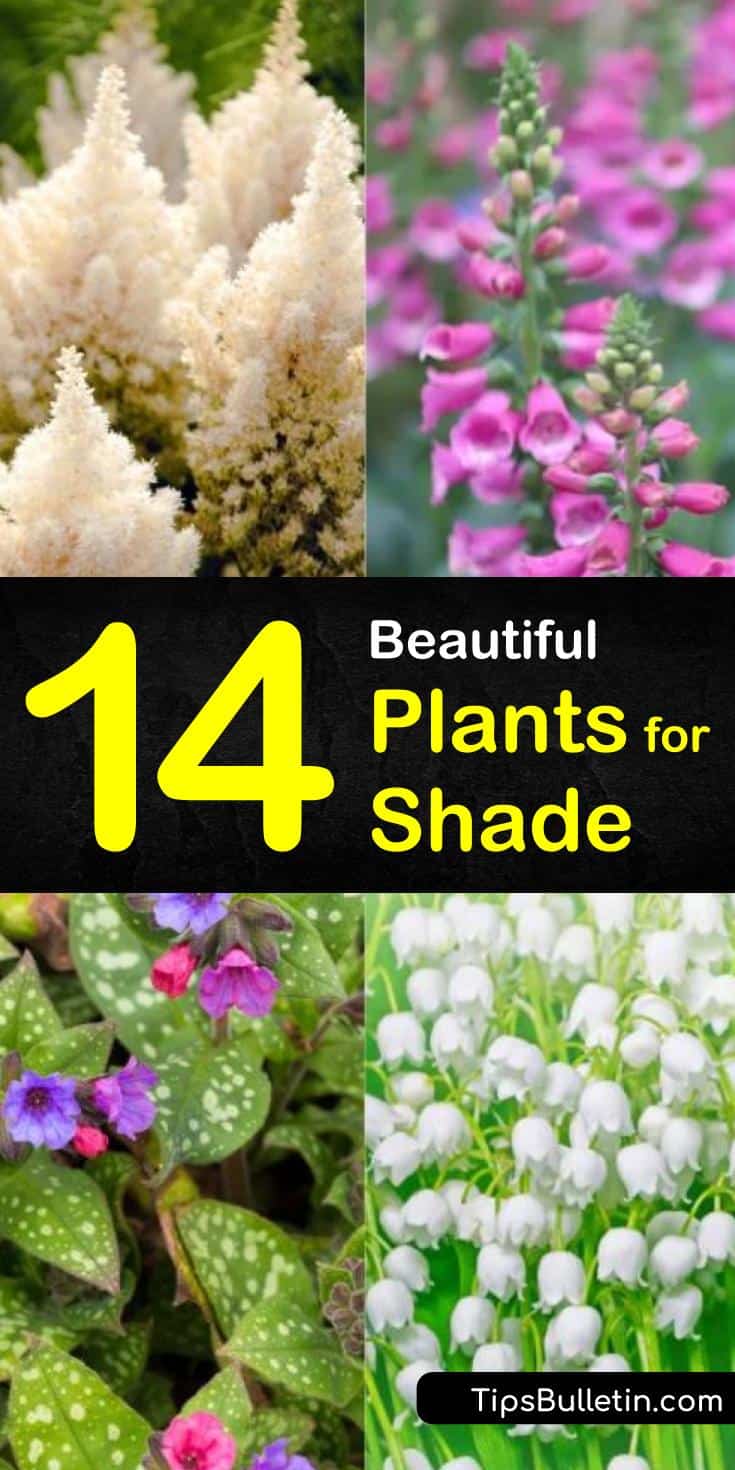 Thank you for reading about these beautiful shade-loving plants. If you found any of these ideas for plants that grow in shade useful, please share these beautiful plants for shade ideas with others on Facebook and Pinterest.