No matter how hard we gardeners try, most of us won't ever find a yard that receives direct sun all day long. However, it's possible to brighten up those dark spots with roses for shade. In general, roses love getting as much sun as possible and don't do too well in areas with full shade.
Thankfully, several varieties don't mind a little less sunlight. Most people who love roses don't have the perfect sun requirements around their yard.
If you're planting roses for shade, avoid areas with hanging branches. They like a clear space so that the rose flowers soak up as much light as possible.
Try not to place them in locations where they have to fight for resources. Overcrowding roses in shaded areas depletes the necessary nutrients that help the roses thrive.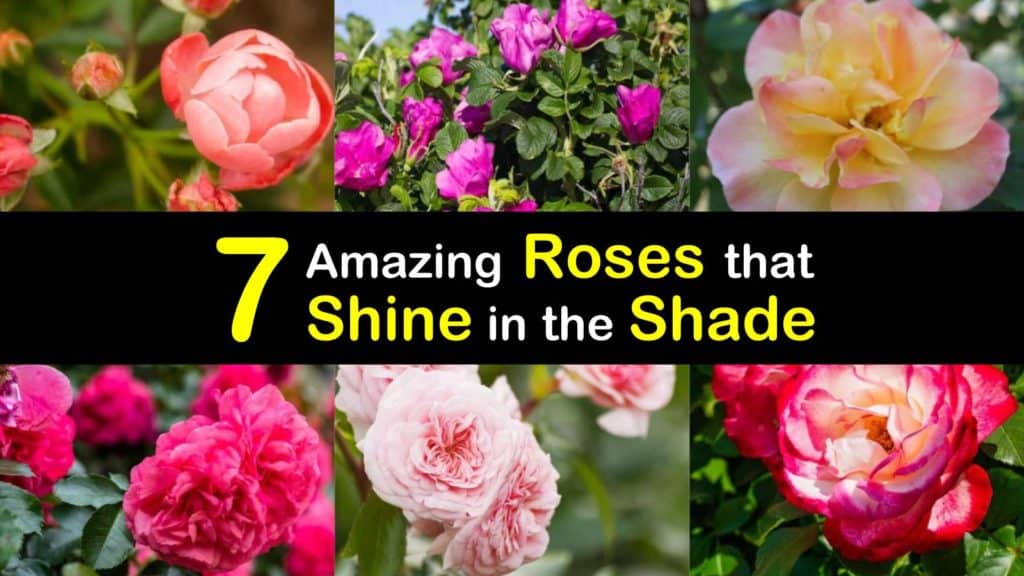 Things to Know about Growing Roses in Shade
Almost all roses like having at least six hours of sunlight every day, but that doesn't mean there aren't varieties that tolerate fewer hours. It isn't impossible to successfully grow roses for shade.
Better yet, you can still grow roses equally as beautiful as those that are in ideal conditions. Growing roses for shade gives the flowers a more vibrant color and helps slow the rate of fading. They also require less watering, which helps prevent blackspot.
The one downfall is that you'll likely have smaller roses, but that doesn't take away from their overall attractiveness. Finding the perfect variety for your garden is what will lead you to success.
As with any roses, keep an eye out for symptoms of disease and take care of rose bush aphids as soon as they appear so you are not dealing with an infestation. A soap and water bath usually does the trick nicely.
Apricot Rose (Rosa meimirrote) – The Prettiest Roses for Shade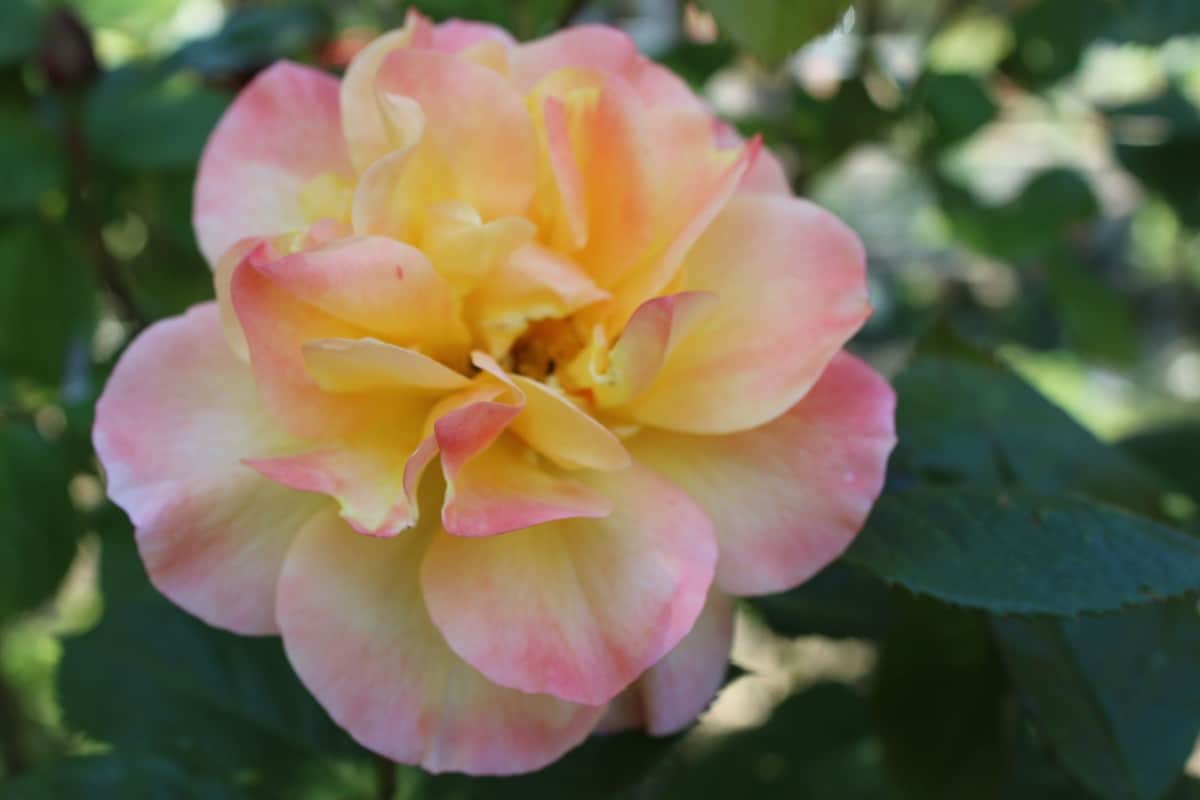 These roses for shade are known for their soft, peachy color. These make excellent ground cover roses and are an abundant bloomer that stands out against the dark green foliage. The roses have built-in disease resistance and provide beauty from spring until the first frost of fall.
Apricot roses grow up to 18 inches tall and 30 inches wide. They prefer partial shade and fertile, moist soil. Fertilize these flowers that grow well in shade every spring with a slow-release fertilizer.
Place them in and along beds, borders, containers, and mass plantings for a significant impact to a garden area or focal point in the yard. These roses are ideal edging plants with roses for a rose garden or to surround taller plants for some extra visual appeal.
The gorgeous color and longevity make apricot the ideal fall wedding roses. They look beautiful in a bouquet.
Hybrid Tea Rose (Rosa x hybrida)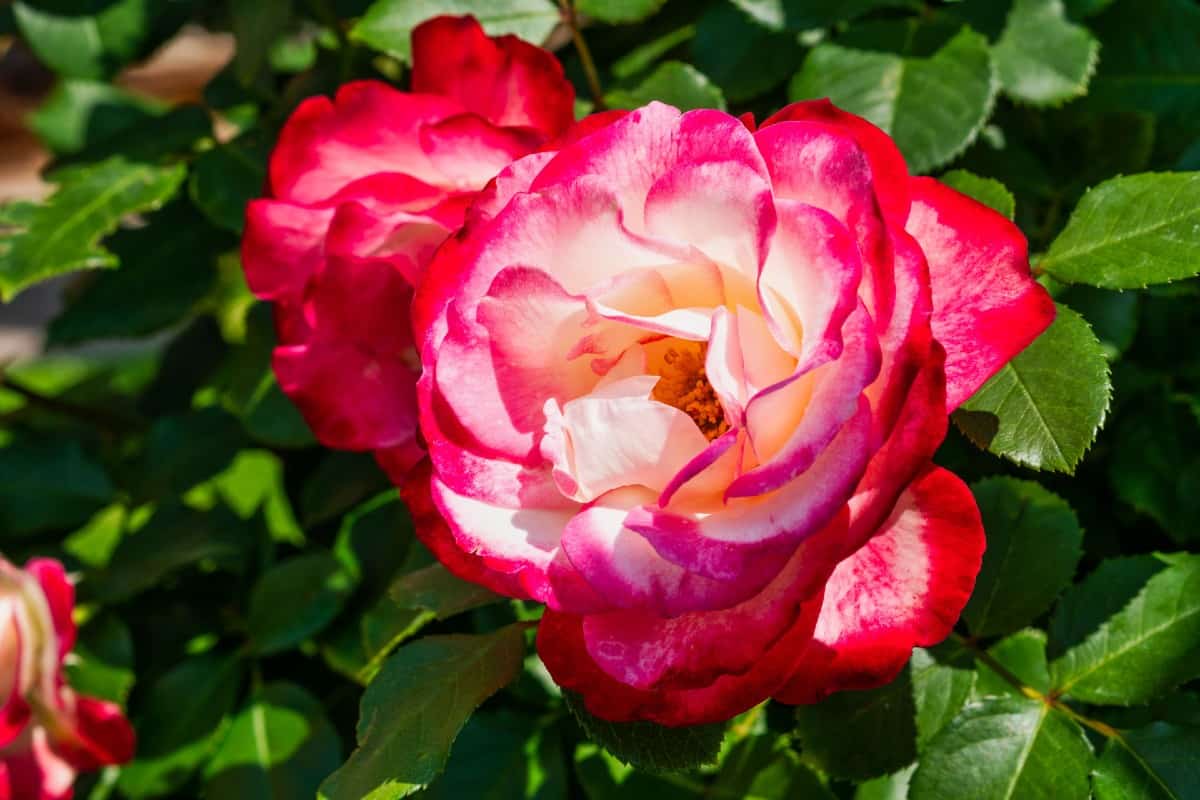 Hybrid tea roses have everything you want in a plant. They have a subtle fragrance, colorful blooms with over 60 petals each that are five inches across, are thornless, and easy to maintain.
The plant grows six feet tall if given the right growing conditions. Plant these thornless roses in light shade if that's the only area you have available.
However, take note that the more sun they get, the more blooms they produce, and the more disease resistant they are. They are also admirably insect resistant roses, too. Supply them with one to two inches of water every week, plus more during the hottest months of summer.
Knock Out Rose (Rosa radrazz)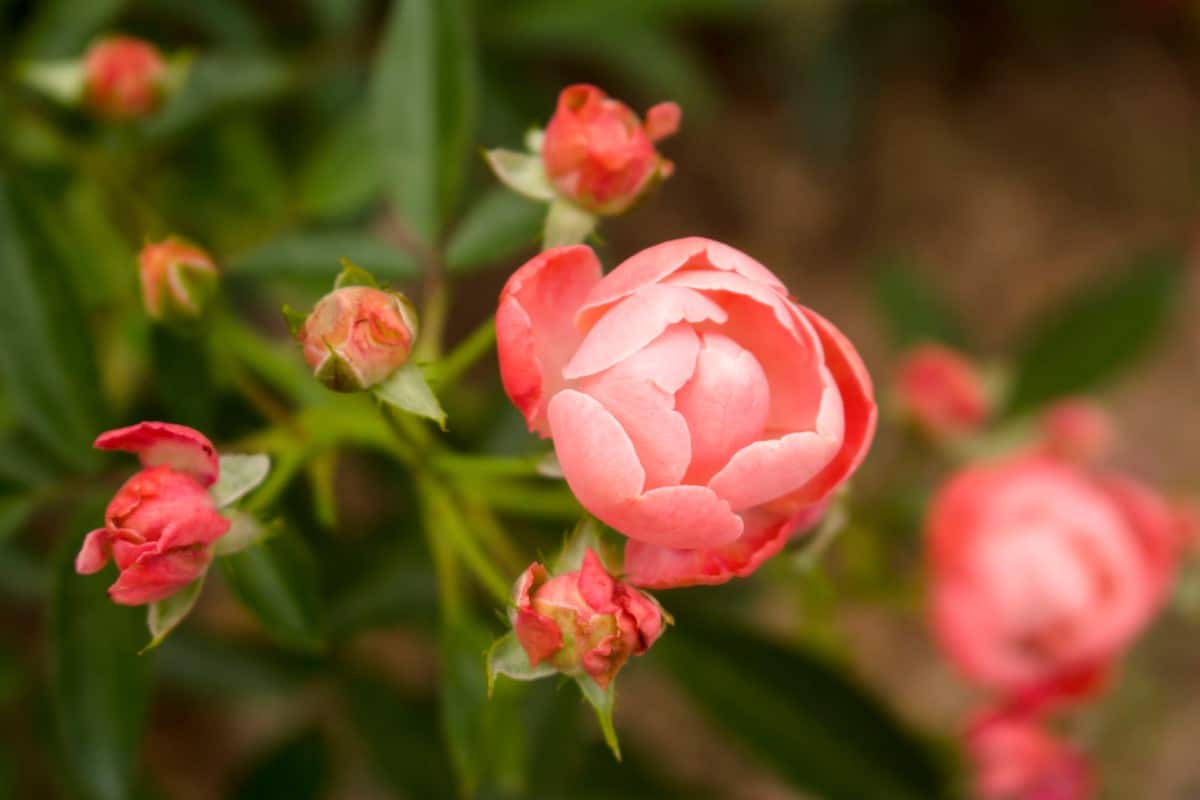 Knock out roses hit record sales when they were released in North America. These are low-maintenance roses that are very disease-resistant. They have a bloom cycle of six weeks and require no deadheading.
They are hardy to zone five but require some protection in the winter. Fertilize knock out roses in the spring every year with coffee grounds or old banana peels.
They are most happy in partial shade to full sun. They are sensitive to extreme heat, so be sure to supply them with plenty of water to drink.
Shade Roses with Abundant Blooms – Floribunda Rose (Rosa floribunda)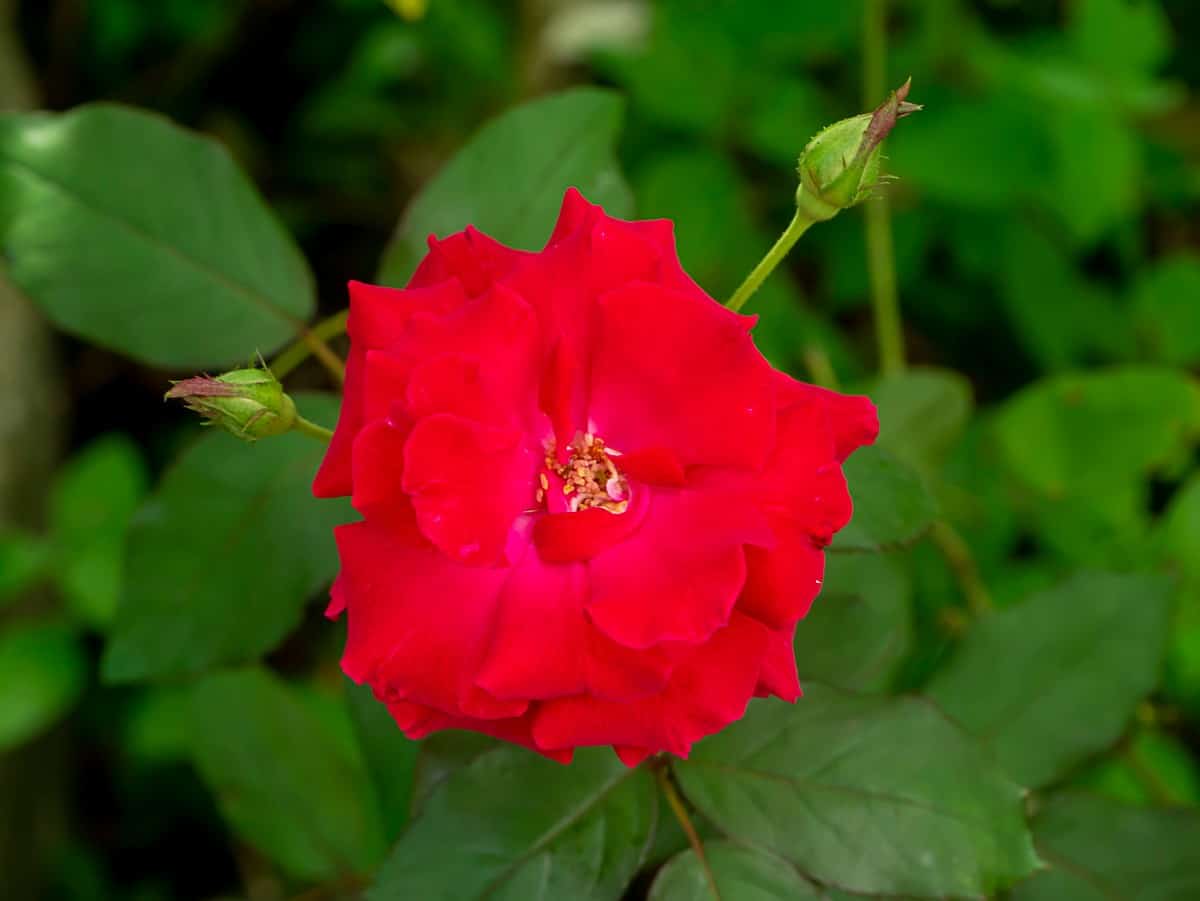 Floribunda roses are shade tolerant roses and best known for their ability to produce tons of semi-double or double blooms for long periods. Plant them in as roses for hedges or mass plantings.
Depending on the species, they grow up to eight feet tall and six feet wide. These amazing plants for shade are hardy in USDA zones four through nine.
Supply floribunda roses with well-draining soil and partial shade. Plant them in the early spring and water them regularly until established. Spread a few inches of mulch around the plant to help preserve moisture and protect the roots.
Climbing Roses (Rosa setigera)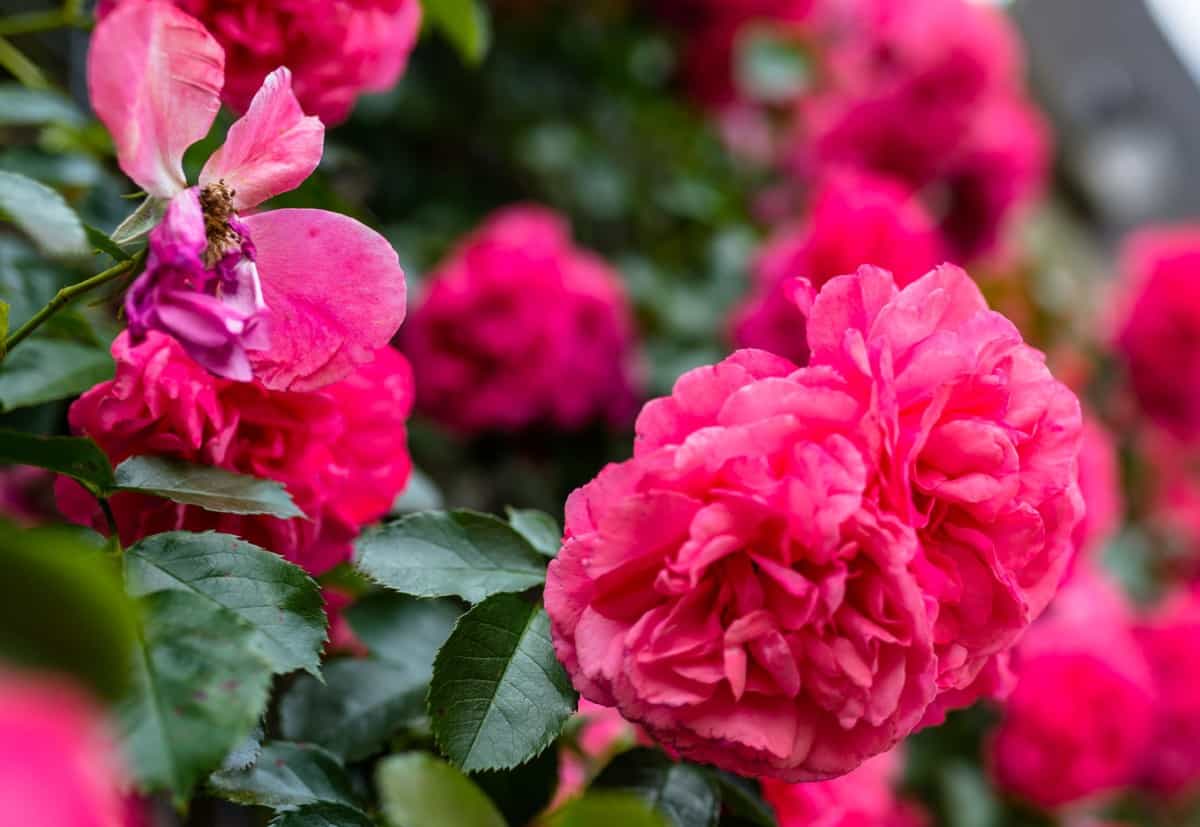 Climbing roses are far less fussy than their bush-form relatives. They create vibrant landscapes that make a statement. They have a sweet rose fragrance and are an excellent choice for pergolas, trellises, and fences.
These climbing roses grow up to 12 feet long and spread about four feet wide. Pick between blooms of pastel, bright, or multi-colors. Climbing roses thrive in a well-draining and loamy soil.
Keep the soil moist so these low light outdoor plants have a consistent drink of at least an inch of water per week. Be careful not to overwater climbing roses as too much water results in root rot and fungus growth like blackspot, especially in shady areas.
David Austin Rose (Rosa Ausblush)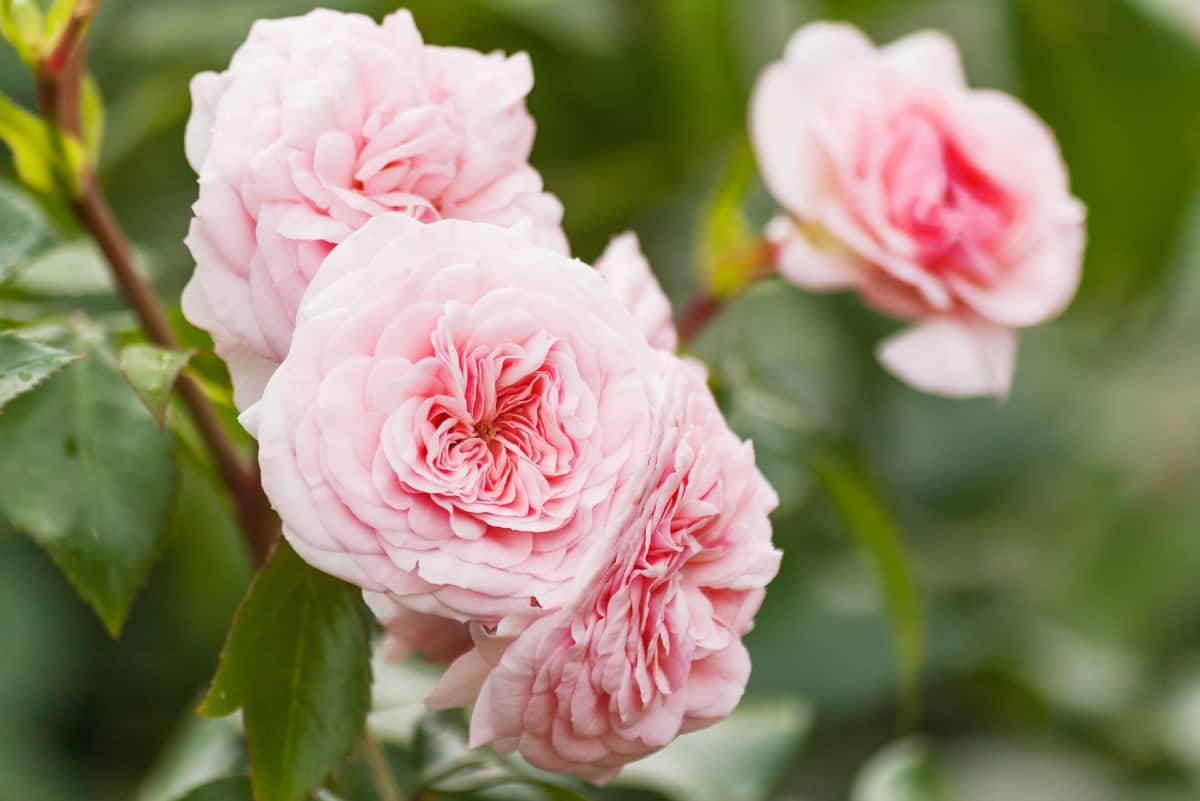 David Austin is a well-known horticulturalist known for changing the rose market. David Austin roses have endless names, including the shrub rose, gallica rose, alba rose, and hybrid musk rose. This plant is one of the most planted English rose.
They have ballerina pink petals that fade to white and a strong, pleasant fragrance. Blooms from the David Austin rose last from late spring to fall. They grow five feet tall and four feet wide, making them a desirable choice for beds and borders.
David Austin roses like full sun but tolerate partial shade as well. Give them adequate moisture and well-draining soil to prevent black spot.
Beach Rose (Rosa rugosa) – Easy-to-Grow Roses for Shady Areas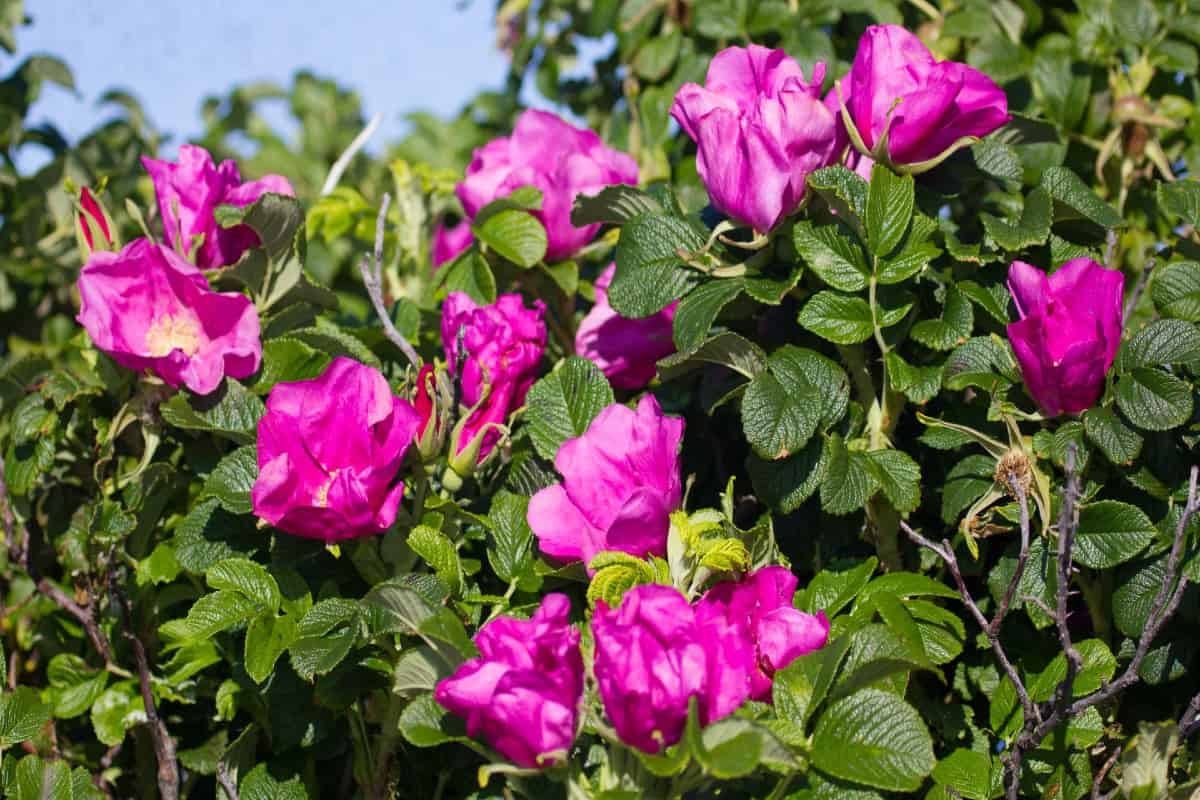 Beach roses are some of the easiest to grow. They are cold-tolerant and pest-resistant. These roses are tall, fragrant, and pretty with their delicate petals. Watch out for their sharp thorns, though, so place them in a spot where you won't run into them.
Plant beach roses in partial shade to full sun. They enjoy fertile soil with an acidity of 5.6 to 6.5. They tolerate most poor soils and should be kept watered throughout the first growing season.
To successfully grow roses for shade, make sure that you meet as many of their needs as possible. Perfect conditions aren't a must-have for growing a charming rose garden full of bold colors and pleasant smells.
Nature is far more adaptable than you think and roses and no exception. When you care about your garden, the possibilities for pretty blooms are endless.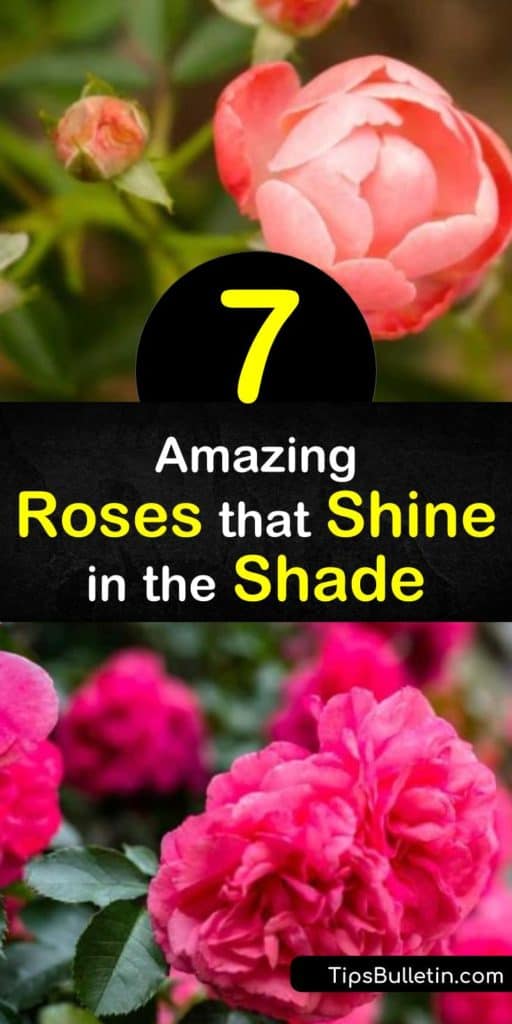 If these roses for shade help brighten up your landscaping, share these shade-tolerant roses on Facebook and Pinterest.