Does your garden seem monotonous in the winter with a blanket of white snow covering everything? Adding trees with winter flowers may help you stage year-round color, as many winter flowering trees bloom throughout different seasons.
With the right combination of flowering plants, your home can look stunning all the time. Some plants grow over the colder winter months, from trees and shrubs to ground cover and statement blooms. They each offer something unusual.
The colors, textures, fragrance, flowers, and foliage on each plant are unique. Use them to decorate and beautify your snowy winter garden any way you see fit. Layer companion plants for a stunning landscape, or try bringing more life to your garden using vegetation like berries and flowers that animals feed on in the cold.
Here, we show you several of our favorite examples and tell you how to care for each one. Find the right flowering trees for your climate and plant them in the right spot for their needs.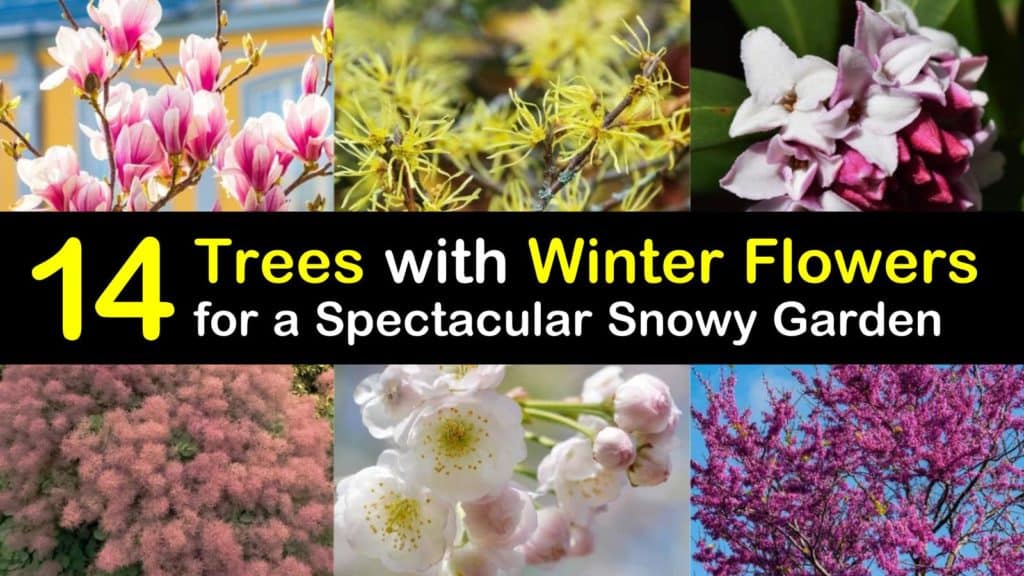 Growing Flowering Trees over the Winter Months
Of course, not all trees flower. Whether you want the fastest growing pine tree or trees with winter flowers, consider your yard. Imagine the tree's size and overall look when it is in full bloom or full of leaves compared to the winter landscape and the rest of your winter garden plants.
Think about any power lines that may get in the way when the tree is an adult. Figure out if you require a statement piece in a garden bed or a row of shade trees to block neighbors from always looking into your yard.
If your property is small, there are even options that grow in containers or small trees for tiny spaces. Consider flowering dwarf trees if clearance is a concern for you.
Also, think about how the fruit or blooms on the plant may affect wildlife. Some birds, for example, seek out berries as a food source over the winter. Others feed on the nectar.
If your primary goal is to add more color, plan for how you want the garden to look. Use your favorite shades, or blanket the area with complementing blossoms.
A Siberian dogwood is stunning with white snowdrops as a ground cover under the tree, for example. Most importantly, select trees right for your climate by looking at the USDA hardiness zones.
You may even discover that growing cold hardy palm trees may present some appeal even if they do not have flowers. A variety of trees and other plants makes your yard an interesting and inviting place, no matter what the season.
These zones dictate what temperatures your plant withstands and offers crucial planting information to ensure the tree reaches its full potential. Sticking with your zone allows you to make sure the plant is not invasive in your natural setting.
Of course, you are not limited to trees to decorate your landscape. Consider winter perennials and shrubs along with your chosen trees for variety.
Trees with Winter Flowers
Trees with winter flowers also bring color and texture to your garden through their foliage. Green leaves are not always the norm. Expect to see some plants on our list with colorful foliage and berries as well as the blossoms they produce.
Siberian Dogwood (Cornus alba 'Sibirica')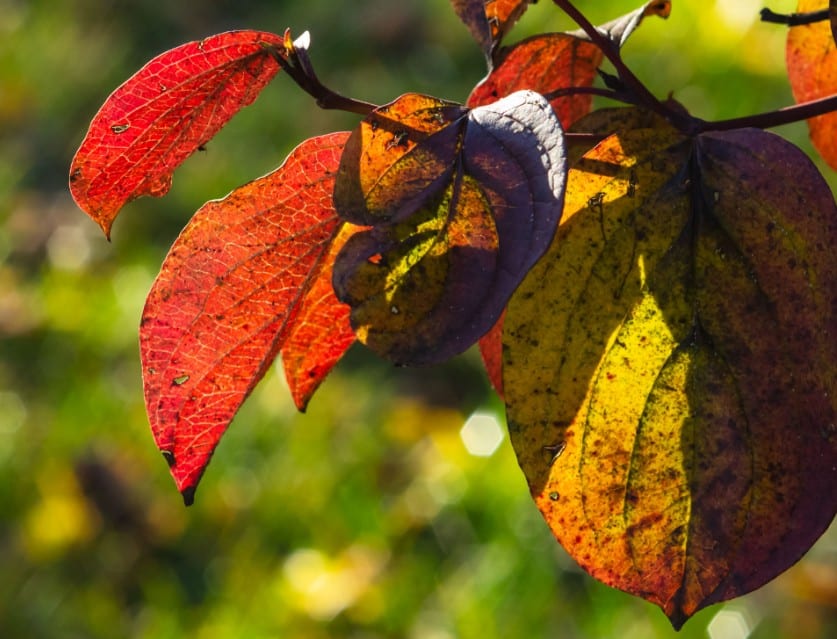 Also known as the flowering cherry dogwood, this winter shrub has several names. It is well-known for the spectacular red-orange fall color that sheds to a glorious red winter interest piece. The colors are beautiful with a snow backdrop.
Look for a part shade location for these winter-ready trees where the small dogwood multiplies with ease. Plant snowdrops under the tree as ground cover to create a charming backdrop. Set a bench in the area to take advantage of the splendid scent and ornamental landscape.
Camellias (Camellia C. oleifera) – A Cold Hardy Hybrid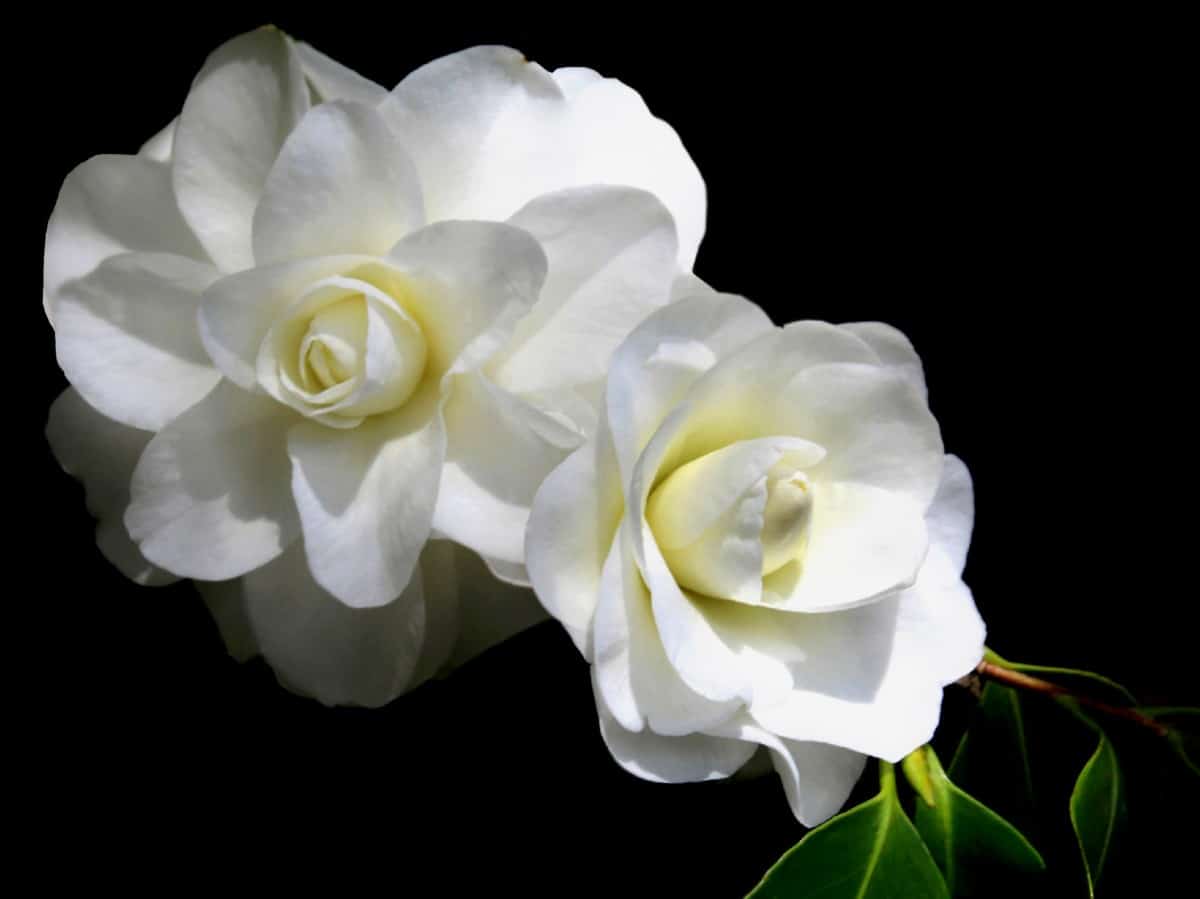 Camellias are popular shrubs for winter interest that come in many cultivars and hybrids, each of which has magnificent blooms from the fall until spring. Their beauty is unparalleled.
The large white petals frame a soft yellow center, while others show pink flowers. The best part about these hybrids is that they are entirely cold-tolerant. Plant these bushes that have color all year in zones six to nine.
Complement them with spring-blooming camellias for year-long color. When blossoms fall, clean the debris immediately to deter pests. Mulch is also helpful in some locations.
Winter Daphne (Daphne odora)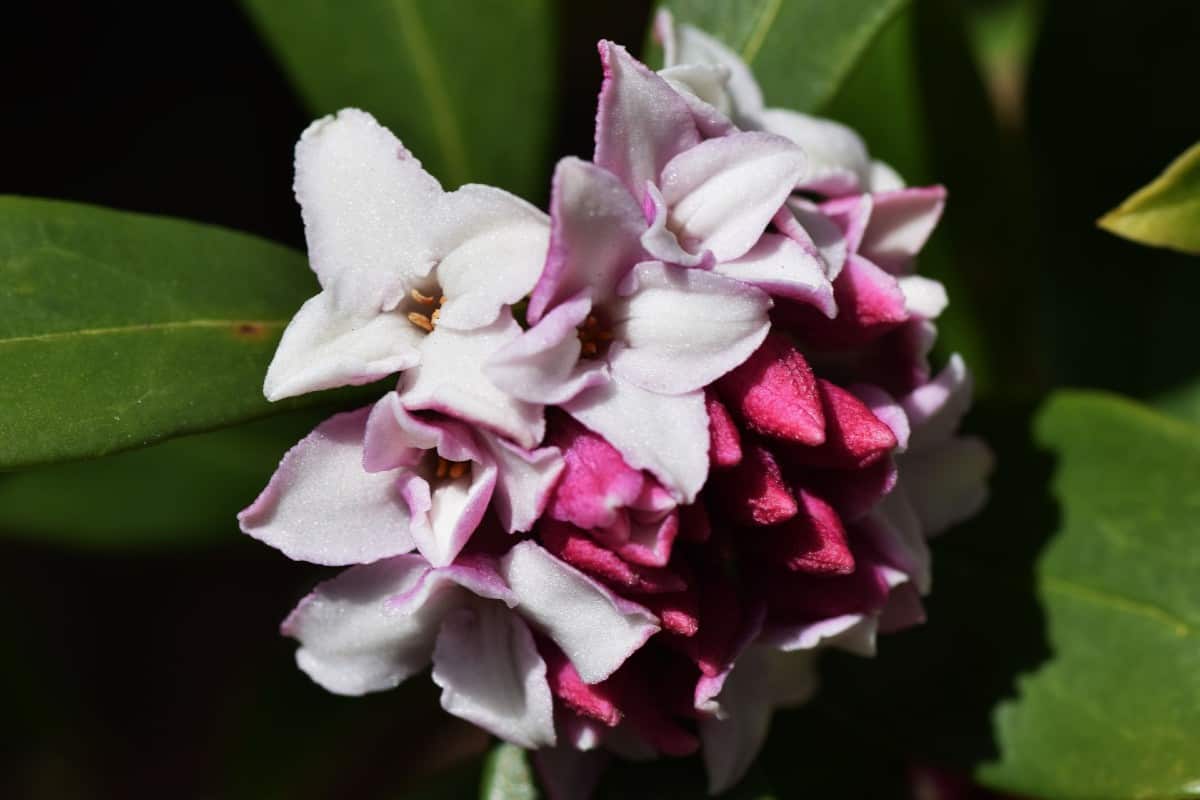 With late-season blooms from the winter to spring, winter daphne brings an intoxicating smell and small tubular flowers in clusters. The variegated variety called Marginata has dark green leaves lined with yellow that highlight the purple and pink blooms.
Keep the winter daphne close to your home to enjoy the sweet fragrance, like near a window, deck, or patio. This tree only grows around four feet tall and equally wide, making it an option for container gardens.
Care for these evergreen shrubs with winter foliage and flowers by infrequently watering and cutting long branches from the main stem on occasion.
Winter Flowering Cherry (Prunus subhirtella) – A Hardy Cherry Tree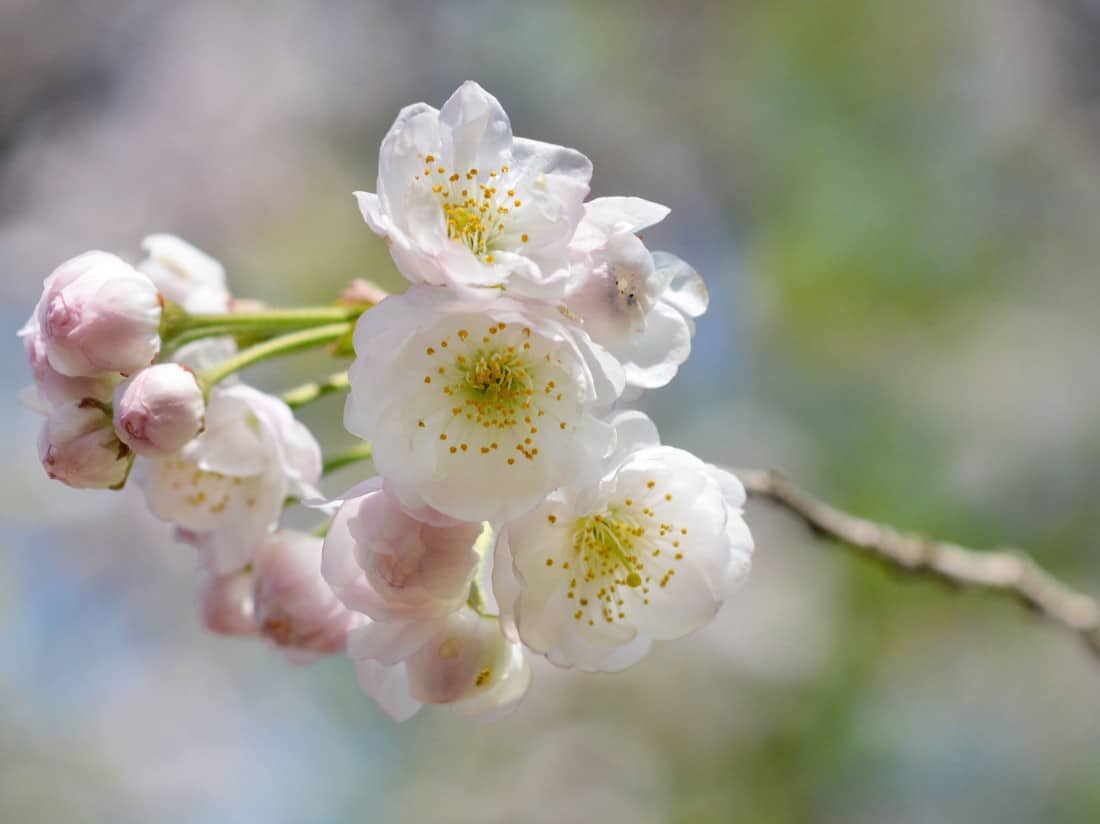 Also called the Higan Cherry tree, the winter flowering cherry is a small tree-like shrub with deep to pale pink flowers. The plant is more of a tree because it grows up to 30-feet-tall in some locations, depending on your climate.
Put aside plenty of space for these blooming trees. As time goes on, watch it change color. The pinks and foliage are notable for their stunning shape and appearance. Compared to other cherry trees, this type is hardy enough to withstand both hot and cold temperatures.
Witch Hazel (Hamamelis virginiana)
Witch hazel is notorious among gardeners and people with brown thumbs alike. These trees with bright yellow flowers are fragrant and extend far across your yard in the winter months.
Unlike other blooms, this plant looks like bizarre ribbons with thin petals that spread out to form the ball-like shape. However, most people know about witch hazel because it offers multiple medicinal uses.
Use this plant to treat sunburns and insect bites or create skincare products, like aftershave lotion or face toner. Growing witch hazel is almost maintenance-free.
Overall, the tree is resistant to most diseases and pests. Offer it full sun or lightly filtered shade in hot regions.
For the seasons when witch hazel is not in bloom, grow annuals for cool conditions in front or around it, providing they share maintenance and care requirements. You'll have an eye-catching display all year.
Arrowwood 'Dawn' (Viburnum x bodnantense) – Plant for Winter Berries
These deciduous pink flowering trees are a hybrid of two other popular plants. The result is a rare combination of clustered pink flowers and oval leaves. The blooms appear from the winter until early spring, and the sweet aroma lasts most of the year.
After the flowering season, arrowwood dawn ornamental berry trees even produce black, blue, or red berries. Find a garden border or pathway for this tree. It is easy to plant due to its compact size, and passerby will love smelling the blooms.
It reaches ten feet tall in full sun to part shade but produces more blossoms with more sun. Provide well-draining soil and medium moisture.
Wintersweet (Chimonanthus praecox)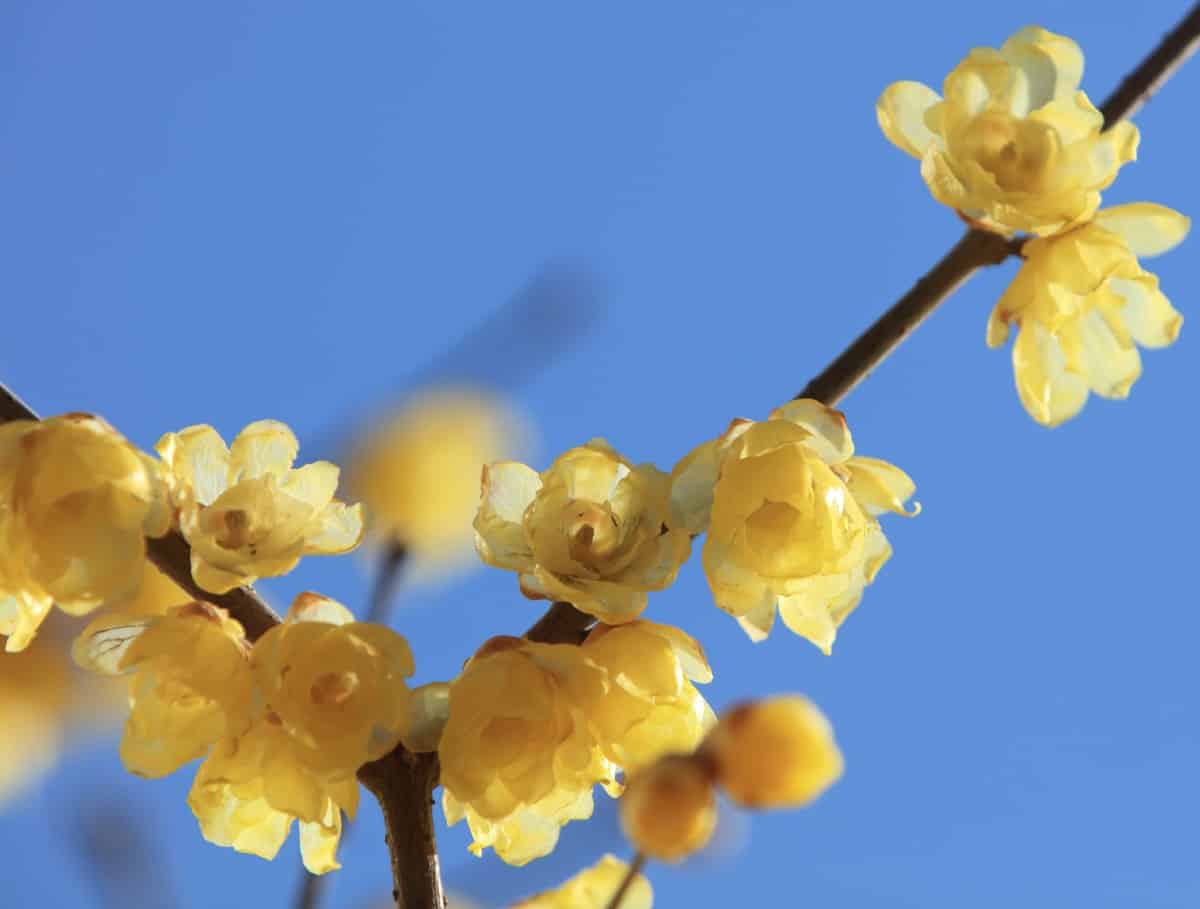 Wintersweet is a flowering shrub that grows up to ten feet tall. Named for the flowers' sweet scent, expect to see wintersweet blooms appear during the winter and early spring when other plants are dormant.
Watch the stems lose their green leaves in the winter and produce star-shaped yellow and red flowers.
Plant wintersweet in a full sun location in USDA zones seven to nine. Provide shelter from strong winds for the best results, especially if your tree is tall.
Honeysuckle 'Winter Beauty' (Lonicera x purpusi) – Entices Wildlife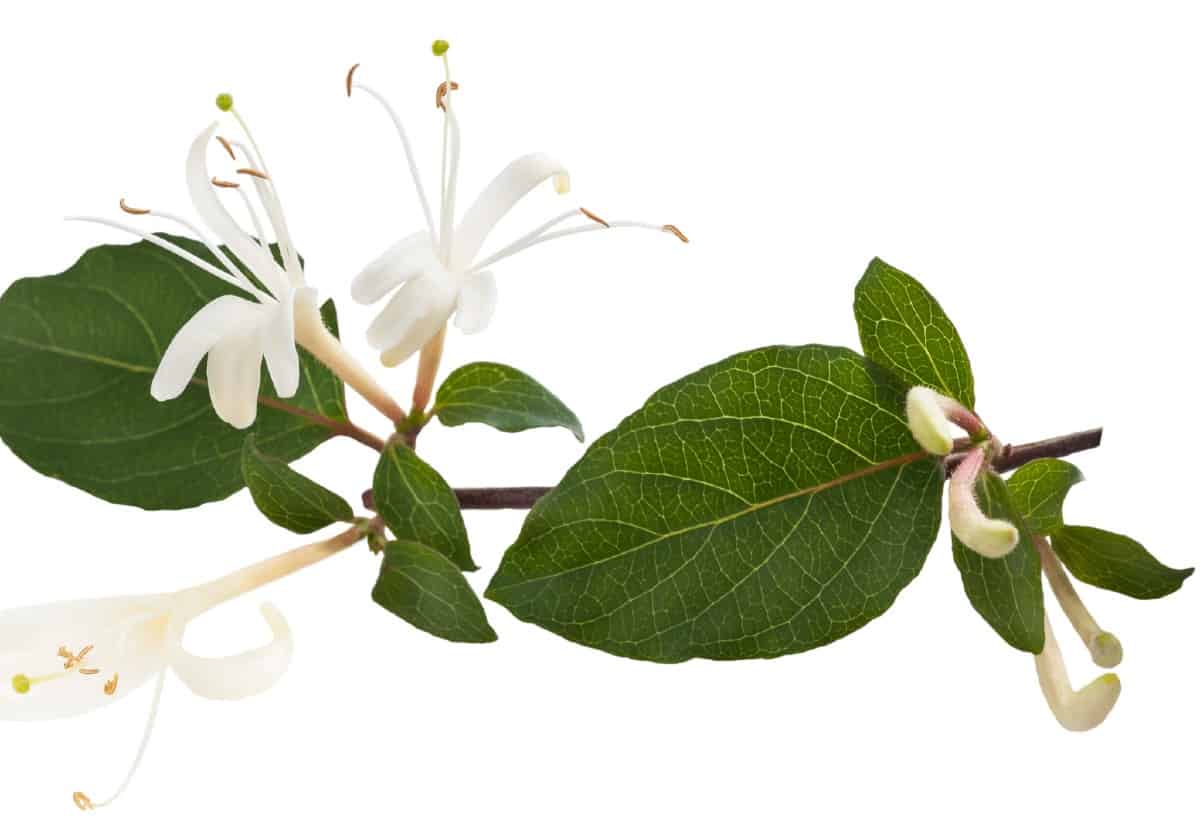 These famous small white flower trees have an intense smell from mid-winter through mid-spring. The scent lifts your mood, and black or red berries follow the creamy blooms in the winter.
It also captivates bumblebees in the summer, who feast on the nectar. This hybrid is ideal for zones five through nine.
Choose from either a deciduous evergreen shrub or a climbing plant with twin stems, as both types of honeysuckle grow similar to a medium-sized bush. In the Northeast, winter beauty is one of the earliest flowering trees.
Kobushi Magnolia 'Leonard Messel' (Magnolia x loebneri)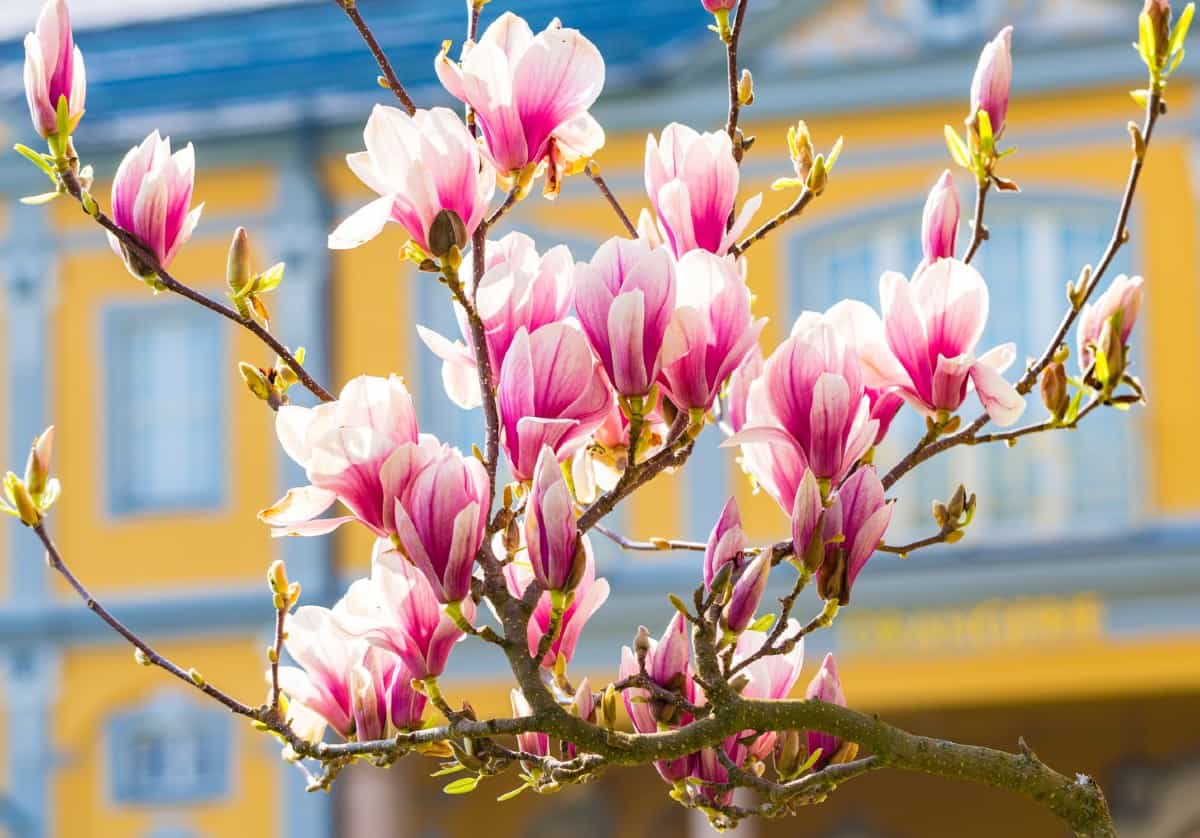 With thousands of universal magnolias available, this small tree is perfect for winter flowers. The hybrid has rosy pink flowers and grows up to 30 feet tall. The Kobushi magnolia is a hardy option for zones five to nine.
Place this flowering tree in an area where you can see the stunning color from your home. Heat may cause early-season blooms, so avoid planting the magnolias along a southern wall if you live in the north. Late spring frosts could also destroy this tree's beauty.
Winter Jasmine (Jasminum nudiflorum) – A Statement Plant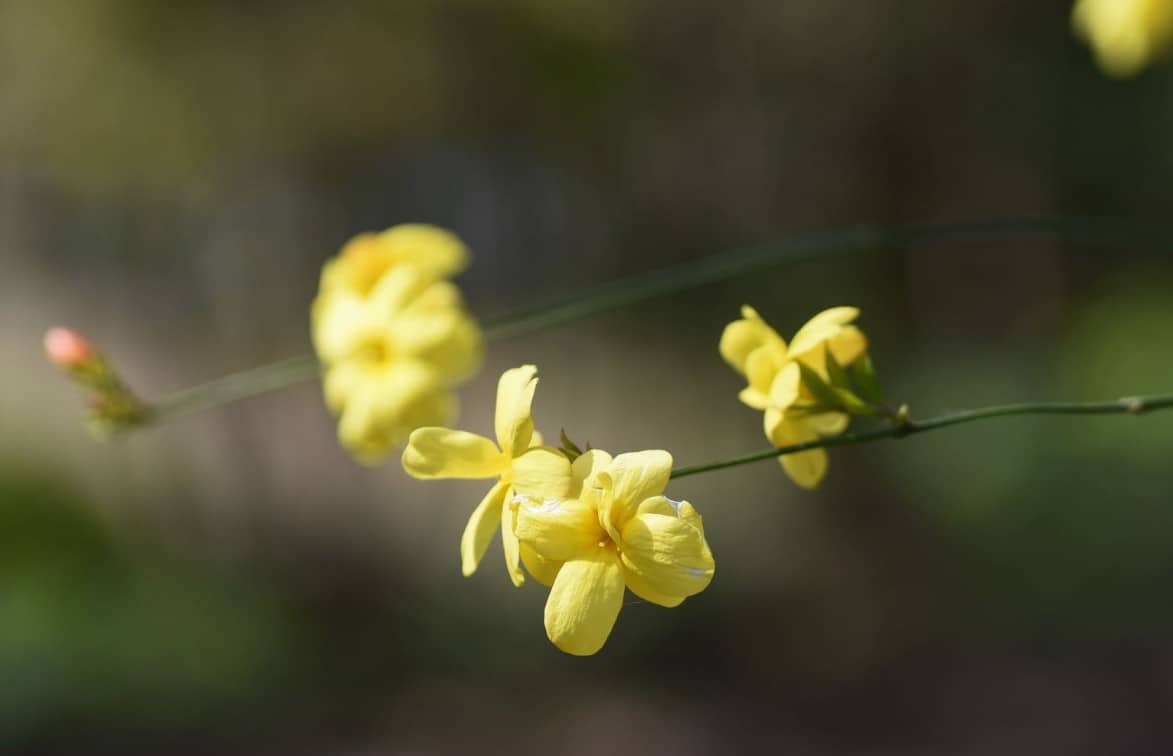 The winter jasmine plant stands apart from similar trees due to the bright yellow flowers that grow in masses on slender branches from the late winter to early spring months.
Compared to other jasmine plants, this option is extremely cold hardy. It makes a gorgeous statement in any garden in planting zones six to nine.
Many gardeners choose to plant winter jasmine as a shrub, where it can extend up a wall. The blooms also make excellent cut flowers to add beauty and color to indoor spaces.
Scarlet Firethorn (Pyracantha coccinea)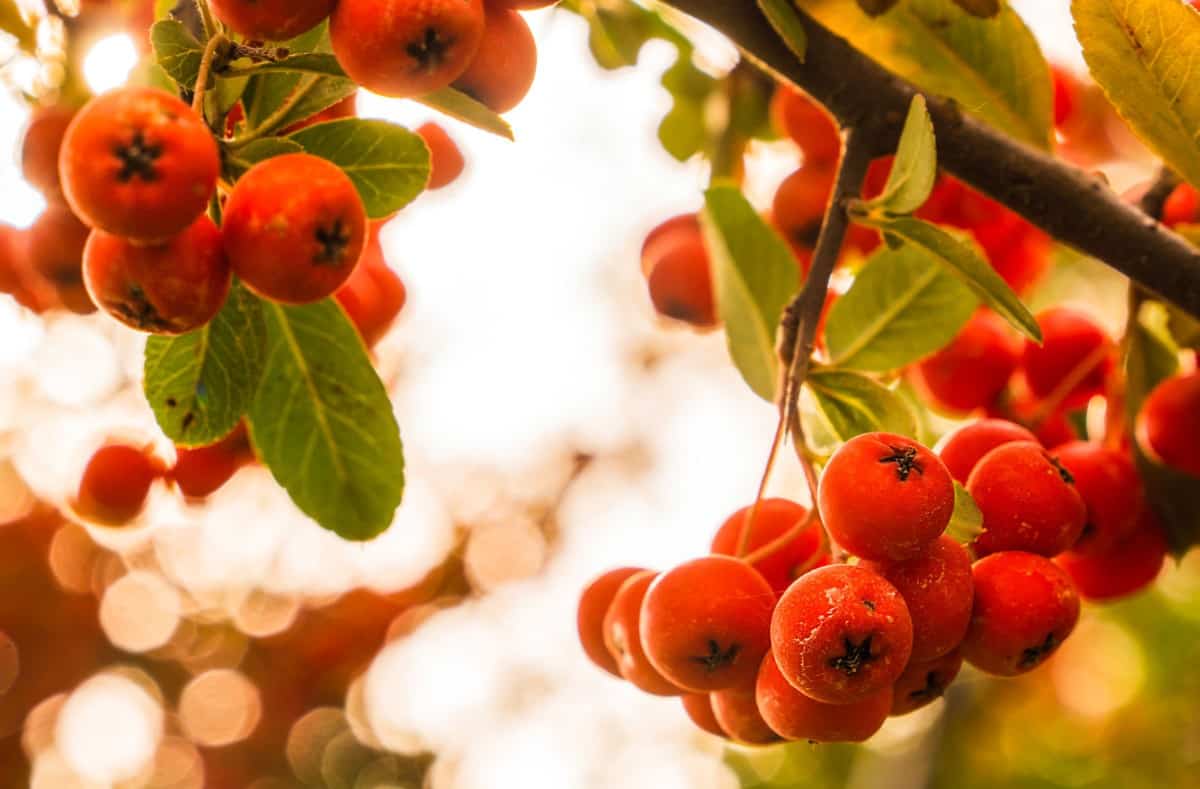 Scarlet firethorn produces both flowers and edible berries. The blooms appear in late spring to mid-summer, but the orange to scarlet colored berries appear in the fall and winter.
The scarlet firethorn grows as either evergreen or semi-evergreen, depending on your variation. It is best in zones five to nine.
Most options reach between six and 16-feet-tall with little to no care, no matter your climate. The plant makes for a natural winter interest piece, and it even appeals to animals.
Smoke Tree (Cotinus coggygria) – Best for Texture and Color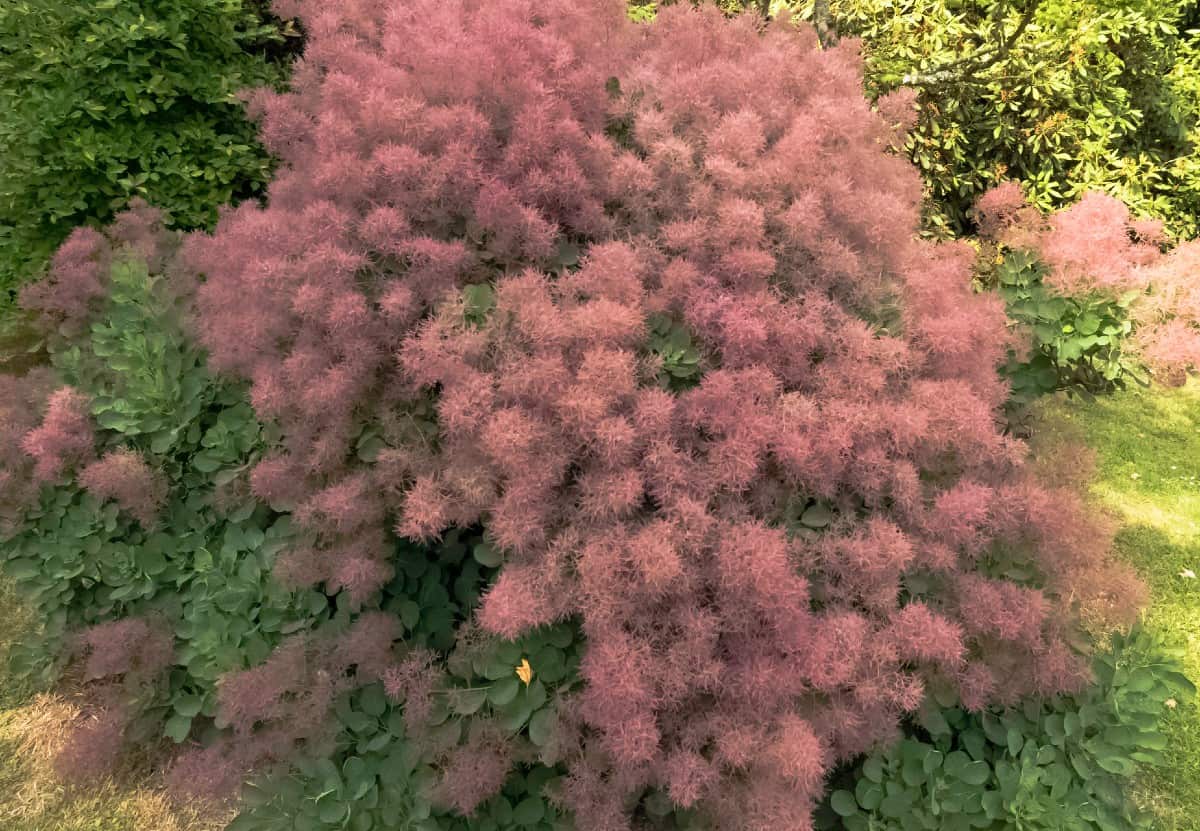 The smoke tree or smoke bush brings tons of texture and color to any season. In the early summer, the plant blooms with tiny flowers. The rest of the time, the long pink filaments attached to the plant create a smoky appearance that lasts all year.
While this tree is hardy in zones five to eight, there are other purple foliage varieties for different climates. Plant it as a landscape specimen or in a garden bed. This tree even spices up a small yard.
Paperbush (Edgeworthia chrysantha)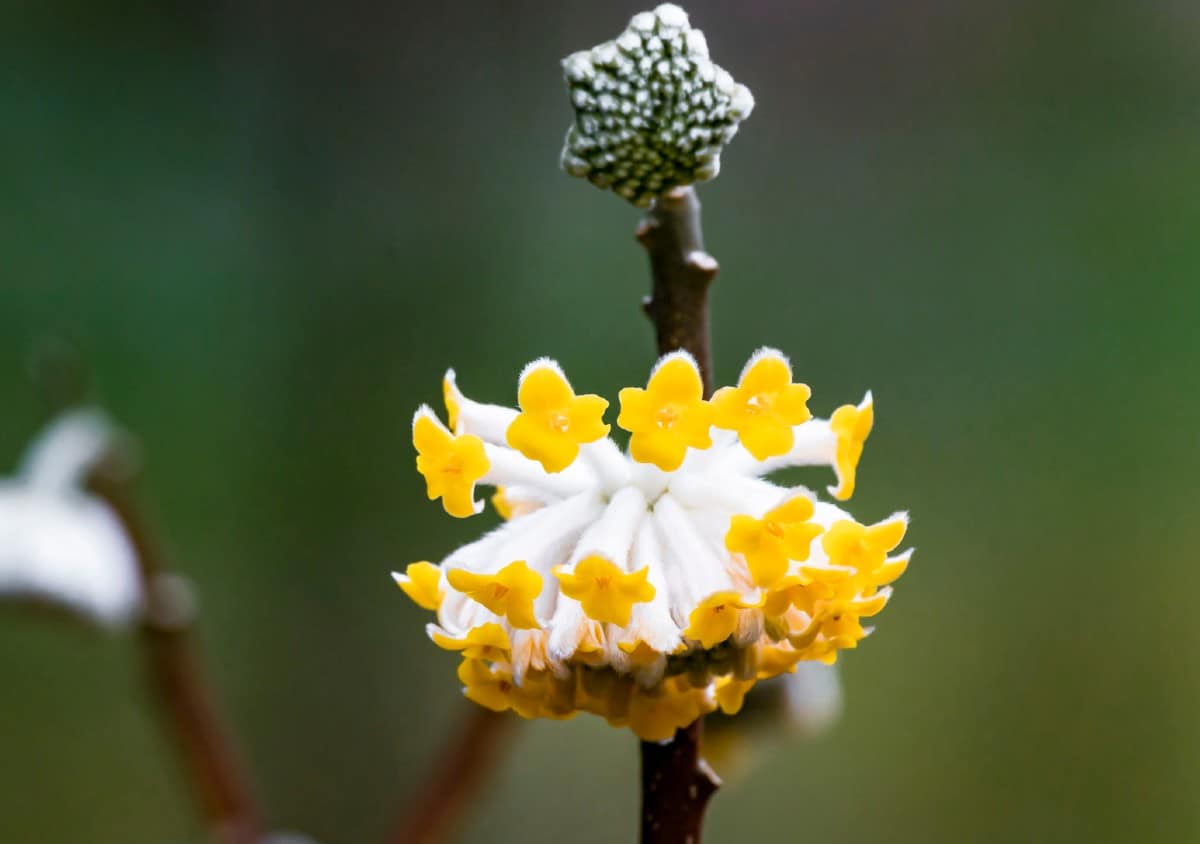 Named for the bark, the bark from the paperbush is used to make high-quality paper. Paperbush is a large shrub with clusters or tubular-shaped, highly fragrant blooms that extend from late winter to spring.
Sometimes the flowers last into the early summer when the canary or white flowers contrast with the skeleton-like stems. Plant your paperbush in zones six to nine. Watch the color change throughout the seasons, even though dull weather.
'Oklahoma' Redbud (Cercis reniformis 'Oklahoma') – A Bright Statement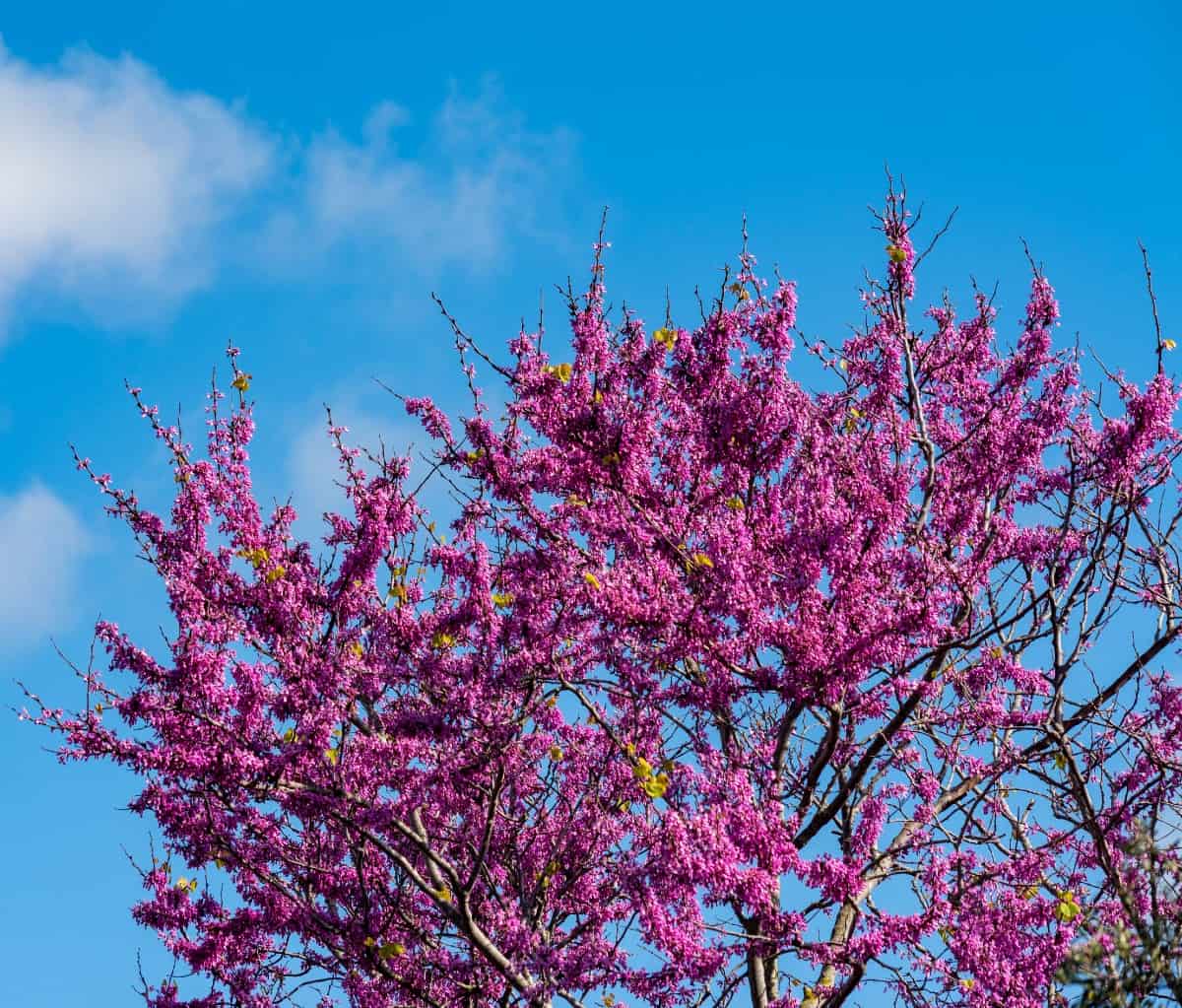 For a statement tree with show-stopping color, go with the Oklahoma redbud. The beautiful red-pink is dazzling in early spring when the bare branches transform. The green leaves are heart-shaped, and the leaves change to a blazing gold shade in the fall.
The Oklahoma redbud is excellent if you have a small yard, require a tree to plant near a sidewalk or under taller trees, or want to position a single focal point. It is hardy in planting zones six to nine.
The best plants to add color in the winter are late-season flowering trees. With many options to choose from, there are many ways to decorate a winter garden. Look for the trees in your planting zone that fit your setting perfectly.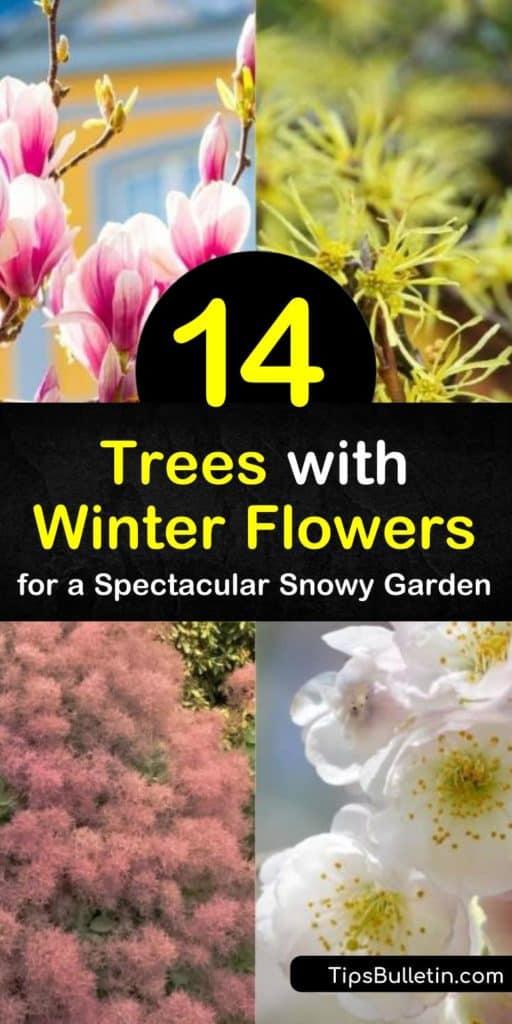 Which flowers are your favorite? Are you planting trees to bring in more animals or color? If you found our extensive list of trees with winter flowers valuable, please feel free to share these planting tips with your friends on Pinterest and Facebook.