Onions are a cool weather crop with a relatively long growing season, but don't let that deter you from planting them in your garden or raised beds. In this article, you'll learn how to grow onions the easy way.
Growing onions requires slightly different tactics than other types of veggies. Except for green onions, which are edible in as little as 20-30 days, most onion varieties take 90-150 days before they're ready to harvest.
The common onion, also called bulb onion or Allium cepa by its botanical name, is the most widely cultivated member of the Allium family, which includes chives, garlic, leeks, scallions, and shallots. They're biennial plants, meaning they grow their leaves, roots, and stems during the first year and develop flowers and seeds in the second year.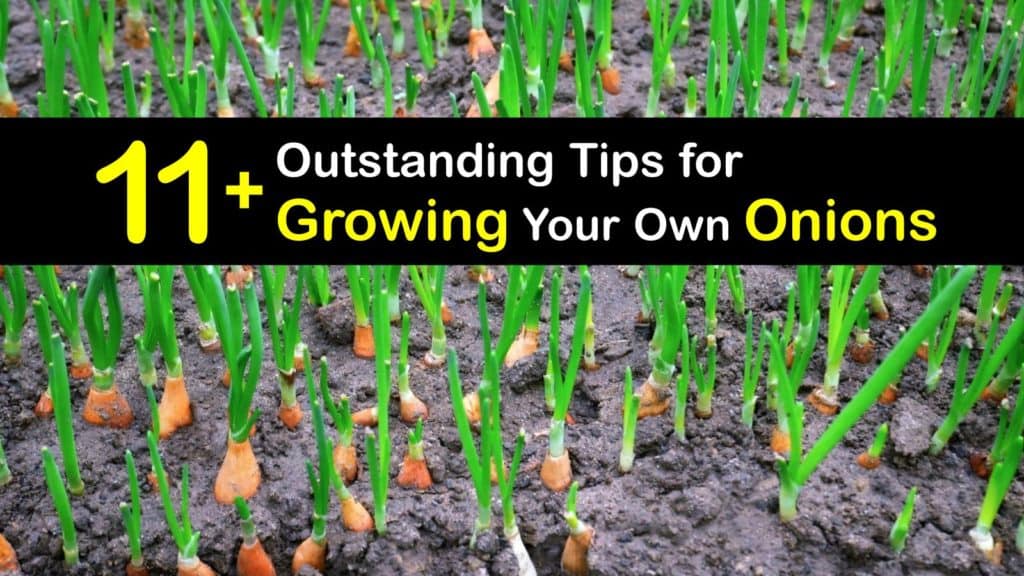 Best Onion Growing Tips for Home Gardeners
Over the years, gardeners have come up with clever ways to get onions to grow faster. Read on to discover onion growing tips that'll make this gardening season a breeze.
The best way to grow onions in containers or outdoors depends on your growing climate and which onion varieties you choose. Learn the difference between onions and shallots or green onions to determine which is best for you.
Several options are available for getting onions started: starting seeds indoors, purchasing second-year onion sets, or transplanting nursery-grown onion seedlings.
Each approach has a unique set of advantages. No matter which planting strategy you choose, there are a few essential factors to keep in mind.
Since they have a long growing season, it's critical to plant onions as early as possible. The timing varies for each planting technique.
Have you ever wondered, "How do onions grow?" Most types of onions grow their green tops when the weather is cool, and start forming bulbs when it's warmer. Bulb formation depends on both temperature and day length.
How to Grow Onions from Seed
A common question when planting onions is, "How long does it take onions to grow?" The answer depends on which planting method you choose. Growing an onion from seed takes the longest, but many growers attest that it provides the best result.
While the harvest time depends on the variety, onions generally mature in 90-120 days from transplanting. Therefore, starting in early spring is critical for success. When to plant onions in zone 7 is almost the same as for zones 6 and 8.
Since they are in the same family, you may wonder, "Are chives and green onions the same?" While not identical, you can grow them the same way.
To grow onions from seed, start onion seeds indoors in late winter or early spring, ten weeks before your average last frost date. They'll produce larger bulbs because the seedlings are well-established by the time you transplant them outdoors.
Fill your seedling tray with nutrient-rich, well-draining potting soil and plant the onion seeds a quarter-inch deep. Cover them lightly with soil, and use a spray bottle to saturate the soil without disturbing the seeds.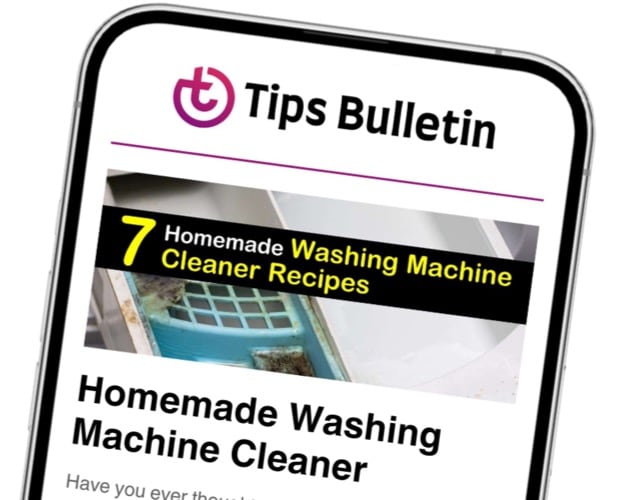 Finally, an email that Transforms Your Home.
Get the latest home and garden tips from our experts, delivered straight to your inbox.
Use a humidity dome or sheet of plastic to hold in moisture. Germination takes about eight to ten days. Onion seeds germinate anywhere above 50℉, but the ideal soil temperature for faster germination is 70-75℉.
It's beneficial to use a heat mat to maintain consistently warm soil. Once the seeds sprout, move the tray to a sunny location with at least six hours of bright light daily. If you don't have a sunny windowsill, use grow lights.
If you don't want to bring them outside or don't have the room for a garden, growing onions inside is possible. Ensure that they get enough light and water.
Winter-Sowing Onion Seeds
Another technique for starting onion seeds is winter-sowing between December and February. This eliminates the need to harden the seedlings off before transplanting.
Fill a lidded, clear plastic tray that has drain holes with three inches of potting soil. Repurpose an old food container by cutting half-inch slits around the bottom edges for drainage and in the lid for ventilation.
Scatter onion seeds across the soil surface and lightly cover them with a quarter-inch of soil, then water them. Replace the lid and put the container in a protected outdoor area. The seeds stay dormant until germination is triggered by temperature and day length.
Once the seedlings sprout, keep the soil consistently moist. Remove the lid during the daytime, and replace it at night. In case of a hard freeze, insulate the seedlings with a blanket.
Preparing Your Planting Area
To prepare your garden beds, apply a generous layer of organic compost about two weeks before planting. The compost acts as a mulch to warm the soil and provides slow-release nutrients during the growing season.
Onions have a shallow root system and grow best in loose, well-draining soil. If your soil is heavy or compacted, till the compost into the top few inches to break it up.
Transplanting Onion Seedlings Outdoors
Whether you started seeds or purchased onion seedlings at your local garden center, it's necessary to harden off the tender seedlings before transplanting them outdoors.
Leave the plants outdoors for progressively longer periods for a week or two to allow them to adjust to the elements gradually after being raised indoors.
Once hardened off, transplant onions as soon as temperatures are consistently above freezing. They're reasonably cold-hardy and can survive a light frost but need protection from hard freezes.
Plant seedlings about an inch deep, grouping them in sets of two or three. Later, it's beneficial to thin out all but the strongest plant to have plenty of space for bulbing. How far apart to plant onions so they have enough room? Spacing between plants should be four to six inches.
How to Plant Onion Sets
Onion sets are small onion bulbs grown close together to produce smaller, heartier bulbs intended for planting next year's crop.
Since they're in their second year of the biennial life cycle, they tend to mature faster and are generally ready to harvest in about 40-60 days.
However, they also eventually produce flowers. The plant focuses its energy on flowering rather than creating a large bulb. When you plant onion sets, make sure they're no bigger than dime-size, as larger bulbs bolt faster.
Plant onion sets one or two inches deep and four to six inches apart. Leave 12-18 inches between rows.
Best Onion Varieties to Grow at Home
The advantage of growing onions from seeds is there are more varieties available. Compare red onion vs white onion and which you will use more at home, or grow both. Onion varieties are classified as long-day, short-day, or day-neutral.
Long-day onions require 14-16 hours of sunlight daily during their later growth stages for the bulbs to mature. They're ideal for northern climates with long daylight hours in mid-summer.
Short-day onions grow well in southern climates with mild winters. They get planted in the fall, grow through the winter, and begin forming bulbs once the day length reaches 12 hours. They're ready to harvest before the weather gets too hot in mid-summer.
Day-neutral onions are suitable for most climates and form bulbs regardless of daylight hours. In areas with mild winters, plant day-neutral onions in the fall for a late-spring harvest. In colder regions, plant them in early spring.
Ideal Growing Conditions for Growing Onions
Choose a location for planting onions that receives full sun and has well-draining soil rich in organic matter. Onions grow best with neutral to slightly acidic soil pH, between 6.0 and 7.0.
Onions require consistent moisture levels and thrive with about an inch of water per week. However, the bulbs rot in soggy soil, so be careful to avoid overwatering.
With their shallow root system, onions suffer when competing for water and nutrients with weeds. Use a layer of mulch to suppress weed growth and retain soil moisture so you don't end up with a bad onion or two.
Choosing the Right Fertilizer
Onions are heavy feeders and grow best when fertilized regularly. Plant fertilizer contains three primary macronutrients: nitrogen (N), phosphorus (P), and potassium (K). Nitrogen promotes leafy growth, phosphorus supports healthy root systems, and potassium helps fruiting and flowering processes.
Since onion bulbs are essentially modified leaf structures, choose an organic fertilizer for fertilizing onions that's high in nitrogen. More leaves mean bigger bulbs at harvest time. Keep fertilizing your onion plants every two or three weeks until the bulb tops begin pushing soil away.
How to Regrow Onions from Scraps
To regrow bunching onions, cut the white end with the roots where it starts to turn green and place it in a small glass of water. The onion tops begin regrowing within four or five days.
For bulb onions, save the bottom third of the bulb with the root attached. When growing an onion from a bulb, dry it for a day or two until you see the layers start to curl. Fill a small container that has drain holes with potting soil.
For the best way to grow green onions in a container, gently press the bulb into the center, cover the top of the bulb piece with an inch of soil, and water it in thoroughly.
Place the pot on a sunny windowsill and keep the soil consistently moist but not soggy. It's also possible to plant yellow onions directly into your garden soil. You'll see new growth within about a week.
It's possible to grow potatoes from potatoes, too. Plant potatoes with roots growing from the "eyes" and transplant outdoors.
Harvesting Onions
The best time to harvest onions is once at least half the leaves have turned yellow and collapsed. Onion bulbs left in the ground longer tend to store better.
Gently dig around the bulbs to loosen the surrounding soil from the roots. Don't pull the onions out by their tops, as that could break the neck and cause problems for curing. Lift the bulbs out of the dirt and brush off excess soil.
Cure them with the tops on in a warm, dry place with adequate air circulation for seven to ten days. The roots shrivel, and the neck, where the leaves emerge from the bulb, dries to form a seal that preserves the bulb during storage.
Once the neck and outer skin layers are entirely dry, trim the roots and leaves. Store onions in a dry place with good air circulation and temperatures consistently below 40℉. Avoid letting onions freeze.
Prevalent Pests and Diseases that Affect Onions
Stressed plants are more susceptible to attacks from insects and pathogens. The best protection for your plants against pest and disease problems is adequate light, fertilizer, and water.
The most common insects that feed on onion plants are leafminers, onion maggots, and thrips. Leafminers and thrips feed on leaf tissue. Treat both with neem oil. Onion maggots, which are fly larvae, burrow into the bulb and eventually kill the plant.
Prevent insects from laying eggs near your onions by covering newly planted seedlings with row cover. Diatomaceous earth effectively kills onion maggots.
A frequent disease for onions is bulb rot, which results from prolonged overwatering or poor soil drainage. If onions dry out too long, the bulbs may split.
Crop rotation is another excellent strategy for avoiding pest and disease problems. Grow plants in a different location than the previous year to prevent fungal spores and insect eggs from accumulating in the soil.
It's advantageous to choose plants that aren't susceptible to the same types of issues to grow in that area the following season.
Companion Plants for Onions
Companion planting is a valuable garden design system that pairs compatible plants to utilize their mutually beneficial attributes.
Numerous plants attract beneficial pollinators and predatory insects, repel pests, and improve their neighbors' flavor and overall growth. However, some plants are not compatible and must live separately.
Onions are useful companion plants around the garden. Their strong scent repels numerous pests, including ants, aphids, cabbage loopers, carrot flies, flea beetles, mosquitoes, spider mites, deer, and rodents.
Dill is a helpful companion for onions because it repels onion maggots and attracts beneficial predatory insects that feed on pests like aphids, thrips, and leafminers. What to plant with onions includes basil and marigold because they deter thrips.
However, onions must grow away from a few plants, like asparagus, sage, and legumes like beans and peas.
These plants reportedly stunt one another's growth. Also, insects and diseases spread through the garden slower when similarly vulnerable plants grow away from one another. Avoid planting your onions next to other alliums.
After harvesting your onions, you need to preserve them properly. Store onions in fridge or pantry depending on how quickly you will use them. You can also freeze onions to eat later.
Onions are a staple ingredient in most kitchens, so why not try growing them yourself? The main reason that onions are sometimes hard to grow is their long growing season and preference for cooler temperatures.
But, growing onions doesn't have to be a struggle. Give yourself a leg up by starting early, and you'll enjoy an impressive harvest of onions.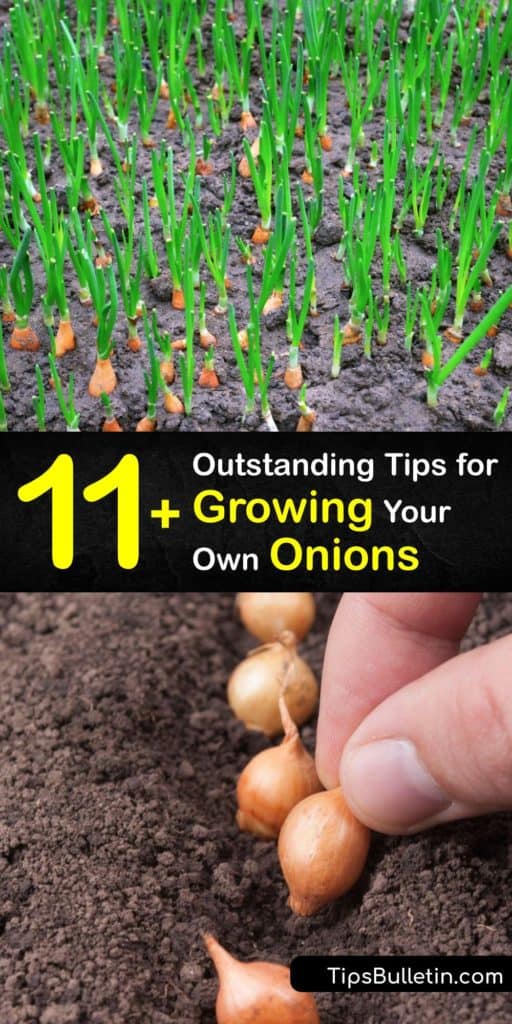 If you found these onion growing tips helpful, please share this article about how to grow onions with your fellow green thumbs on Pinterest and Facebook.