One of the most common plants to include in a backyard garden is pepper plants. Pepper varieties are simple to grow and have an easy-to-follow routine maintenance schedule, making them desirable for many gardeners. No matter what type of pepper plant you are growing, you must understand when to harvest peppers so they have the most flavor possible.
Learning when to pick peppers at the right time allows you to have fresh, crisp peppers with plenty of flavor for your pepper recipes. This article teaches you how to harvest peppers, store peppers, and the length of time it takes for most pepper plants to reach their full maturity. Additionally, we provide the best companion plants for hot peppers and sweet peppers, so the rest of the fruits and vegetables in your garden thrive.
Companion planting helps your peppers grow more efficiently and produce fruit with rich flavor at the end of the growing season. Continue reading for all of the best tips and tricks about harvesting different types of peppers.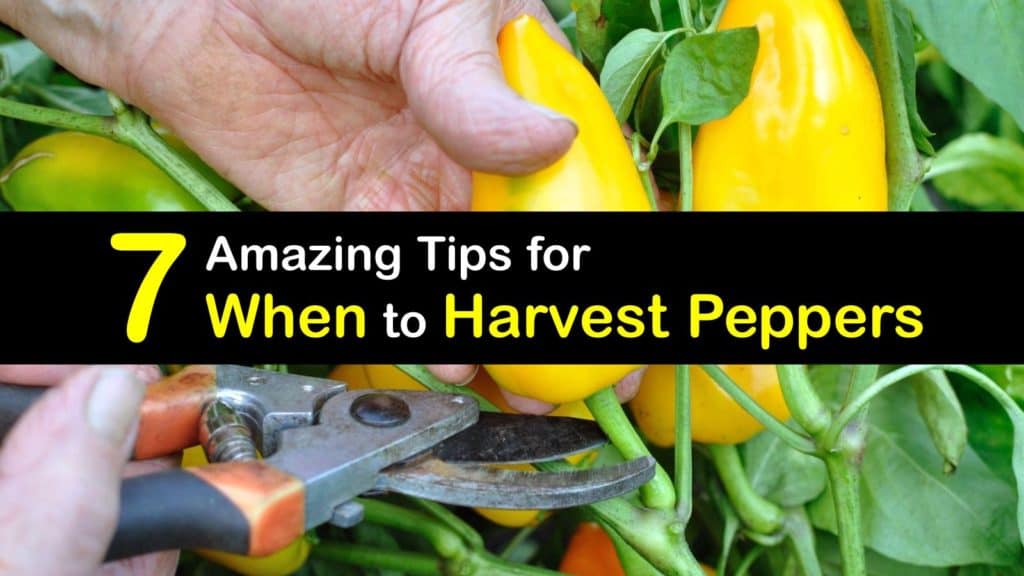 Difference Between Sweet and Hot Peppers
You may be wondering what separates a sweet pepper from hot pepper. The chemical in hot peppers that gives them their kick is capsaicin. Depending on the type of pepper, the level of capsaicin fluctuates.
For example, jalapeno peppers have considerably more hotness than banana peppers. It is important to understand why members of the Capsicum family contain more heat, as it plays a role when harvesting jalapenos or other peppers.
When to Harvest Peppers that are Bell Peppers
Growing peppers is not challenging. Know whether you want to plant seeds or seedlings, how deep to plant peppers, and the proper care requirements and you have all you need. Learning what to plant with peppers reduces the amount of maintenance peppers need, as certain plants repel unwanted pests.
A common misconception about bell peppers is that the different colored fruit comes from various bell pepper plants. However, the bell peppers start to change color the longer they remain on the vine.
Because the green, yellow, orange, and red peppers come from the same plant, it allows you to harvest the peppers when you prefer. When are peppers ripe? Harvest bell peppers when they reach their full size and are the color you want.
There is no specific size that determines a ripe bell pepper. As soon as the pepper is large enough to eat, it is ready for harvest.
There are several bell pepper plant stages. Green peppers are the first stage to ripen, and the fruit continues to mature and change color as it stays on the vine. As bell peppers continue to change color, the fruit becomes sweeter and contains more vitamin C.
When to Pick Peppers that are Hot Peppers
Many hot pepper varieties are popular in backyard gardens. After growing pepper seeds and maintaining the plant throughout the growing season, it is critical to know how to harvest peppers, whether you need to discover when to pick serrano peppers or tabasco peppers.
Hot peppers, like bell peppers, start green and change color as they mature. Most hot peppers are red or orange when they develop.
When growing poblano peppers or other hot pepper types, it is best to harvest hot peppers when they reach their full size. However, when harvesting hot peppers, know that the fruit continues to ripen even after picking.
When harvesting Anaheim peppers and other hot peppers, even if you harvest the peppers prematurely, they continue to ripen and build up more capsaicin as you store them.
Understanding that hot peppers develop additional capsaicin after harvesting chili peppers is essential when making homemade hot sauce or adding them to a recipe.
How to Harvest Peppers Correctly
After successful germination and growth, it is time to harvest the fruit from your pepper plant. Before you pick habanero peppers off the vine or any other type of pepper, have the proper tools on hand and know the correct technique for harvesting peppers.
When you harvest peppers the right way, like when harvesting shishito peppers, you preserve the fruit and do not cause any damage to the plant. This is true whether you need to know how and when to pick a banana pepper or another variety.
After learning when to pick poblano peppers or other spicy varieties, use your pruning shears to cut the peppers off the plant. Make sure you leave a short amount of the stem attached to the fruit, so the plant can produce more fruit in the future.
When harvesting hot peppers, use gloves to protect your skin from the capsaicin oil that causes a burning feeling when the oil comes in contact with skin.
Storing Your Peppers the Right Way
It is important to store your peppers in the proper location to maintain their nutritional value and delicious taste. Keeping peppers in too cool or too hot conditions leads to wilting, water-soaked areas, decay, and pitting.
Learning when to pick peppers is just as crucial as understanding where to store the fruit and keep peppers fresh. Store peppers in a paper bag to help absorb excess moisture before placing them in the refrigerator's crisper drawer.
The crisper drawer provides colder temperatures than the main shelves and additional airflow that helps perishable foods stay fresh. Store peppers that need more time to mature in an airtight container at room temperature for up to three days. Red bell peppers will stay fresh for days in the crisper drawer or months if they are canned.
The Best Companion Plants for Peppers
Growing peppers from a seed packet is simple. After transplanting peppers from an indoor to an outdoor environment, certain plants grown nearby help promote healthy growth patterns.
Companion planting helps you save space in your garden, prevent weeds, and promote healthy soil.
An excellent way to repel harmful pests from your pepper plants is to grow marigolds nearby. The scent of the flowers deters aphids and other pests from invading your garden.
Although there are several companion plants for peppers, there are some that slow down germination. Peppers do not grow well next to fennel or with members of the Brassica family.
How Long do Peppers Take to Grow?
Most pepper plants are not very challenging to grow, no matter how experienced you are in gardening. However, the most vital aspect of growing peppers is temperature. With adequate temperatures, pepper plants reach maturity quickly.
How long does it take to grow peppers? Sweet pepper varieties take around 60 to 90 days to mature, and hot peppers take approximately 150 days to mature.
Hot peppers take a little longer to grow because of the capsaicin that develops inside the pepper. The temperature range that peppers grow best in is between 70 and 75℉, which prevents blossom-end rot and harmful diseases.
Prevalent Diseases and Pests for Pepper Plants
Planting peppers is much simpler than most other fruits and vegetables. As you learn when to pick peppers, remember that some pests and diseases attempt to harm your plant.
One of the most familiar diseases that affect pepper plants is the mosaic virus, which leaves a distinct color pattern on the leaves.
Unwanted insects like aphids and whiteflies feed on the pepper plants' juices in the stems, roots, and leaves.
Signs of aphids and other insects on plants include damaged leaves, wilting, and stunted growth. One way to deter these pests is to add mulch made from cedar trees.
It is not difficult to learn how to harvest peppers when you use the proper tools and techniques. With a sharp pair of scissors or gardening shears, snip the fruit off the vine, making sure you leave a little part of the stem on the fruit.
Remember that hot pepper continues to ripen even after you remove it from the vine.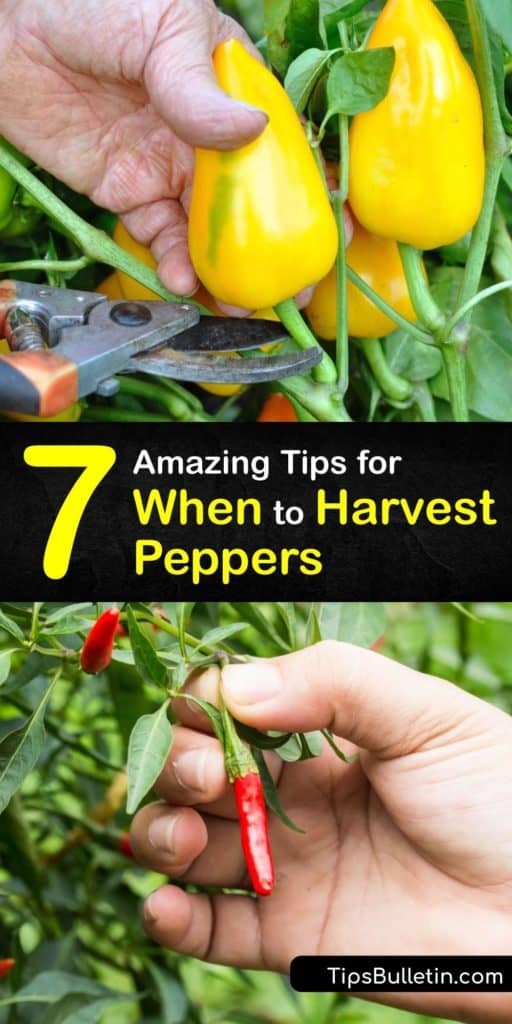 If you learned when to harvest peppers, share this article about picking peppers with your family and gardening friends on Pinterest and Facebook.