If you are looking for a quick and easy way to bottle a large number of fresh mushrooms, consider canning them. Options for safely canning mushrooms include pickling, water bath, and pressure canning.
What method you select varies based on personal preferences and how large or small the batches are. Pressure canners require a full load, while the other two options don't. No matter which one you pick, we recommend using smaller jars.
One downfall of canning mushrooms is the texture change. When learning how to can mushrooms, the result is the same; they become rubbery and soft. Even with this change, most people prefer the taste of mushrooms canned at home than those bought commercially.
Commercially canned mushrooms often have a bland, rubbery taste, which not even the most flavorful recipes can disguise. Canning your own eliminates the blandness and makes it, so you never want store-bought ones again.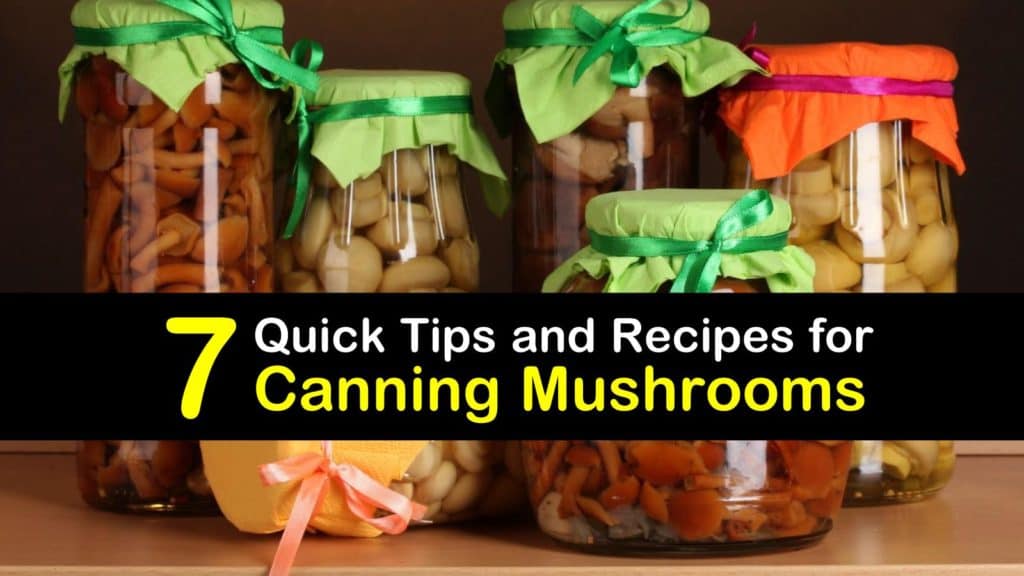 Brilliant Tips and Tricks for the Best Canned Mushrooms
There are many ways to keep mushrooms from spoiling. Can you freeze Portabella mushrooms and other varieties? Yes, freezing is one option. Canning and pickling are others.
With the proper home canning supplies, preserving mushrooms at home is as easy as following a few simple steps. We suggest sticking with the pint or half-pint size as they hold the perfect amount.
How to Choose Quality Mushrooms
When you want to store fresh mushrooms, purchasing commercially grown mushrooms from your local market is the safest option for long-term food storage.
Most people use common types of mushrooms like White Button, Italian, or Brown Cremini mushrooms to provide the best results in terms of flavor and texture.
Other edible mushrooms you can use include Oyster, Wood Ear, Shiitake, Morel, Portabella, Woods, and Porcini. Only use the freshest ones and sort through your mushrooms before washing.
The mushrooms should be clean, evenly colored, and firm to the touch. After buying them, bottle your mushrooms within a day to ensure their quality.
Are Wild Mushrooms Safe for Canning?
Many canning recipes tell you not to use wild mushrooms, but that doesn't mean it's not okay. If you know how to harvest wild mushrooms, pressure canning is a simple way to store them.
We suggest pickling or water bath canning to preserve wild mushrooms as these methods retain their unique flavors and textures. Pickling is more versatile, as you can add and subtract spices and herbs as you see fit.
Is There a Difference Between Canning and Pickling Mushrooms?
By canning whole mushrooms, you destroy any harmful bacteria inside the jar and make it possible to keep them inside your pantry for years to come. Canning only requires the addition of acidic ingredients for low-acid foods.
When you learn how to pickle mushrooms or other foods, you stop all bacteria growth except the one responsible for producing lactic acid. It ensures the taste and nutritional benefit remains the same as when it was fresh—store food inside the fridge for one month.
How to Can Mushrooms in a Pressure Canner
Pressure canning mushrooms is an easy way to extend their shelf life. The number of mushrooms needed for each batch varies. For nine pints, you need 14 ½ pounds; for half-pints, it's seven and a half. Use vitamin C powder in place of ascorbic acid.
Begin by trimming the stems of the mushrooms, then soak in cold water for ten minutes. This is the fastest way to remove all the dirt and debris. Rinse a second time in clean water.
For larger mushrooms, cut them smaller into equal size pieces. Place them inside a pan and cover with water. Boil the mushrooms for five minutes and scoop into hot containers – leave one inch of headspace.
Depending on jar size, add one quarter to one half of a teaspoon of salt. To improve color, add 1/8 teaspoon of ascorbic acid to each one, regardless of size. Use a non-metal spatula to remove any air bubbles, then top off with additional fresh hot water, if necessary.
For home canned vegetables like mushrooms, seal the jars with lids and rings and boil for 45 minutes. For a dial gauge canner, PSI varies from 11 to 14 pounds based on altitude. With a weighted gauge, the USDA recommends 11 pounds of pressure for up to 1,000 feet and 15 pounds for anything higher.
Shut off the burner and let the pressure cooker naturally drop to zero. This process takes from 45 minutes to an hour. Rushing the process causes a loss of liquid.
Remove the canned mushrooms and let them cool undisturbed for 24 hours. Check for a proper seal. If not sealed, refrigerate immediately; otherwise, place in a cool, dark location.
How long do mushrooms last after canning? If you don't eat them all, they can last up to a couple of years.
Preserving Mushrooms using a Water Bath
When water bath canning mushrooms, processing times vary based on altitude; adjust as needed. White mushrooms work well for marinated mushrooms, but don't be afraid to mix things up.
Here are the water bath canning instructions for delicious mushrooms. Wash and prepare the mushrooms by cutting off the stems until they are flush with the cap. Pour lemon juice, water, and mushrooms into a large pot and boil for 5 minutes, then drain.
In a second pot, add vinegar, oil, salt, and basil. Drain and chop the pimientos. Add them and the onions to the vinegar mixture and bring it all to a boil.
Use half-pint jars and place two peppercorns and one garlic clove in each one. For preserving mushrooms this way, fill them with hot mushrooms and slowly pour in the vinegar liquid – leave ½ inch of headspace.
Use a damp paper towel to wipe down the jar rims. Secure them with lids and rings before processing for 20 minutes. Remove the jars from the boiling water and let rest several hours before checking for a seal.
Refrigerate any unsealed ones immediately. For maximum flavor, let mushrooms sit for six weeks before opening.
Fast and Easy Bottled Mushrooms
Most recipes require you to use a pressure or water bath canner for long-term storage. Pickling extends the shelf life of perishable foods without sacrificing quality or taste.
Cut off mushroom stems, so they are even with the caps. Wash mushrooms under cold running water and drain thoroughly. In a large pot, add salt, vinegar, and water and boil until salt dissolves.
Add the mushrooms and bring them to a boil. Simmer mushrooms for 12 minutes. Pack hot mushrooms into half-pint Mason jars. Add one tablespoon of onion, one clove of garlic, and half a teaspoon of peppercorns to each one.
Top them off with hot brine. Remove the air bubbles with a knife and add more brine, if needed, leaving ½ inch of headspace.
Clean the rims before sealing the canning jars with lids and rings. Refrigerate immediately or place in a water bath for 20 minutes. For altitudes of 1,000 to 6,000 feet, cook for 25 minutes. Anything above 6,000 feet requires 30 minutes.
Other Mushroom Preservation Methods
Canning is the ideal choice for larger batches, but what do you do if you only have a small number of mushrooms to work with? Pickling is quick and easy and keeps the mushrooms shelf-stable for up to one month inside the fridge.
For those asking can fresh mushrooms be frozen, the answer is yes. To keep their natural flavor, saute them in butter before freezing. Dehydration works well with smaller varieties but is a bit tricky.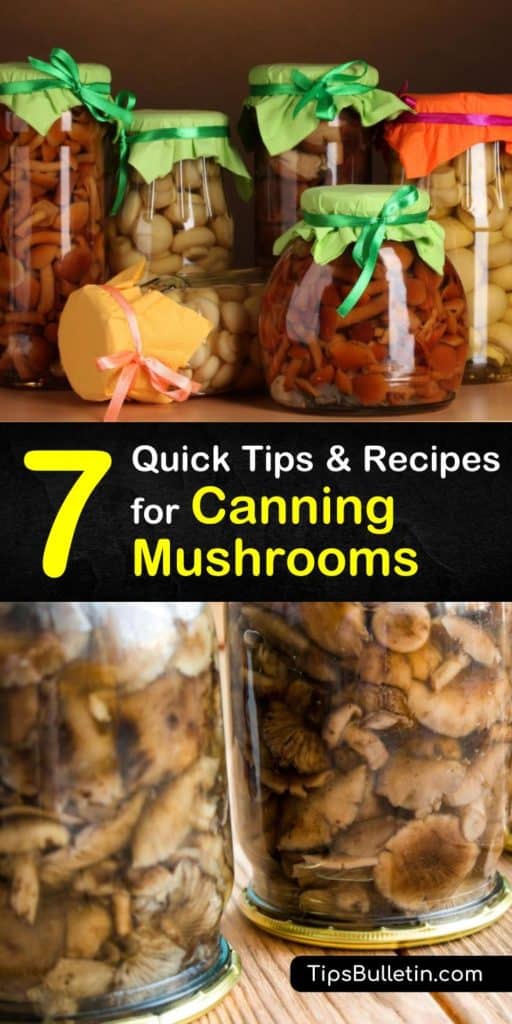 Thank you for learning how to can mushrooms at home. If you found any of our canned mushrooms tips and tricks useful, please share with others on Facebook and Pinterest so they can also learn all about canning mushrooms.