Peach season is a miracle of nature. Every year, we get a bounty of delicious fruit that bursts with flavor and juice. Biting into a peach is like getting a taste of liquid sunshine, and we want to be able to have that experience all year long.
When we want to make sure that we have fruit to eat in every season, canning peaches is a great option. When you preserve peaches, you bring summer with you to the darkest winter night. To get the most out of your peaches, you need to be able to keep them for year-round use.
In this article, we learn how to can peaches. We show you the best method for getting your peaches ready for their long rest, and we take you through the canning process step by step. We show you how to can using simple syrup, medium syrup, and white grape juice.
We also provide methods for both water bath canning and pressure canning peaches, and we examine why peaches are healthy food for you and your family.
And, we share our favorite recipe with canned peaches so you can put your canned peaches to good use. You'll be amazed at the difference having delicious peaches available anytime will make to your meals.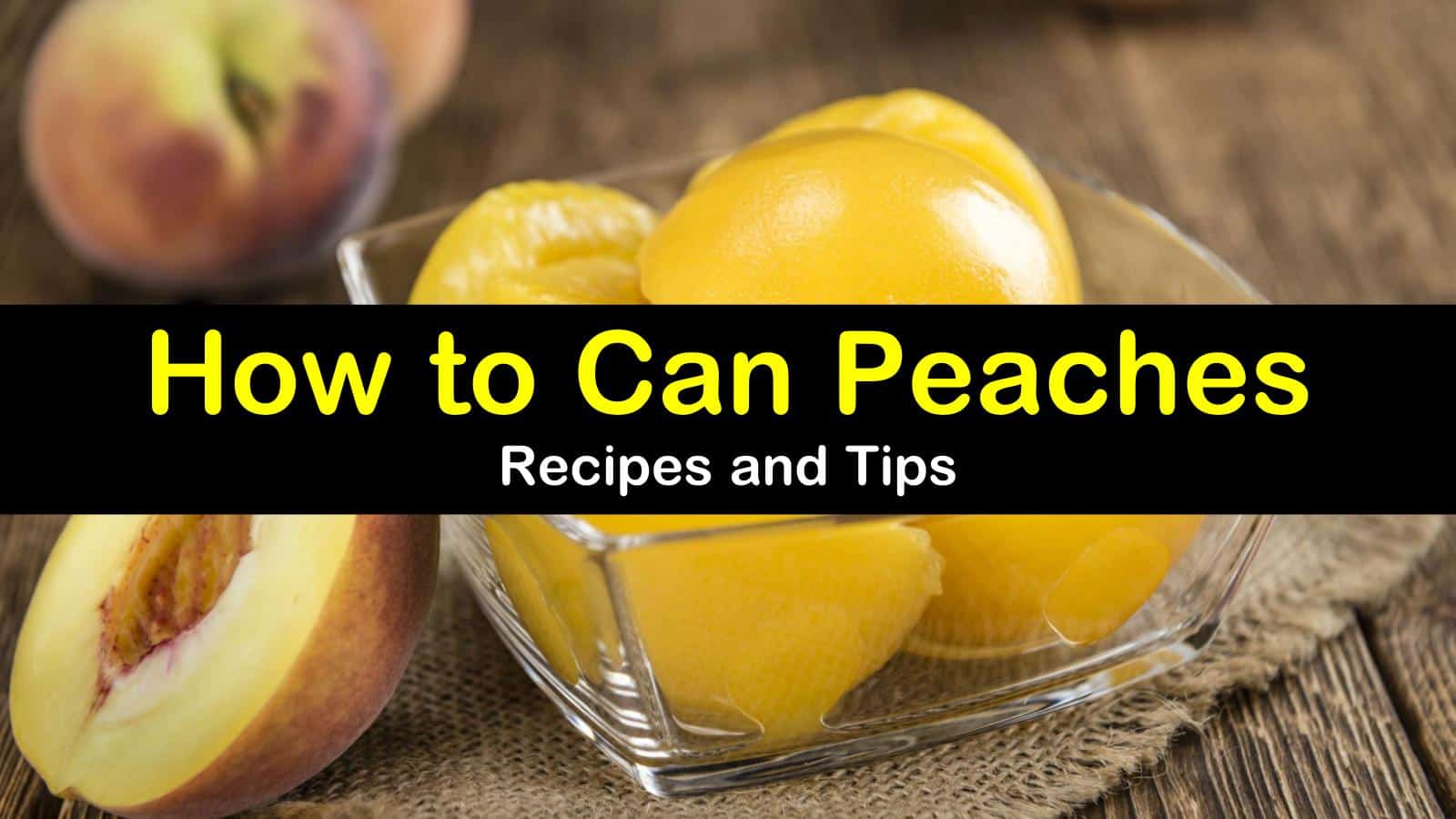 Get Ready to Can Peaches
Just like with canned strawberries or other fruit, you're going to put some work into canning your peaches, which is why you need to have a tried-and-true preparation and canning process.
There's not much worse than making the effort to preserve peaches only to open a jar of spoiled food months later. If you want peaches to be comfortable in their Ball jars and Mason jars, it's crucial to make sure that your canning method is reliable and safe.
In this section, we go over how to prepare and can your peaches. Similar methods are used when canning pears, as well. We take a look at an excellent method to skin your peaches quickly, and we also show you how to make sure that the fruit doesn't turn an unsightly brown in the jar.
Then, we cover the canning process itself and give you several alternative steps to allow you to personalize your preserves and make them taste the way you like. While canning peaches is certainly one option, know that you can also learn how to freeze peaches for later use.
Preparing Your Peaches
Before preserving your peaches you need to be able to tell if peaches are bad or if they are even ripe. If you want a quality end-product the first time and every succeeding time, you need to start with quality ingredients.
When you're home canning peaches or are looking where to store strawberries, that means using only the most recently picked and freshest ripe fruits in your preserves.
Before exploring the best way to store fresh peaches, make sure that the peaches are firm and ripe but not overripe, and check for boring insects before using the fruit. When it comes to canning fruit, the fresher the fruit, the better the preserves.
Seventeen pounds of fresh peaches will yield a canner load of about seven quarts. Run the peaches under a cold water tap to clean them, and add them to the boiling water in small batches. Let them sit in the water for two or three minutes.
Use the slotted spoon to move the peaches to the ice water bath. Once the hot peaches hit the ice water, the skins will loosen and peel away very quickly. Peel the peaches, and remove pits.
Add the citric acid or Fruit Fresh to the six cups of water, and after stirring the mixture, add the peeled peaches. The citric acid or Fruit Fresh will prevent the peaches from turning brown.
Canning Your Peaches – How to Best Can Peaches
Once your peaches are skinless and soaking in the citric acid mix, it's time to move on to canning. You have several options to can peaches: you can either hot pack them in syrup or use the raw pack method and preserve them with hot fruit juice or sugar water. Either way is valid, although the National Council for Home Food Preservation recommends hot packing over raw packing.
The same type of rules apply for the many different recipes for canning apples that you just got from your favorite apple orchard. Using sugar may not be an option for individuals with diabetes but there are other ways to tackle food preservation without added sugar.
If using a water bath canner, fill it, and bring the water to a boil. Bring the saucepan of water or juice to a boil, and add sugar until it forms a light syrup or medium syrup. Drain the peach halves, and cut peaches into wedges if you wish.
If you are raw packing them, pack peaches into the jars, and fill the jars with boiling syrup, leaving about ½ inch headspace at the top of the jar. If you are hot packing the peaches, add them to the hot syrup in the saucepan, and allow the mixture to cook for about a minute.
Fill the jars with the peaches and sugar syrup, and leave ½ inch headspace. Use a butter knife or plastic utensil to carefully stir the peaches until all air bubbles are gone, and seal the canning jars.
Processing time will vary depending on your canning method and jar size. Raw and hot packing times are different, pressure canner and boiling-water canner times differ, and your total time in the canner will depend on altitude, as well.
See the National Council for Home Food Preservation's chart for the required canner time. When the needed processing time has elapsed, remove the hot jars using the jar grabber.
The process is much the same for preserving strawberries by canning, as well as a variety of other fruits.
Why Preserve Peaches?
You might be wondering why we go to all this trouble. There's plenty of fruit out there, so why should we take the time to can our peaches? There's only so much time in the day, after all, so why spend it preserving fruit?
We'll answer these questions in this section, We go over the amazing health benefits you get from regular peach consumption, and we also look at the incredible flavor boost the peaches add to a meal. We'll close with one of our favorite recipes you can make with peach preserves to put those canned goods to use.
Preserving fruits and vegetables is a great way to save money and know exactly what you are eating. How to can applesauce is just as simple as canning tomato juice or freezing bananas.
Health Benefits
Although peaches are incredibly sweet and seem to be dripping with sugar, you would be surprised at how healthy peaches are. You'll only get about sixty calories from a peach, and they have tons of nutrients, too. A single peach is enough to give you 10% of your recommended vitamin A and up to 17% of your recommended vitamin C!
Besides, peaches are a fantastic source of antioxidants, so they're a handy tool in the battle against aging and disease. They also promote heart health, and they'll aid your digestion, as well.
Studies have even shown that peaches have anticancer benefits. Peaches are a healthy and delicious snack alternative and will keep your kids happy. Keeping peaches fresh by canning or freezing is an excellent way to have these delicious fruits on hand whenever you want them.
Fantastic Flavors
Once you've had a peach, you'll remember its taste forever. There's nothing else like a peach; it contains lots of flavorful and sweet fructose, and it adds zest to any dish. Many popular summertime recipes use peach preserves, including our favorite peach pie recipe. You won't believe how delicious this dessert is. Your family will love it!
Mix the sugars in a large bowl, and toss the peaches in the sugar mixture. Cover the bowl, and let the peaches sit for an hour. Add a pastry crust to a 9-inch pie pan, and trim the edges and set the pan aside.
Remove the peaches from the bowl, and drain them, making sure to reserve the juice. Mix the nutmeg, cornstarch, salt, and cinnamon in a saucepan. Stir in the reserved juice a bit at a time, and bring the mixture to a boil. Cook until the sauce thickens – about two minutes.
Remove the saucepan from the heat, and add the butter and lemon juice. Fold the peaches into the saucepan, and add the entire mixture to the lined pie pan. Use the other pastry to make a crisscrossing lattice crust on the top of the pie. Bake the pie for 40 to 60 minutes at 400°F until the crust turns golden, and peach juice is bubbling.
We hope you liked reading about how to can peaches. Water bath canning and pressure canning peaches are great ways to make sure that you have fresh summer flavors all year round, but you have to know how to do it the right way. Our guide shows you the proper way to can peaches and will have your family applauding your every dessert!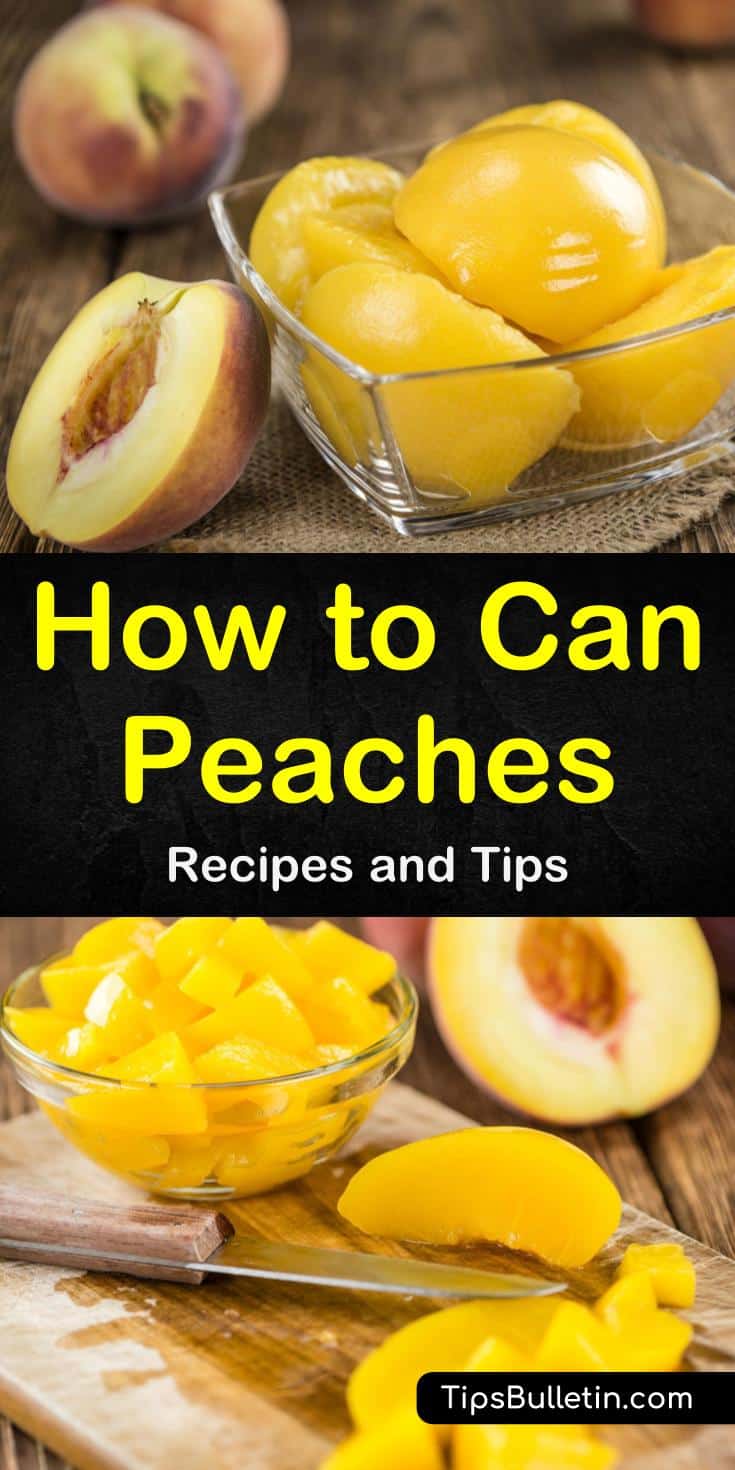 Thanks for reading our guide on canning peaches. If you found our tips on how to can peaches helpful, please share our canning guide on Pinterest and Facebook.