As organic gardening and natural remedies increase in popularity, interest in Epsom salt for garden plants grows. Many new gardeners ask, "Is Epsom salt good for garden plants?" Though they're better known as a medicinal bath salt to reduce muscle tension and soothe aches and pains, using Epsom salt for plants in the garden offers a host of benefits to your plants.
Whether you grow flowers and ornamentals or food crops and fruit trees, it's worth getting to know the things Epsom salt can do to assist you in keeping your plants healthy.
The tiny Epsom salt crystals comprise the chemical compound magnesium sulfate, making them a superb choice for treating magnesium deficiency, preventing transplant shock, assisting in seed germination, and reviving dull or struggling plants. Next time you're at the local grocery store, pick up a bag of unscented Epsom salts and put it to work in your garden.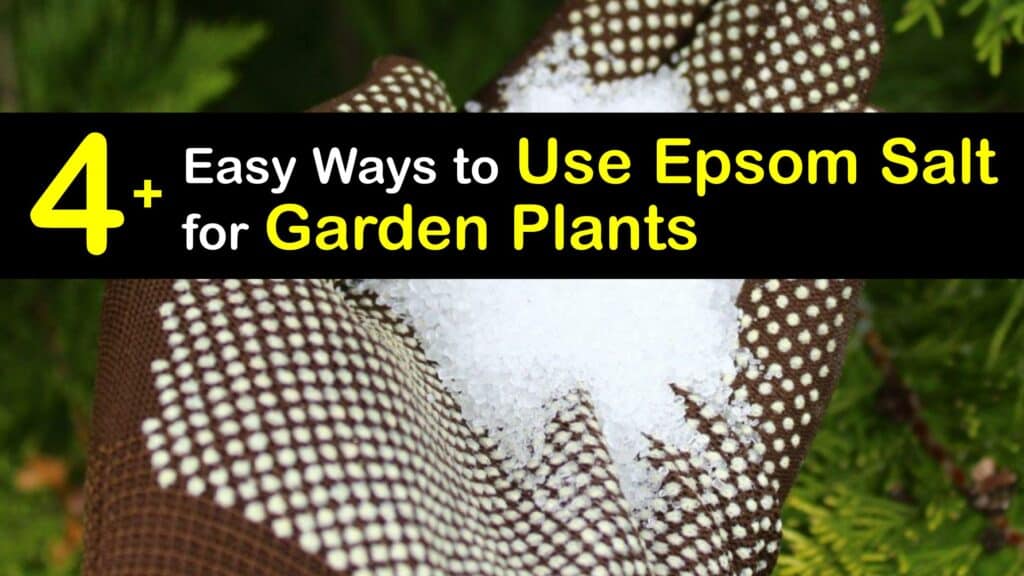 Tips for Using Epsom Salt for Plants in the Garden
Is Epsom salt good for garden plants? Though it may seem odd to the uninitiated, using Epsom salt for herb plants in the garden is nothing new. Epsom salt is incredible for garden plants for many reasons, from pest control to assisting germination and treating low magnesium levels.
Everyone from a master gardener to a beginner has much to gain from using Epsom salt for garden plants. Whether you're growing tomato plants or beautiful flowers, Epsom salts have a high nutrient level to help your plants succeed, and they won't degrade the soil or alter the soil pH.
Explore the advantages of using Epsom salt in the garden and add a new natural remedy to your gardening repertoire.
Is Epsom Salt Good for Garden Plants?
Those experienced with gardening know the benefits of magnesium sulfate. Whether you have a struggling tomato plant or want to support your thriving pepper plant, adding Epsom salt is a wise option. Use Epsom salt for vegetables in pots or a garden plot to deter slugs and add magnesium to the soil.
According to the National Gardening Association and the Epsom Salt Council, these salts encourage plant growth for a bigger mature plant height, thanks to their unique nutrient profile.
Epsom salt is helpful for anything from seed germination to treating magnesium deficiency or pest control. If your soil test comes back low in magnesium, or you notice your plant leaves drooping, use an Epsom salt solution to restore your garden to health. Epsom salt is also great for zucchini and a variety of other veggies to help them grow bigger and tastier.
Though some people believe the Epsom salt myth of replacing it with table salt, this is not true. Table salt is made of sodium chloride, whereas Epsom salt has the all-important magnesium sulfate to support garden plants.
Soil Soak with Epsom Salt for Garden Plants
Epsom salts are frequently used in organic gardening to enrich the garden soil to increase vitality, production, and seed germination without altering the soil pH of acidic soil or eroding organic matter.
Mix the salt and water in a sprayer or watering can and pour a generous amount around the base of your plants. Soil soaks are fantastic for large plants where the leaves are difficult to reach for foliar treatment and have the bonus of improving the flavor of food crops such as tomatoes and melons. Epsom salt is good for watermelons, it adds beneficial nutrients to the fruit that are often missed out on because of how much shade the large leaves provide.
Take care of enhancing tomatoes or fertilizing pepper plants with Epsom salt the same way. Feeding rose bushes is just as easy. Your flowers will love it. This natural vegetable fertilizer is cheap, easy, and has loads of benefits for your growing plants.
Foliar Spray with Epsom Salt and Garden Plants
A mature leaf that has become yellow or curled suggests low magnesium levels. Mineral deficiencies impede photosynthesis and make leaves lose their green color, restricting nutrient uptake. An Epsom salt spray of hydrated magnesium sulfate quickly restores the condition of each leaf.
Magnesium is rapidly absorbed when diluted Epsom salt is applied topically to the leaves, whether you fertilize your green bean plants with Epsom salt or another plant. Combine one tablespoon of Epsom salts with four cups of cool water per foot of plant height as a foliar spray for the leaves.
How to Use Epsom Salt for Garden Plants – Pest Control
The magnesium sulfate in pure Epsom salt is a natural insecticide to protect your plant from pests and diseases. If you're practicing organic gardening, use Epsom salt instead of toxic chemical pesticides to treat insect invasions and fungal infections in your garden.
Blend 8 ounces of Epsom salt with 40 ounces of water for a general pest control spray, or sprinkle dry Epsom salts around the bases of your plants to deter slugs and snails.
Use Epsom Salt to Prevent Root Shock
Root shock occurs when a plant's roots are disturbed or damaged. Though most gardeners try to keep it to a minimum, transplanting is sometimes an unavoidable part of growing plants. Whether you started seedlings indoors and are ready to move them out to the garden or need to move a few of your plants around, Epsom salts help head off root shock.
Mix a heaped teaspoon of plain Epsom salts into a gallon of water and pour over the soil before you dig up your plant to transplant it. Monitor your plant closely after replanting for drooping or yellowing leaves that indicate transplant shock. Epsom salts are an ideal way to prevent root shock when moving your potted plant to a larger pot.
It's also possible to use Epsom salt to destroy plants you don't want in your yard. Mix a powerful Epsom salt and vinegar based weed killer recipe to get rid of weeds like kudzu and poison ivy.
Epsom salt is a budget-friendly and chemical-free tool for every grower's toolbox. Though it's best known as a bath salt for relieving sore muscles, this coarse white powder is a phenomenal garden aid with multiple purposes.
When your soil test shows a magnesium deficiency, don't panic – Epsom salt is an easy and safe fix. It has many uses and is a worthwhile investment for your garden. Rely on Epsom salts to increase your garden plants' size and overall wellness, or use it to lower the risk of root shock when you transplant your seedlings in spring.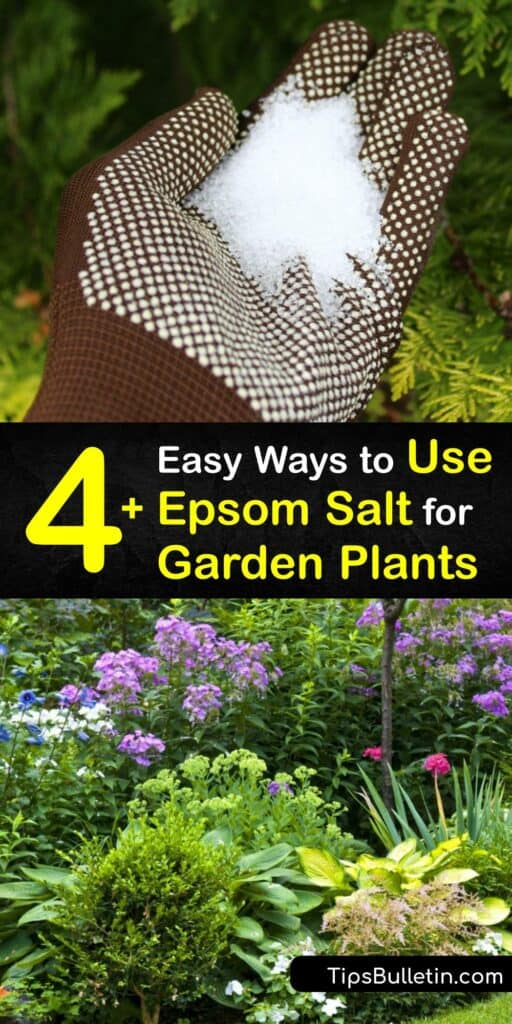 If you liked this article on Epsom salt for garden plants, please share these brilliant tips on using Epsom salt for plants in the garden with your friends and family on Pinterest and Facebook.