Do you use your oven to do a lot of your everyday cooking? If so, you've probably come across one problem: your oven gets dirty faster than you ever thought it would. If you've come to that realization, you've probably asked yourself the question, "Why does it take so much elbow grease to get the gunk and grime out of my oven?"
You've also probably used countless cleaning products, all to come to one conclusion: a dirty oven. What if we could provide a solution? What if we told you there's an excellent homemade oven cleaner without baking soda out there that you can make on your own?
Finding a homemade oven cleaner recipe that doesn't involve a lot of time or effort may seem complicated, especially if you're trying to avoid the use of harsh chemicals. However, DIY natural oven cleaner recipes with lemon, dish soap, white vinegar, and essential oils will have you self-cleaning in no time.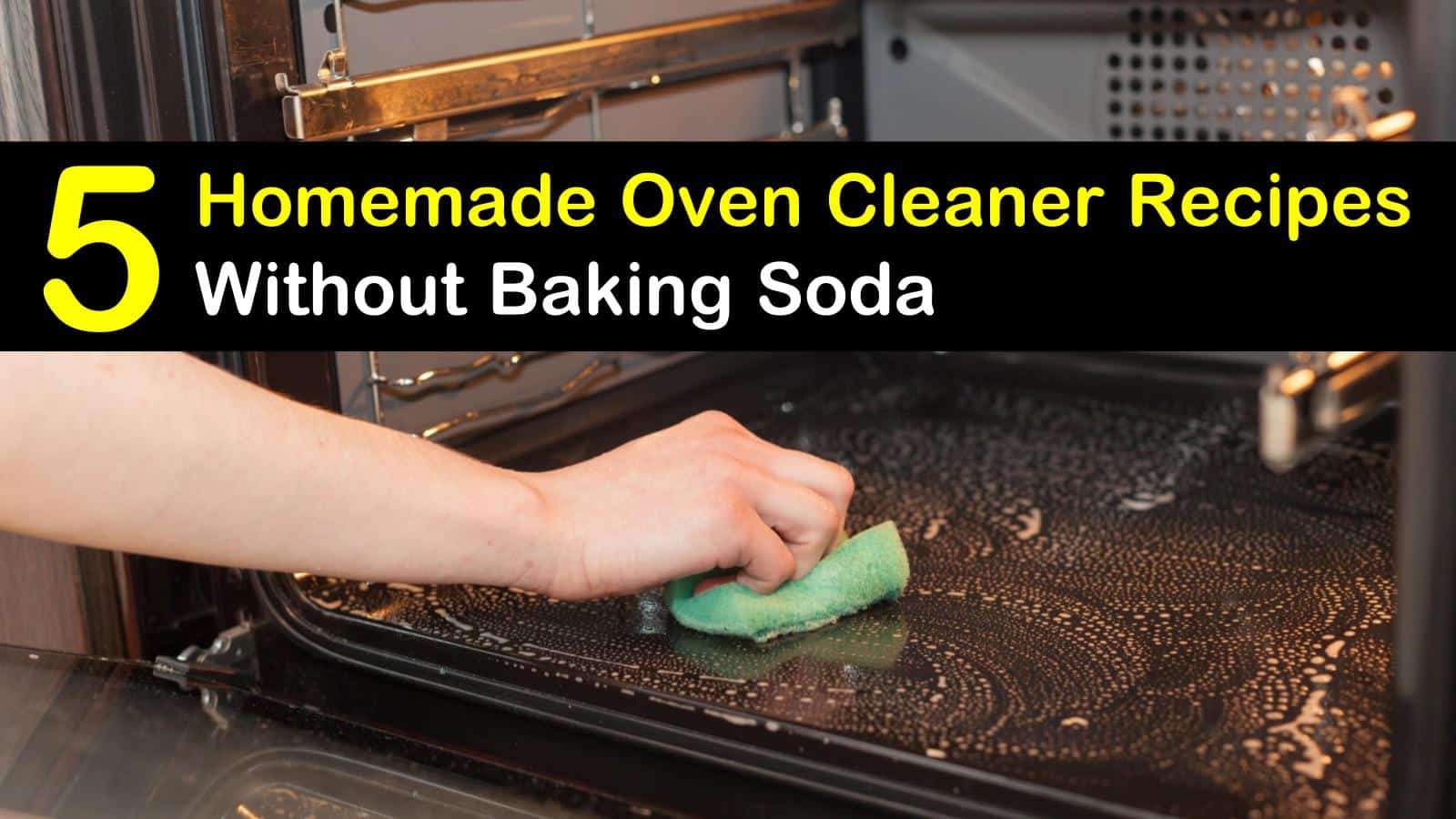 Powerful Easy-to-Make Oven Cleaner Recipes without Baking Soda
Whether your casserole spilled over onto the bottom of the oven or you learned how to grill in the oven, and there are grease spatters everywhere, we have a cleaning solution for you. Check out these simple recipes that use only the most basic ingredients that you probably already have at home.
Some homeowners like baking soda for cleaning and take care of oven cleaning with baking soda, and others prefer to use different ingredients. We have some ideas if you are one of the latter individuals.
The Natural Oven Cleaner
Some natural oven cleaning methods take a little bit of time and effort, and others don't require as much. With as little as two ingredients, you'll be maximizing your time and getting the job done the right way without harmful chemicals and fumes. Here is a recipe for a homemade oven cleaner that takes little effort but offers excellent results.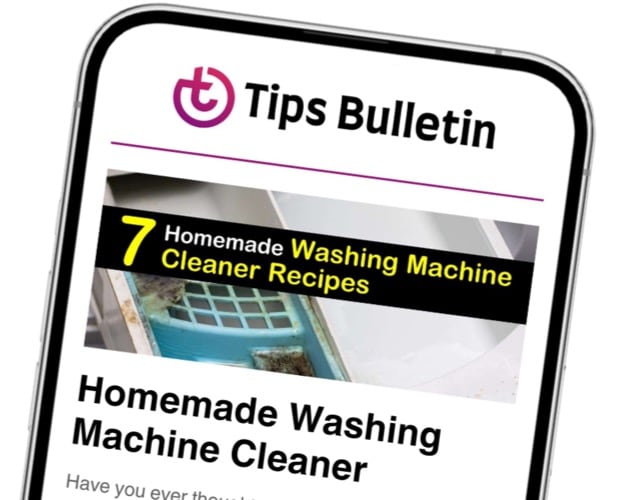 Finally, an email that Transforms Your Home.
Get the latest home and garden tips from our experts, delivered straight to your inbox.
Stir the ingredients in a pan and start heating over the stove until thickened. Allow the solution to cool to room temperature. Apply the mixture to the oven door as the best way for how to clean oven glass and the inside of the oven and allow it to sit for approximately 20 minutes.
Take a paper towel and wipe down all the areas you applied the cleaner. You can clean an oven quickly and inexpensively with this method and don't have to worry about nasty fumes. Vinegar can also be used in a different way to clean your oven. Oven cleaning with a vinegar steam is easy and almost effortless.
Check out our recipe in the link provided for a clever way to not only clean the oven but the interior of the microwave, too. This method is ideal for cleaning grease off oven bottom and for getting rid of tough baked-on food stains.
The Lemon Juice Oven Cleaner
If you're trying to get that lemony-fresh smell in and around your oven, you might want to pick up some lemon juice at the store.
To make a DIY oven cleaner with Dawn, stir the lemon juice and cornstarch in a pan over medium heat until the liquid thickens. Bring the mixture to room temperature and stir in the Dawn dish soap. Add the mixture to a spray bottle.
Spritz the inside of the oven, and allow the recipe to sit for approximately 20 minutes to soak into stubborn stains. Wipe down the areas you've sprayed and your oven will shine like new.
This mixture can also be applied to the stovetop and is the best way to degrease a range hood and filter. Get rid of nasty grease stains easily with only three simple ingredients you probably already have at home.
Put a glass cup or bowl of lemon juice or vinegar inside your microwave for one to two minutes to remove a smell from your microwave. Let it sit for ten minutes or so, and remove the container.
Oven Cleaner with Rubbing Alcohol
Some cleaning recipes are better for removing dirt, and some cleaning recipes are better for eliminating grease build-up. Either way, using rubbing alcohol in a homemade oven cleaner without baking soda is the way to go, especially when trying to make an all natural stainless steel cleaning solution.
Stir all ingredients in a pan and pour the solution into a spray bottle. Spray and let the mixture sit on the surfaces for approximately twenty minutes and then wipe.
Homemade Oven Cleaner without Baking Soda
The most affordable cleaning recipe you can follow is one based on ingredients you will most certainly already have on hand.
Start by preheating your oven to one hundred and twenty-five degrees. Once the temperature has been reached, take warm water or white vinegar in a spray bottle and spray all surfaces of the inside of the oven.
Next, sprinkle salt on all areas that are stained or filled with grime and allow both the mixture and salt to sit until the oven has cooled down. Once cool, wipe the oven.
Tin Foil Cleaning Tip to Keep Your Oven in Clean Shape
The best way to clean oven and stove regularly is to grab some tin foil, crush it into a ball, and rub it up and down the grills of the oven racks. This simple homemade oven rack cleaner works wonders for burnt on messes that spill over from your favorite recipes while they're cooking. The foil will not harm the oven racks and this cleaning method costs only pennies!
If you want to be extra careful, and if you don't want to have to clean your oven all the time after cooking, place tin foil under any dishes you cook within the oven, as this will catch most of the grease leaking from the pans or casserole dishes. If you want to crunch down on cleaning time, this is the way to go.
Finding the best self-cleaning oven tips and tricks may be a challenge, but with our carefully thought out advice, you'll have a clean oven in no time. Not only will our recipes get out that hard to reach build-up, but they'll also clean all oven racks and every oven surface.
Don't be scared to put down the baking soda paste and start embracing all other oven cleaner recipe options with our hand to guide you.
Recipe for Homemade Oven Cleaner without Baking Soda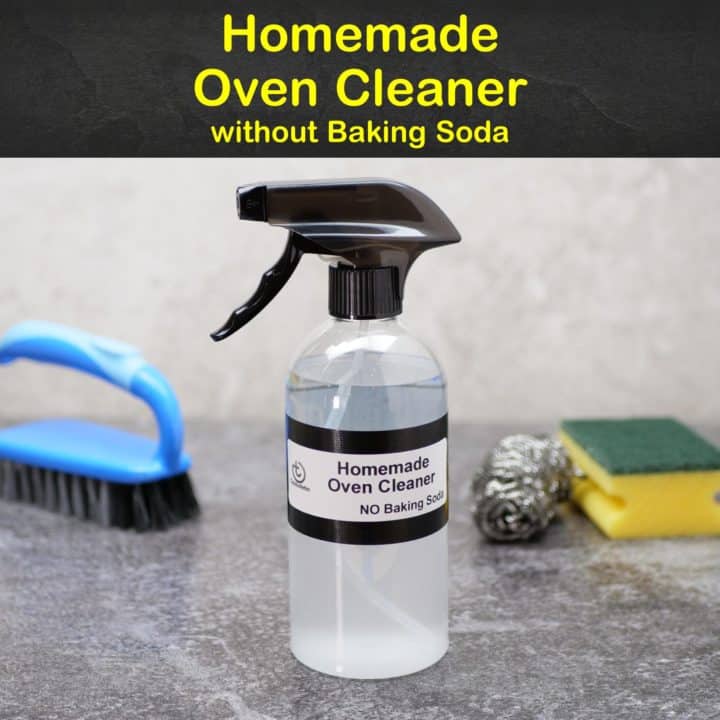 Homemade Oven Cleaner without Baking Soda
This 3 ingredient recipe will make your oven spotless again!
Materials
1 teaspoon degreasing dish soap
1 cup lemon juice
1 tablespoon of cornstarch
Tools
Spray bottle
Teaspoon
Small pot
Measuring cup
Several clean cloths
Instructions
Add the cornstarch and lemon juice to a pan.
Stir well with a spoon.
Heat on medium and continue stirring until thickened.
Cool to room temperature.
Add the dish soap and combine.
Pour the cleaner into a sprayer.
Spritz the oven interior and let it sit for about 20 minutes.
Wipe the oven clean.
Notes
Use this simple cleaner on your stovetop, too.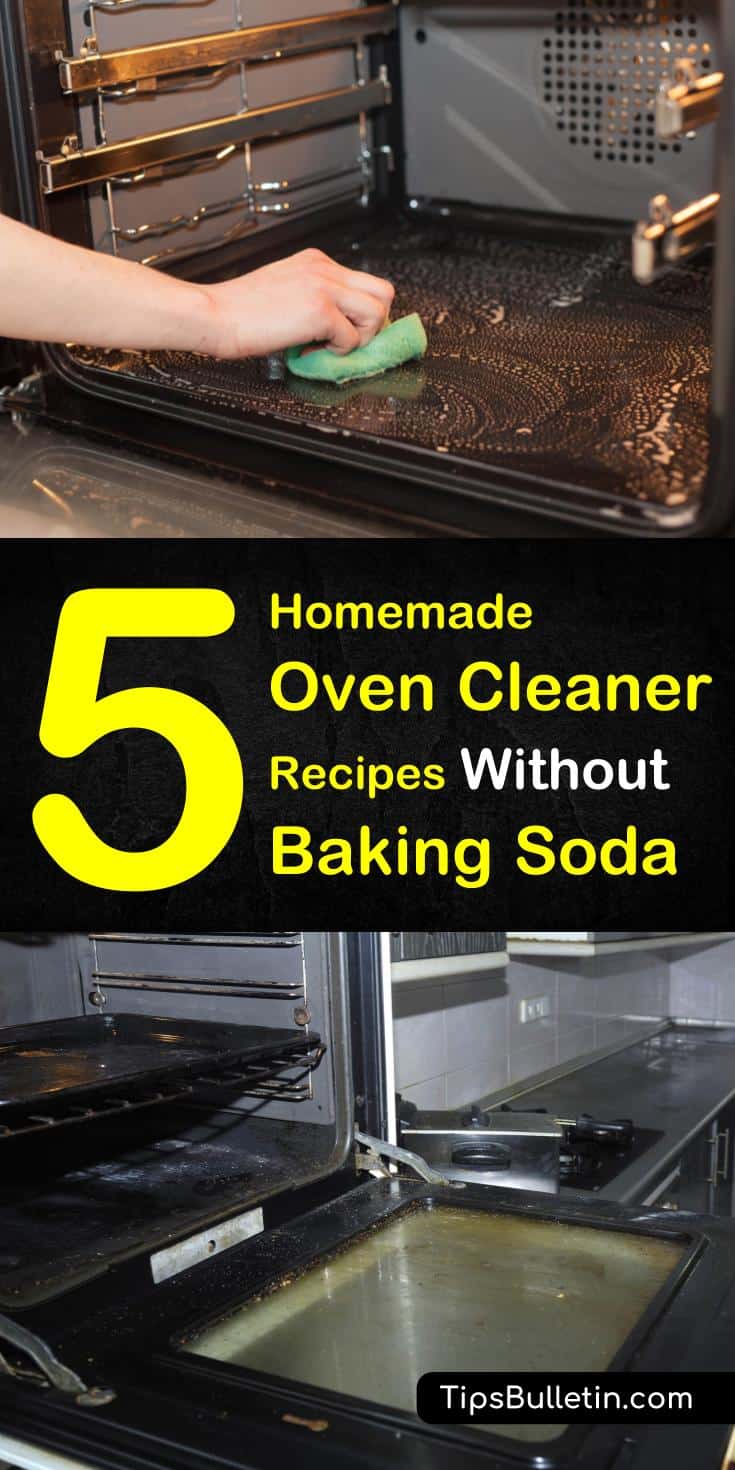 We hope you enjoyed our homemade oven cleaner without baking soda recipes and tips. If you enjoyed reading our article, please share our oven cleaning tricks on Facebook and Pinterest with your friends and family.