Loving snappy white running shoes means we're always left wondering how to keep them white. It may feel daunting, but no sneaker stain will stand up to these easy cleaning tips, from athletic shoes, white mesh, or even tricky suede shoes. Find out how to clean white running shoes and keep them clean forever.
The fashionable running shoes we know and love shot into popular culture in the 1970s. People began jogging as a form of active leisure, and many famous brands we still know today pioneered new styles and materials. The recent evolution of athleisure wear shows that white shoes may be around for some time to come, too.
Learn how to refresh your tired white soles and make old shoes look new again, or pick up some tips for how to complete regular shoe maintenance on your favorite new pair. The visual appeal of white shoes is that they are sparkling white. Leave people wondering how you keep such clean white shoes.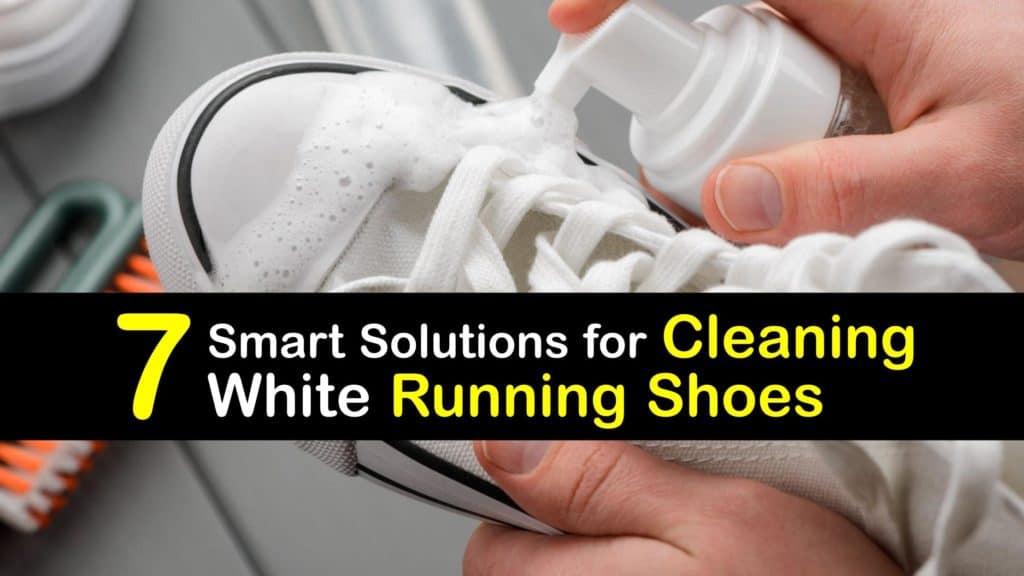 Learn How to Keep White Running Shoes Clean
Keep your shoes fresh and white with these quick and clever tips. Discover how to clean white canvas sneakers using everyday ingredients. Revive your canvas shoes, leather sneakers, white mesh shoes, and more.
Dish Soap and Warm Water
If you're wondering how to clean yellow soles on running shoes without spending a lot of money, try a simple dish soap and water mixture.
This easy homemade cleaning solution is ideal for athletic shoes and tennis shoes, and is the best way to clean mesh sneakers that have ugly stains.
Add warm water to a bowl and mix in the dish soap. Scrub scuff marks with a soft cloth or an old toothbrush. Mesh fabric is stubborn, and it may take a little elbow grease.
Regular upkeep will make cleaning white running shoes less of a chore in the future.
How to Clean White Running Shoes with Baking Soda and Vinegar
Baking soda and vinegar are two tried and true ingredients for cleaning white running shoes, whether you are cleaning white Vans® or another white shoe. They work well together and make a helpful, inexpensive cleaning product.
Vinegar breaks down organic oils on shoes, and baking soda is a soft abrasive that helps scrub everything off without harming your sneaker.
If you need to clean dirty white shoes, first pour the baking soda into a bowl, add the water and the vinegar to make a stubborn stain removing paste. Spread it all over your white sneakers and leave for a few hours.
Brush the dry baking soda off with a soft cloth. You may even use the paste on your shoelaces. To clean white shoe laces, coat them in the leftovers and set them aside to dry.
Magic Erasers for Cleaning White Running Shoes
Is there anything Magic Erasers can't do? It turns out they are great for removing tough scuff marks from white soles, athletic shoes, and also cleaning your white tennis shoes.
Magic Erasers are naturally abrasive melamine foam. It won't harm your shoe, but it'll definitely bust dirt from daily wear. Brush off loose dirt with paper towels first.
Fill a bowl half full of warm water, wet the Magic Eraser, and wipe the shoe in small circles to wash white golf shoes or another white shoe. Add some laundry detergent to the water for tough dirt.
Start wiping them down when you get home to start the day with fresh, clean white shoes.
Laundry Detergent for Leather Sneakers
If you have a fancy occasion soon and you need to brush off the white leather sneakers, laundry detergent is handy.
It is a gentle, effective cleaning method for cleaning white leather tennis shoes that need some love and attention. Use it regularly to cut down on future cleaning time.
Add laundry detergent to a bowl of warm water. Take the shoelaces out and pop them in the bowl to soak while you scrub.
Use a soft brush to go over the leather shoe with small circles. Wipe down with a soft cloth and air-dry for use during any function.
Learn How to Wash White Running Shoes without a Machine
You don't need a washer to clean white shoes. Here are some tips for manually whitening your shoes.
Hydrogen Peroxide for Canvas Sneakers
When Converse made the All Star sneaker in 1917, they set the standard for what canvas shoes could be. White canvas shoes are so iconic that people even wear them to weddings now.
Try this reinvigorating cleaning paste if you've been wondering how to wash white running shoes without using the machine or if you need to clean grass stains off white shoes that don't seem to respond to other cleaning solutions.
Add the baking soda to the bowl and mix the hydrogen peroxide to make a paste. Remember to remove your shoelaces, coat them thoroughly, then set them aside to dry.
Brush the paste all over your canvas shoes and allow them to air-dry for several hours. Wipe the dried mixture off to make your canvas shoes look bright white and ready for the next event.
Tricky White Suede
Suede is not for the faint of heart, but don't let it intimidate you. Suede shoes indeed require more care and attention than your average running shoe.
However, with some simple strategies, you'll be able to care for any suede shoes confidently.
If you notice a water stain, use a paper towel to absorb the water off your suede shoes. Apply cornstarch and let it sit overnight, then use your crepe brush to restore the suede to its natural state.
If you can, avoid heavy rainstorms, and always use a suede protector to keep your suede fresh and looking its best.
Use Toothpaste for Cleaning White Running Shoes
Many people swear by toothpaste for how to keep white running shoes clean.
A generous helping of toothpaste works on almost any surface, from athletic shoes, mesh shoes, leather, and white soles. Toothpaste makes a formidable cleaning product.
Be sure to use white toothpaste, not the gel kind. Go over your sneaker thoroughly with an old toothbrush. Use a shoe tree or rolled-up towel for extra stability while scrubbing.
Let everything sit for 15 minutes and wipe it off with a damp, soft cloth. Air-dry overnight, and you're ready to hit the town in clean white shoes.
Now that you know how to clean white running shoes, we hope you feel ready to get rid of yellow stains on white shoes and take on any stubborn stain.
Knowing how to wash white running shoes, and finding the right way to treat every material is imperative to the longevity of any shoe.
Always hand-wash dirt and spots before using the washing machine. Plan enough time to air-dry your shoes because high heat breaks down the adhesive used to assemble the shoe.
You have the tools to refresh any white shoe in your wardrobe and maintain that level of care through regular shoe maintenance.
Shoes are expensive, and with some love and attention to detail, your shoes will last a very long time – maybe even long enough to come back in fashion ten years down the road.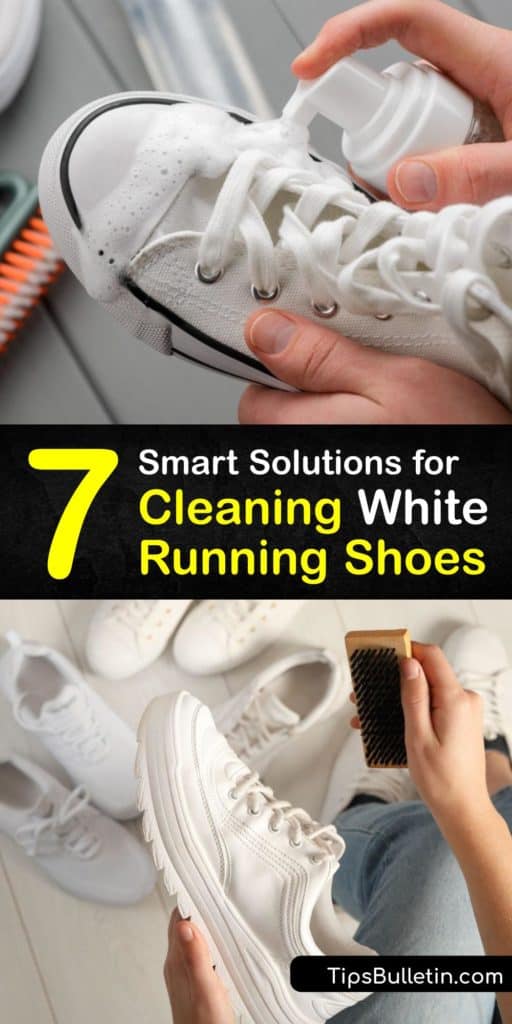 If you love these terrific tips and tricks for how to clean white running shoes, please share the ways to wash white shoes with friends on Facebook or Pinterest.