There are many pluses to being a cat owner, and dealing with cat pee stains and pet odor is not one of them. Not only is a urine stain unsightly, but a cat pee odor seems to linger indefinitely, especially if it's from a male cat. Learn how to get rid of cat urine odor in the house and prevent further pet stain accidents.
There is nothing more unpleasant than cat urine odor in the home, and there are many reasons for this naughty cat behavior. Sometimes it's the result of a dirty litter box, and other times it's due to old cat spray from a previous cat owner. Whatever the reason, it's essential to use the correct odor remover cleaners to eliminate cat pee smell.
Cat urine consists of uric acid, urea, pheromones, and bacteria, and as the urine decomposes, it releases the infamous cat pee smell similar to ammonia. While refreshing the cat box with new litter gets rid of the cat smell, it doesn't solve the problem if it's on the carpet or floors.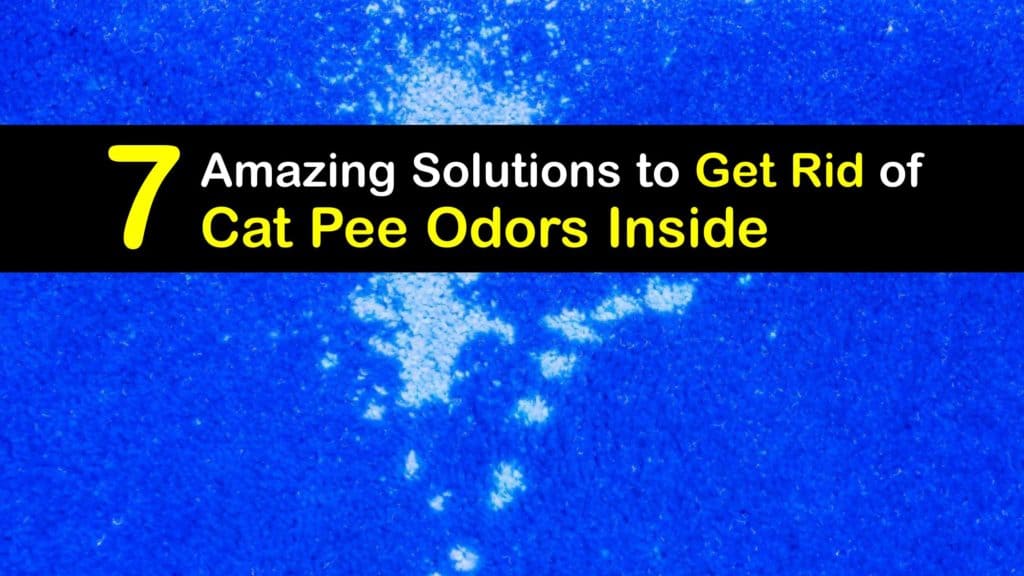 Ways to Eliminate Cat Urine Smell in the House
Learn how to detect old cat stains and remove the urine smell with enzymatic cleaners and odor removal techniques. Discover tips for preventing your feline friend from having accidents in the future.
How to Locate Old Cat Urine Stains
The first step to get rid of cat smell in an apartment or house is to locate the pet stain. After urine dries, it's often difficult to know where it is without smelling every surface of your home. There is an easy way to detect a pet stain for easy cleaning.
Turn off the lights in the area where you suspect cat urine stains and shine a blacklight flashlight on the floors, carpeting, and walls. Dried cat pee glows green under the light, and placing markers anywhere you spot this color helps you keep track of pet stains.
How to Get Rid of Cat Urine Odor in the House
The first step in eliminating cat urine smells is to treat the stain with vinegar to neutralize the urine odor. This liquid has acidic qualities that work well to remove tough stains, and there may be a bottle in your kitchen right now.
If the cat stain is fresh, use an old towel or paper towels to absorb as much of the urine as possible. Combine a cup of vinegar and warm water in a spray bottle and spritz the cleaning solution onto the spot. Blot excess moisture with rags and repeat the steps until the cat stain is gone.
This solution works well for rugs, carpets, hardwood floors, and for cleaning urine from couch surfaces, beds, and other furniture.
Eliminate Cat Smell in the House with Homemade Enzymatic Cleaner
Enzyme cleaners are the best option for removing urine odor. They break up the stain naturally and consume the odor-causing molecules in urine. Eliminate cat smell in the house with a homemade enzyme cleaner.
To make this easy recipe for a powerful cat pee odor remover, pour the peroxide into a bottle and add a few squirts of liquid dish soap. Shake the container gently and spray the enzymatic cleaner directly on the cat pee. Let this natural enzymatic cleaners for pet urine work for ten minutes or so, and then use a sponge to scrub the stain with a circular motion. Rinse the area with water, and absorb the moisture with a towel.
Get Rid of Cat Smell in an Apartment with Baking Soda
Another method to get rid of cat smell in an apartment is baking soda. It will also work to get cat pee out of shoes. This alkaline powder absorbs odors from floors, carpeting, upholstery, and other surfaces and is simple to apply. Baking soda is ideal for getting rid of cat pee smell in your apartment no matter what the material or where it is located.
Shake some baking soda on the cat stain and pour a small amount of white vinegar over the powder. Let it sit for several minutes while the two ingredients bubble and remove the urine.
Wipe away the carpet cleaner with rags, and rinse as needed until all the residue is gone. Finish by cleaning the area with cool water and blotting it with a dry towel.
Shake some baking soda directly into the litter box to make your litter box not smell so strong until you can clean it out.
Getting Cat Smells Out of the House by Treating Bedding
The floors are not the only place where cats have accidents. Unfortunately, they spray other areas of the home, including your bed. Eliminate cat smell in the house by washing your bedding.
Add your favorite laundry detergent to the washer and pour in one cup of white vinegar. Put your bedding materials into the machine and use the lukewarm temperature setting.
Once your blanket or sheets are clean, transfer them to the clothes dryer and dry them normally. Don't forget to clean the dryer lint tray after drying your bedding to remove any cat hair.
Removing Cat Urine from Hard Surfaces in the Home
It's bad enough if your own cat has an accident, but discovering a cat smell from previous owner is even worse. Clean floors, walls, and other hard surfaces of your new home to get rid of the cat odor. Get rid of cat urine smell on furniture the same way. Several applications may be required if you have a stubborn stain.
Pour the cool water into a bucket or container and add the liquid dish soap. Dunk a sponge into the soapy water, wring out the excess liquid, and rub the wet sponge on the pee stain areas. Rinse the sponge under running water, repeat the steps until the urine is gone, and dry the surface thoroughly with a soft towel.
This method and cleaning solution will effectively remove cat urine smell from walls. Try it in tight spaces, such as behind the cat litter box, where it gets messy.
Prevent Your Cat from Having Accidents in the House
There is usually a reason why your cat decides to use the carpet, floor, or bed as their litter box. Here are some ways to prevent your kitty from doing their business in the wrong places.
Cat Pee Prevention
Ensure that the cat litter box is always in the same location in the house, your cat's box is large enough to comfortably accommodate their size, and clean it at least once a day as a way to get rid of litter box odor. Sprinkle some baking soda in the litter box and combine it with the litter for even more freshening power.
A cat having accidents around the home is troublesome, especially if they've always used the litter box in the past. Sometimes stress, anxiety, and fear trigger them into spraying where they shouldn't or if there are multiple cats in your home. Other times, it may result from health issues, and it's a good idea to consult your vet.
Cats have a unique personality, and sometimes they show their displeasure by acting out in a way that makes the house smell of pet urine. Fortunately, there are ways to clean and neutralize these smells and prevent your furry friend from repeating this behavior.
We hope that learning how to get rid of cat urine odor in the house keeps your home smelling fresh, and we'd love it if you'd share our cat urine smell elimination and prevention guide with the cat owners in your life on Pinterest and Facebook.