While some people may have an aversion toward pickles, pickling food is one of the tastiest and easiest ways to store fruits and veggies for extended periods. Learning how to pickle cabbage is no exception. Pickled vegetables are crunchy, tangy, and juicy.
Quick pickled cabbage and other pickle cabbage recipes work well as a side dish, appetizer, condiment, or a healthy vegan snack. The great thing about pickle cabbage recipes is that they are so versatile.
Adding new ingredients drastically alters the flavor and allows you to experiment in the kitchen. Whether you have purple, Napa, green, or any other type of cabbage, you get to preserve them quickly.
Better yet, one head of cabbage produces roughly nine cups of produce. A couple of hours in the kitchen leaves you with a massive supply of pickled cabbage and, depending on how you choose to preserve it, lasts up to two years.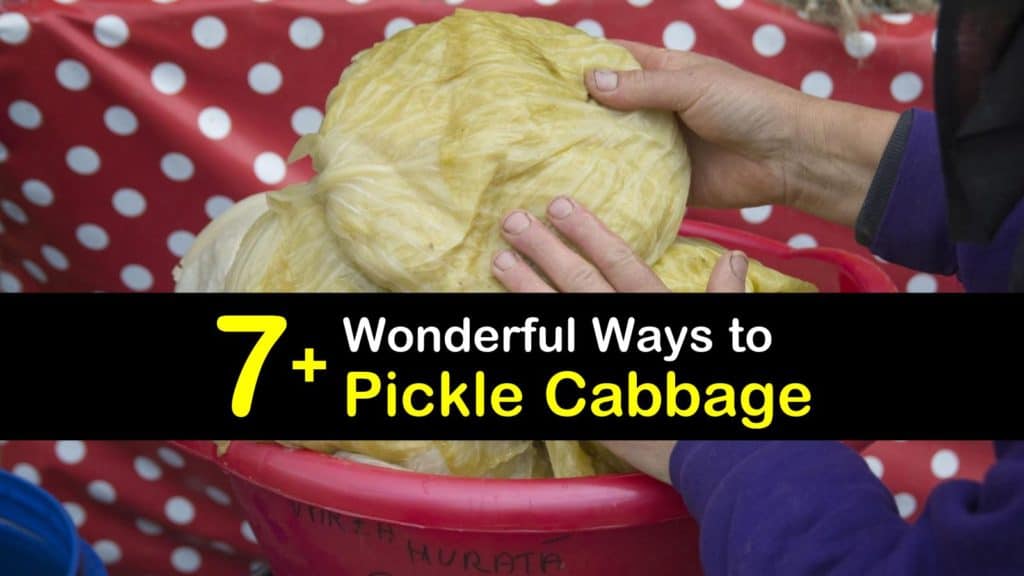 Cabbage Nutrition
Green and red cabbage are some of the most common types of cabbage found at the grocery store and have similar nutrition levels. Cabbage is related to cruciferous vegetables like kale and broccoli. These types of plants are some of the most nutritious for us to eat.
One cup of cabbage has as little as 20 calories, contains an entire gram of protein, and is one of the highest sources of vitamin K.
Compounds found in cabbage reduce inflammation, give you up to 35 percent of your daily vitamin C, and aids in healthier digestion.
Cabbage also minimizes the chance of obesity, diabetes, and heart disease, which is the leading cause of death in the United States. There are dozens of benefits to eating this crunchy food, and pickling vegetables has minimal impact on the overall nutrition.
The only thing that happens from pickling foods is a slight increase in sodium levels. Aside from that, there isn't a better option than preserving cabbage.
If you don't pickle your cabbage or preserve it in another way, the uncut cabbage shelf life in the fridge is up to two months.
Our Favorite Pickle Cabbage Recipes
We all know that there are standard methods to store cabbage and keep it preserved. It's important to choose the freshest cabbage before trying to pickle it or store it another way.
Can cabbage go bad? Unfortunately, yes. All produce spoils if not properly preserved.
Whether you choose freezing shredded cabbage, canning it, or pickling, ensure that your cabbage does not show signs of spoilage.
Although these are all fantastic options, we think learning about pickled cabbage recipes is the best choice.
How to Pickle Cabbage
Pickling food is a culinary technique found all over the world. While you're likely most familiar with traditional pickles made from cucumbers, there are numerous recipes that people make time and time again, like quick pickled okra.
However, vegetables aren't the only things that can be pickled. There are pickled fish, eggs, and even pig's feet. You can also find delicious quick pickled peaches and apples. It may sound unusual to you, but this preservation method is beloved by people for a good reason.
There are two types of pickles. The first is the most common, which involves pickling foods in vinegar or other strong acids, making it hard for bacteria to survive.
The other category of pickling soaks food in a salty brine and encourages healthy bacterias called fermentation. The fermentation process stimulates good bacteria growth while keeping away the harmful bacteria that make us sick.
Pickling is an ancient technique that has worked for thousands of years. It has helped humans stockpile a surplus of food to survive long, harsh winters and other times of need.
Pickling changes an ingredient's taste and texture and prompts a burst of flavors among cultures worldwide.
Quick Pickled Cabbage
Making quick pickled cabbage is usually the go-to recipe for home cooks. This process is easy and takes minimal time to soak before eating them.
For those who don't want to store the pickles in the fridge, following basic cabbage canning guidelines is another way to keep your cabbage fresh for up to a year.
For how to store cabbage in fridge after pickling, slice the red cabbage into ribbons or shred it on a cheese grater. Set the cabbage aside and bring the water to a boil in a saucepan.
Stir in the sugar, salt, vinegar, bay leaves, and sliced cabbage into the boiling vinegar mixture and stir for two minutes.
Pour the cabbage into a glass jar and secure the lid. Allow the cabbage to cool in the fridge for 24 hours before consuming it on top of hot dogs or other favorite dishes.
How to Make a Pickled Cabbage Medley
We think one of the best ways to make a pickled cabbage recipe is to include other vegetables. Adding cabbage to pickled carrots and onions incorporates many flavors and adds even more nutrition to a meal.
Mix the cabbage, onions, carrots, and garlic cloves in a large bowl. Divide them evenly among sterilized canning jars. Combine the vinegar, sugar, celery seeds, and salt in a saucepan and bring it to a boil.
Pour the boiling liquid over the veggies and let them stand for 30 minutes at room temperature. Cover the jars with a lid and chill in the refrigerator for up to one month.
Spicy Pickled Cabbage for Tacos
One of our favorite ways to pickle cabbage is to make it extra spicy and put it on top of tacos. This Korean-inspired recipe is perfect on all taco recipes and spicy for those who like a little heat.
Mix the salt and water in a large glass bowl. Cut the Napa cabbage head into small pieces and soak it in the saltwater for five hours. Drain the cut cabbage in a colander and rinse under cold water. Squeeze out the excess liquid and set aside.
In a separate glass bowl, combine the ginger, garlic, red pepper flakes, jalapeños, and scallions. Toss the cabbage into the mixture, so it is well-coated.
Pack the cabbage into airtight jars and allow it to ferment for three days at room temperature with the lid on tightly. Store the jar in the fridge, serve, and enjoy.
How to Make Cabbage Kimchi
Kimchi is another name for fermented cabbage. Kimchi is a popular condiment with a robust and appealing flavor and goes well with many Asian dishes.
Cut the entire cabbage into two-inch wide strips and place it in a large mixing bowl. Massage the salt into the cabbage for three minutes and then fill the bowl with water to cover the cabbage. Let it soak in the water for two hours.
Drain and rinse the cabbage thoroughly and set aside. Put the garlic, sugar, ginger, scallions, and fish sauce into a bowl and mix to form a paste. Add the red pepper flakes and set it aside until the cabbage is ready.
Squeeze the excess water from the cabbage and stir it into the spice mix. Put the seasoned cabbage into quart-sized jars, leaving a one-inch headspace at the top and sealing the jar. Let the glass jar sit in a cold room to ferment for five days before serving.
Making Cabbage Sauerkraut
Sauerkraut is one of the most minimal recipes on this list. There are only two ingredients: salt and cabbage. The salt allows the cabbage to ferment and turns it into a condiment we all know and love.
Remove the outer leaves of your cabbage and rinse the rest of the head. Core the cabbage and thinly shred the remaining leaves. Place the shredded pieces in a mixing bowl and toss with the salt.
Let the salt and cabbage sit for 15 minutes. Pour all the bowl contents, juice included, into a clean glass jar, and seal it tightly. Allow the combination to ferment at room temperature for four weeks before storing it in the fridge.
Pickling a Slaw
Making a slaw with a form of acid is the quickest way to get that acidic, pickled taste without waiting for the results. Mix shredded cabbage with a few tablespoons of sour cream, jalapeños, and a hefty squeeze of lemon juice and salt.
Allow the slaw to sit for ten to 15 minutes, stirring occasionally. Once the cabbage breaks down a little and feels soft, you're ready to serve it. We think slaw is delicious on top of pulled pork sandwiches or as a side dish with chicken.
Experimental Pickled Cabbage
Although there are endless flavor combinations for you to test, most pickled cabbage recipes have the same steps and ingredients. As long as you have an acid or salt, pickling cabbage is possible.
Even the texture of pickled cabbage is adjustable. For softer cabbage, boil it with the vinegar mixture for several minutes until it's delicate. Don't be afraid to go crazy in the kitchen. After all, that's what it's made for.
Once you know how to pickle cabbage, we're sure that you won't be able to stop. Quick pickled cabbage is bright, zesty, and adds an unforgettable crunch to our favorite foods.
There are lots of techniques to pickle cabbage, and finding your favorite only requires a little time spent in the kitchen.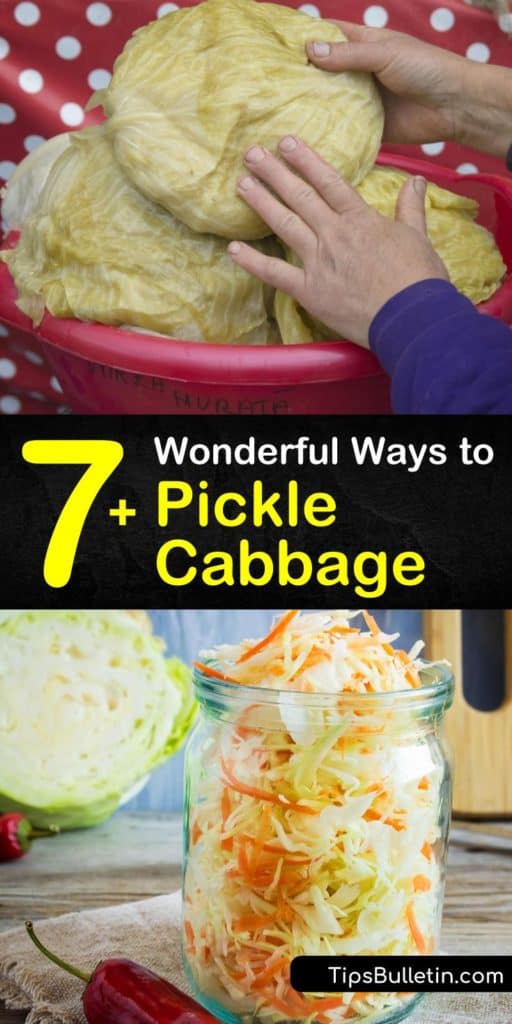 If these recipes showing you how to pickle cabbage have added something special to your cooking, share these pickle cabbage recipes on Facebook and Pinterest.