The mild and unique flavor of okra can't be matched, especially when it's fresh from the garden or outdoor market. But, what do you do if you have more okra than you can eat while fresh? Learn how to pickle okra for the refrigerator or pantry to give that tasty treat a longer shelf life.
While often eaten as a vegetable, okra is a fruit that is sliced or cooked whole in a variety of ways. Growing okra in the garden or finding a good sale at the farmers market leaves you with a lot of extra okra that requires pickling to prevent spoiling.
There are many ways to pickle okra with recipes from a cookbook, whether they are refrigerator pickles or canned pickles. Not only that but making pickles is easy and versatile. Spice them up by adding dill seeds and hot peppers, or sweeten them by adding sugar.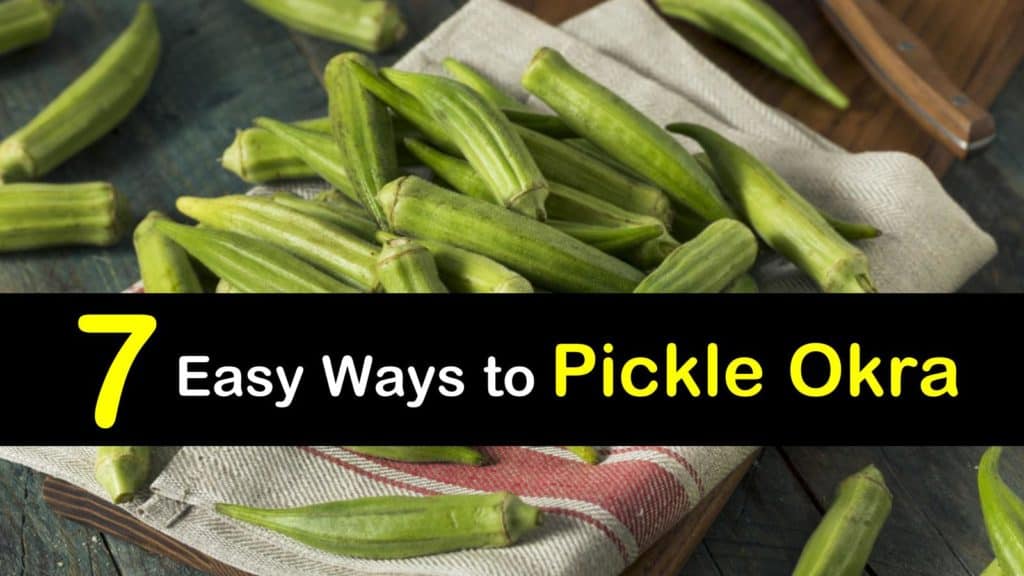 Easy Ways to Pickle Okra
After you learn about the best time to plant okra and have a decent harvest, you need to figure out what to do with your crop. Pickling is an excellent option.
A good pickle has a crisp and firm texture, and when you cook and pickle fresh okra properly, the ending result is a tasty, crunchy delight. We have several pickling recipes, from basic to advanced, that fill the fridge or pantry with jars of okra pickles that go well with just about any dish.
Choosing the Best Okra for Pickling
This staple in Southern cuisine is tasty in just about any vegetable side dish, whether you are planting okra of your own or buying it. Pickling is a great way to preserve it, storing it in the refrigerator or pantry. However, making a batch of pickles with unhealthy okra produces undesirable results.
Healthy Okra
Okra is rich in calcium, fiber, iron, and vitamins C and A, especially if the veggies are fresh and ripe. When choosing okra, make sure that it is no more than four inches in length.
When okra types are too ripe, they have a sticky texture and do not pickle well. Choose brightly colored pods, and avoid blemished, soft, or bruised okra.
How to Make Pickled Okra for Refrigeration
Refrigerator pickles are a tasty way to keep okra fresh and crispy and store the veggies for later eating without using a water bath canner. While they do not store as long as canned okra, quick pickled okra lasts three months. Here is how to make pickled okra for short term storage in the fridge.
Cut the stems off the okra pods. Place the okra and peppers into a bowl and sprinkle them with salt. Pour all of the remaining ingredients into a medium saucepan and bring the mixture to a rolling boil. Simmer for five minutes and then take the pan off the heat.
Rinse the salt off of the veggies and pack them into a jar. Ladle the pickling liquid over the top of the okra and peppers until they are submerged, and screw the lid into place. Refrigerate the veggies for 48 hours before enjoying them.
Spicy Quick Pickled Okra Recipe
Quick pickled okra is delicious and easy to make. In fact, pickle any vegetables for a cold yummy snack on a hot day.
With this recipe, you don't even need a canner and the finished product stores for several months in the fridge (if they last that long). This pickled okra recipe uses red chili pepper flakes to give those pickles a zesty kick.
Wash and rub the okra lightly to remove fuzz and grit, and pack them carefully into two canning jars. Combine the vinegar, water, garlic, pepper flakes, paprika, and salt into a large pan and bring to a simmer for 15 minutes.
Pour the spicy brine over the okra to the top and screw the lids into place. Pickle the okra in the fridge for at least one week before eating.
Did you know that you can pickle eggs, too? You can even try your hand at spicy pickled eggs for a healthy snack with a little zing.
How to Pickle Okra for Long Term Storage
If you have a large crop of okra and are looking to pickle them for long term storage, using a canner is the best way to ensure that those veggies stay fresh. Canned and pickled okra lasts up to 18 months in the pantry, and this basic recipe is a great place to start.
Wash and trim the okra and divide them evenly between the four jars. Place one clove of garlic, three sprigs of dill, half a teaspoon of mustard seeds, and a quarter teaspoon of peppercorns into each jar.
Add the rest of the ingredients to a saucepan and bring the vinegar mixture to a boil. Remove from the heat and pour the liquid over the okra, leaving a half-inch of headspace in each jar.
Secure the lids in place and seal in a boiling water bath for ten minutes. Remove the hot jars from the bath and allow them to cool on the counter before storing them.
How to Make Sweet Okra Pickles
Sweet pickled okra is easy to make by adding cider vinegar, sugar, and sweet peppers. They are delicious as appetizers for your favorite grilled food or mixed into a summer salad.
Divide and pack the okra, piquanté peppers, chili peppers, and garlic cloves into the three jars and set them aside. Add the remaining ingredients into a small saucepan and cook over medium-high heat until the sugar and salt dissolve.
After the mixture boils, take the pan off the heat and pour the brine over the veggies to cover them, leaving a half-inch of headspace.
Seal the pint jars with their lids and place them in a boiling hot water bath for ten minutes. Turn the heat off and remove the canning jars. Allow them to cool completely before storing them in the pantry.
Pickling and Canning Okra with a Spicy Kick
If you enjoy the flavor of hot and spicy foods, then our pickled okra recipe is right up your alley. Spicy pickled okra is zesty with just the right amount of heat and is easy to can for long term storage.
Divide and pack the okra, chiles, garlic, and dill into the four jars. Combine the vinegar, salt, cumin, and chili flakes in a medium pot and bring the mixture to a boil. Remove the pan from the heat and pour the hot liquid over the veggies to cover them, leaving a half-inch of headspace.
Follow the instructions on your canner and process the jars for ten minutes. Allow the jars to cool to room temperature after removing from the canner.
Try using this recipe with other vegetables or a combination of veggies. Pickle carrots with cabbage or pickle garlic bulbs for something different.
Making Okra and Onion Pickle Relish
Relish is another way to pickle okra for use as a condiment. Scoop a teaspoon of this okra and onion relish on a hot dog or brat, use it as a topping on tacos, or add some to chicken salad.
Combine the vinegar, water, pickling spice, and salt in a large pot and bring it to a boil. Chop the okra, onion, and peppers into small pieces, add them to the pot, and bring the mixture back to a boil.
Turn off the heat and then pour the okra and onion relish into a large jar or container. Store the relish in the fridge for up to one week.
Reaping a plentiful harvest of fresh okra is satisfying, but there are only so many batches of gumbo or okra recipes one can make before it gets old.
Luckily, it's easy to pickle that leftover okra, and it tastes delicious no matter if you decide to make spicy, sweet, or dill pickles. Now go and enjoy your pickled okra, whether you eat it on a relish tray or in a bloody Mary.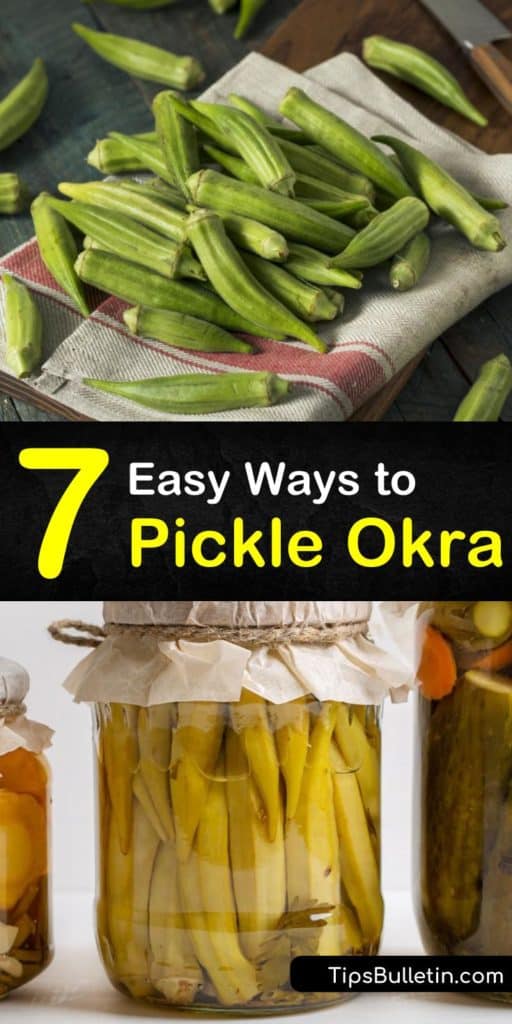 We hope you reap the benefits of learning how to pickle okra to create a tasty relish for your favorite dishes, and we'd love it if you'd share our okra pickling recipes and tips with your friends and family on Pinterest and Facebook.