Cranberries are a traditional favorite at the holiday dinner table. However, most people don't realize how easy they are to grow in your garden at home. In this article, you'll learn all about how to plant cranberries and keep them flourishing for years to come.
All you require for planting cranberries is moist, fertile soil and plenty of sunshine. Although you may have a mental image of growers standing in waist-deep water in flooded cranberry bogs, that's just a harvest technique used by commercial growers.
Left to their own devices, cranberry plants form a low groundcover about 18 inches high. Aside from classic holiday dishes like cranberry sauce and steamed cranberry pudding, there are numerous culinary uses for fresh cranberries.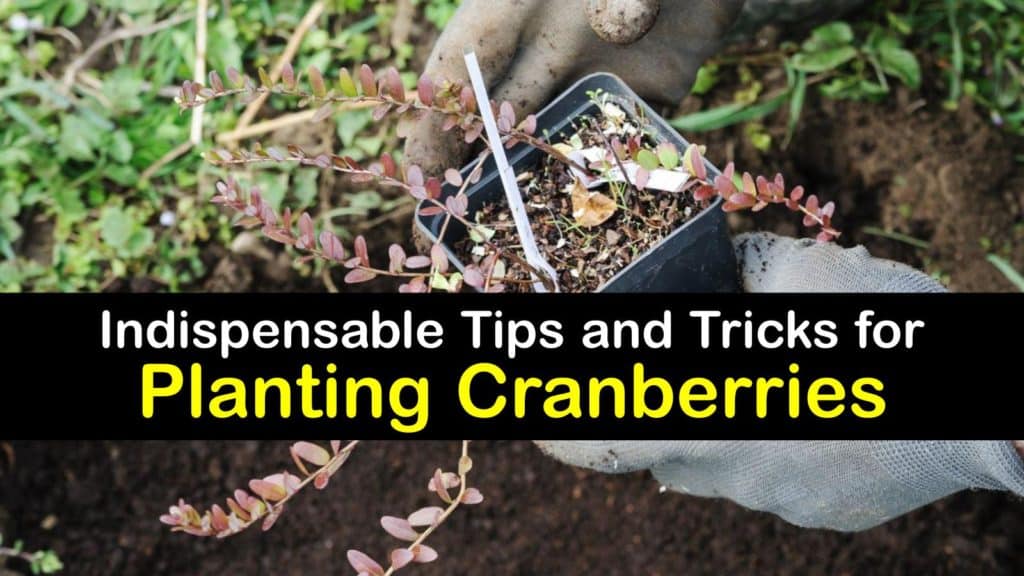 What to Know about Planting Cranberries
American cranberry, or Vaccinium macrocarpon by its botanical name, is a perennial shrub native to eastern North America.
Wisconsin produces over half of the commercially grown cranberries in the US. Massachusetts grows another third, and the rest come from New Jersey, Oregon, and Washington.
Most types of cranberries grow best in USDA hardiness zones 2-9. They prefer cool, moist conditions and an area with full sun to partial shade.
Provide protection from the intense afternoon sun in warmer climates. Cranberries require a dormant period of approximately three months at temperatures below 45℉.
Soil pH is another critical factor for planting cranberry bushes. They favor acidic soil with a pH level between 4.5-5.5. If the soil is too alkaline, the root system cannot absorb the nutrients in the soil.
Contact your local extension office to test the acidity of your garden soil. These spreading plants send out lateral runners, similar to strawberries. These runners produce roots as well as nodes that sprout vertical fruit-bearing branches.
Cranberry plants produce small pink flowers from mid to late June. They grow separate male and female flowers and require pollination to produce fruit. Consider cranberry companion plants like aromatic herbs and flowers to attract pollinators.
There are over 100 different varieties of American cranberry. Here are a few of the most popular cultivars for home gardeners.
Enjoy the different cranberry varieties in baked goods, jellies, sauces, syrups, and more. Read on to discover all the essential tips and tricks for planting cranberry bushes in a traditional garden plot, raised bed, or container garden
Planting Cranberry Bushes in Your Garden
The best way to plant cranberries depends on your climate. Most gardeners grow cranberries by propagating cuttings from healthy, mature plants or purchasing nursery-grown seedlings.
Are you wondering when to plant cranberries? The best time for planting cranberries is early spring. To prepare cranberry beds for transplanting or for growing cranberries in containers, mix several inches of organic compost into the topsoil.
Create a hole double the size of the plant's root ball and place one tablespoon of all-purpose fertilizer in the bottom.
Refill the hole with a 50/50 mixture of compost and garden soil. Water deeply and use a layer of mulch to retain moisture, insulate the soil, and minimize weed growth.
Since cranberry seedlings are sometimes hard to find at a local garden center, it's helpful to know how to propagate them from cuttings.
In late spring or early summer, use sterile, sharp pruners to trim a healthy branch that's five to eight inches long. Remove all but the top few leaves along with any flower buds and dip the cut end in rooting hormone.
Place the cutting three or four inches deep in a small pot filled with an acidic potting mix. Set the pot on a warm, sunny windowsill and keep the soil consistently moist. When to transplant cranberries is determined by the root size. The cutting should develop enough roots for transplanting in six to eight weeks.
Cranberry Plant Spacing
How far apart to plant cranberries depends on the mature size of the variety you're growing. Be sure to give the plants ample room to spread out when transplanting cranberry plants.
Overcrowding results in stunted growth, poor fruit production, and increased risk of rot and fungal disease. Refer to the plant label for cultivar-specific recommendations.
How to Plant Cranberries from Seeds
Growing cranberries from seed is also possible, but the process takes much longer. Expect between three and five years from planting cranberry seeds until the plant begins fruiting.
Before they sprout, cranberry seeds must be cold-stratified, which means exposing them to cold, moist conditions for a minimum of three months. Alternatively, purchase pre-stratified seeds from a reliable source.
If you're collecting seeds from fresh cranberries, cut the fruits in half and carefully scoop the tiny seeds out, and spread them on a damp paper towel.
Fold the paper towel and place it in a plastic bag. Leave the bag open for ventilation and put it in your refrigerator. Check it regularly to ensure that the paper towel remains moist.
Once you're ready to plant cranberry seeds, fill a seed-starting tray with potting soil or peat moss. Use a spray bottle to pre-moisten the soil, and sow seeds a quarter-inch deep.
Lightly cover them with soil and place the tray in a warm location. Germination takes approximately three weeks.
Once your seedlings sprout, move them to a sunny location with at least six hours of direct sunlight. If you don't have a south-facing windowsill, consider using grow lights to keep your seedlings from becoming elongated or "leggy."
Once the plants' roots emerge from the drain holes in the seedling tray, move them to small pots with good drainage. It's beneficial to grow your cranberry seedlings in pots for the first year to allow the root systems to mature.
Caring for Cranberry Plants
Once established, cranberry plants are relatively low-maintenance. On average, they require about an inch of water per week or more during periods of hot or dry weather. Use organic matter like grass clippings, leaves, or pine needles as mulch.
Fortunately, learning when to fertilize cranberries is easy. Cranberries aren't heavy feeders and only require fertilizer once or twice per year. Use a slow-release organic fertilizer designed for acid-loving plants in early spring and again in the fall if necessary.
Pruning is an essential part of cranberry care. In the early spring, prune off any dead branches and long runners. It's helpful to prune cranberries at the runners to encourage the development of fruit-bearing uprights.
Harvesting and Storing Cranberries
For being relatively small plants, cranberry bushes produce an impressive yield. On average, there are approximately 300-500 berries per square foot in a healthy cranberry bed. The bright red berries are rich in vitamins, minerals, and antioxidants.
Harvest cranberries in the autumn, from September to November. A light frost gives the berries a sweeter flavor. Pick them by hand once they're an even, deep red color and firm to the touch.
Store fresh cranberries in the fridge for up to four weeks. Frozen cranberries last for up to one year. Canning and drying are also excellent ways to extend your cranberries' shelf life.
Solutions for Common Pest and Disease Issues
Regularly monitor your plants for signs of disease and insect damage. Healthy plants are much less vulnerable to attacks from pests and pathogens. Ensure that they receive adequate amounts of light, water, and nutrients.
The most common insect pests for cranberries are cranberry fruitworms, which are moth larvae. Protect your crop with row covers in the spring to prevent insects from laying eggs on the tender leaves. When the eggs hatch, the caterpillars feed on unripe fruit.
Ladybugs are one of their main predators. Plant cilantro, cosmos, coreopsis, dill, fennel, scented geraniums, and tansy to attract predatory insects to your garden.
Cranberry plants are sometimes susceptible to fungal diseases like leaf spot and powdery mildew, which thrive in warm, moist conditions. Treat affected plants with an organic copper or sulfur fungicide.
Planting cranberry bushes isn't as challenging as it may seem. As long as they grow in fertile, moist soil with an acidic pH level and receive a minimum of four hours of direct sunlight each day, you'll enjoy a bumper crop of homegrown cranberries every autumn season.
Try planting cranberries from cuttings, nursery-grown seedlings, or by propagating seeds yourself.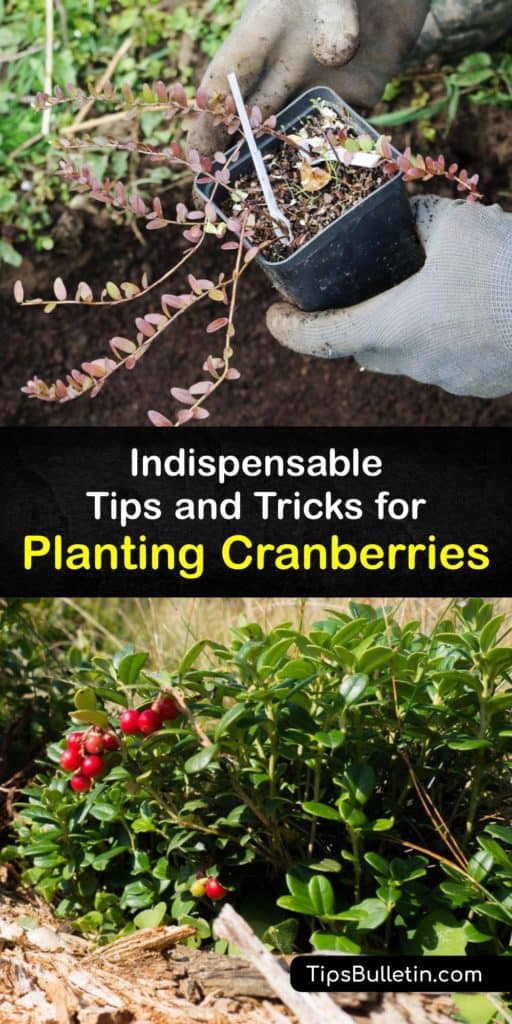 If you enjoyed learning about growing cranberries, please share this article about how to plant cranberries with other green thumbs on Pinterest and Facebook.