Late summer brings a bounty of fresh vegetables, and squash is a favorite among gardeners. With such a plentiful harvest, discovering how to preserve squash in unique ways is a yearly challenge.
While most people reach for a dehydrator or canning jars, they often forget that there are so many different squash types that allow them to play around with their systems for preserving squash.
We all know the standard ways to preserve squash, like pressure canning and freezing, but we're often so stuck in our routine that we don't realize that there are easier and tastier methods.
When testing out these ways to preserve squash, don't be afraid to experiment with the ingredients you use.
Getting a little creative helps to break up the monotony of traditional squash dinners and makes you look like a trained professional in the kitchen. Finding the best way to preserve squash is easy if you're not afraid to try new things.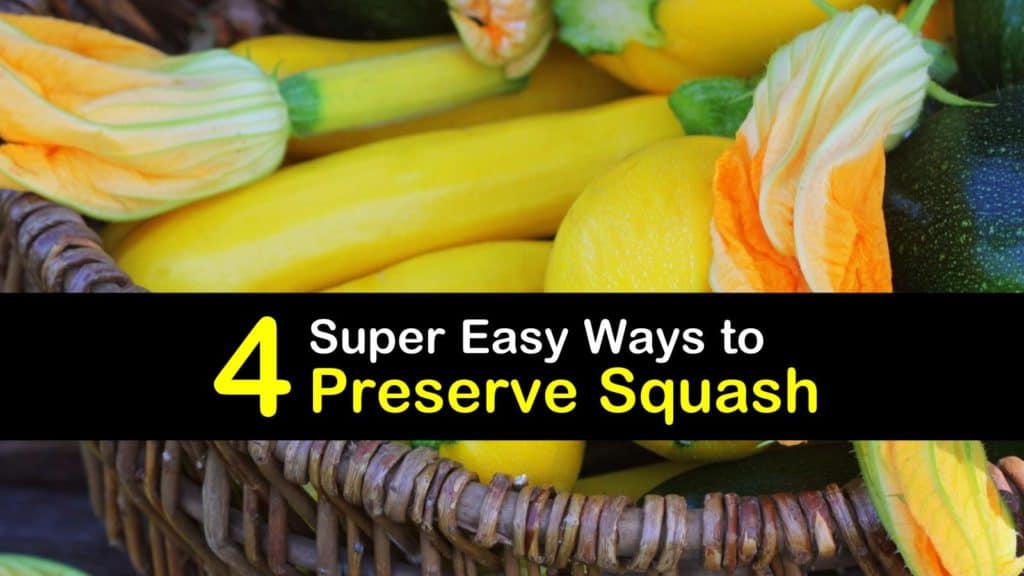 Types of Squash
The USDA divides squash into two categories: summer squash and winter squash. It's quite easy to tell the difference between gourds and squash once you know what to look for.
Summer types include zucchini, pattypan, yellow squash, and other straightneck squashes.
Winter types include spaghetti squash, butternut squash, acorn squash, crookneck squash, and so on. Experimenting with diverse kinds of veggies is not only more fun but helps you fall in love with new flavors.
How long do spaghetti squash take to grow? Most winter squashes take about three months.
For example, pattypan squash may look intimidating with its scallop edge but is just as delicious as traditional zucchini. Summer squashes have a glossy skin that easily pierces with a fingernail.
They are harvested earlier in the growing season and are more tender. Winter squashes are the exact opposite, as they are tougher and require longer cooking times.
Since they are harvested later in the season, they have thicker skin and harder seeds. Regardless of what type you're using for preserving squash, make sure you know the difference between the two and their cook times.
Learn the way to tell when butternut squash is bad, just like your summer squashes so you only preserve the freshest specimens.
Ways to Preserve Squash
There are lots of standard ways to preserve squash. The best way to freeze squash is by slicing it first, but you have many options.
We've listed some favorite preservation strategies and put a twist on them for a fun, new way to eat this tasty veggie.
Preserving Squash in Pickling Liquid
All veggies benefit from pickling, whether you are preserving cucumbers in vinegar or want to store your favorite squash. Although squash pickles are fantastic, there are even better ways to preserve squash with this cooking strategy.
Taking the common pickling ingredients and turning the squash into a relish gives you the same pickle taste in condiment form.
To preserve zucchini by pickling, always wash your squash and veggies under cold water before dicing them. Once diced, place the squash, onion, and bell peppers into a large bowl.
Sprinkle the vegetables with the salt and toss them so they're evenly covered. Let the veggies sit for an hour, and then drain the juice.
Mix the sugar, celery seeds, mustard seeds, and vinegar in a large pot and bring it to a boil. Pour the veggies into the boiling liquid and cook for about 15 minutes until they are tender.
Pack the relish into sterilized canning jars and leave an inch headspace at the top. When canning spaghetti squash or another variety, fill a large pot with water and bring it to a boil. Process the cans, with the lids and seals on, in a boiling water bath for ten minutes.
Remove the relish jars from the hot water and let them sit on the counter, undisturbed, for 24 hours before ensuring the lids seal properly. Store the jars in the fridge and top your favorite foods with the relish.
Pressure canning squash is also an option if you have a pressure canner.
How to Preserve Squash in the Freezer
Frozen squash is excellent because it is quickly thrown into other dishes and warms up easily. Although freezing squash is foolproof, there are more unique ways to preserve squash in the freezer.
For freezing zucchini squash, first, wash your squash and remove the outer layer of skin. Use a vegetable spiralizer to make squash noodles and prepare them for blanching.
Bring a large pot of water to a rolling boil and blanch the noodles in the water for two minutes before dunking them in an ice water bath. Drain the noodles in a colander and dry them on paper towels.
Spread the noodles in a thin, single layer on a cookie sheet and freeze them overnight. Remove the cookie sheet from the freezer in the morning and place the squash noodles in freezer bags or an airtight container.
Store the frozen squash noodles in the freezer for up to a year and heat them with your favorite pasta sauce for a fast meal.
Follow the same process for the best way to store spaghetti squash in the freezer.
Utilizing Grated Zucchini
Cooking zucchini bread is one of our favorite recipes for preserving squash. Although this preservation recipe is fantastic, grated squash belongs in a lot more than just bread. Freezing shredded zucchini is another option if you can't use it immediately.
Grate some fresh squash of your choice and mix it into casseroles before storing squash in the freezer. All that's left to do is heat it in the oven for dinner with added nutrients.
How to Purée Squash
Puréed squash is easily stored in the fridge, freezer, or cans and works as a thickener for soups once autumn rolls around. For this way of keeping squash fresh, remove the skin from your favorite squash and roast them in an oven until tender.
Once cooked through, puree the squash in a blender with a little salt and any other spices you desire. Does butternut squash go bad after pureeing? Use a pressure canner for the purée or store it in the freezer for up to a year.
Knowing how to preserve squash doesn't require you to follow the typical recipes you find on the internet. It's easy to get creative with preserving spaghetti squash or other types and makes the process much more enjoyable. After all, who doesn't love getting a little experimental in the kitchen?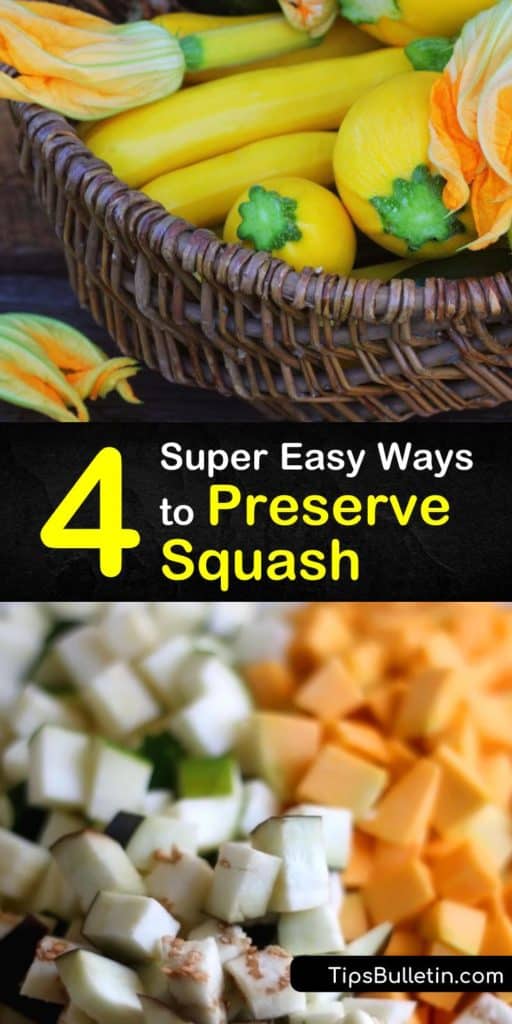 If you enjoyed learning how to preserve squash in a new way, share these ways to preserve squash on Facebook and Pinterest.