There are often minor annoyances in our lives that sometimes feel too big to handle. For instance, scraping off leftover sticker residue from a car window or a new pair of sunglasses becomes increasingly frustrating if you don't know how to handle it. Learning how to remove a sticker from glass is not something that many of us are taught.
Even though this seems like a minuscule problem, it is one we run into a lot. Trying to get a sticker off glass without the right tools is a recipe for failure. Between masking tape, price tags, and decals, many household items have been in some sort of sticky situation.
Getting sticker glue off glass might not be how you envisioned spending your day. However, there are more solutions than you may know of, and the more you try, the faster you become at sticker removal.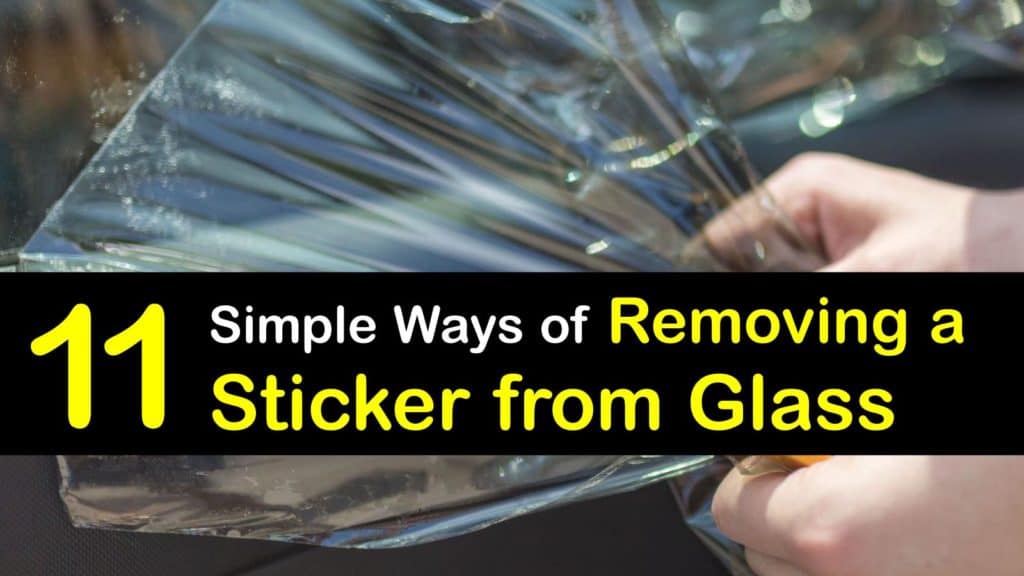 Why Do Things Stick to Glass?
Stubborn stickers are something that everybody deals with at some point. Adhesives, stickers, and tapes come in many forms and are used for a variety of applications.
Molecular bonds cause the stickiness that you notice on a glass surface. Some of these bonds are stronger than others and require more stress to pull apart.
For two substances to bond to one another, they require opposite charges. Adhesives have long protein molecule chains that bond with the surface they come in contact with.
Smooth surfaces like glass don't react well with adhesive residue because there are no pores for the molecules to enter. However, this doesn't mean that it is always easy to remove sticky residue from glass.
Whether from a sticker, decal, or tape, residue is often left behind when we pull them from a glass surface or screen. Read more to learn how to clean sticker residue off a laptop or TV screen. Getting sticker glue off glass isn't always easy, but the challenge is more manageable with practical solutions.
How to Remove a Sticker From Glass
There are three things required for learning how to remove a sticker from glass. Oil, time, and scrubbing are the three key components to get a sticker off the glass for good.
Depending on the adhesive's surface and type, some of these methods may work better than others. If one doesn't seem to work for you, try different ways to clean an old glass bottle and ways to clean sticker residue off glass until the surface is mess and glue-free.
Your First Attempt to Remove Sticker Glue
The very first strategy to take to remove glue from glass object or to remove a sticker from plastic surfaces is to scrape it off. Your fingernails, plastic scrapers, or other non-damaging items are your best best. The glue often scrapes off with ease without the use of other products.
Get a Sticker off the Glass With Peanut Butter
Don't throw away your old jars of peanut butter if you can help it. The fat content inside peanut butter is one of the best ways to dissolve adhesive so that it wipes away clean.
Spread a spoonful of peanut butter in a thick layer over the pesky sticker and let it sit for about one hour. After an hour or so, use a damp cloth or sponge to get sticker residue off glass.
Many people enjoy washing peanut butter jars and reusing them for other household duties. Who would have thought that you can use the peanut butter inside to remove the sticker label on the outside?
Using a Hair Dryer to Remove Stickers
The hot air from a regular hair dryer is the perfect tool to use for getting sticker glue off glass or to get sticker residue off plastic. This tool is something that most people have in their homes already and works in as few as two minutes.
To take a sticker off a car window or other glass items, hold your blow dryer over the sticker on the highest heat setting so that it hits the adhesive. Use a scraper, like your fingernails or a credit card, to scrape away the remaining glue. If you don't get it all in one go, repeat the process.
The Easiest Method for Getting Sticker Glue off Glass
It might seem too easy, but soapy water also works when learning how to remove a sticker from glass, as well as to remove labels from glass jars and bottles. Soap and hot water make a wonderful eyeglass cleaner recipe because it heats the adhesive so it is easy to remove without damaging the lenses.
Fill your sink with hot water and a little bit of dish soap. Place all of your glass items into the hot soapy water and let them sit for 30 minutes.
Use a small plastic scraper or your fingernails to chip away at the adhesive until it is gone. Dry the glass items with a paper towel so that no streaks or water spots remain.
Try this solution to get Gorilla Glue off glass, as well. You might get lucky.
Removing Glue Remnants From Glass
Sometimes we are lucky enough to remove a majority of the glue from the surface. Even when we remove most of it, there is sometimes still some left behind.
A pencil eraser is perfect for getting the job done. The abrasiveness of the rubber creates friction and scrapes at the glue until it is completely clear.
Baking Soda and Cooking Oil Solution
The abrasive texture of baking soda combined with the slick oil often makes the perfect combination to remove sticker residue. This recipe is the ideal homemade adhesive remover for cars and other large glass surfaces.
To eliminate sticker residue or to remove Crazy Glue from glass, mix equal amounts of baking soda and cooking oil in a small bowl until it forms a paste-like consistency. Smear the paste over the adhesive so it is saturated.
After letting the paste sit for an hour, use a clean, damp cloth to begin scrubbing at the glass until all glue lifts away.
Using Rubbing Alcohol on Glue
Rubbing alcohol is yet another powerful substance to remove stubborn stickers from glass surfaces, as well as to remove water spots from glass, and it is the best way to clean a mirror without streaking.
Dampen a cotton ball in the rubbing alcohol and start rubbing it over the glue stain. It may take several thorough applications of the alcohol for it to lift completely.
Nail Polish Remover for Removing Stickers
Nail polish remover is similar to rubbing alcohol in that it works to break down adhesive because of its alcohol base. Wet either a clean rag or paper towels with nail polish remover and start scrubbing the residue.
Sometimes it helps to put the nail polish remover in a spray bottle, spray the affected area, and let it soak for ten to 20 minutes before scrubbing.
Try this simple remedy to get spray paint off a glass mirror or other glass surface, too.
How to Use a Razor Blade to Remove Stickers
Even though razor blades are effective at removing stickers, you have to be careful not to scratch the surface of the glass. Before removing the sticker, use your fingernails to scrape away as much of it as possible.
If there is leftover adhesive, gently use the blade's sharp edge to begin scraping away the remaining gunk. Always use caution with blades so you don't scratch yourself or the items you're working on.
Scratching the glass is easier than you may think. To get scratches out of a glass table or other glass surface, dab a little white toothpaste into the mark and rub gently with a microfiber cloth.
Aerosol Sprays for Getting Sticker Glue off Glass
Lubricant sprays, like WD-40, are an ideal solution for tough stickers. Not everybody has this spray on hand, but it is definitely something you should try.
If you're dealing with messy labels, liberally spray WD-40 over the sticker and let it sit for a while. The sticker should slide right off, and the excess lubricant easily wipes away with soap and water.
WD-40 makes it easy to get a sticker off any mirror or glass surface in your house or car. Keep a can on hand for sticky messes.
Freezing Sticker Residue
If you have an ice pack or a couple of ice cubes on hand, you're in luck. Holding the ice over a sticker allows the glue to freeze and lose its attachment to the glass. Freezing is also perfect to remove adhesive from car paint. Use care when scraping off the glue so you don't damage the paint.
Pull off the sticker with your hands, a plastic scraper, or a razor blade. If that doesn't work right away, try to keep the ice on for a longer period.
Use Window Cleaner to Get a Sticker off the Glass
A trusted glass cleaner, like Windex, is one of the safest methods when learning how to remove a sticker from glass. Spray the window cleaner on the surface so that the adhesive is thoroughly drenched.
After about five minutes, check to see if the glue has loosened. If not, soak the area once more and wait another ten minutes. By this time, you should be able to use a razor blade or another scraper to lift away the remaining adhesive. Window cleaner usually works well to get soap scum off glass but extra elbow grease may be required.
Buying Products for the Job
When all else fails, there are products on the market for purchase to remove sticker residue. One of the most popular products is Goo Gone. Goo Gone is specifically designed to remove adhesives of all kinds.
These adhesives include tape, glue, grease, wax, gum, sap, tar, and stickers. The oils in the Goo Gone, combined with a bit of manpower, make the perfect combination in getting yourself out of the stickiest of situations.
Other similar products on the market work as well, but Goo Gone is one of the most well-trusted.
Sometimes, it is the little things in life that turn out to be the most frustrating. A small sticker not lifting from glass sends people into a whirlwind of frustration. Thankfully, there are dozens of ways to get a sticker off glass without damaging the item itself.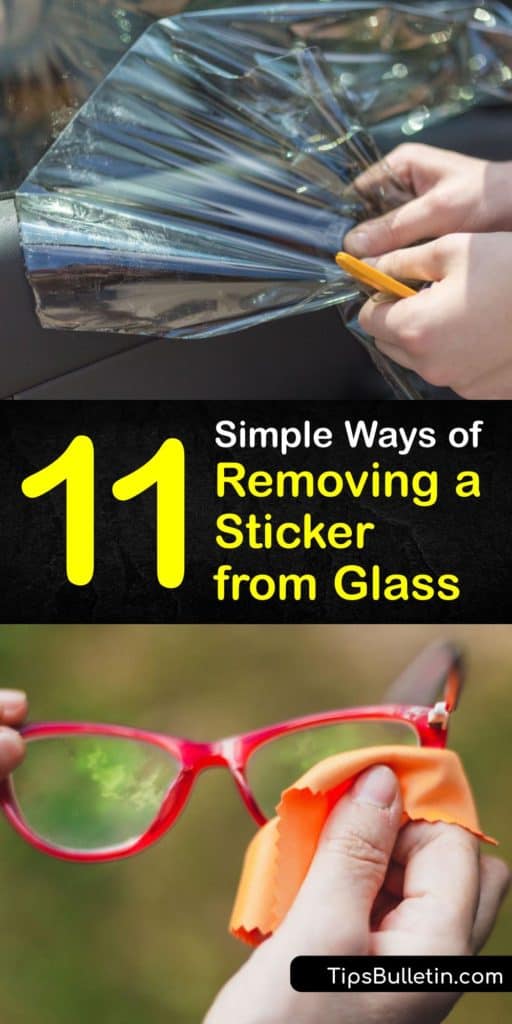 If learning how to remove a sticker from glass has saved you a ton of time and energy, share these methods for getting sticker glue off glass on Facebook and Pinterest.