Retailers must take great joy in placing their price tags on glass jars, cups, and other glass goods because they seem to do it even when it's not necessary. You peel at the sticker with your fingernail and determination, and still, there is a patch of sticky residue that refuses to go away. We'll show you how to remove adhesive from glass using a variety of simple techniques.
There are other causes for glue residue on a glass surface. If you've ever tried to remove an old piece of masking tape off a window, then you can attest to this.
The dry and brittle glue seems impossible to clean, especially if you use the wrong cleaning products. While soap and water often clean away new stickers from a picture frame or other surface, it doesn't always work for removing a stubborn binder such as super glue.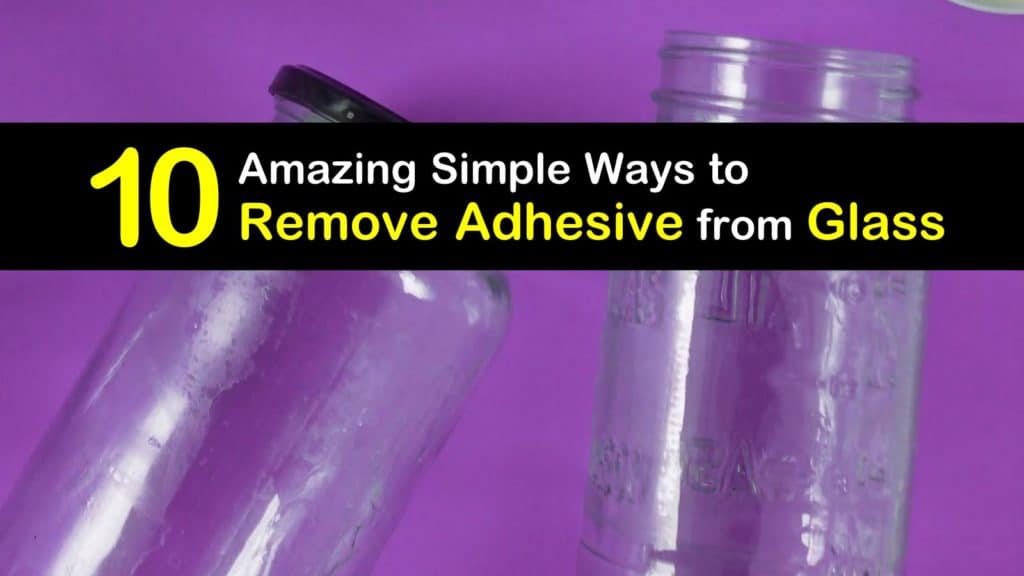 Simple Ways to Remove Adhesive from Glass Surfaces
Rather than ruin your fingernails trying to scrape off glue residue, consider trying one of these ideas. They are fairly easy, and you probably have many of these cleaners in your home already.
Oftentimes, the only way to clean away adhesive residue is to use something that loosens and dissolves its bond.
Get Adhesive off Glass with Soapy Water
Soapy water is the simplest solution to get adhesive off glass from a relatively new sticker. The dish soap and hot water loosens the bond, making it easier to scrape away the glue.
Fill the kitchen sink or tub with hot water and add several squirts of dish soap. Use a utility knife to pry away the tape or sticker gently and then soak the glass in the soapy water.
Use a strong sponge to scrub away the sticky residue and rinse the item with clean water.
Remove Adhesive Residue from Glass with Goo Gone
If you don't have the proper ingredients to make homemade adhesive remover, try Goo Gone. This product works well to remove adhesive residue from glass and is very easy to use.
Apply Goo Gone liberally to the glass's sticky area and let it sit for several minutes to soften the glue. Use the sharp edge of an old credit card to scrape off the adhesive, and reapply more Goo Gone if necessary.
Soak a sponge with hot water and a couple of drops of dish soap and wash the glass of any residue. Rinse the area clean with warm water and dry it with a towel.
How to Remove Adhesive from Glass
If soapy water doesn't do the trick to clean away adhesive, take a look in your kitchen cupboard or refrigerator. Surprisingly, many food items loosen glue, and anything that contains oil is useful to remove stickers from glass.
To remove sticker residue from glass or as a simple way to remove a sticker from a mirror, cover the adhesive with anything that contains oil, such as canola or olive oil, mayonnaise, or peanut butter, and let it sit for a few minutes. Fill the kitchen sink with hot water and a bit of dish soap.
Use a scraper to scrub the bond from the glass surface and submerge it in the soapy water. Use a sponge to wipe away the oil and residue, rinse the glass with clean water, and dry it with paper toweling.
Removing Glass Adhesive with White Vinegar
Try using white vinegar to get adhesive off glass. This mildly acidic liquid dissolves the glue adhesive in a short amount of time, and it is also a glass cleaner substitute.
To remove a sticker from glass without harming the material, pour white vinegar into a bottle and spray the liquid directly on the sticky glue or for cleaning hard water stains on glass surfaces. Let it sit for several minutes as the vinegar breaks up the bond.
Use steel wool to scrub the adhesive from the glass and rinse the item under warm water. Wipe the glass with a soft towel rather than letting it air dry to prevent streaks.
Use this method to remove spray paint from glass, too. Vinegar is ideal for all sorts of household applications.
Using Nail Polish Remover to Remove Adhesive from Glass
Fingernail polish that contains acetone is a handy tool for removing tape adhesive. The acetone breaks down and dissolves the sticky residue, making clean up a cinch.
Pour enough nail polish remove on a cotton ball to soak it and press it to the glass's sticky area. Hold it there while rubbing it around in a circular motion for several minutes.
Discard the cotton ball and use the edge of a nail file to peel away the adhesive. Rinse the glass under warm water to clean the remaining gunk and dry it with a cloth.
Using Heat to Remove Adhesive off Glass
A hair dryer and a razor blade are handy tools to remove adhesive residue from glass. High temperatures melt the glue on sticker backing so that the fine edge of the razor slides the sticker from the surface.
Aim the hair dryer on high heat directly at the tape or sticker on the glass and hold it there for about 45 seconds. Turn off the dryer and use a razor blade to scrape away the adhesive gently.
If there is still some remaining, hold the dryer over the area for another 45 seconds, and repeat the process.
Cleaning Away Adhesive Residue with Paint Thinner
Paint thinner is a solvent commonly used for cleaning paint brushes and spills. However, this liquid also helps dissolve the stickiness left behind by stickers, tape, and glue.
Apply a small bit of paint thinner to a rag and rub it over the glass's affected area. Use a box cutter to gently scrape off the bond, making sure not to scratch the glass.
After the stickiness is gone, use some warm water and dish soap to clean the glass and rinse it under cool water. Dry the glass thoroughly with a towel to prevent it from streaking.
Removing Adhesive with Baking Soda
Baking soda is a miracle powder with multiple uses. This mildly abrasive pantry item is alkaline, and combining it with other ingredients creates a power cleaner for removing adhesive.
Form a paste by combining just enough hot water and baking soda in a small bowl. Apply the paste to the adhesive and let it sit for several minutes.
Use a scraper or sponge to scrub away the sticky residue and rinse the item under warm water. Repeat if necessary until the glue is gone. To prevent the glass from streaking, dry it with a cloth once the glass is clean.
Cleaning Adhesive off Glass with Rubbing Alcohol
Isopropyl alcohol, or rubbing alcohol, is a versatile household item. It is a disinfectant and antiseptic, and it also gets rid of adhesives by breaking down the contact they have on a surface. Alcohol and water make the perfect combination to clean mirrors and glass surfaces without streaking.
Use this recipe to remove adhesive from car paint as well as glass but be careful when scraping so you don't damage the paint.
To get super glue off glasses lenses or other glass items, apply a small amount of rubbing alcohol onto a cotton ball and rub the glass's affected area for several minutes. If you do not have any rubbing alcohol, lighter fluid is a good substitute, as long as you are not near a heat source.
Scrape the adhesive with a plastic scraper, rinse the item under fresh water, and dry it with a clean cloth.
Dabbing a cotton ball covered with alcohol will also remove sticky tape residue from a laptop cover. Be careful not to drip it onto the keys.
Hand sanitizer, which includes alcohol as one of its main ingredients, can be useful to remove super glue from hands as well as other surfaces.
Removing Adhesive Residue with Lemon Juice
Lemon juice is naturally acidic and works wonders for breaking down the adhesive bond. Use store-bought juice or squeeze some from a fresh lemon and clean away stickiness from glass in a matter of minutes.
Pour lemon juice onto a washcloth and spread the wet material over the sticky spot on the glass or use it for removing hardened tree sap from a car. Let it sit for 15 minutes while the citric acid dissolves the bond.
Rub the washcloth in a circular motion to break up the glue, and then use a razor blade to scrape away leftover bits gently. Rinse the glass under warm water and then dry it with paper towels.
Stickers are on just about everything these days, and removing them is not as easy as it should be. A shiny glass surface with a patch of sticky gunk is an eyesore.
Luckily, there are more ways than one to get stickers and glue off glass, and all that's required is a cleaner or solvent and a little bit of elbow grease.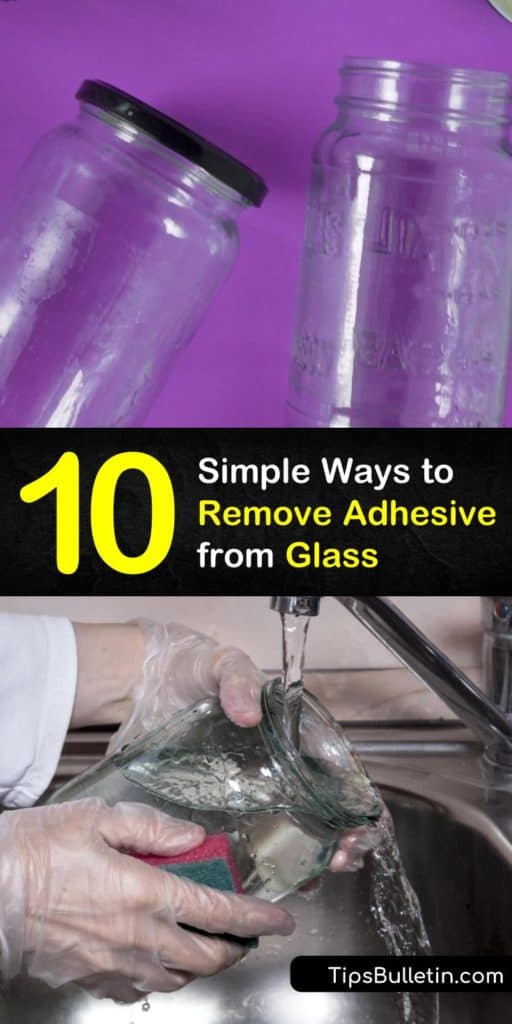 Knowing how to remove adhesive from glass means that you don't ruin your fingernails scraping off sticky glue, so why not share our adhesive removal tips with your circle of friends and family on Pinterest and Facebook?