Did you get a little overzealous at the farmers market or have a rather abundant harvest from the garden? While reaping a great harvest has its rewards, it also creates a storage problem. We'll show you how to store okra using several different techniques and create tasty recipes for long term storage.
This yummy vegetable is fresh year-round in the south, where it's a favorite in creole cuisine, but only available from May through October in other regions. Oddly, okra belongs in the same plant family as hibiscus and cotton.
But, that doesn't stop us from savoring its unique texture and mild flavor. It takes about two months for these veggies to grow, and once harvested, fresh okra only lasts two to three days in the fridge.
The refrigerator doesn't give you much time to cook those tender pods in a favorite okra recipe. Fortunately, there are other ways to store okra pods that prolong their shelf life.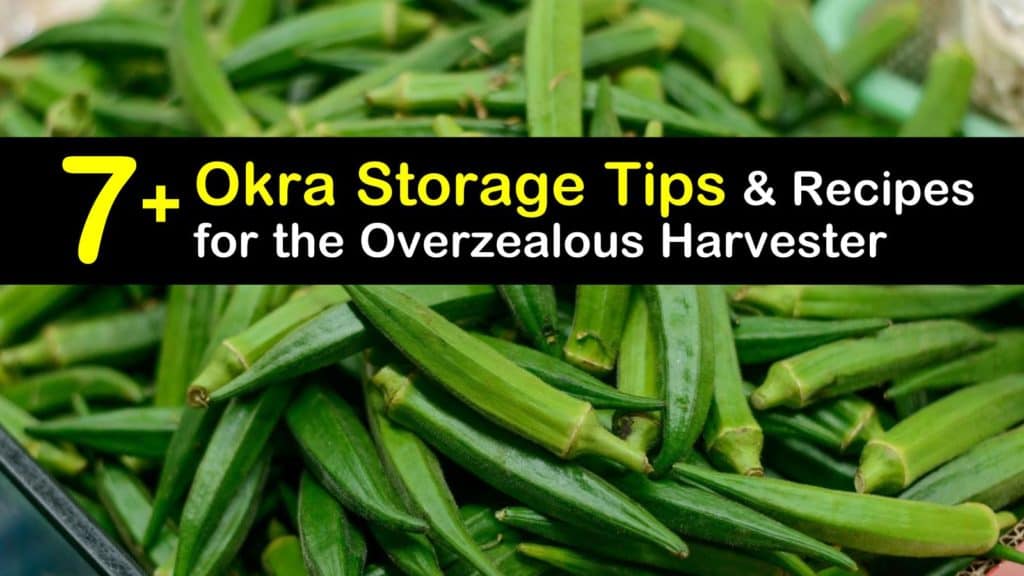 Storing, Preserving, and Cooking Fresh Okra
We enjoy this versatile veggie in many ways, from fried okra and gumbo to smoothies and pickles. Whether you are growing okra from seeds or you buy them from the farmer's market, it's important to know what to do with them afterward.
These vegetables only last so long when growing okra in containers, a raised bed or in the garden, and not storing it the right way results in a slimy and undesirable veggie. It's easy to save okra in various ways, including the fridge, freezer, and pantry.
Choosing the Best Okra for Storage
You have a large pile or bushel of fresh okra after a plentiful okra growing season and plan on equipping it for storage. Before you get too far, it's essential to make sure that those veggies are healthy and tasty to get the most out of their storage, in the same way you prepare for how to store daikon and other produce.
Fresh and Healthy Okra
When growing okra or purchasing it, there are different types of okra, including ridged varieties, and each has a distinct taste. Begin by separating the small pods from the large pods. Smaller okra pods are ideal for pickling, while the larger sizes are great for slicing into soups.
Look for whole okra that is bright green and choose whole pods that are no longer than four inches in length. Stay away from veggies that are blemished, bruised, soft, and dull in appearance, and avoid over-ripe okra that has a sticky texture.
Ways to Store Fresh Okra Short-Term
If you have a small amount of okra that you plan on cooking soon, one of the simplest ways to store fresh okra is in the fridge. Like storing baby carrots and cucumbers, saving veggies in this manner keeps them fresh for two to three days.
Use a pair of scissors to cut okra directly above the cap. If it is difficult to cut, this means that it is too old for storage and needs tossing.
Do not wash the pods to prevent mold growth and place them directly into a paper bag or a perforated plastic bag. Keep them in the vegetable crisper for up to three days.
How to Blanch Okra for Storage
If you plan on freezing your okra to lengthen its storage, it's important to blanch them first.
These veggies contain bacteria that change the taste and texture of okra while destroying nutrients during the freezing process. Blanching your vegetables destroys these enzymes and keeps them looking and tasting fresh.
Trim off the stem ends without cutting into the pods, rinse them to remove dirt, and set them aside. Bring a stockpot or large pot of water to boil.
Add the okra to the boiling water and boil for three to four minutes. Fill a mixing bowl or container with cold water and ice, and plunge the okra into the ice water.
Storing Okra in the Freezer Long-Term
Storing okra in the freezer is quick and easy to do. Freezing is ideal for long term storage, and these veggies last up to 12 months. However, it's important to blanch the vegetables beforehand to maintain their flavor and texture. Freezing okra without blanching is possible but not recommended.
Determine how you plan on using the okra before freezing them and cut the blanched pods into desirable pieces. For stews and soups, cut them into chunks. If you plan to use them in a side dish, slice them into strips.
Place parchment paper on a baking sheet and spread the pieces out in a single layer. Set the sheet in the freezer to flash-freeze them for approximately one hour to ensure that they are firm.
Fill freezer bags with the frozen pieces, leaving an inch near the top of the bag. Squeeze as much of air out as possible and seal them tightly to prevent freezer burn. Label the storage bags with the contents and date.
A similar procedure is used for storing cabbage long term, as well as a variety of other fresh vegetables.
Storing Cooked Okra in the Fridge or Freezer
Perhaps you made just a little bit too much gumbo, cornmeal fried okra, or casserole and have enough left for another few meals. Not to worry, those leftover dishes are easy to save in the fridge or freezer for future dining.
It's vital to store cooked okra within two hours of cooking. To reheat your leftovers within a day or two, place the okra in a sealable storage container or cover it with a sheet of plastic wrap or aluminum foil and store it on the refrigerator shelf.
For long term storage of your leftovers, place the cooked okra in freezer bags and press as of the much air out as possible before sealing. Label the top-side with contents and date and freeze for several months.
How to Store Okra by Pickling
Pickles are not just reserved to conserve cucumbers. You easily learn about canning okra for frying but trying pickled okra is a must.
Okra pickles are crunchy and zesty and a great way to store your vegetables for the longest shelf life. This recipe uses a water bath canner rather than a pressure canner, is relatively easy to prepare, and lasts a year or more in the pantry.
Don't be afraid to spice up this basic recipe for pickled okra by adding some of your favorite spices and veggies.
Wash and trim the ends of the pods, leaving the okra whole. Heat a large pot over medium heat, add all of the pickling spice and toast them for two to four minutes until they brown.
Add the vinegar, water, salt, and sugar to the pot and bring the mixture to a boil before reducing the heat. Slice a half lemon into four slices, put each slice into sterilized canning jars, and then add the pods to the jars, leaving a half-inch headspace.
Fill each jar with the hot brine, making sure to keep the half-inch of headspace. Tap the jars or use a knife to remove all of the air bubbles and screw the lids in place.
Process the canning jars in a water bath canner for ten minutes. Remove the jars and let them cool for up to 24-hours before checking the seal and storing.
Pickling is also ideal for storing watermelon rind. Although we don't typically eat the rind raw, making this part of the watermelon into delicious pickles saves on waste and is a tasty treat.
Making Refrigerator Pickles with Okra
If your time or patience is lacking, consider making a quick batch of refrigerator pickles to prolong their shelf-life. Unlike canned pickled okra, these refrigerator pickles last about two months in the fridge, unopened.
Divide the onion, garlic, and dill into the bottom of two jars. Wash and trim the stems off the pods and pack them in each jar, leaving an inch of headspace.
Set a saucepan over high heat and add the water, vinegar, salt, and sugar, stirring until the mixture dissolves. Add the mustard, coriander, dill seeds, crushed red pepper, and peppercorns to the brine and simmer for a few minutes.
Remove the hot brine from the stove and pour it over the top of the veggies to cover them. Screw the lid in place and allow them to cool completely before refrigerating. Store in the fridge for one week.
Drying Okra for a Tasty Snack
Dried okra? Yes, dried okra really is a thing. While dried okra is not very pretty to look at, they are a tasty, crunchy snack that is hard to resist.
Dehydrating your veggies is a great way to preserve an abundant harvest, and they last a year or more with proper storage.
Rinse the okra and trim the stems before slicing them to the desired thin shape. The pods are also tasty left whole, but the drying time is significantly longer.
Set them into a bowl and drizzle them with olive oil. Add the cayenne pepper and salt and toss the veggies to coat them thoroughly.
Spread the okra pieces on food dehydrator trays in a single layer and dry them for about 12 to 18 hours, depending on the veggie's size. The okra is breakable and crispy once it is dry. Store the dried okra in a storage container.
Storage is often a dilemma after you harvest okra and other vegetables. Do you intend to eat them right away, or do they require long term storage?
The good news is that storing okra is easier than you think, whether you decide to refrigerate, freeze, pickle, or dry this veggie.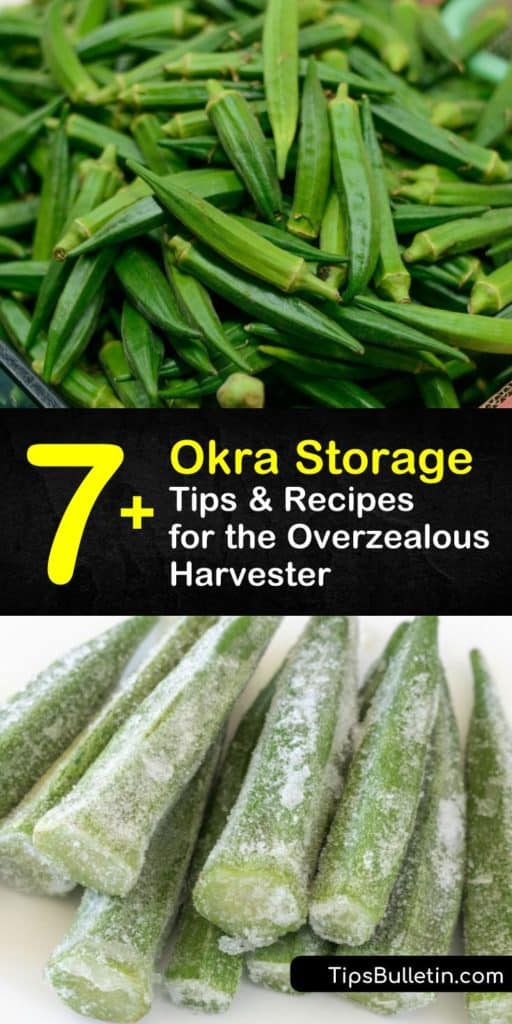 Learning how to store okra to enjoy in soups or as a tasty pickled snack is easy, so why not share our okra storage tips and recipes with your family and friends on Facebook and Pinterest?