Growing your own chili plants at home is becoming an increasingly popular hobby. Unfortunately, all pepper varieties are not the same, and knowing when to harvest chili peppers depends on many factors.
Hot peppers add flavor and heat to tons of recipes, and what better way to experience their full potential than to grow them in a backyard garden that is free from pesticides and other harmful chemicals?
Knowing when to pick chili peppers isn't always straightforward. The different varieties of hot peppers have diverse sizes, shapes, and colors that all indicate various readiness levels.
Pepper plants range from a sweet pepper, like the bell pepper, to hotter chilies like the Carolina Reaper. Harvesting chili peppers and other pepper plants at the right time is vital so that they reach their full size and provide you with the best flavor possible.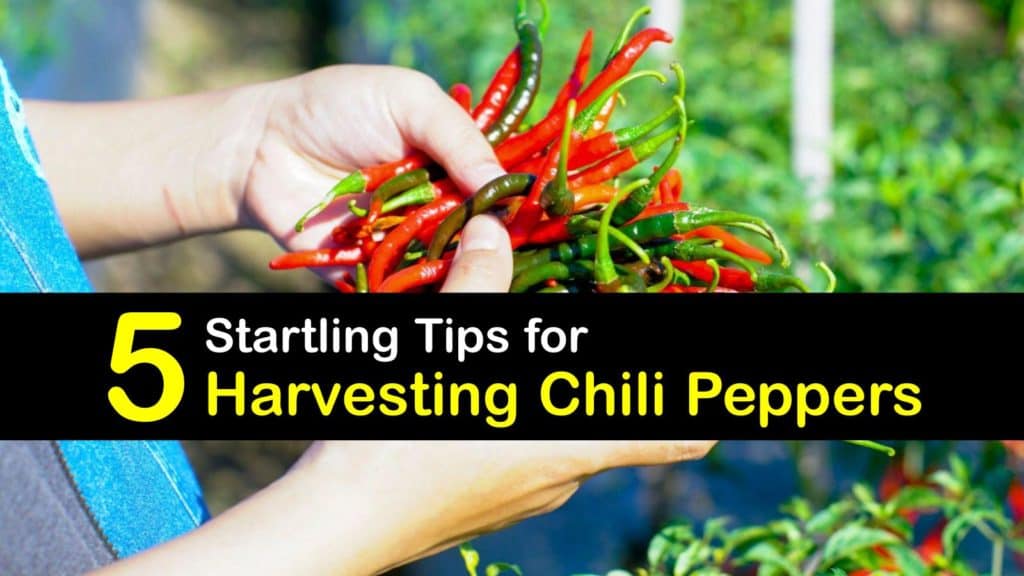 What Makes Chili Peppers Hot?
Hot chili peppers come from the capsicum family. Of all the peppers in the world, they range from sweet to extremely spicy. The heat often comes from the pepper seeds and capsaicin and not the pepper itself.
Scoville heat units are used to determine the spiciness of different types of chilli peppers.
The sweetest of all peppers are bell peppers. As you make your way up the Scoville scale, you first come across Banana peppers or Anaheim peppers and eventually go even hotter to plants like Serrano peppers, Tabasco peppers, and Thai chilies.
While bell peppers have a score of zero on the Scoville scale, the world's hottest peppers reach over 2 million heat units. It is imperative to understand the Scoville scale because as chilli plants ripen, they also grow hotter.
Some types of hot peppers are picked before fully ripe and sold so that they get hotter by the time you bring them home from your local store. However, if growing them at home, you have complete control over when you pick them and some control over their spiciness level.
When to Harvest Chili Peppers
Knowing when to harvest chili peppers or pick banana peppers is important, but so is learning how to grow them. This article teaches you everything you need to know as a home grower, all about growing poblano peppers from seed, and how to give pepper plants a thriving life from start to finish.
Planting Chili Peppers
Although many people purchase transplants from their local garden center, some choose to grow them from seed because it's so easy. Start hot pepper seeds indoors about six to eight weeks before the last frost of spring.
Once the risk of frost is completely gone, usually when the temperature remains around 65°F, the hot peppers are ready to be transplanted outside.
While you're waiting for them to grow and prepare them for transplant, place them in a sunny windowsill and ensure that the soil remains moist.
Peppers must have full sun and soil that is rich in organic matter. The ground must retain water while still being well-draining. Pepper plants prefer a soil pH of 5.5 to 6.8.
Once you're confident in the environment to start the growing season, it is time to plant them in the ground. Pepper plant spacing requires at least 24 to 36 inches between each row.
They are ready to be transplanted into the rows when they are four to six inches tall. Add mulch to the base to help retain moisture and heat. Although pollination is good, keep an eye out for aphids that destroy your pepper plants.
When to Pick Chili Peppers
When are chili peppers ready to pick? Before harvesting chili peppers, knowing when to pick chili peppers is also significant.
Picking unripe peppers is fine because they ripen on your counter, but there is also a perfect time to pick them and use them in your favorite recipes. When to pick Anaheim peppers depends on what color you want them.
Traditional chili peppers start as a dark green color and turn into a red pepper as they ripen. This same ripening rule applies to a lot of other peppers. When are tabasco peppers ready to pick? What about other types?
Cayenne peppers are ready to pick when they reach about six inches long and are just over an inch in diameter. Habanero peppers usually turn orange or red once fully mature and are only one to two inches long.
When are jalapenos ready to harvest? The jalapeno pepper, a favorite among gardeners, is ready to be picked as soon as it turns a deep green color and is about three inches long. They are red when fully mature, when their flavor becomes hotter and sweeter at the same time.
Harvesting Chili Peppers
Once you've made the visual determination that your peppers are ready to pick, it is time to start harvesting chili peppers. Mature peppers are usually easily plucked from the plant, so test one to determine readiness for harvesting poblano peppers.
Once you easily pick one pepper, it is time to harvest the rest the proper way. Use a knife or garden clippers to remove the fruits from the plants and prevent any damage to the pepper itself.
Leave a small piece of the stem on and wear gloves if you're afraid that the oils might irritate your skin. Once you have your harvest, you're ready to turn it into something delicious.
Drying Chili Peppers
One of the great things about growing chili peppers is that you may dehydrate them and use them as a seasoning in the future. One of the easiest ways to do this is to put them in the dehydrator.
The warm air in the dehydrator sucks out the moisture within 24 hours so that the job is speedy and efficient.
Cut the peppers lengthwise and lay them on your dehydrator trays to dry. Once dry, store the chili peppers in an airtight container and put them in a dark place until you're ready to use them.
Turning Chilis into Hot Sauce
There are a lot of fun ways to store chili peppers. Pickling is one fun way to do it, but creating your own hot sauce recipe is even more rewarding and the best way to preserve jalapenos and other spicy peppers.
Chop the peppers and garlic cloves and add them to a pot with salt and vinegar. Bring the ingredients to a boil, turn the heat to low, and let it simmer for roughly 20 minutes.
Remove the hot pan from the heat and let it cool slightly before transferring it to a food processor. Process the pepper mixture into a smooth sauce and adjust the taste with more salt if necessary.
Strain the hot sauce through a sieve and pour it into a bottle before using it on your favorite food items.
A chili isn't just a red pepper used to add heat to foods. Chili peppers are full of all different flavors and one of the easiest things for gardeners to grow.
They are incredibly versatile, and knowing when to pick chili peppers is crucial for anything you do in the kitchen.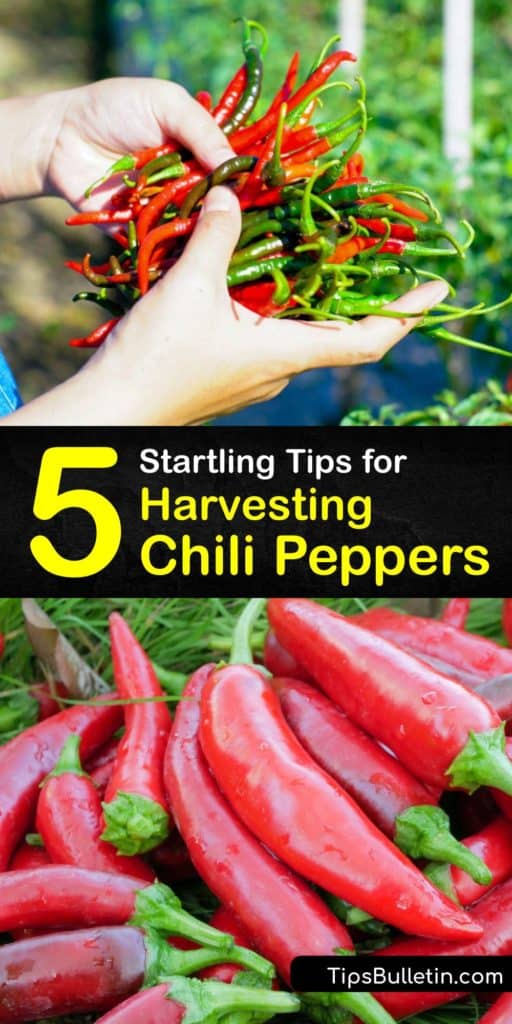 If learning when to harvest chili peppers has given you the best crop yet, share this advice for harvesting chili peppers on Facebook and Pinterest.