Mulberry trees are a delightful choice for your garden, not only for their mouthwatering fruit but also for their easy and quick growth, all without breaking the bank.
To plant a mulberry tree effectively, consider these steps:
Choose a location with full to partial sun exposure for optimal fruit production.
Ensure the soil is well-drained and can accommodate the tree's mature size, which can be up to 50 feet in height and width.
Space multiple trees adequately—10 to 15 feet for smaller types and up to 30 feet for larger varieties to prevent overcrowding.
Avoid planting near septic systems or underground plumbing due to the tree's invasive roots.
Plant in the spring or fall when temperatures are moderate to encourage strong root development.
Planting a mulberry tree involves finding the right spot in your garden where it can bask in ample sunshine. Look for a space with well-drained soil, preferably a location that will allow the tree to grow without constraints. You want an area that can afford the tree's mature height and width, with adequate spacing between other trees or structures.
It's crucial not to plant too close to utilities to prevent root interference. The best time to plant is during milder spring or fall months, promoting better root establishment. Following these steps makes planting mulberry trees an easy and inexpensive way to enjoy delicious fruit and enhance your garden's biodiversity.
You've decided to grow a mulberry tree in your yard and are unsure where to plant it. How big do these trees grow, and how much space do they need? We answer these questions and explain where to plant a mulberry tree according to type and region. Additionally, find tips for growing and caring for your new tree to ensure fruit production.
The black mulberry, white mulberry, and red mulberry are the three main types of mulberry trees. The black type has the best-tasting black fruit, and the white variety produces white, pink, and purple fruit earlier than others. The red mulberry tree has red to deep blue fruits an inch long and grows the largest leaf of the three varieties.
All types grow sweet-tart berries that both humans and wildlife enjoy eating. However, unlike other berry-producing plants, mulberry trees don't have thorns, and they are fast growers, making them ideal for filling a backyard space quickly. Once it reaches maturity, this deciduous tree provides you with an abundance of mulberry fruit at the end of the growing season.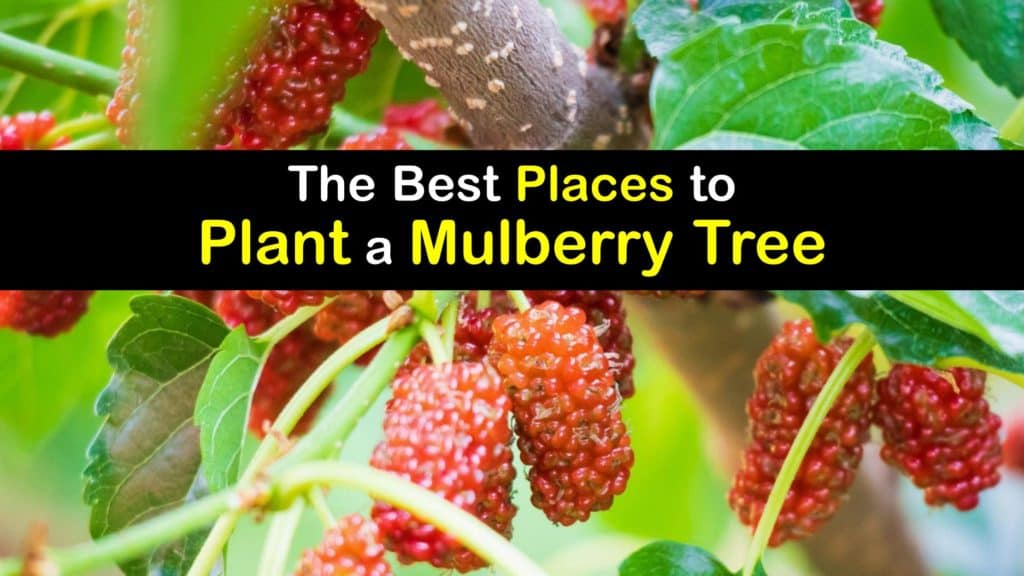 Planting and Growing a Mulberry Fruit Tree
While the mulberry tree (Morus alba) is not as popular for growing at home as the apple tree, black, red, and white mulberry trees are an excellent addition to the garden. The different mulberry types draw a variety of wildlife to the area, from woodpeckers and cardinals to cedar waxwings and sandhill cranes, and the ripe fruit tastes great in jam, pie, and other desserts.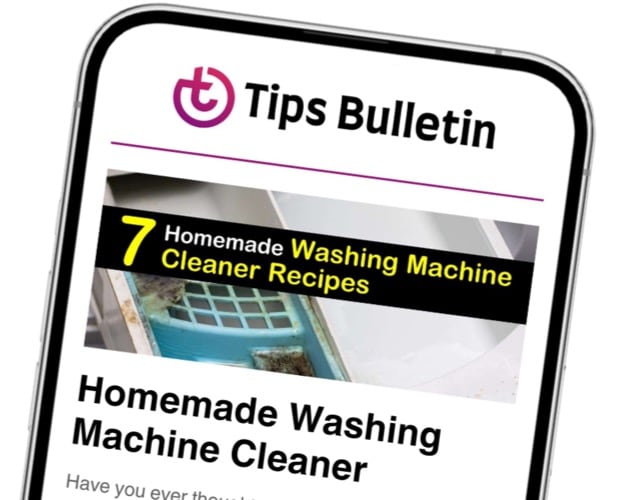 Finally, an email that Transforms Your Home.
Get the latest home and garden tips from our experts, delivered straight to your inbox.
Where do mulberry trees grow, and how much sun do mulberry trees need? Also, is it a mulberry tree vs bush? Learn more about the growing habits of these trees and what they need to thrive. Discover where and how to plant this fruit tree, give it care as it grows, and harvest the berries to make a delicious recipe.
While it's possible to get a harvest after planting mulberry seeds, it will take a while. Get faster results by growing a sapling instead.
Where do Mulberry Trees Grow?
Do mulberries grow in the wild? Mulberry plants have different habitats, depending on the mulberry species, and they are easy fruit trees you can grow in pots, too. Where do mulberry trees grow? Find out where these trees grow naturally and which hardiness zones they thrive in to ensure you choose the right one for your area.
The black mulberry tree and white mulberry tree are Asian natives, while the red mulberry tree is native to North America, and you find them growing naturally along streams. It's an ornamental tree with purple or black berries, although some berries are even white. Red and white mulberries grow in USDA hardiness zone 4 through 9, while black types are hardy in zones 5 through 9.
How Much Sun do Mulberry Trees Need?
Before growing mulberry trees, it's wise to understand their growing habits. For example, how much sunlight do mulberry trees need, and do they like a specific soil? Explore mulberry tree sun requirements and soil type to help you pick the best location to plant your young tree.
How much sun do mulberry trees need? These trees tolerate both full and partial shade, but the more sunshine they receive, the more fruits they produce. They are adaptable to different soil types with varying pH levels, including sandy, loamy, and clay dirt. However, they prefer their roots in well-draining soil.
Where to Plant a Mulberry Tree in the Yard
These trees grow up to 50 feet tall and wide, depending on the mulberry variety, so it's essential to pick the proper area of your yard for proper mulberry tree spacing to ensure your trees do not overcrowd the area. Examine each tree's mature size and how long it takes to grow to help you plant it in the perfect location, like the perfect place to plant a blueberry bush or blackberry bush.
The black mulberry tree is the smallest of the three trees, with a mature size of 30 feet tall. The next largest variety is the red mulberry which reaches up to 40 feet tall. Finally, the white mulberry grows over 50 feet tall and wide and requires the most space. They grow quickly when young and take two to three years to produce fruit.
When growing mulberry trees in the yard, space them 10 to 15 feet apart for small trees and 30 feet apart for large trees, and do not grow mulberry trees close to a septic system or underground plumbing since they have invasive roots.
How to Plant Mulberry Trees
Once you pick the perfect spot to grow your mulberry tree, it's time to plant it. Here is how to plant a new tree at the right depth to promote a healthy root system and get your tree off to a good start.
While it's possible to germinate mulberry seeds in early spring, planting a young tree is the quickest way to grow mulberry fruit. When the temperature is not too extreme in the spring or fall, dig a hole three times the size of the pant's root ball and carefully remove the sapling from the pot.
Detangle the roots with your fingers and plant the tree at the same depth as the container. Push the soil around the plant's base, pat it down to remove air pockets, and water your tree deeply.
Caring for Mulberry Trees
While nature provides plants with most of their needs, it doesn't cover all the bases. Sometimes you have to step in and give your plants extra care to ensure they flourish. You must water, feed, care for, and prune mulberry trees to encourage them to produce berries.
We recommend watering your young mulberry tree with two to three gallons of water each week for the first year to help its roots establish. After this, the tree is pretty drought tolerant and requires less watering.
Spreading mulch around the tree's base is an excellent way to retain moisture and prevent weeds from removing nutrients from the ground. While a mulberry tree grows well without fertilizer, feeding your tree yearly promotes healthy growth. Use a high-quality organic mulberry tree fertilizer and measure one pound for each inch of the tree trunk's diameter.
Like when dealing with a mulberry tree vs blackberry bush, regular pruning is not necessary, but it's useful to prune away crossing shoots and dead or damaged branches in the late fall or winter when the mulberry tree is dormant.
Summer time, June through August, is typically the best mulberry tree fruit season. Plan for lots of tasty berries to use in your favorite recipes.
Fall webworms are a common pest that plagues mulberry trees. Caterpillar larvae spin web nests at the end of the branches and eat the mulberry leaves. While they only attack at the end of the season, an infestation causes the tree to look unsightly. Fortunately, they are easy to control by sweeping the nests away from the branch.
Bacterial blight and canker are diseases that affect the mulberry tree. These bacterial diseases are simple to control by pruning away infected branches.
On the other hand, armillaria root rot is a fungal disease that causes leaves to drop prematurely, eventually leading to the tree's death. This is one of the mulberry tree diseases that is extremely difficult to control; the only way to stop it from spreading is to dig up the tree and remove it from the area.
Using Mulberries to Make Muffins
Who doesn't love a warm berry muffin with their morning cup of coffee? This mulberry muffin recipe is easy to prepare and a great way to use your freshly harvested berries.
Line a muffin pan with liners and preheat the oven to 350°F. Pour the flour, salt, baking powder, and cinnamon into a bowl, whisk to combine, and set it to the side. Cream the butter in another bowl with a mixer for about one minute. Add the eggs one at a time and continue to mix. Pour in the vanilla and beat for one more minute.
Pour the flour mixture and milk into the creamed butter in batches, and continue mixing while scraping down the sides. Fold in the mulberries and scoop the batter into the muffin cups. Bake them for half an hour until a toothpick comes out clean after inserting it into the muffin's center.
Serve with cream cheese or butter, and enjoy. Keep the muffins in a plastic bag in the fridge for up to a week, or freeze them in a freezer bag for no more than three months.
Fruit and berry trees are perfect for creating an edible landscape, whether growing an apple, pear, or persimmon tree. However, the mulberry species is a fast-growing tree that many overlook. At maturity, it produces up to 100 gallons of fruit, and it's excellent for drawing all types of wildlife.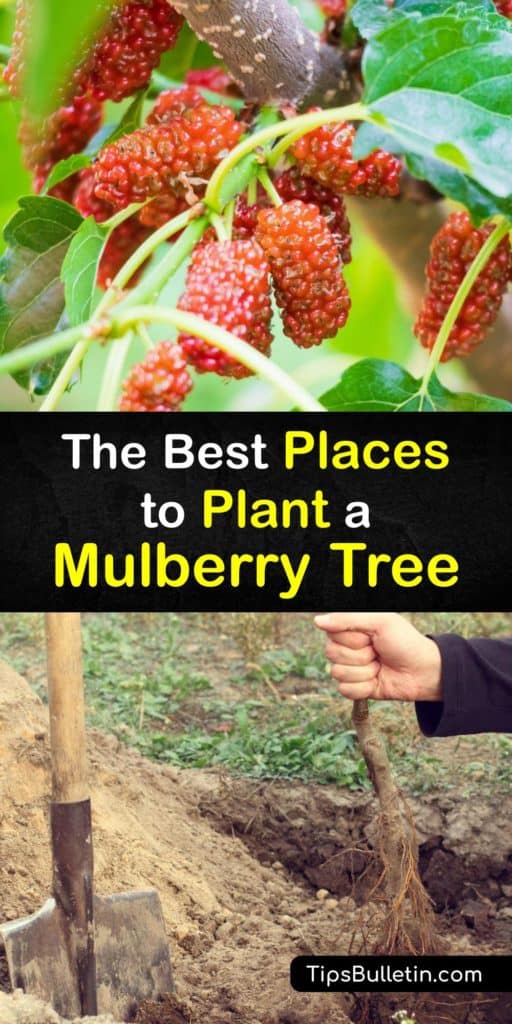 Now that you understand where to plant a mulberry tree for the best fruit production, why not share our mulberry tree planting and growing guide with your family and friends on Pinterest and Facebook?