You're missing out if you haven't had the pleasure of tasting brie cheese. Brie is a cheese that many people love for its mild flavor and gooey, buttery texture. Whether you've had it or not, almost everyone finds themselves with a wheel of brie eventually and wonders how long is brie good for?
Does brie go bad? If so, when does brie go bad? Learning how to tell when brie is gone bad is possible when you understand a little bit more about this soft cheese. Soft cheeses are a little harder to determine if they are spoiled or not.
With hard cheeses, it's usually safe to cut off the moldy parts and continue to eat them. Does aged cheese go bad? Yes, but it lasts longer. This rule doesn't apply to soft cheeses like feta and blue cheese.
We can't all be cheese makers and immediately know the shelf life of every cheese. Instead, we must rely on our senses to tell us when we are about to eat overripe brie.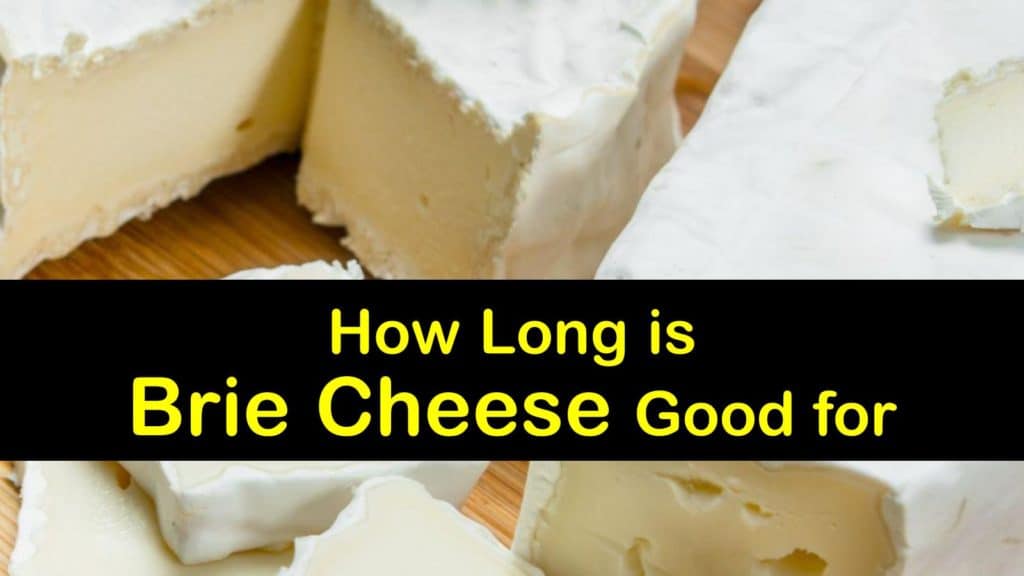 What is Brie Cheese?
Brie cheese originated in France. It has a creamy inside made from cow's milk, with an edible rind on the outside. The outer skin is a type of edible white mold called penicillium candidum.
Mold cheese takes care of ripening and flavoring the inside. It sounds odd to eat mold, but it is considered a delicacy to eat brie in most cultures.
Brie has a buttery, rich flavor that tastes earthier as it ages. Unfortunately, authentic brie is not allowed to be imported into the United States because it is made with raw milk and would spoil by the time it qualifies for importation. Thankfully, there are other versions of brie that are equally delicious.
Brie is made from either pasteurized or unpasteurized milk. Rennet and enzymes are added and turn it into curd. The curd is cut and ladled into individual round molds and drained.
After adding salt, the cheese rests, and the rind starts to bloom. Ripeness occurs around four weeks of age.
Many people eat brie and confuse it with camembert. Camembert is a soft-ripened cheese, like brie, but has a deeper flavor and funky aroma.
There is also a higher milk fat percentage in brie wheels. Now that we know more about this tasty cheese, how long is brie good for? Keep reading to find out.
How Long is Brie Good for?
Nobody enjoys spoilage. It is disappointing to unwrap foods to find that they have a strange smell or taste. Here is everything you must know about the shelf life of brie cheese.
Does Brie Go Bad?
How long does brie last? Brie does go bad, as do all cheese types. It seems counterintuitive that a wheel of cheese can sit and age for months, sometimes years, unopened without spoiling, yet the moment we remove the plastic wrap packaging, it starts to deteriorate.
Why doesn't cheese last longer? There are a few good reasons why you should pay attention to the expiration date and follow food safety guidelines.
Does cottage cheese go bad? Unfortunately, it does. Proper storage helps all cheese last as long as possible.
When does Brie Go Bad?
Softer cheeses tend to go bad faster than hard cheeses. The short shelf life of cottage cheese is one example. Can cream cheese go bad? Whether you have an opened or unopened package of brie, cottage cheese, or cream cheese, the shelf life of these cheeses is about two weeks.
This timeline could change slightly based on how you store brie, but not by much. Almost all cheese comes with a "best by" date on the packaging so you can enjoy it at peak quality. The maturation speeds up after you open the package. One way to tell if blue cheese is gone bad, as well as brie and other cheeses, is to smell it. An off-odor can indicate spoilage.
How Long can Brie Cheese Sit Out at Room Temperature?
Do not allow your brie to sit at room temperature longer than four hours. How long is opened goat cheese good for outside the fridge? The same applies to goat cheese. After this mark, your food starts welcoming growing bacteria. These aren't good bacteria, either.
Spoiled food is dangerous and leads to food poisoning, other illnesses, and even death. It is best to use refrigeration whenever possible to keep foods fresh and bacteria-free.
How to Tell if Brie is Bad
Does mozzarella go bad? What about Swiss cheese? When does brie go bad? Now that you know the time frame, it's time to learn the signs of spoiled cheese.
Always check for unusual mold developments inside or outside of the cheese but doesn't include the white mold rind that is already on the cheese.
If you are unsure about the overall condition of the cheese, use your senses to get a better idea. If the cheese is emitting a strange ammonia smell, it is best to throw it out. Any funky aromas or flavors are a good indication that you should not eat that specific food.
How to Store Brie Cheese
Brie is best when stored in the refrigerator. The original packaging is usually fine but some people prefer to keep their cheese well-wrapped inside parchment paper instead. Parchment paper allows the cheese to breathe without welcoming bacteria.
In general, cheese and dairy aren't good items to freeze. The cold temperatures cause ice crystals to build up and alter the texture and flavor. Can you freeze brie? However, when it comes to wasting food or putting the cheese in the freezer, it certainly won't hurt.
After thawing, the brie is most likely going to be crumbly instead of smooth. If this happens, use it in cooked dishes like soups and casseroles instead of on a baguette with jam.
Ways to Eat Brie
Brie is fabulous when sliced and served on a charcuterie board alongside crackers and dried apricots. If you haven't had a cooked brie appetizer, you are missing out. The soft inside becomes even creamier when baked and pairs nicely with a wide variety of ingredients.
Start this cheesy recipe by heating your oven to 350°F. Lightly trim any thick parts of the rind off the brie wheel while keeping most of it intact. Set the brie on a rimmed baking sheet. Sprinkle the brie with two tablespoons of brown sugar.
Set the rimmed baking sheet in the hot oven and bake the cheese for 15 minutes until softened. Remove the cheese wheel from the oven and let it cool for five minutes.
While the brie cooks, add the remaining brown sugar, syrup, honey, butter, nutmeg, cinnamon, and zest from the orange into a pot. Bring the contents to a soft boil over medium heat.
Stir the ingredients for a couple of minutes until they start to become foamy. Add the chopped pecans and cranberries. Set the cooled brie on a serving dish and ladle the hot pecan mix over the top. Serve the brie with crackers or baguette slices on the side.
We don't know many people in the world who don't love some type of cheese. Even though there are dozens of flavors and textures, brie stands out from the rest in many ways.
Does brie go bad? Even though this cheese doesn't have an extraordinarily long shelf life, keeping it in the house and understanding the signs of spoilage are worth it.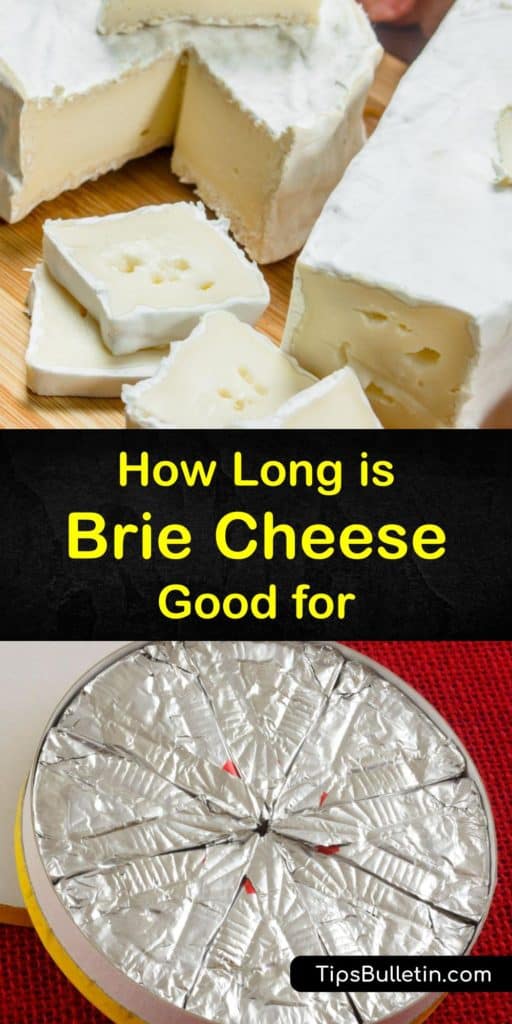 If this article helped answer the question, how long is brie good for, share this brie cheese storage guide on Facebook and Pinterest.