Flea season is upon us, and even the most diligent pet owners let a few fleas slip past the gate occasionally; it happens to the best of us. While we can't stop our beloved pets from bringing home hitchhikers, we can help you with the finer points of pest control. Learn how to kill fleas with safe, natural methods that really work.
Fleas are blood-sucking parasites that transfer disease and make the lives of pet owners a general misery. Flea bites cause skin irritation and inflammation and are credited with helping to spread the bubonic plague across Europe in the Middle Ages.
Quite simply, we don't want fleas in our homes, on our pets, or in our yards. Unfortunately, female fleas lay about 2,000 eggs during their lifetime, making flea control challenging. Break the flea life cycle with these great home remedies for killing fleas.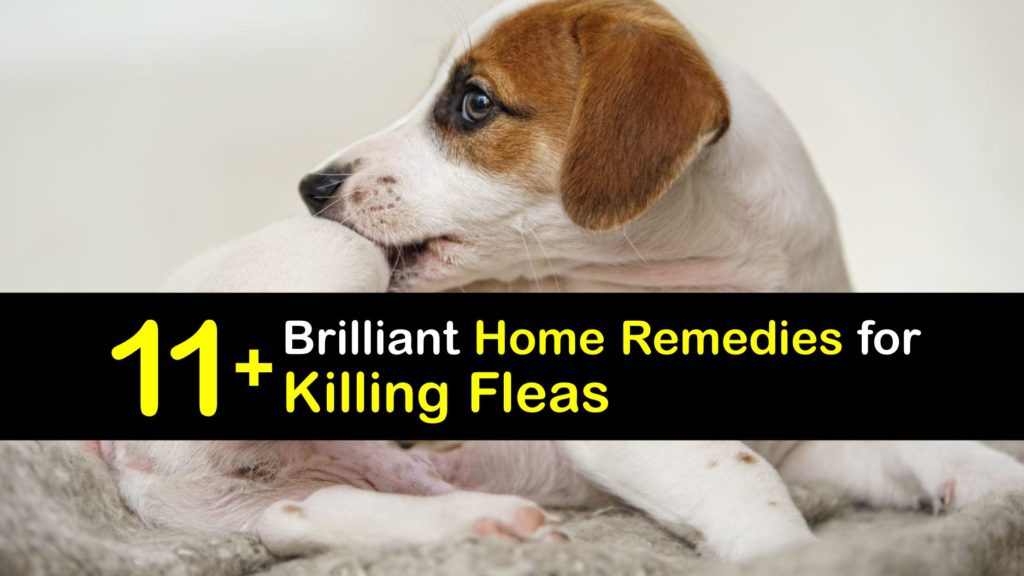 Discover Natural Ways to Kill Fleas
Don't let fleas destroy your home or your pet's health. Learn how to repel unwanted insects with effective, natural flea-fighting techniques so you won't have to use an essential oil flea repellent for humans and take back your home from annoying pests.
Of course, the best way to deal with fleas is to get rid of fleas outside first. If you traditionally have fleas in your yard, make a big batch of Dawn dish soap and water, put it in a sprayer and liberally coat the front and backyards.
Soapy Water to Start
A gentle dish soap bath is a great place to start your flea control campaign. Run a bath for your pet or fill a large rubber tub outside with clean water if you prefer to keep the flea bath out of your bathroom.
Add a teaspoon of simple, non-toxic dish soap like Dawn, and give your pet a good scrubbing. Use your pet's brush to catch larvae, eggs, flea droppings, and adult fleas. Rinse your pet thoroughly and do a last careful brushing to catch any stragglers.
Flea Comb for Unwelcome Fleas
A flea comb is probably one of the most natural ways to kill fleas. These easy-to-use combs do an even better job than a standard pet brush because the teeth are more numerous and densely packed. The specialized teeth catch everything, including flea feces, flea eggs, adult fleas, and pesky flea eggs.
The average flea comb is less than ten bucks, and they pretty much last a lifetime. Add a bowl of fresh lemon juice to dip the comb into for extra flea-fighting power. Lemon's natural acidity creates an inhospitable environment for would-be invaders and is perfectly safe to use on your pet.
If you have an unfortunate problem where you need to treat flea infestation on cats, a flea comb may be your best option for removal. Most cats don't respond well to a bath.
Flea Shampoo for Your Flea Infestation
Sometimes the best way to kill fleas is with a bit of special flea shampoo. Flea shampoos typically contain active ingredients derived from pyrethrins. These organic compounds come from flowers like Dalmatian chrysanthemums and Persian chrysanthemums and are toxic to many insects, including fleas.
Follow the manufacturer's directions for best results, but it's usually as simple as a weekly bath with a good lather. In rare case, some dogs are slightly sensitive to the active ingredient in many flea treatments. If you prefer home remedies for killing fleas, we've included a DIY flea shampoo.
Home Remedies for Killing Fleas
A safe, simple DIY flea shampoo to get rid of fleas is the way to go for more natural ways to kill fleas. This recipe for the way to make a flea bath for dogs is ideal for anyone with pets who are sensitive to the ingredients in traditional flea shampoo, and it can be tailored to meet your personal pet-care needs.
Squeeze the fresh lemon juice, and add the water, white vinegar, and Castile soap. Pour the lemon-vinegar mixture into a spray bottle for a quick and easy flea spray, or use a glass jar if you want to pour it straight onto your pet.
Castile soap is vegetable-based and is ideal for animals with sensitive skin. A weekly bath with this DIY flea shampoo will prevent fleas, kill flea larvae, and end your summertime flea infestation.
Traditional Flea Powder
Let's talk about how to kill fleas with traditional flea powder. Modern flea powder works by depositing chemical compounds on your pet's hair strands. These compounds are toxic to fleas, ticks, and even the odd bed bug.
Flea powder impedes the flea life cycle by killing adult fleas, immature fleas, and larvae within days of a consistent application according to the manufacturer's directions.
With proper use, a flea infestation at home becomes a thing of the past. Always look for a powder flea treatment from a reputable brand, EPA-approved, and contains as few chemicals as possible.
While there are special flea powders for felines, cats tend to be near-constant groomers, and we don't want our kitties to eat large amounts of flea powder. Stick around for our section on controlling fleas for cats.
DIY Flea Powder
Sometimes home remedies for killing fleas are the best solutions. If chemicals and toxins aren't for you, we have an excellent recipe for DIY flea powder that is easy to make and multiply for extra dogs. This flea powder stores well for future applications and makes an excellent travel treatment when camping.
Find a small container that allows you to sprinkle the flea powder easily. Try a salt shaker or anything with a perforated lid. Mix the cornstarch, baking soda, and cedarwood oil well, ensuring it's blended and free of lumps.
Apply the flea powder weekly to a flea infested dog during peak pest control season and thoroughly work it through your dogs coat. Use it to prevent fleas on cats naturally, too. Monitor your pet closely when using a new formula of any kind.
DIY Flea Spray for Pet Bedding
What kills fleas inside and on pet betting? Fresh lemons and clean water. Pet bedding accumulates hair faster than any place in the house, and of course, fleas sometimes come with the territory. It's easy to make a DIY flea spray for your house; it's non-toxic, smells great, and keeps the fleas away from pet bedding inside and outside.
Prepare the fresh lemon by cutting it into thin slices. Scoop up all the seeds and extras, and pop them in the mix. Fill your large pot with clean water, and add the lemon slices. Bring the flea spray to a good boil for a few minutes.
Remove the flea spray mixture from the heat, cover it with the pot lid, and let it steep overnight. Strain the large pieces and transfer lemon liquid to a handy spray bottle. Apply this flea spray daily to pet bedding for a dependable long-term flea treatment safe to use anywhere. It's one of the best natural ways to keep fleas away as they can't stand the scent.
Use it to kill fleas in the bed mattress and on furniture. Be sure to treat the undersides of cushions and the bottom of furniture.
Flea Treatment for Cats
Cats have a delicate immune and digestive system and they don't typically do well with chemical-heavy flea prevention solutions. What is the best way to kill fleas on cats? It's a team effort between a sturdy flea brush and a non-toxic topical treatment.
Many topical treatments only require a small monthly application on the back of your cat's neck. The active ingredients (selamectin and sarolaner) are safe to use and kill cat fleas within hours of use. It's also safe to bathe your cat in water and Dawn dish soap if you're brave enough.
Neem oil is another option. Neem oil kills fleas and is safe for cats when diluted with a carrier oil.
Insect Growth Regulator for Your Flea Infestation
Occasionally, we don't catch the flea infestation in time, and it spreads to carpeting, furniture, and pet bedding. Consider insect growth regulators if you see an adult flea or signs of a persistent flea problem such as flea dirt.
IGRs disrupt the growth of flea larvae so they don't become adults, thus crushing the flea life cycle and saving your home from further flea infestation. These growth regulators have a very low mammalian toxicity level and are safe for use around pets. Many inexpensive brands are available, and it's easy to find the right fit for your home.
How to Kill Fleas with Apple Cider Vinegar
Food-grade apple cider vinegar comes from the juice of fermented apples. Apple cider vinegar's acidity is the key to killing fleas because it creates an inhospitable pH for eggs, larvae, and adult fleas.
Use apple cider vinegar for spot treatment, as a light spray over your pet's coat before heading outdoors, or spray on fabrics and pet bedding for almost immediate results. Mix a cup of ACV with four cups of water, and you have an excellent flea-fighting spray at your fingertips.
Essential Oil on Your Pet's Collar for Prevention
People love their pets like family, and they're more aware than ever of the dangers of toxic chemicals. Essential oils are the purest component of a plant's essence which has been vapor-distilled into oil for easy application.
While many essential oils are toxic to pets when consumed or applied directly to the skin, a little dab on your pet's collar makes an effective DIY flea collar and repellent. Repel fleas while camping or on a short walk with a drop of cedarwood oil applied to the back of your pet's collar. Flea prevention with a non-toxic flea collar has never been so easy.
Consult a Professional Groomer
If fleas have won the fight, it's time for you to win the battle. In extreme cases of flea infestation, sometimes it's better to let the professionals take over. Many professional groomers offer medical flea baths and other non-toxic treatments for your pet.
Services vary by location, so call around and ask questions before showing up. Whether a dog flea or cat flea is bugging you, there's sure to be a worry-free, professional solution.
We hope you enjoyed learning how to kill fleas and control outbreaks during peak infestation. Start simple to see how soapy water works, and then escalate your flea control tactics as necessary. Strive to use simple, safe methods for your pets and family members alike; effective flea control doesn't have to mean harsh chemicals.
While there are numerous natural ways to kill fleas, remember that there are just as many avenues for professional advice and assistance if the problem becomes unmanageable. If you're unsure, contact a groomer or your vet. We wish you a safe and happy flea-fighting season.
If you loved learning how to kill fleas, share this article with a friend on Pinterest or Facebook who might like a little flea-fighting advice this summer.