Hydrogen peroxide is an essential part of most home first-aid kits. However, there are numerous hydrogen peroxide uses in the home that most people don't realize.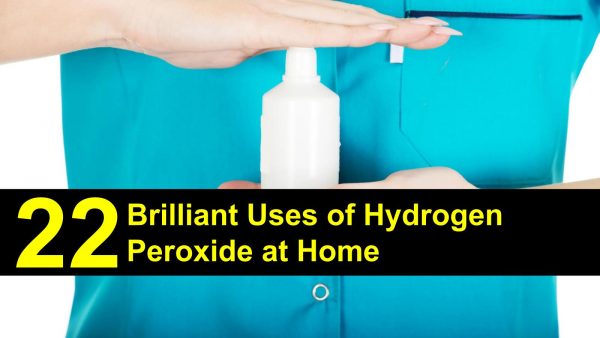 In this article, we're going to explore twenty-two uses of hydrogen peroxide at home. Find out what is hydrogen peroxide and we're going to help you learn how to dye your hair with peroxide.
What is Hydrogen Peroxide?
Hydrogen peroxide releases oxygen when applied. It has antiseptic properties, so it cleans the wound and prevents infection when used for cuts and scrapes.
Hydrogen peroxide is nontoxic. Its chemical make-up is H2O2, which is just water (H2O) with added oxygen.
Peroxide works its magic through oxidation, which is the same process that produces rust and browns apples. When hydrogen peroxide contacts microorganisms, it oxidizes them by breaking them down into water and oxygen.
It's available in most stores near the bandages in the first aid section. A 3% solution is safe for all uses except for internal or food-grade purposes.
Carefully read the packaging and use only food-grade peroxide as directed (diluted) for internal use. This explains how does hydrogen peroxide work.
Uses of Hydrogen Peroxide at Home
Personal Care
1. Hydrogen Peroxide Mouthwash
Besides the many hydrogen peroxide uses like wound cleaning, it can be used as a mouthwash. Rinse a small amount in the mouth to kill bad breath and germs, as well as treat canker sores. Mixed with baking soda, it works as a whitening toothpaste. Pouring peroxide on your toothbrush once in a while is a fantastic way to clean it, too.
Hydrogen Peroxide Ear Cleaning Recipe

Hydrogen Peroxide (2-3 Drops)
Olive Oil (2-3 Drops)
2. How to Clean Your Ears with Hydrogen Peroxide
Use hydrogen peroxide in your ears. Mix vinegar and hydrogen peroxide to make eardrops for preventing ear infections after swimming. Several drops of pure hydrogen peroxide in each ear helps clear up an ear infection. Use hydrogen peroxide as a dog ear cleaner for your pooch, too. 
Remove ear wax by putting a drop peroxide in your ear, followed by olive oil, then drain. Some people swear that a few drops of hydrogen peroxide in their ears can also help cure a cold.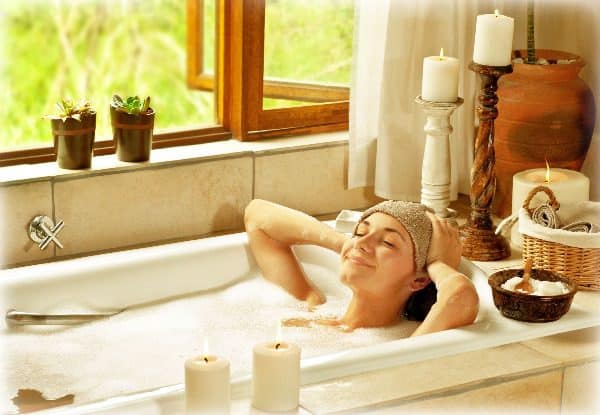 3. Use it in a Bath
Peroxide isn't just for cuts and burns on your skin. Soak in a warm bath mixed with hydrogen peroxide to treat boils. A peroxide bath is also detoxifying.
Hydrogen peroxide can also kill parasites on the skin and makes an excellent natural face wash. Rinsing your face with it can clear acne.
4. Use it as a Foot Soak
Pamper your feet with peroxide. Whiten finger and toenails by soaking in it, or make a foot bath with warm water and peroxide to soften calluses. Got foot fungus? Spray an equal mixture of peroxide and water on your feet each night.
5. How to Dye Your Hair with Hydrogen Peroxide
Hydrogen peroxide is a natural hair lightener. Use it to bleach hair blonde or spray it in the hair to make highlights. If you've bleached your hair blonde, peroxide covers your roots as your hair grows. Look over our article on how to dye your hair with home remedies.
>> Further Info on Skin Care with Hydrogen Peroxide: How to get hair dye stains off your skin
6. Use it as a Contact Solution
If you wear contacts, peroxide works in a pinch to clean your lenses. Hydrogen peroxide features prominently in some contact lens cleaners on the market.
Kitchen Cleaning
7. Use as a Disinfectant
Disinfect dishrags and sponges by soaking in peroxide regularly or make a homemade disinfectant spray.
8. Sanitize Cutting Boards
Spray cutting boards with hydrogen peroxide, especially ones used for meat, to sanitize them.
9. Boost Your Dish Cleaning Power
Use hydrogen peroxide on dishes. Add a few drops to the dishwasher to give your detergent a boost. Make a paste with baking soda and peroxide for stubborn food stains.
Letting it sit on a stain loosens it, and baking soda acts an abrasive the mixture is wiped off.
10. Refresh Your Fridge
Clean out the inside of your refrigerator regularly to reduce odor, and use peroxide for refreshing. Spray peroxide inside and let sit for several minutes, then wipe all surfaces.
Bathroom Cleaning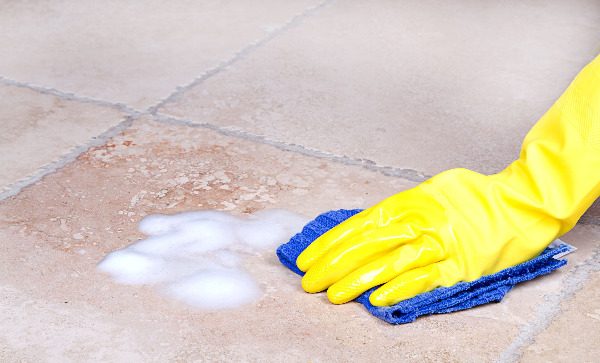 11. Clean Tiling
Hydrogen peroxide is a wonderful natural cleaning product and cleans tiles well. Spray and wipe to disinfect surfaces, or let it sit after spraying to whiten tile grout.
Peroxide and baking soda make the perfect grout cleaner. It also cleans countertops.
12. Make Your Toilet Sparkle
Wipe peroxide on toilet surfaces and let it sit for a half-hour before cleaning. Pour peroxide on the toilet brush to disinfect it and get rid of any sewer smell. In addition to the bowl, using peroxide is one way to clean a toilet tank and getting it sparkling, as well.
If you have a toilet blockage, before trying any DIY remedies, it is a good idea to unclog a toilet with plunger first. If that doesn't work, you can try boiling water, vinegar, or peroxide.
13. Scrub-a-Dub the Tub
Using hydrogen peroxide in your tub is a great way to take advantage of natural cleaners. If you have mildew, mold, or stains, spray peroxide on the area to eliminate discoloration and mold. It also works well in sinks and drains to get rid of sewer odor in bathroom.
14. Clean the Shower Curtain
Spray peroxide on your shower curtain to fight mildew, mold, and soap scum. It's also a great way for how to get rid of black mold in shower and on the curtain.
15. Go Streakless
End a bathroom cleaning session by using hydrogen peroxide for a streak-free shine on mirrors.
Clothes, Fabric and Upholstery
16. Use as a Brightener
Use hydrogen peroxide instead of bleach in your laundry to brighten whites and get mildew out of clothes that may have been in the washer too long.
17. Get Rid of Food Stains
Peroxide works well as homemade fabric upholstery cleaner. It removes food and other organic stains from light-colored fabrics, as well as getting rid of musty odors when combined and used with vinegar.
18. Beautify Your Carpet
Do you have stains on light carpet? Spray hydrogen peroxide on stains to remove them. Peroxide is a powerful component of any homemade carpet cleaner. Your DIY carpet shampoo won't harm the carpet but still be useful. Be sure to test a spot first to ensure it won't bleach the carpet.
19. Clean Clothes, Textile, and Your Reusable Grocery Bags
Hydrogen peroxide is useful if you use reusable grocery bags. A spray of peroxide inside can freshen, disinfect, and clean stains.
The same disinfecting properties in peroxide will remove blood stains from sheets and clothes. Mix peroxide half with water and spray the diluted peroxide directly on the blood stain as the best way to get dried blood stains out of fabric. Let it sit and wipe the spot clean after a few minutes.
>> More Laundry Stain Cleaning Tips: Best Way to Get Rid of Bleach Stains
Miscellaneous Uses of Hydrogen Peroxide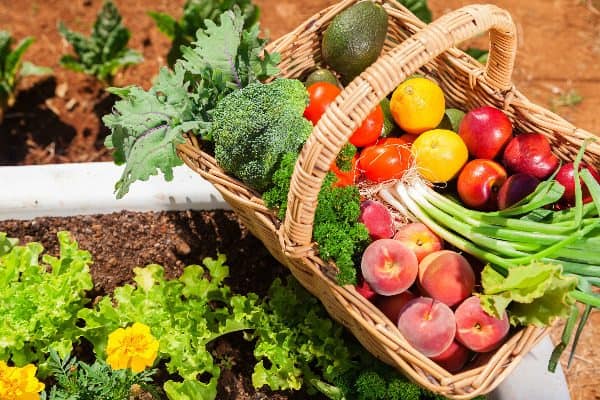 20. Clean and Green
Food-grade peroxide is a great tool to help you enjoy safer produce. Spray peroxide on fruits and vegetables, rinse and spray again with vinegar. Rinse a second time. Peroxide removes pesticides and bacteria and helps fruits and vegetables last longer.
21. Breathe Clean
Keep humidifiers and dehumidifiers mold-free and clean by adding hydrogen peroxide to the water. Mold in humidifiers is not safe, as it sends mold spores into the air you breathe.
22. Purify Makeup Brushes
Peroxide keeps makeup brushes clean. Mix water and hydrogen peroxide and soak synthetic brushes for five minutes. This cleans them of bacteria and makeup residue.
Hydrogen peroxide helps your plants by preventing bacterial rot. It kills weeds and fertilizes plants.
22 Uses of Hydrogen Peroxide and Counting
Hydrogen peroxide has so many uses around the home! Replace some of your household cleaning products with the more natural and safe hydrogen peroxide and feel safe that your home is clean and nontoxic.
In this article, you learned 22 uses of hydrogen peroxide at home. You learned what is hydrogen peroxide and got a link to another great article on how to dye your hair with peroxide.
Did I leave anything out? Let me know in the comments, and use the buttons below to share to Facebook, Twitter, and Pinterest!