We all love to keep our gardens and yards looking beautiful, but we don't all have perfect, sunny gardening conditions. Fortunately, Mother Nature is looking out for us. There are lots of shrubs for shade conditions that are perfect for landscapes that get low sunlight and a lot of shade.
Knowing which shade shrubs are right for your yard will keep your home looking its best and add to its curb appeal. This article aims to help you find the right shade loving shrubs for your home. In our guide, you'll get excellent information on the sorts of low-growing trees and plants that will thrive in low-light environments.
We show you which plants will class up your yard with stately, broadleaf evergreen growth. And, you'll also discover the best plants to add splashes of color and fragrance. Your yard will thank you for your efforts, and so will your family.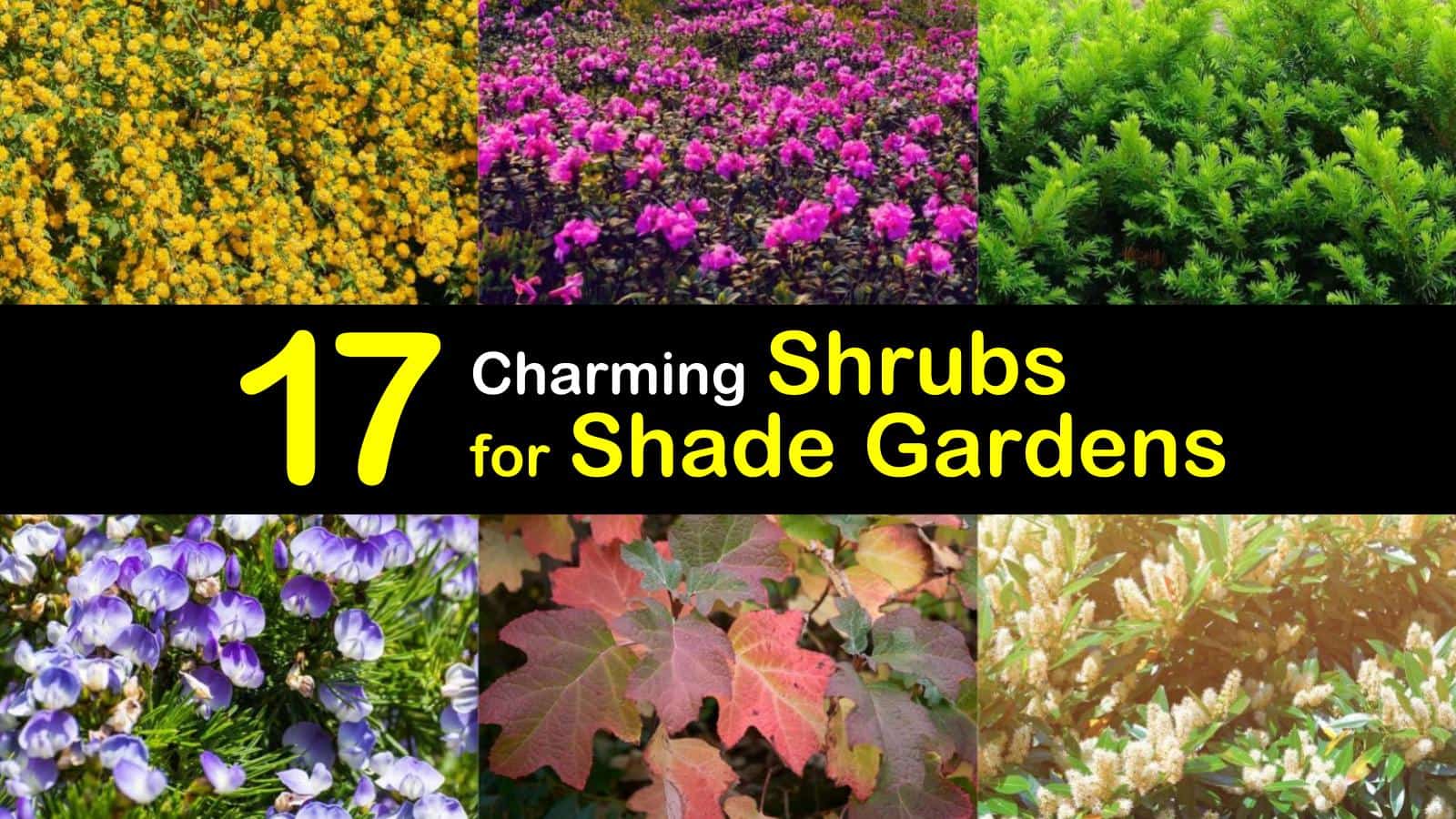 Why plant shade-loving plants?
What makes growing evergreen shade bushes worth the time and effort? You're going to spend a bit of time selecting, cultivating, and maintaining your new plants, so you need to know you'll get results. Do plants for partial shade reward your work enough to warrant their inclusion in your yard or garden?
Shade shrubs deserve some attention and lots of TLC, and they can transform your outdoor spaces. A yard full of shady spots but no foliage can be a depressing and unpleasant place to be. You don't want to experience a mood drop whenever you step outside of your home.
Planting a few shade loving shrubs can be just what the doctor ordered to spruce up your yard. There are many different kinds of plants that survive and thrive in shady areas. You can choose flowering plants, evergreen bushes, or even select vegetables that grow well in shade to take advantage of their food-producing abilities. The possibilities are endless!
Where Should I Place My Shade Shrubs?
Where you plant your bushes that stay green all year depends on several factors. Plants have needs other than sunlight requirements, and you'll have to ensure that your proposed planting site meets all of your plants' specific guidelines. Make sure to bone up on your plants' environmental needs before you get ready to plant, and only select those plants that will naturally thrive in your yard.
Your local agriculture office is an invaluable tool for home gardeners of all stripes, and you should take advantage of them when you prepare to plant. To give your plants their best chance to thrive, be sure to stage them in your yard before planting.
Leave the plants in their pots, and place them where you intend to plant them. Give them a few weeks to see if they do well in their new homes, and move them to different spots if needed to help them succeed.
How Should I Care for My Shade Loving Shrubs?
Your plants all have different care requirements, and you'll need to stay on top of all of them. While you'll be working with plants that all do well in shady conditions, they'll likely originate from different parts of the globe. That means they'll have different needs for water, fertilizer, and other maintenance.
Research all of your shrubs' preferences, and try to meet them at all times. Because you're working with shade-loving plants, you'll have to stay aware of sunlight conditions. Plants that prefer shade are often sensitive to direct sun and can scorch in only a few minutes of exposure.
Moisture levels are often crucial to your shrubs' survival, so invest in a moisture gauge. If you need to prune a shrub to check its growth, verify that it can take a trim now and again without going into shock.
Beautiful Shrubs for Shady Gardens
The most difficult thing about planting shrubs and trees that grow fast in shade is choosing them! Take a look at our suggestions and see which ones will work in your landscape.
Japanese Rose (Kerria japonica) – Beautiful Shrubs for Shade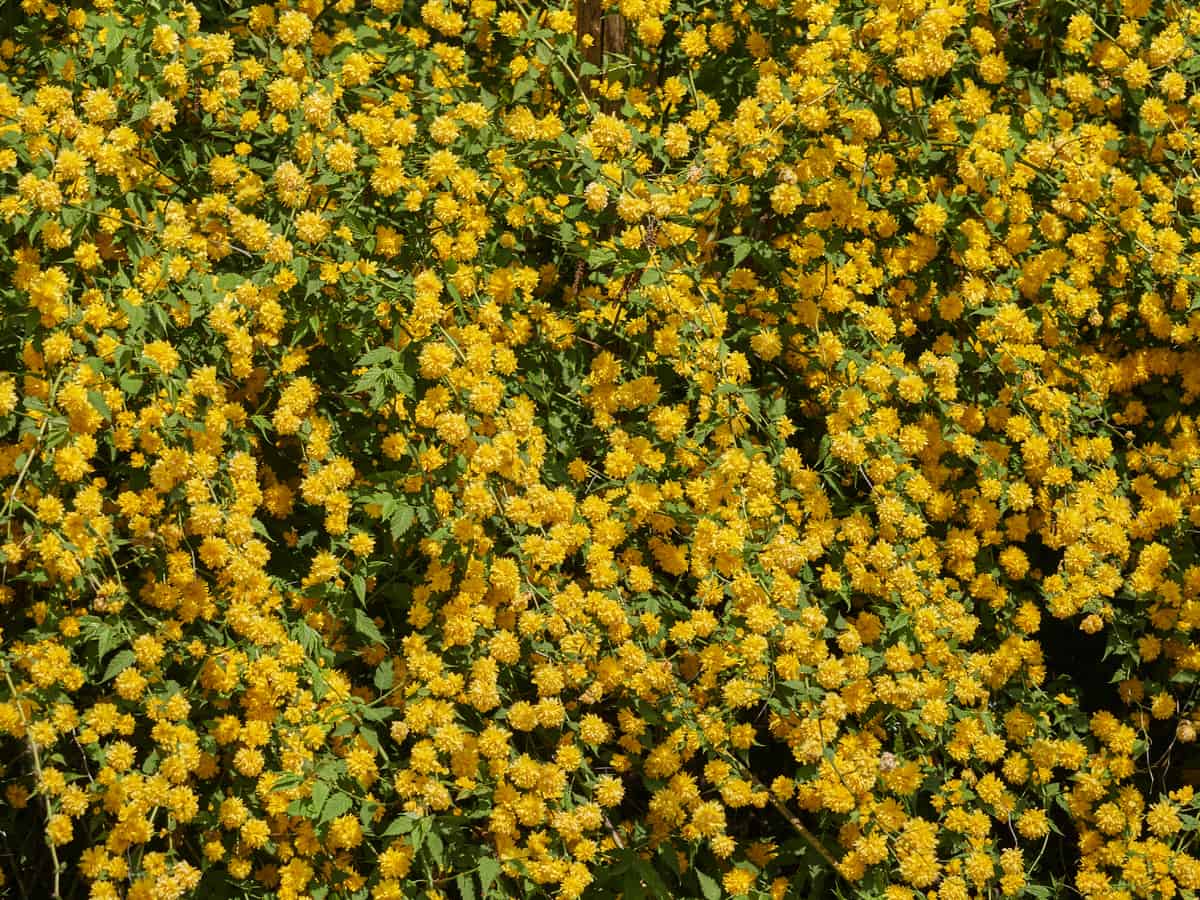 Are you looking for plants that love shade that not only grow in shady conditions but produce gorgeous blossoms and fall colors? The Japanese Rose is the shrub for you. The Japanese rose is one of the prettiest deerproof shrubs and is quite sturdy.
As a bonus, it grows without much effort on your part and pretty much takes care of itself. The shrub produces attractive yellow flowers each spring and multicolored leaves every fall. This hardy plant will grow across the United States and can tolerate USDA zones four through nine.
You'll need to keep this plant fertilized to get the most out of it and make sure to avoid planting it in heavy clay. Your Japanese Rose can withstand direct sunlight if you live in a colder climate, but keep it in the shade if you live in a hotter area of the world.
Japanese Andromeda (Pieris japonica)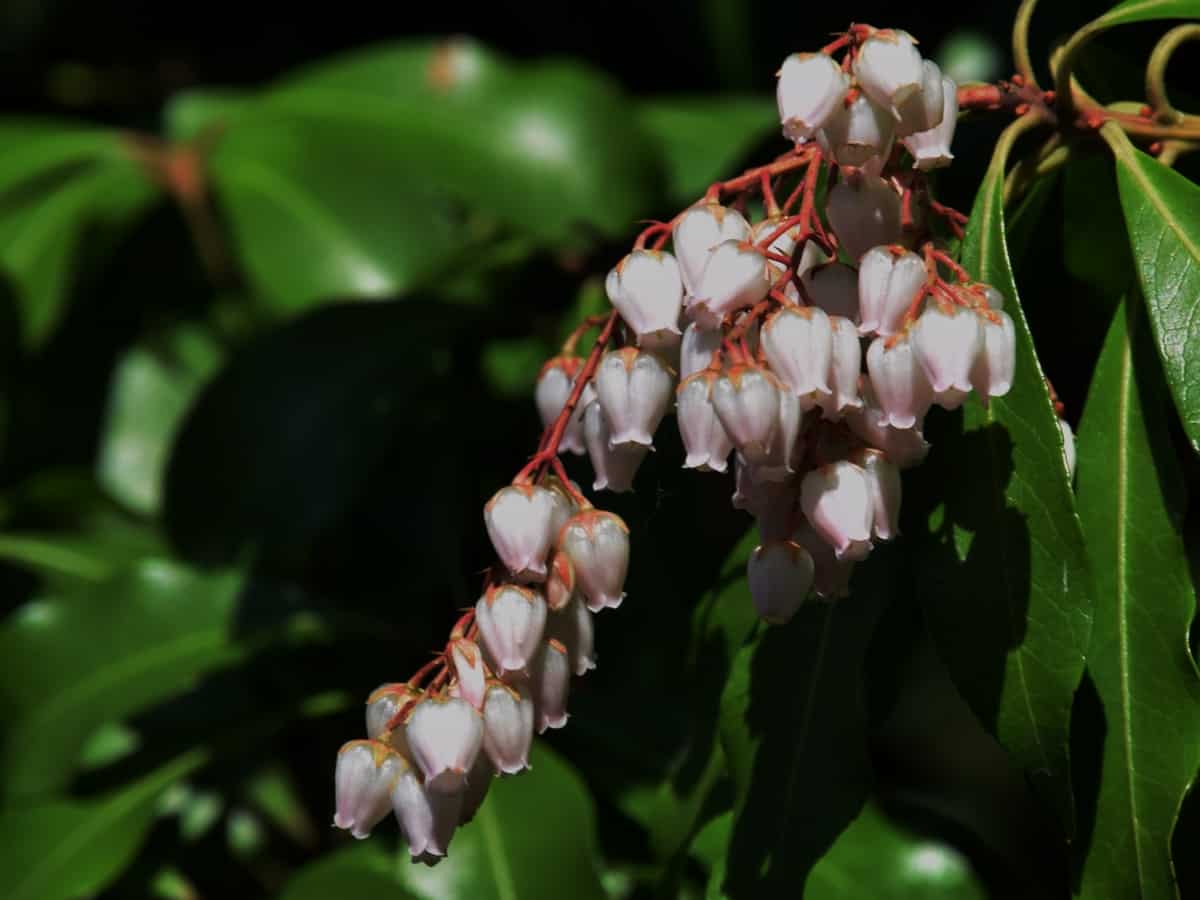 If you want lovely plants for shady areas, choose this beautiful plant that goes by many different names. You might call them Japanese Pieris, Lily-of-the-Valley, or Japanese Andromeda, but whatever you call them, you'll love them.
The Andromeda is one of the prettiest shade blooming shrubs that explodes into small but attractive white blooms each spring, and you'll get lovely green foliage all year long. Use your Andromedas as centerpieces, or make them your foundation plants. This robust little plant works well in USDA zones five through nine and prefers acidic soil.
You might need to adjust your soil's pH by adding some fertilizer before your Japanese Andromeda can thrive. This shrub does best when you plant it in either the fall or spring. Don't give it too much water after it is established.
Oakleaf Hydrangea (Hydrangea quercifolia)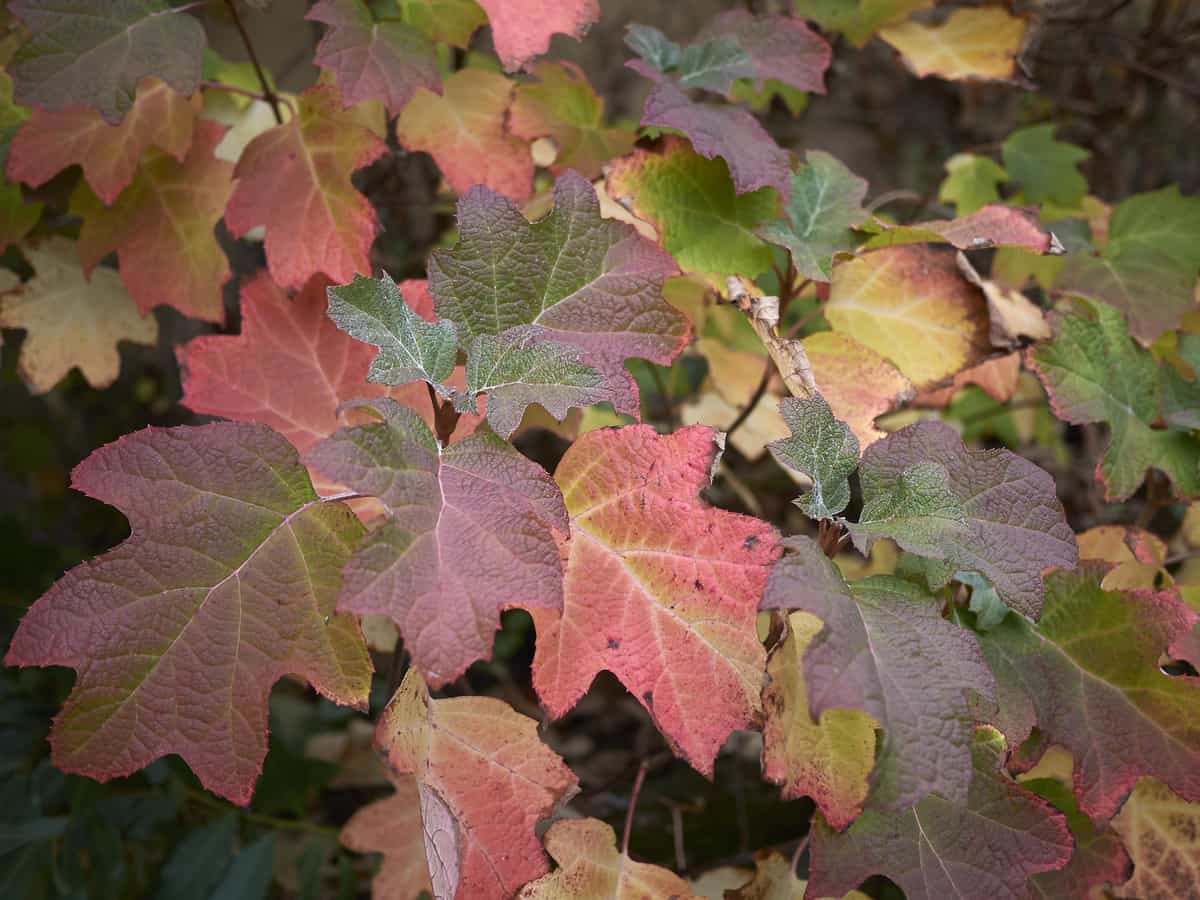 Even if they've never realized it, folks in the Southeastern United States have seen Oakleaf Hydrangeas growing wild all over the place. These native shrubs are unmistakable once you know their characteristics.
Their lobed green leaves resemble oak tree leaves and are perfect plants for shade gardens or shady areas of the front or backyard.
Every spring and summer, the plant produces panicle flowers that start off green and white before mellowing into pink and brown with age. As shrubs that attract bees and other pollinators, Oakleaf Hydrangea does best when it gets a little bit of sunlight each day, so try to plant it in part shade rather than deep shade if possible.
You'll need to plant this shrub in well-drained soil and try to give each plant at least a few feet to spread as it grows. While your Oakleaf Hydrangeas can survive in climates down to USDA zone five, you'll find that they do best in warmer conditions.
Summersweet (Clethra alnifolia) – Amazing Shade Shrubs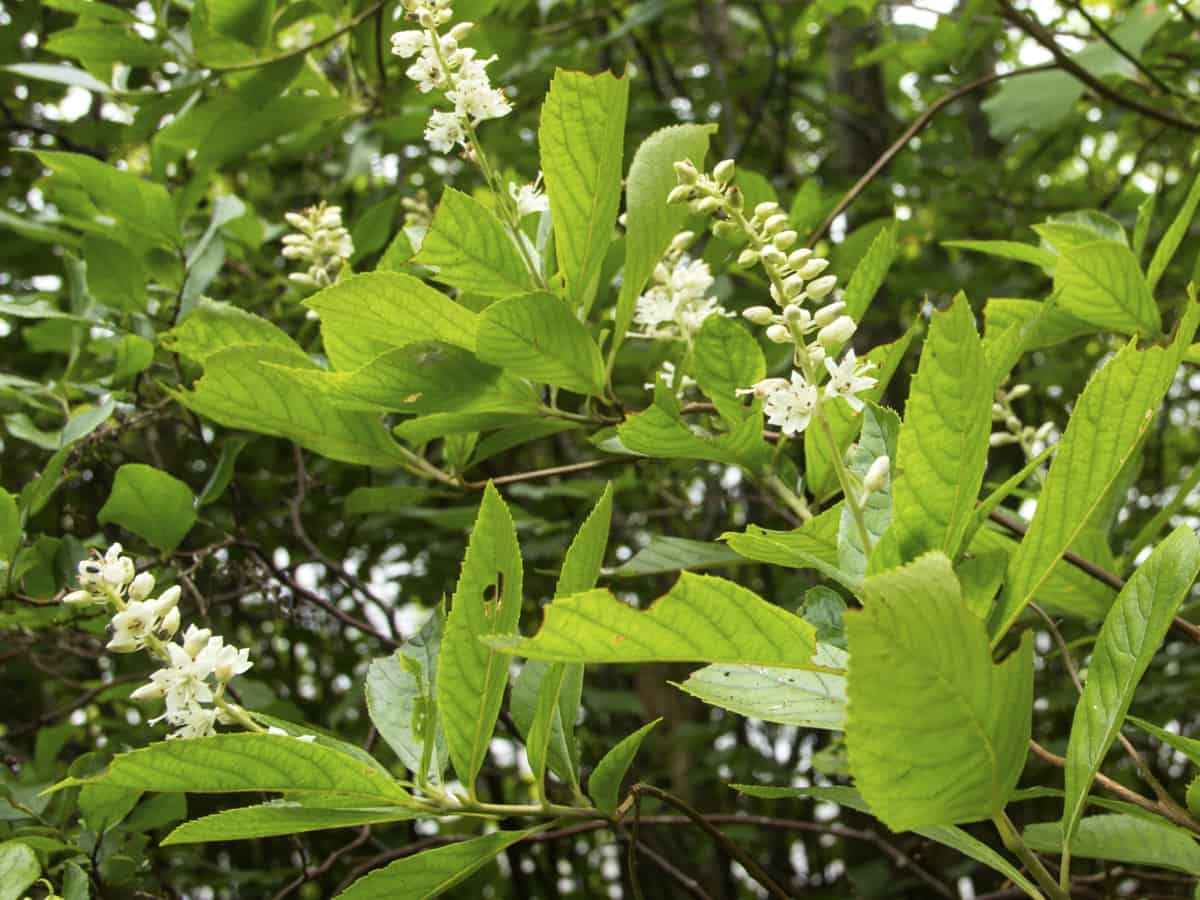 The Summersweet plant, also called the Pepper Bush, is just what you need to make your shady yard pop. When you plant Summersweet, you get a hardy plant that produces white flowers with a wonderful fragrance. Your Summersweet blooms in July and August, and its foliage will darken and take on spectacular color each fall.
Use the Summersweet as a border or foundation plant. You can also place it in spots where you want to attract pollinators such as hummingbirds and bees.
The Summersweet is very robust, is one of the fast growing shrubs for your yard and it can grow in USDA zones three to nine. However, make sure the shrub has at least five feet on all sides to allow it to spread as it grows or you will find that it may crowd out other plants nearby.
Evergreen Dogwood (Cornus capitata)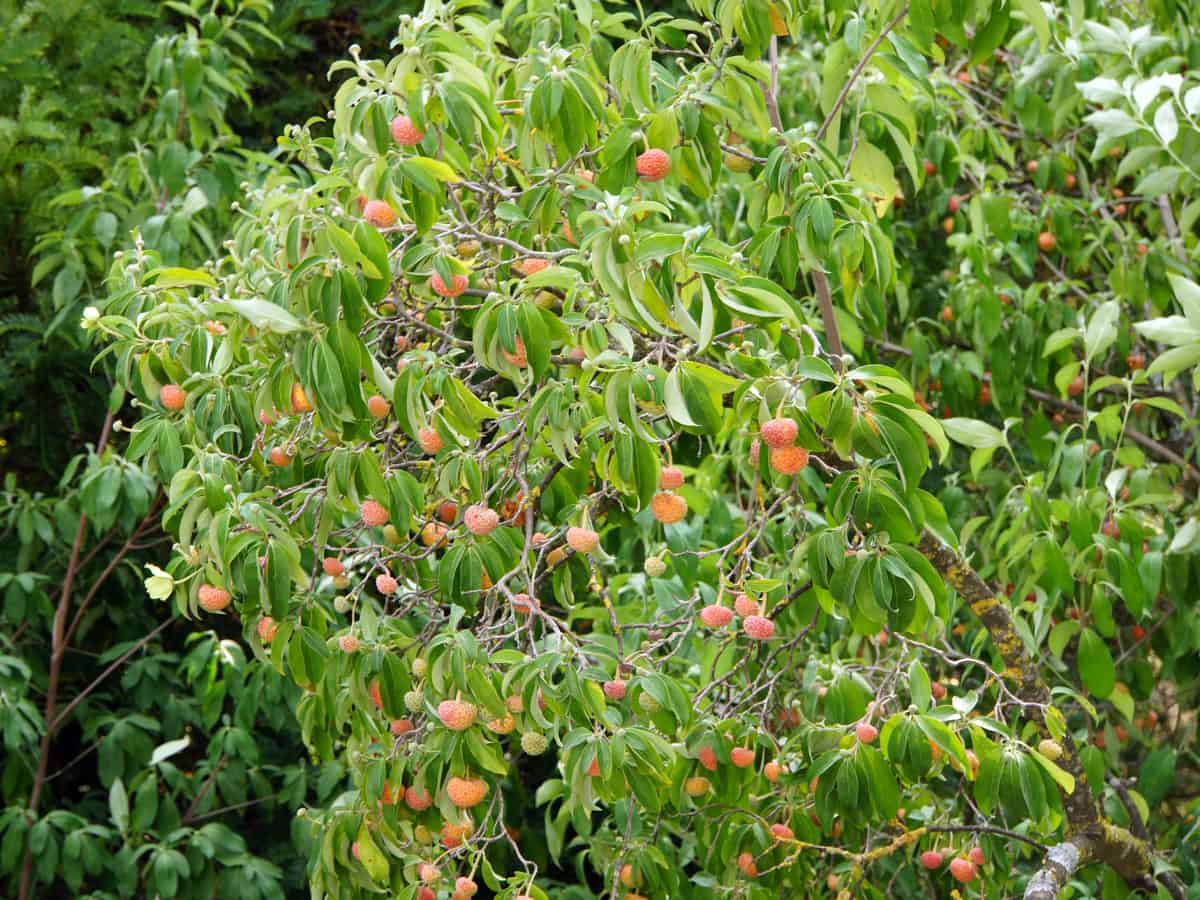 Maybe you're looking for a shrub that can do more than slowly grow in a small space. If you want a fast-growing plant that can reach heights of 20 feet or more with time, you'll love the Evergreen Dogwood. These fast growing evergreen trees or shrubs are native to Asia and do well in hotter environments around the globe.
Dogwoods are fantastic fast growing evergreen shrubs for shade for folks who want lots of action and growth in their yards. Because the Evergreen Dogwood produces small pink and red fruits once it matures, you should keep future litter potential in mind when you plant it.
Place these evergreen shade plants in a location away from sidewalks and driveways to avoid staining them with falling fruit. Plant your Evergreen Dogwood in moist soil with a consistency ranging from loam to clay. Keep the shrub well watered and enjoy it all season.
Taunton Yew (Taxus x media 'Tauntonii')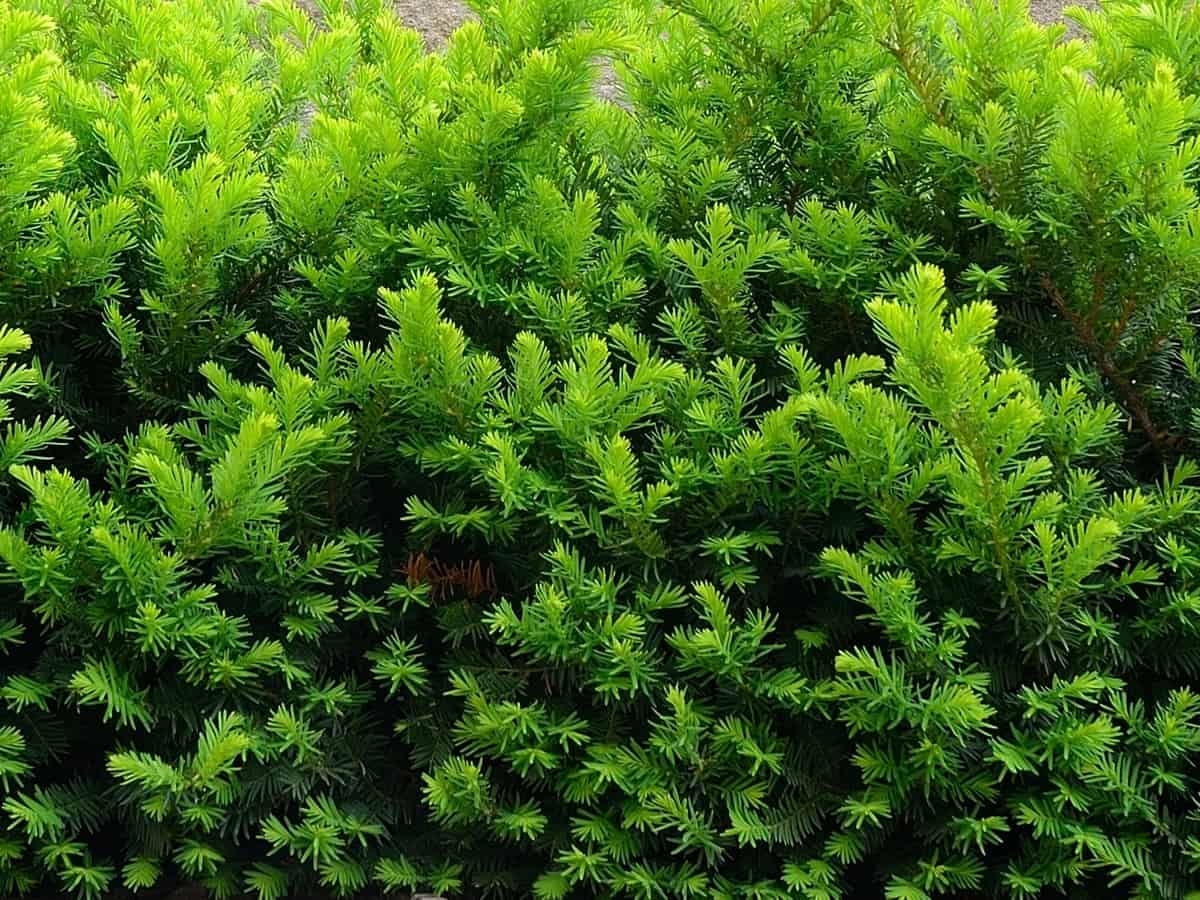 If you want the beauty and grace of an evergreen shrub but don't have much space to spare in your yard, check out the Taunton Yew. This compact shrub is just what you need to brighten up a dark corner of the yard with dark green needles that last throughout the winter. Your Taunton Yew will tolerate harsh, wintery environments without complaining.
Plant the Taunton Yew in either shade or part sunlight. The Yew is a hardy plant and will do well in USDA zones three to nine. Police your yard to collect the black berries your tree drops. Make sure to plant the shrub in loamy soil with a bit of sand.
Alder-Leaved Serviceberry (Amelanchier alnifolia) – Attractive Shade Loving Shrubs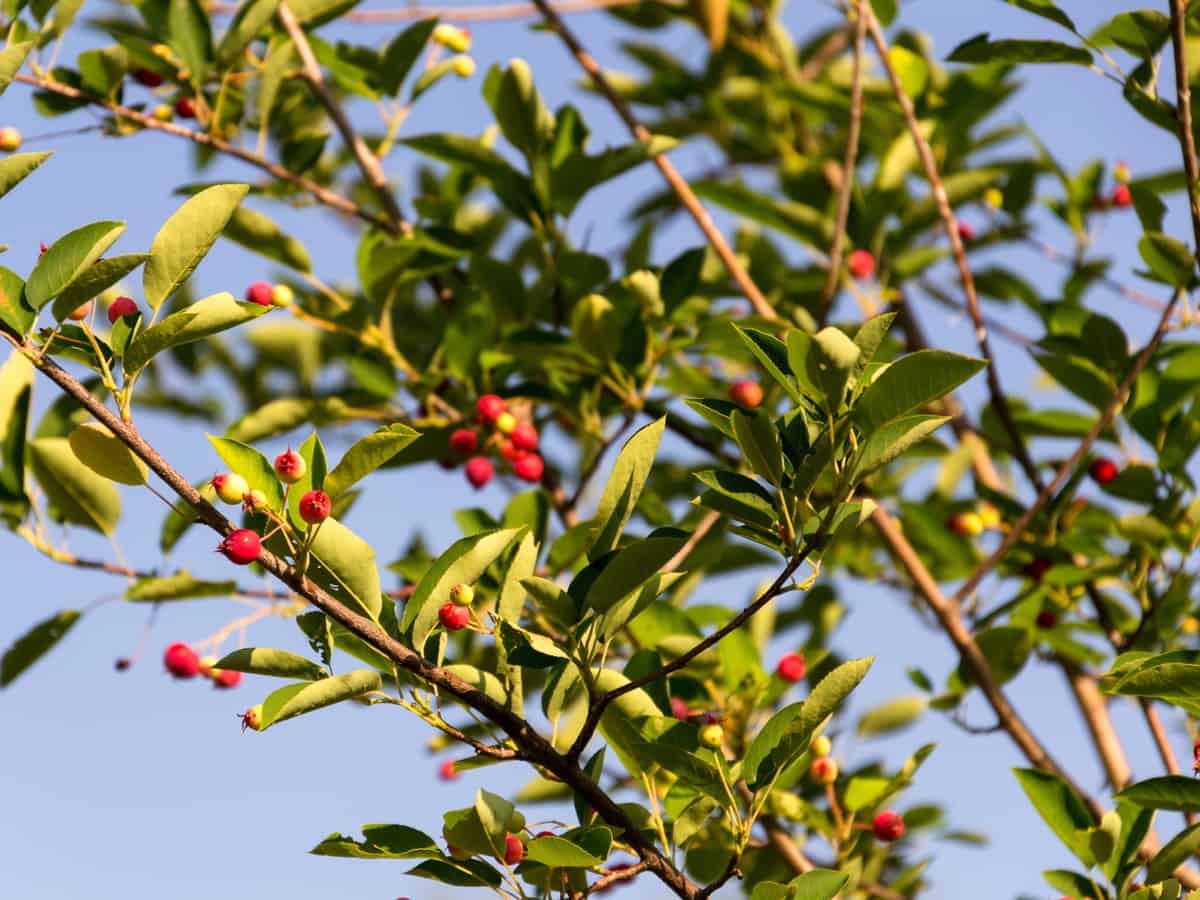 Do you like your yard foliage to be useful as well as good-looking? You'll go nuts for the Alder-Leaved Serviceberry. When you plant a Serviceberry, you get a bush with a pleasing natural shape. You also get edible berries and gorgeous grey bark that will make your yard look like a million bucks.
These tiny evergreen shrubs are perfect for your yard. You won't have to pay attention to your yard's soil type when you plant an Alder-Leaved Serviceberry.
However, you will need to keep an eye on your soil pH. Serviceberry bushes prefer soil with 6.0 to 7.8 pH, so you might need to add fertilizer or mulch to adjust your soil's acidity.
Itea Sweetspire (Itea virginica)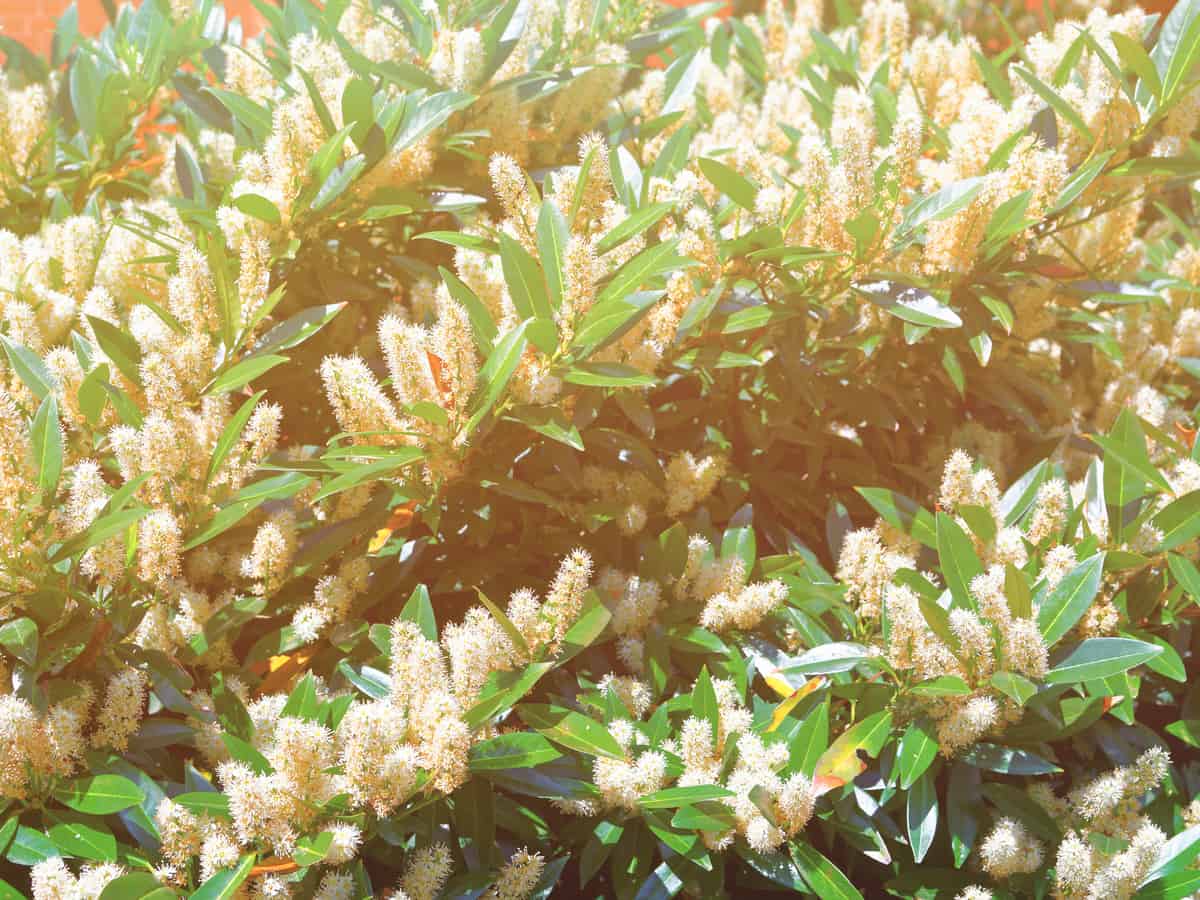 You'll run across the Itea Sweetspire, also called the Virginia Sweetspire, growing wild across the United States. This plant's distinctive white bottlebrush flowers will make your yard shine every spring. These perennials that grow well in shade top out at no more than six feet, so they're perfect for smaller landscapes.
Itea Sweetspires produce moderately sized green leaves that turn orange, yellow, and red every autumn. The Itea Sweetspire does best in part shade, although it can tolerate either full shade or full sun.
Keep your Sweetspire well watered at all times, and make sure to fertilize it once a year. Annual fertilization keeps the blossoms looking their best.
Witch Hazel (Hamamelis virginiana)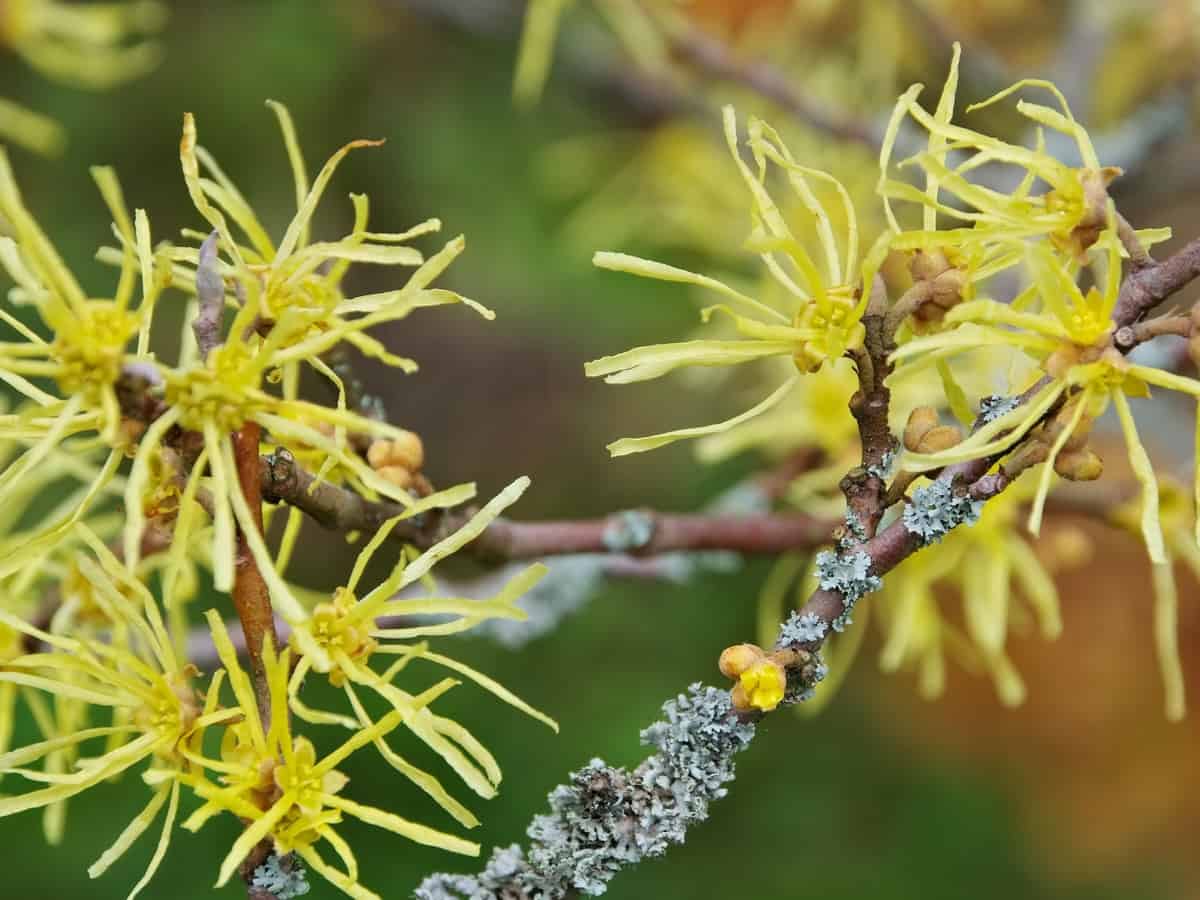 Looking for a shrub that gives you a triple whammy of leaf buds, flowers, and ripe fruits all at the same time? Meet the Witch Hazel bush. This attractive shrub is just right for yards with woody spots and dark corners. Witch Hazel shrubs grow in places that defeat lesser plants and do so with style and beauty.
You'll love this fragrant and attractive addition to your yard. Your Witch Hazel plant can top out at 30 feet or more if you don't keep it pruned.
Because the Witch Hazel produces colorful blossoms and scents during winter months, cold-weather gardeners should use it for foundation and border planting. Plant the Witch Hazel in zones three through nine.
Mountain Laurel (Kalmia latifolia) – Shrubs for Shade with Gorgeous Blossoms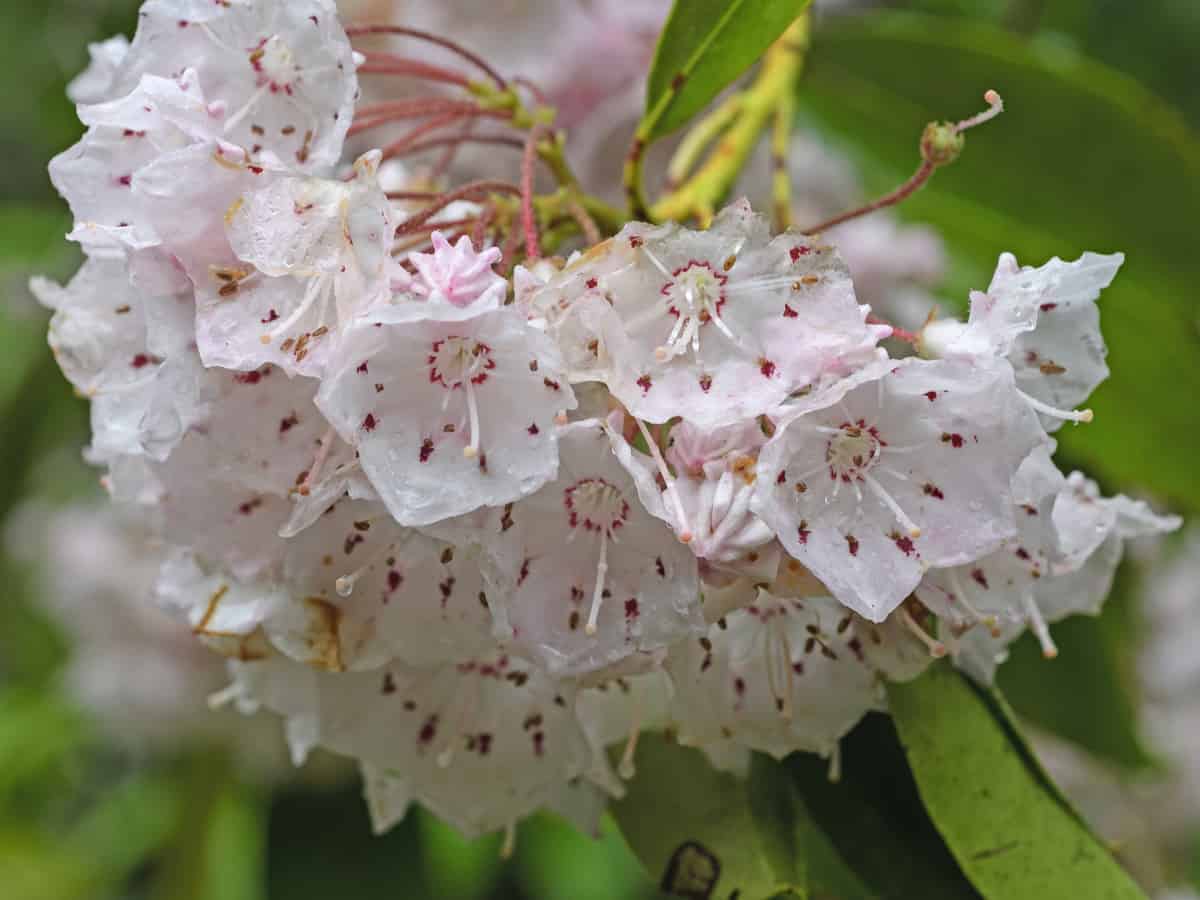 Maybe you like your yard to have plants that reward you with amazing colors all year long. If so, give the Mountain Laurel a try. It's one of the best-looking blooming evergreen shrubs you'll find. The plant is native to the Southern US and does well in all sorts of conditions.
You'll want your Mountain Laurel plant to get light shade or filtered sunlight for best results, so plant them in shady areas. Apply an organic mulch to your Mountain Laurel every year to promote water retention and allow the plant to thrive. You shouldn't have to fertilize your plants, but make sure to keep them well watered and happy.
Fothergilla (Fothergilla major)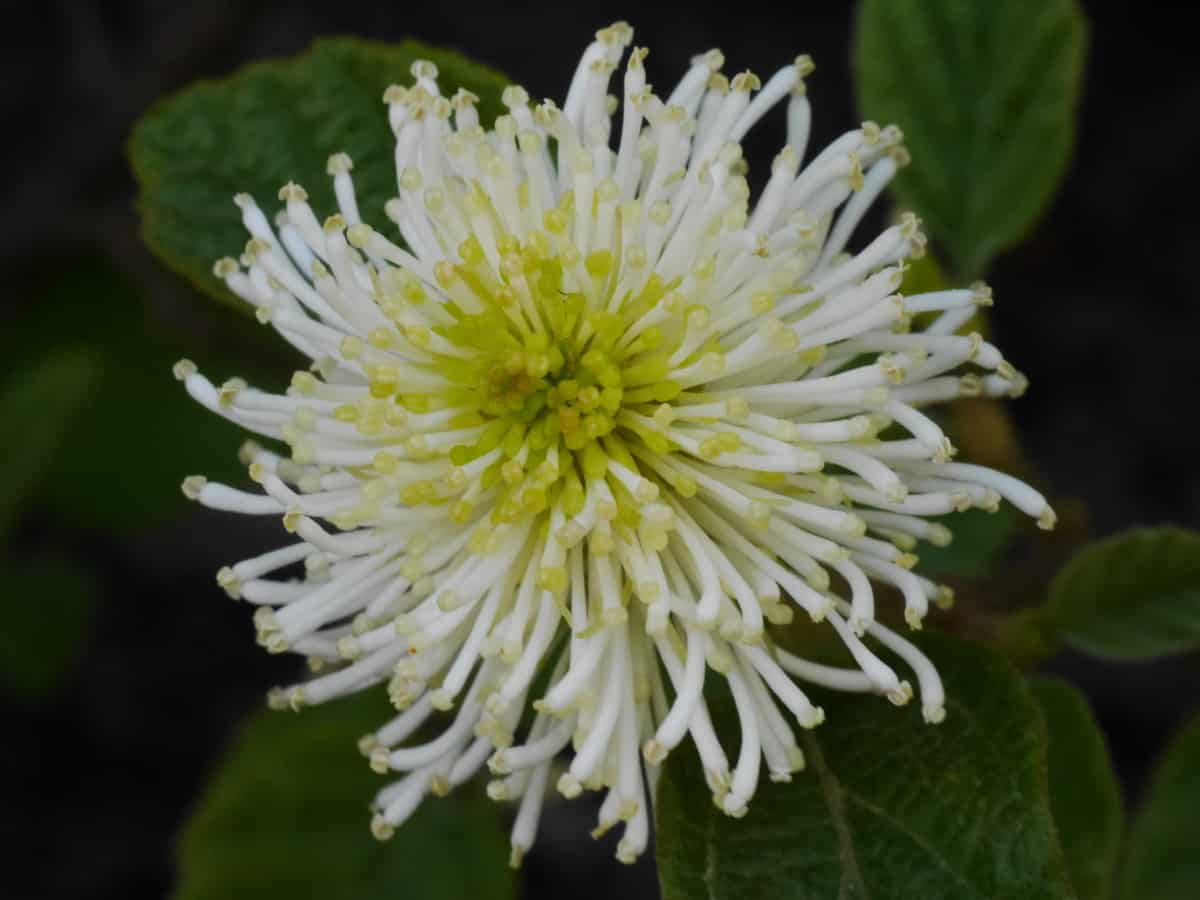 If you like Witch Hazel shrubs and want plants that resemble them to add variety to your garden, look no further than the Fothergilla. This handsome shrub produces abundant white blossoms that stick around from spring to fall.
The flowers have a sweet scent and turn shades of red, orange, purple, and yellow in the autumn. The Fothergilla prefers a bit more sun than some of the other plants on this list, but it will be content in part shade.
You won't need to water your Fothergilla much after it establishes, but make sure to give it plenty of water while it grows. Add some mulch over the new plants to provide a water-retention medium.
Green Mountain Boxwood (Buxus 'Green Mountain') – Remarkable Shade Shrubs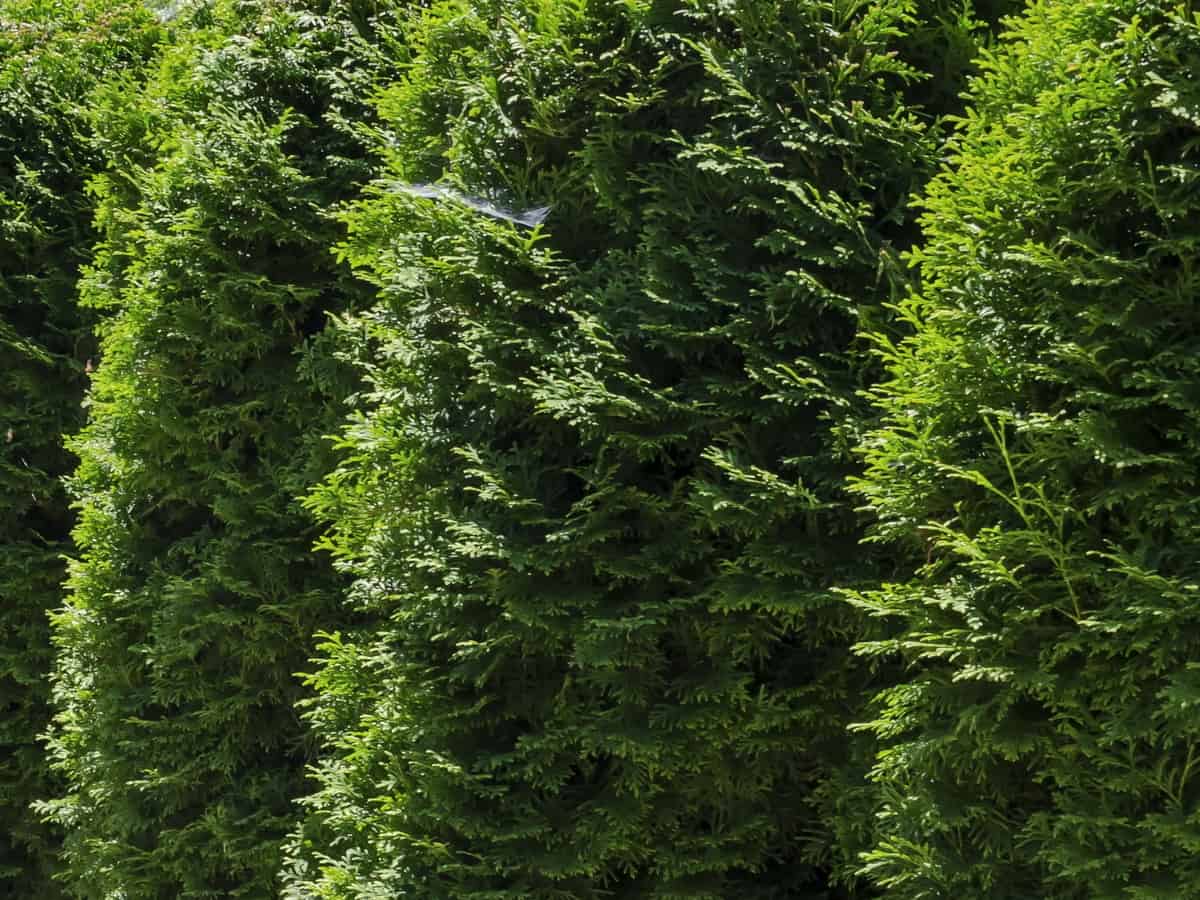 If you're a fan of the topiary figures found in traditional English gardens and fine estates, you'll love the Green Mountain Boxwood. This evergreen plant transforms your garden or yard with its elegant looks and is one of the best low maintenance shrubs you can grow. If you feel crafty, prune your Boxwoods into interesting figures or shapes.
Grow Green Mountain Boxwoods as a border or for beautiful privacy shrubs, and you can shape them however you wish. Plant your Green Mountain Boxwoods in moderate environments. If you live in hotter climates, you can still plant them, but you'll need to compensate with extra water and additional TLC.
Stay on top of soil nutrients, and add fertilizer if needed. Boxwoods can't tolerate harsh winters, so plant them where they won't have to deal with strong winter winds.
Hetz Japanese Holly (Ilex crenata)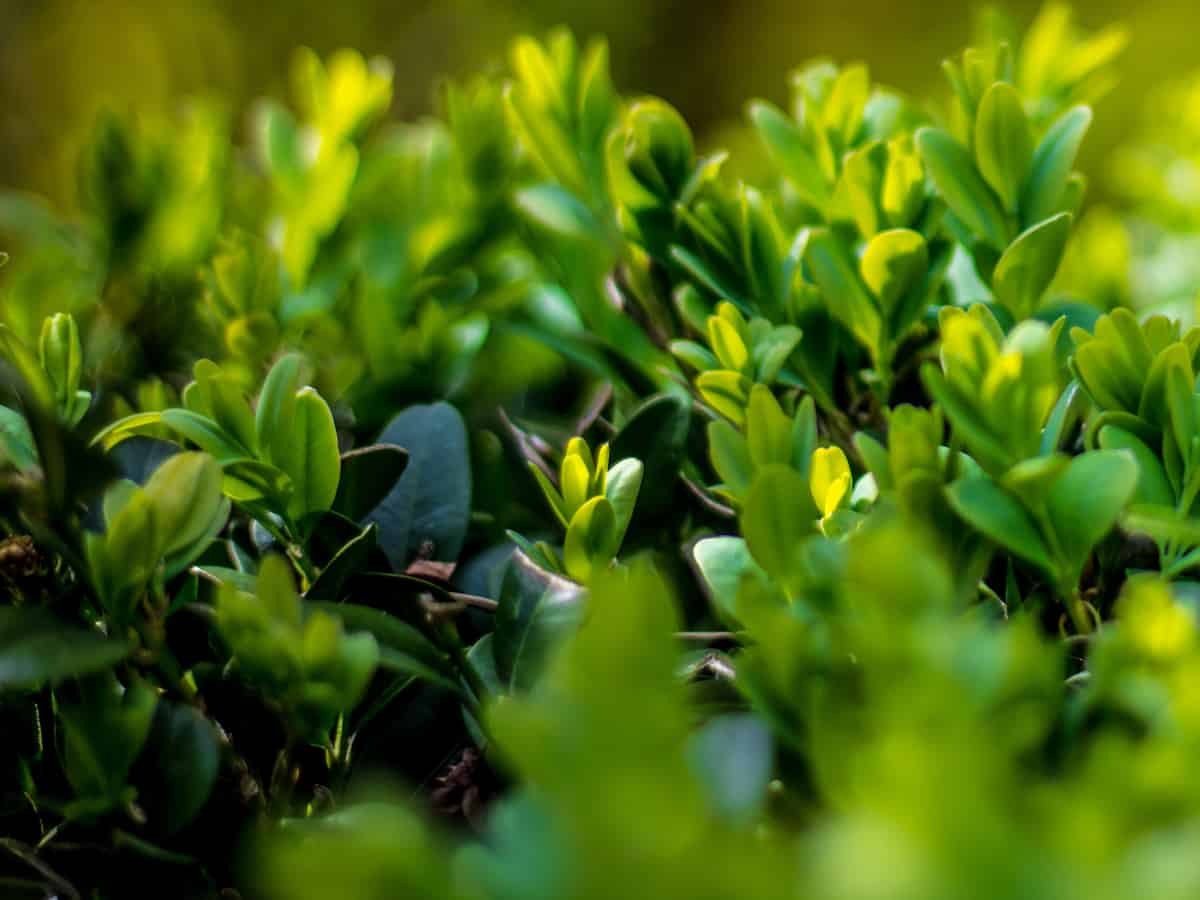 Those of us who live in milder climates and want a shrub that works as a hedge without needing much care will appreciate the Hetz Japanese Holly.
This beautiful, bright green evergreen shrub is perfect for folks who want to class up their yards but don't have much time for maintenance. These flowering shrubs have a compact habit and pleasing shape that makes them ideal for hands-off care.
Plant your Japanese Holly in loose, well-drained soil. Because the Japanese Holly prefers mildly acidic soil, you might need to add fertilizer to prevent the bush from developing iron deficiency. The shade-tolerant Japanese Holly thrives in light conditions ranging from full sunlight to partial shade.
Canadian Hemlock (Tsuga canadensis)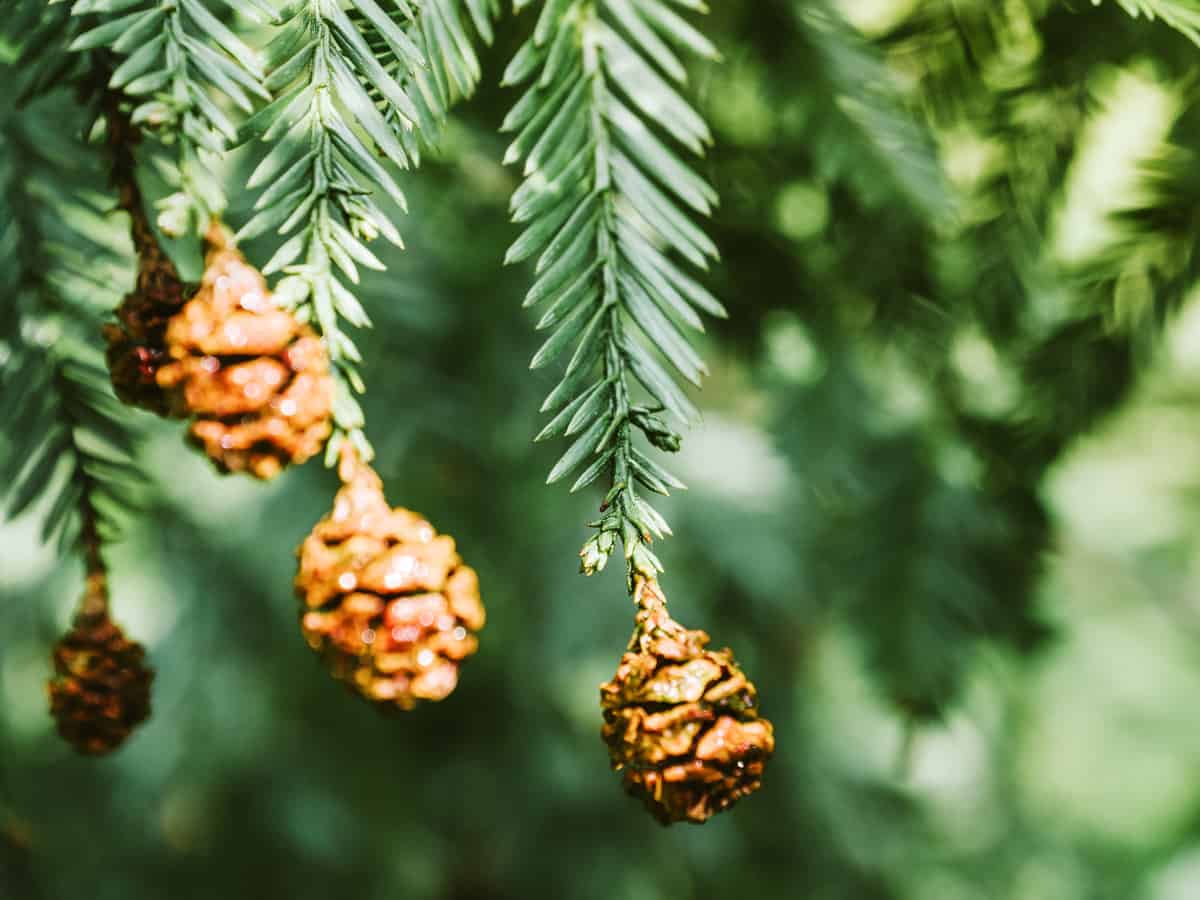 Want an elegant small tree that will grace your garden with year-round evergreen growth, red berries, and a fresh pine scent? The Canadian Hemlock is what you need. This shrub grows wild across North America; you'll find it in wooded hills across the continent.
There's no need to worry about hemlock poisoning, either. Poisonous hemlock is an entirely different plant in the parsley family. Canadian Hemlocks prefer cooler environments and do best in USDA zones three through seven.
Plant the tree in a spot that gets at least part shade for best results. Young Canadian Hemlocks need wind protection as well, so pick a place out of the wind as a planting site. They're ideal for shade gardens.
African Scurf Pea (Psoralea pinnata) – Shade Loving Shrubs for Dry Climates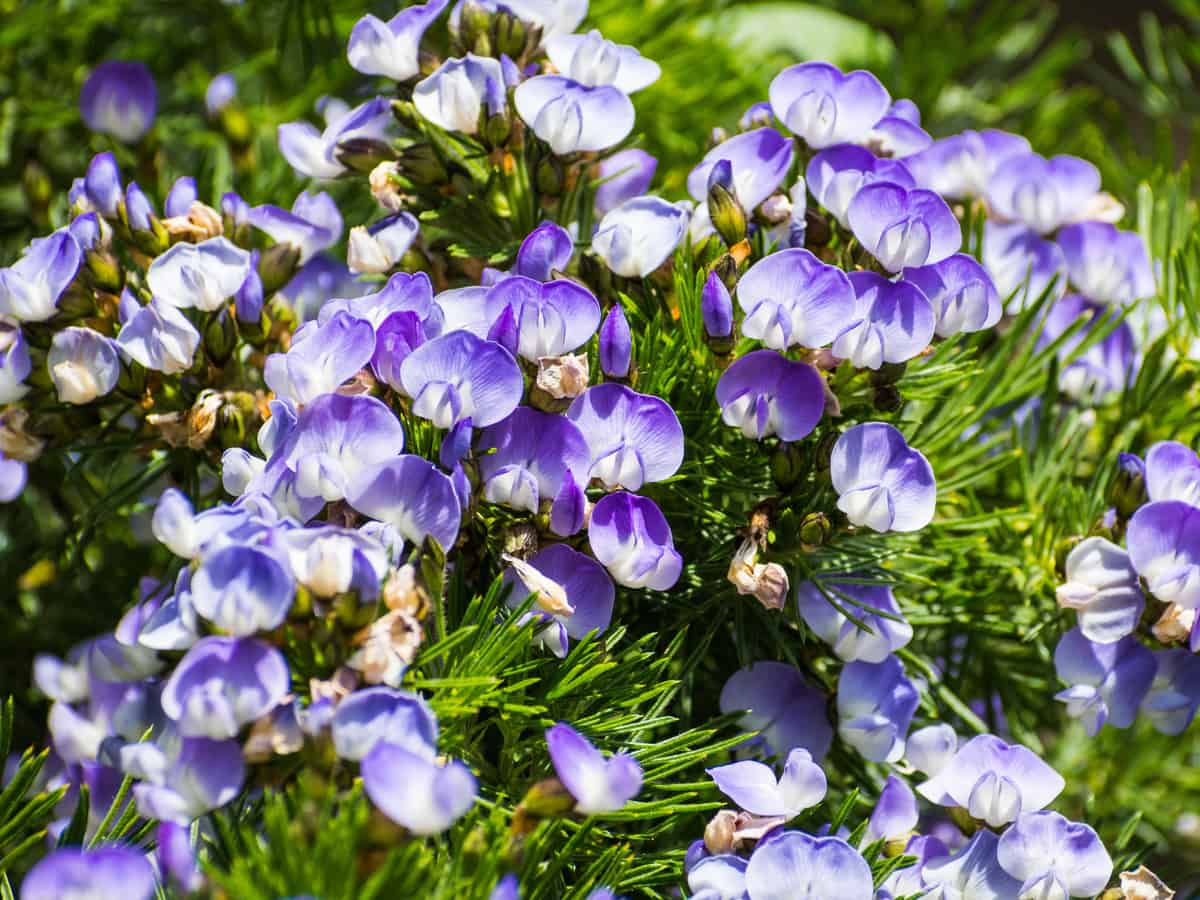 The African Scurf Pea is the shrub with a funny name that will win a place in your heart and garden. This plant grows as a weed in parts of Africa and is native to areas near streams, but it is drought tolerant and perfect for hot, dry climates. The African Scurf Pea blossoms are spectacular and produce a sweet, grape-like fragrance.
Plant this shrub in well-drained soil. While the African Scurf Pea can thrive in partial shade, it does best with a bit of sunlight each day.
You'll get the best results if you propagate this plant via seed rather than cutting. The African Scurf Pea makes an ideal ground cover plant.
Bloom-a-Thon Pink Double (Rhododendron)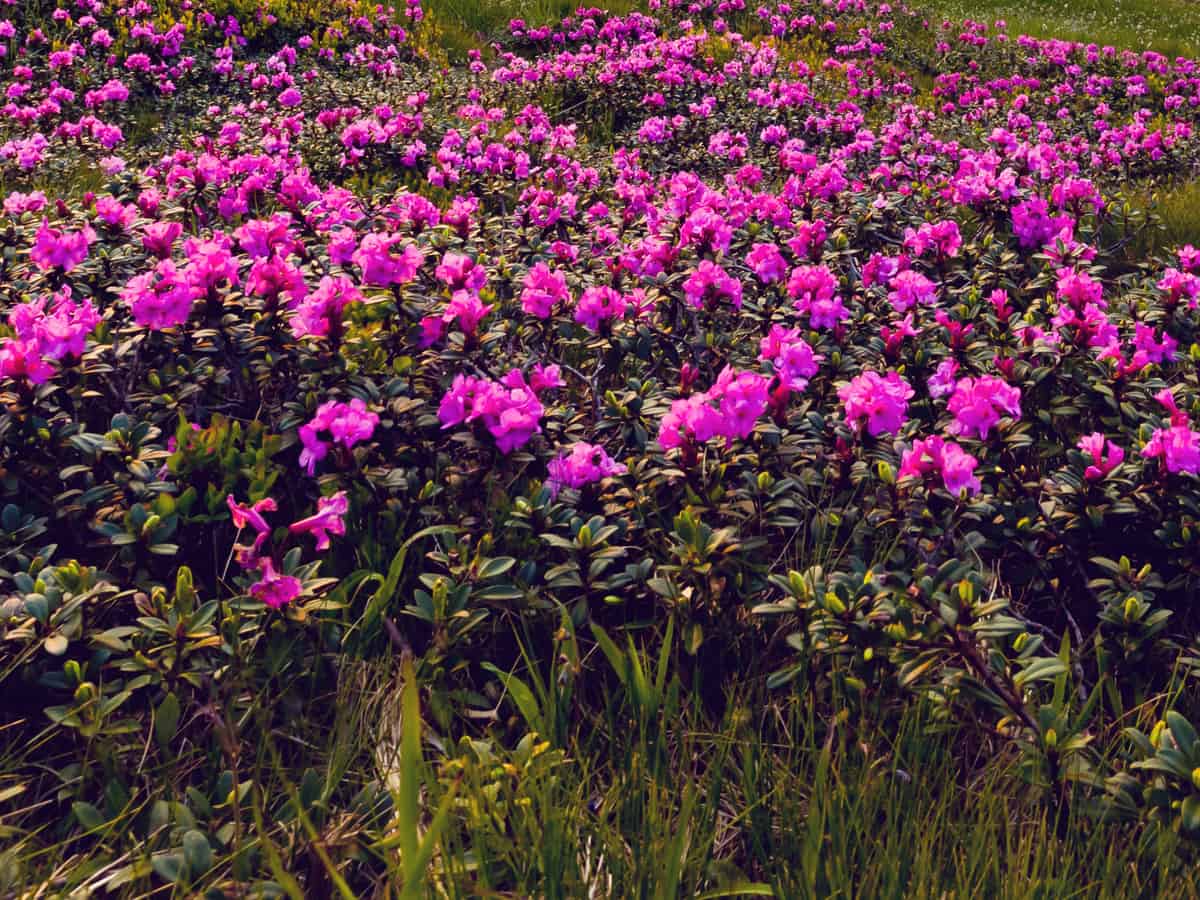 Having a plant that produces multiple blooms throughout the seasons is like getting a bonus along with your shrub. The Bloom-a-Thon Pink Double provides the perfect flowers for a shade garden for folks who like to get their money's worth from their foliage.
When you plant this reblooming shrub, you get continuous pink blossoms through the early spring, late spring, early summer, late summer, and fall. And, thanks to its compact nature, the Bloom-a-Thon Pink Double is ideal for small spaces. Keep this plant well watered as it establishes itself. Stay on top of soil nutrients, as well.
Be sure to add fertilizer from time to time to ensure that the Bloom-a-Thon Pink Double continues to produce its spectacular flowers. Plant this shrub in part sun or part shade for optimum results.
We hope you had a fantastic experience checking out our shade-loving shrubs guide. When you have a yard with lots of shade and not much sun, it can be tough to find plants that look great and thrive. Our guide shows you the best shade shrubs around and helps you on your way to a beautiful yard that you and your family will adore.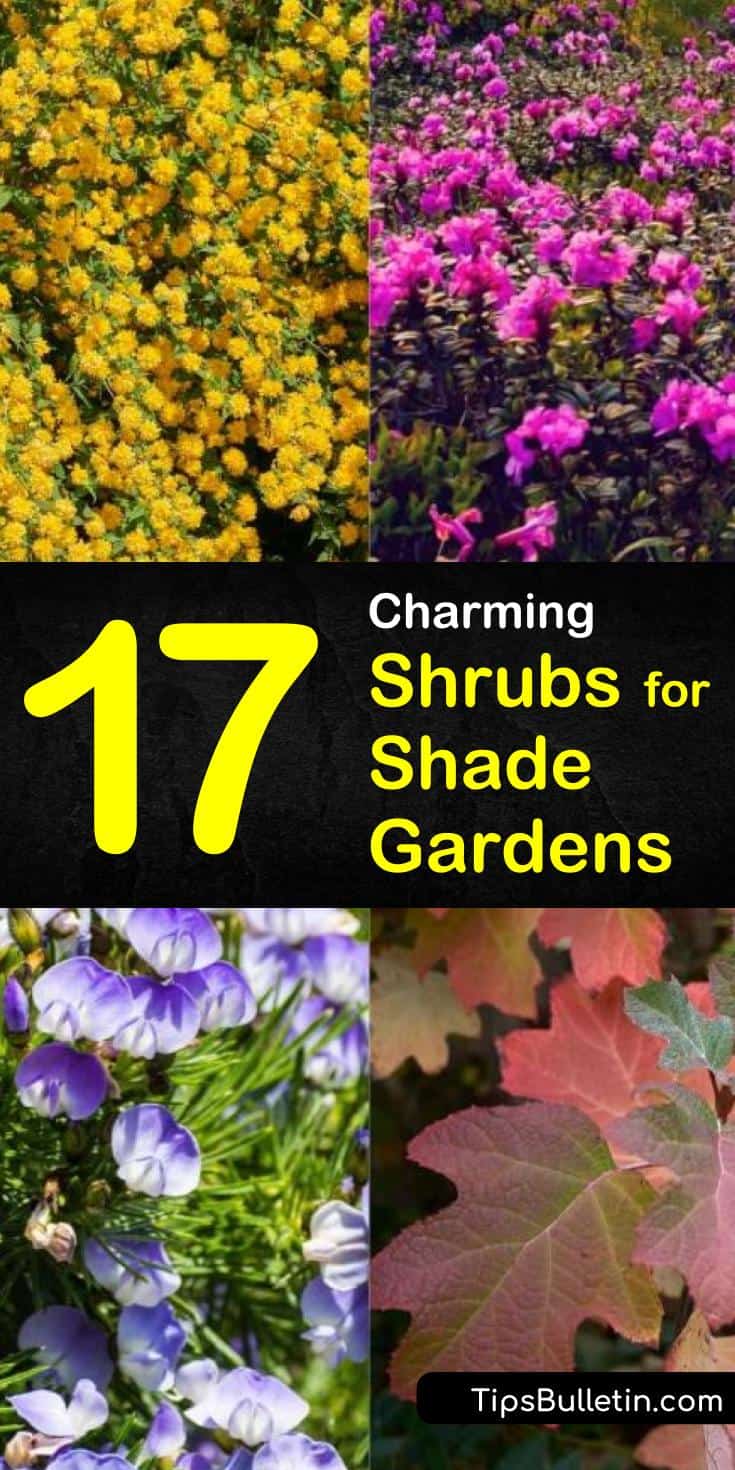 Thanks for reading our shrubs guide. If our shrubs for shade guide was useful to you, we'd appreciate it if you'd share our shade loving shrubs tips with your family and friends on Facebook and Pinterest.