The common bed-time saying, don't let the bed bugs bite, makes it seem as if these insects are a mere fairy tale, but that is far from the truth. They are real, and dealing with these insects is no laughing matter. Learn how to stop a bed bug infestation and prevent them from coming back.
These nasty bugs likely get their name because they love nesting in and around your bed and treat themselves to your blood while you sleep. Bed bugs need this blood meal to develop and survive, and their sneaky habits make them difficult to detect. Realizing that you have bedbugs in your home is dreadful.
Unlike other bloodsuckers like mosquitoes that are easy to swat while caught in the act, bed bugs hide during the daytime and are difficult to locate. While it takes some work, it is possible to eliminate these insects from your home.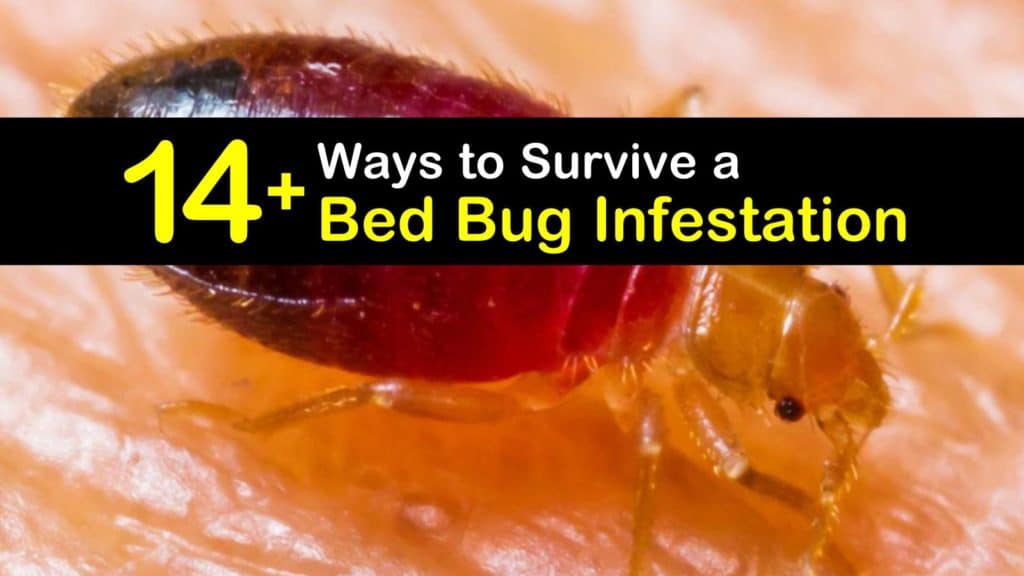 How to Kill Bed Bugs and Prevent a Bed Bug Infestation
No one wants any issues with tiny creepy pests, whether in your home or outside. It's important to deal with an earwig infestation or a bed bug swarm quickly so the problem does not escalate.
While an extreme bed bug infestation means calling a pest control company for assistance, there are ways to kill bed bugs using homemade insecticides and preventative measures to stop them from returning.
What are Bed Bugs and What Causes Bed Bug Infestation?
Bed bugs don't simply materialize out of nowhere, just like when your house is infested with gnats. These bugs come from somewhere.
There are often reasons these insects make their way into your home. We'll help you understand what they are and what causes bed bug infestation to prevent future problems.
Bed Bugs
Adult bed bugs or Cimex lectularius are oval-shaped, brown, and about the size of an apple seed. They are flat when unfed and swollen after feeding. The nymphs are smaller in size and nearly colorless.
How to tell if you have bed bugs is relatively easy. Identify their presence by the reddish-brown spots of fecal matter and blood stains on bed sheets. Their bites are small, like flea bites, but swell into itchy welts and often do not show up for three days.
Do bed bugs move from room to room? They certainly can. These hitchhiking bugs often follow you home from hotel rooms and other locations.
They can travel far by clinging to clothing, suitcases, and other items. Therefore, it's vital to check all of your belongings after visits away from home.
Knowing how long can bed bugs live without a host and after DIY treatment helps you eliminate your pest problem effectively.
Get Rid of a Bed Bug Infestation by Treating Your Bedding
While your first instinct to get rid of insects in the bedroom is to call pest control, there are a few other things to consider. One solution to get rid of bed bugs and an infestation is to clean all of your bedding.
One way to deal with bed bugs is to remove all of the bedding from your mattress and separate them into loads. Place them in the washer with the desired laundry detergent and wash them on the hot water cycle.
Transfer the clean bedding into the dryer and use the high heat setting to dry them. Do not place the bedding back on your bed until you treat the mattress.
The same principle applies to kill bed bugs on clothes. Use hot water and high heat in the dryer to get rid of these unwanted pests.
How to Get Rid of a Bed Bug Infestation on Stuffed Animals and Pillows
After you clean your bedding, the next step is to treat other items in the room. Pillows, stuffed animals, and delicate fabrics aren't as simple to clean in the washing machine and require different methods to kill bedbugs.
Stuffed Animal Treatment
Set your freezer to the coldest setting – the colder, the better. Place the infested items individually into large freezer bags and seal them shut.
Put them in the freezer for eight to 12 days. Remove the objects from the freezer but do not replace them on your bed until you treat it.
Killing Bed Bugs on a Couch
The bed is not the only piece of furniture that gets bedbugs. Since these insects feed on blood, they tend to hang out wherever people and pets most congregate.
Can bed bugs live in leather furniture? Unfortunately, they can. Here is what to do if your couch is infested.
Use the hose attachment on your vacuum to clean the entire sofa. Bed bugs enjoy dark corners and crevices, so it's vital to pay attention to those areas of your couch, as well as the sides, back, and bottom.
Follow the instructions for your steam cleaner and use the nozzle to clean the cushions, backrest, and armrests. Go over every crack, seam, and curve to remove fecal spots and kill eggs.
How to Eliminate Bed Bugs on a Mattress Pad
A soft and cozy mattress pad makes your bed more comfortable and provides you with a good night's sleep. However, this is a problem if you have bedbugs. While cleaning the pad is not as easy as washing your bedding, it is possible.
If you have a relatively thin mattress pad, and the care tag says it's machine washable, place it into the washer machine and wash it with hot water. Dry the pad in the clothes dryer on a high heat setting.
To clean a thick mattress pad, lay it out on a flat surface, sprinkle the top with a layer of baking soda, and let it sit for about half an hour.
Vacuum the top with the hose attachment to remove all of the powder and then flip it over and repeat the steps on the bottom side. Do not replace the pad on your bed until you treat it.
Ways of Getting Rid of Bed Bugs with a Vacuum Cleaner
After your sheets, pillowcases, and blankets are bug-free, it's vital to perform a deep vacuuming of the entire room to ensure that adult bed bugs and bed bug eggs are eradicated from the floor and along the wall.
Start with a clean vacuum and use the hose attachment to vacuum the top, sides, and bottom of your mattress and box spring, making sure to go over everything two to three times.
Pull out your bed and vacuum beneath it and along the wall another two to three times. Empty the vacuum into a garbage bag and dispose of it in an outside trash can.
Making Homemade Bed Bug Traps for Your Bedroom
Bed bug traps are a handy tool for intercepting the bugs as they make their way out of hiding to feed at night. While there are many of these traps on the market, they are simple to make yourself.
To make DIY bed bug traps, mix the water, granulated sugar, and yeast in a large bowl and set it aside. Use a pair of scissors to cut two plastic bottles in half, wrap a sheet of paper towel around the bottom section of each, and tape it into place.
The bed bugs are unable to climb plastic, and the paper gives them convenient access. Pour some of the pre-made sugar water into each bottle and invert the top into the bottom to form a funnel.
Place each trap beneath your bed where they won't get knocked over before you go to sleep. Check the traps in the morning to discover if you have a bed bug problem or not.
Killing Bed Bugs Naturally with Diatomaceous Earth
Diatomaceous earth is a natural substance that kills many types of insects. The bed bugs travel across the powder, which then damages their exoskeletons and causes them to dehydrate and die.
To use diatomaceous earth for bed bugs and eliminating your problem, sprinkle a fine layer of food-grade diatomaceous earth along the wall, around your bed, and in the carpeting beneath your bed. Don't forget to spread it in cracks and crevices and other hiding places and around the legs of furniture.
Let the powder sit for seven days, and then use a vacuum cleaner to remove all of the dust. Reapply the DE once again and let it sit for another seven days. Repeat this process until all bed bugs are gone.
Killing Bed Bugs with Vinegar
White vinegar is an acidic liquid that destroys the adult bed bugs' nervous system, causing their death. This spray is simple to make and ideal for treating a bed bug infested mattress.
Pour white vinegar into a plastic bottle sprayer and spray the liquid across the baseboard, in cracks along the walls, tight spaces beneath furniture, around the bottom of your bed, and over your bare mattress.
Spray the vinegar directly on bed bugs as you see them to kill them or drive them to the sprayed areas. Repeat this process weekly to eradicate the pests. This spray is also perfect for getting bed bug stains off walls and furniture around the house.
Eliminating Bed Bugs Around Your Bed with Baking Soda
We all have a box of baking soda in our kitchen cabinet. It is a cheap and convenient powder for baking, but it's also effective at killing bed bugs by causing them to dehydrate.
Sprinkle a decent layer of baking soda along the wall around your bed and furniture such as nightstands and dressers, and spread the powder beneath your bed to evenly distribute it.
Allow the soda to sit for about a week and then use a vacuum to suck it all up. Repeat the entire process each week until the bugs are gone.
Using Rubbing Alcohol to Kill Bed Bugs
Rubbing alcohol works to kill bed bugs by acting as a desiccant and solvent. It dissolves the outer shell of the insects and dries them out, leading to their death.
Pour rubbing alcohol into a bottle sprayer until it's full and spray it around the base of your bed, between the floor and the wall, across the seams of your mattress, and in all nooks and crannies where these insects love to hide.
Rubbing alcohol stains some fabrics and surfaces, so be sure to spray the liquid on inconspicuous areas first to test for colorfastness. If you happen to spot any bugs during this process, spray them directly to kill them.
How to Use Borax to Kill Bed Bugs
Borax is a popular cleaner and laundry boosting powder, but it's also an effective insect killer. This white powdery mineral kills bed bugs by suffocating them and is an excellent choice for treating your bed.
Remove the bedding from your bed, wash it, and set it aside. Sprinkle a fine layer of Borax on your mattress and spray it with water to suffocate the bugs.
Let it dry completely, and then use a vacuum to clean the mattress. Repeat the process on the backside, and then prepare your bed with clean bedding.
Eliminating Bed Bugs with Essential Oils
Various essential oils repel and even kill insects, and clove oil is the best candidate for bed bugs. It has highly acidic pH levels, and the pungent smell repels these bugs.
Does neem oil kill bed bugs? Yes, it does, but it is actually better for repelling the insects, rather than killing them outright. Use neem oil after getting rid of bed bugs to keep them away.
To make this easy bed bug solution, take a glass spray bottle and pour water and clove oil into it. Shake it well, and spray the solution around your bed and other furniture in the room.
Remove your bedding and toss it into the washer and spray the clove water on all areas of your mattress. Allow your bed to dry completely before making it with fresh bedding.
Getting Rid of Bed Bugs with Professional Assistance
If the homemade bed bug treatments are not doing the job, it's time to use a stronger commercial insecticide to eliminate them. Consider calling in pest management.
Bed Bug Treatment and Control
The EPA (Environmental Protection Agency) stresses the importance of controlling bed bug populations but states that bed bugs have increasingly become resistant to products that contain pyrethrins.
Therefore it's important to discuss a good course of action with professional bed bug control. Exterminators often use heat treatment to eliminate bed bug infestations.
The use of heat is non-toxic and kills bed bugs' entire life cycle, from egg to adult. They also use conventional insecticide treatments for small infestations.
How to Prevent a Bed Bed Infestation
Getting rid of bed bugs is a chore no one wants to go through twice, so it's essential to take preventive measures to keep these nasty pests out of your home and stop another infestation from occurring.
Bed Bug Prevention
Always check all items for signs of bed bugs, such as fecal spots or excrement, and eggshells before purchasing them from a second-hand store. Make sure you do not bring any hitchhikers home with you after vacationing by checking your luggage and other items.
Consider using essential oils for bed bugs prevention and using prevention spray along baseboards, electrical outlets, mattress seams, headboards, bed frames, and other infested areas.
Wash your bedding regularly and use protective encasements on your mattresses and box springs. If you suspect you are suffering from a bed bugs bite, do a thorough inspection of the bedroom and mattress.
Waking up with bedbug bites is disturbing, especially if you have allergic reactions. It's vital to deal with a bed bug problem right away before your home becomes infested.
While a severe infestation requires an exterminator, there are ways to control bed bug populations using DIY pesticides.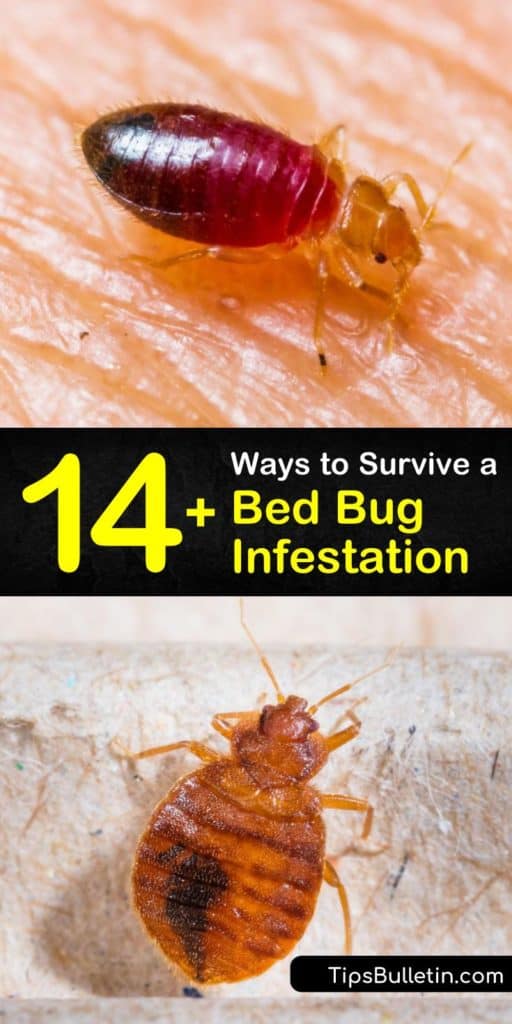 It's important to know what works and what doesn't when preventing a bed bug infestation, so why not share our bedbug killing and prevention guide with your family and friends on Pinterest and Facebook so that they can get a good night sleep?