How many of us have wondered can you freeze cottage cheese? If you seek an answer to this question, the answer is not so straightforward. Yes, you can freeze cottage cheese, but be warned that freezing cottage cheese drastically alters it and how well it freezes depends on the amount of milk fat it contains.
Low fat cottage cheese, which has a smaller percentage of milk fat, doesn't freeze as well, but it can still be done. While the answer to can you freeze cottage cheese is yes, that doesn't mean you should always do it.
Freezing cottage cheese depends on how you plan to use it later. As already mentioned, you don't want to eat it plain after it has been frozen, but if you plan to use it to make lasagna or other dishes, you won't notice a big difference between fresh or frozen cottage cheese.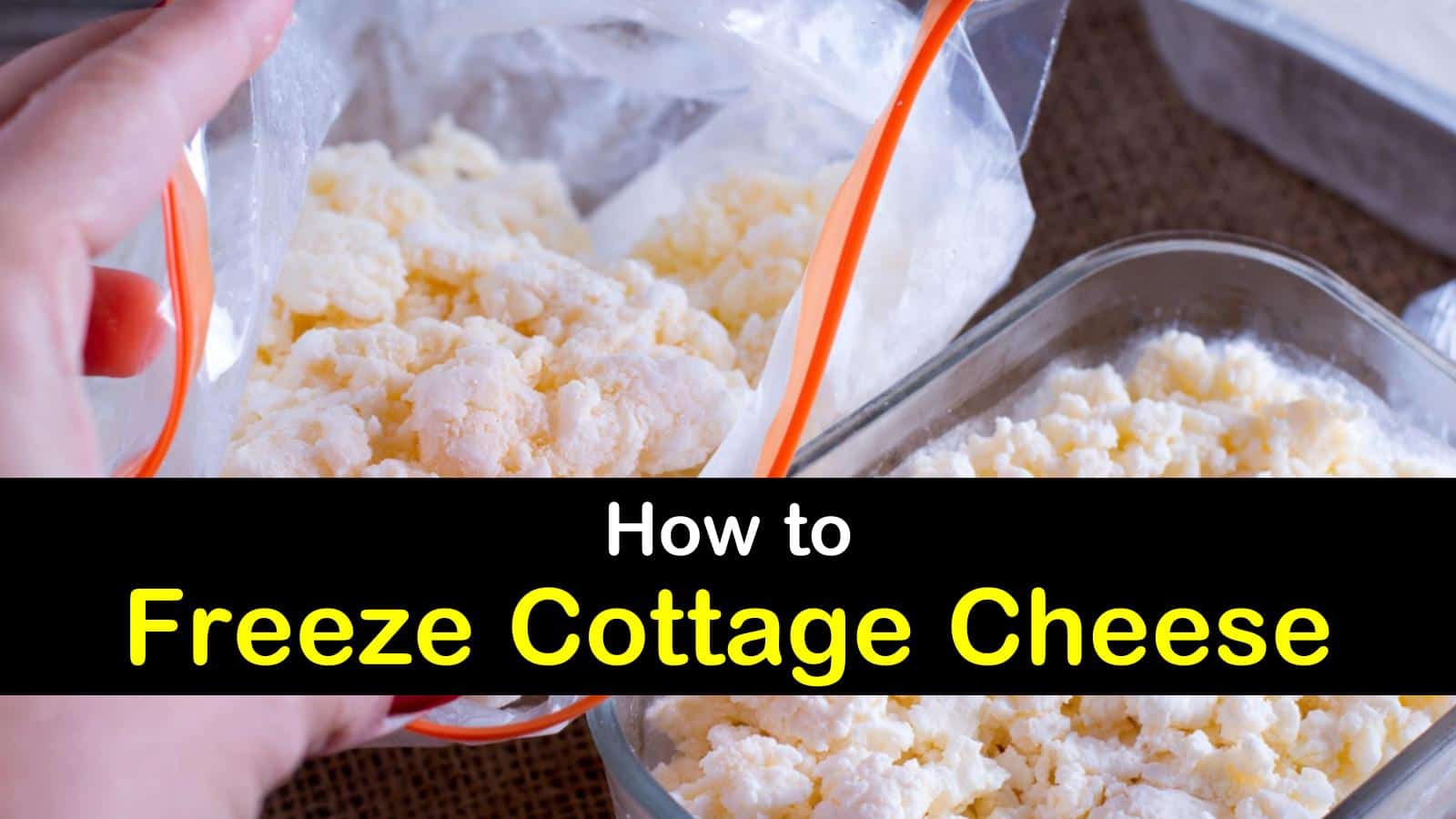 What You Need to Know about Freezing Cottage Cheese
While many people throughout history have wondered how long does milk stay fresh, other foods also deserve attention.
Although freezing cottage cheese extends its shelf life by up to six months, cottage cheese doesn't freeze well because it's a soft cheese, similar to ricotta cheese and cream cheese. Unlike many other kinds of cheese, soft cheeses have a high moisture content, which affects how well they freeze.
During the freezing process, the texture and flavor of cottage cheese are lost due to the higher liquid content in the cottage cheese. If you plan on freezing cottage cheese, avoid freezing fat-free cottage cheese and low-fat cottage cheese, as they don't freeze well at all.
Large curd cottage cheese freezes better than small curd cottage cheese. Regardless of curd size, opt for whole fat cottage cheese if you plan on freezing.
Unlike when you freeze sliced cheese or the way to freeze cheddar cheese, it's important to realize that frozen cottage cheese is not ideal for eating directly out of the container once thawed because of the change in texture. It is perfect for use in a variety of cooked dishes, including soups, cakes, sauces, casseroles, and everybody's favorite pasta dish, lasagna.
Not only can you freeze cottage cheese, but most other varieties of cheese can also be frozen with tremendous success. Never be afraid to stock up on sale cheese again now that you can learn the proper way to store cheese for use later.
Can you freeze mozzarella cheese to use later on your pizza or in other Italian dishes? Yes! Can goat cheese be frozen? You bet! Freezing feta cheese or shredded cheddar is also possible. Just follow the instructions we provide here for proper packaging and you can freeze your cheese to use later in a favorite recipe.
If you are wondering can you freeze raw milk or pasteurized milk, the answer is also yes. Freezing all kinds of dairy products is possible and can extend their life from several weeks to months. Freeze and thaw dairy appropriately and enjoy them at another time.
The most important thing is ensuring that the packaging is air-tight so that the food stays nice and flavorful while frozen. If you have the freezer space, freezing food to eat later is a great idea.
How to Freeze Cottage Cheese
People often are astounded when they learn that the answer to can I freeze cottage cheese is yes. The great news about being able to freeze cottage cheese is you can take advantage of markdowns and sales at your local grocery stores.
Freezing gives you the ability to stock up on things without the fear of it spoiling before you can use it. How to freeze cottage cheese and other cheeses is easy and takes just a few simple steps.
There are two common ways that you can freeze cottage cheese. The easiest way is directly inside the plastic container it comes in. The downfall to that freezing method is you are freezing a large amount at a time, which means you have to thaw out the entire container and use it up rather quickly.
Most people agree that the best way to freeze cottage cheese is to split the container into smaller airtight containers or freezer bags, like when freezing mac and cheese. This allows you to freeze smaller amounts, which thaws faster.
Using freezer bags is preferred over airtight plastic containers, as the freezer bags can lay flat to take up less space. Foods like cottage cheese are easier to thaw in freezer bags compared to plastic containers, too.
Can You Freeze Cottage Cheese and Store It?
How to store cottage cheese in the freezer depends on the method you used to freeze it. If freezing cottage cheese in its original container or a plastic airtight container, also use heavy-duty freezers bags.
How long does cottage cheese last in the freezer? Containers placed inside freezer bags will safely store in the freezer for up to six months, plus the freezer bags provide more protection against freezer burn.
To store cottage cheese in freezer bags directly and for keeping cottage cheese fresh until you are ready to use it, eliminate any air from inside the bag. Removing all air is essential as it prevents ice crystals from forming inside the bag; ice crystals lead to freezer burn.
To prevent freezer burn, you can also double wrap each bag. Lay bags flat inside the freezer and stack the bags on top of each other. Storing directly inside a freezer bag allows the cottage cheese to last up to three months.
For both storing methods, use a permanent marker to write down the date you froze the cottage cheese. This allows you to track how long it's been in the freezer, plus you can use the oldest stuff first.
How to Thaw Frozen Cottage Cheese
Thawing frozen cottage cheese is relatively straightforward. Remove the bag or container containing the cottage cheese from the freezer.
Place bag or container inside a bowl and place it in the refrigerator to thaw. You may also thaw the cottage cheese under cold running water.
We do not recommend leaving the frozen cottage cheese to thaw on the countertop at room temperature as that can affect the safety of the food.
Once the cottage cheese thaws, drain off the excess liquid. Once drained, use the cottage cheese to cook with or you can stir in some sour cream to prevent it from becoming too dry and eat it right away. For each cup of cottage cheese, add up to a tablespoon of sour cream.
How to Use Frozen Cottage Cheese
As you may already know, cottage cheese, like many other dairy products, is an excellent source of protein, so it makes sense why you want to include it in a variety of meals. Most recipes taste fine using thawed cottage cheese; once it undergoes the cooking process, the change in texture is minimal.
Some of the best ways to use previously frozen cottage cheese are in pasta dishes, such as lasagna and manicotti. You can also use it in various types of bread and muffins, including cornbread. Other food items you can add cottage cheese to include eggs, tomato sauce, and mashed potatoes to provide some extra creaminess to the dish.
Using cottage cheese to replace some higher fat cheeses in recipes for macaroni allow you to create tasty low-fat options the whole family will enjoy. One of our favorite cottage cheese recipes is Cottage Cheese Alfredo, but if you are looking for a healthy but tasty dairy treat, try making Lemon Cheese Bars.
Blend all ingredients except the basil, oregano, and parsley, inside a food processor until smooth. Pour into a small saucepan, then add dried basil and oregano. Over medium-low heat, heat sauce until hot and creamy. Add more salt, pepper, oregano, basil, etc., to taste.
Cook on low heat for five minutes, making sure to stir a few times. Add cooked pasta several minutes before serving to allow the pasta to soak up the flavor of the sauce. Serve topped with parsley, meat, or veggies.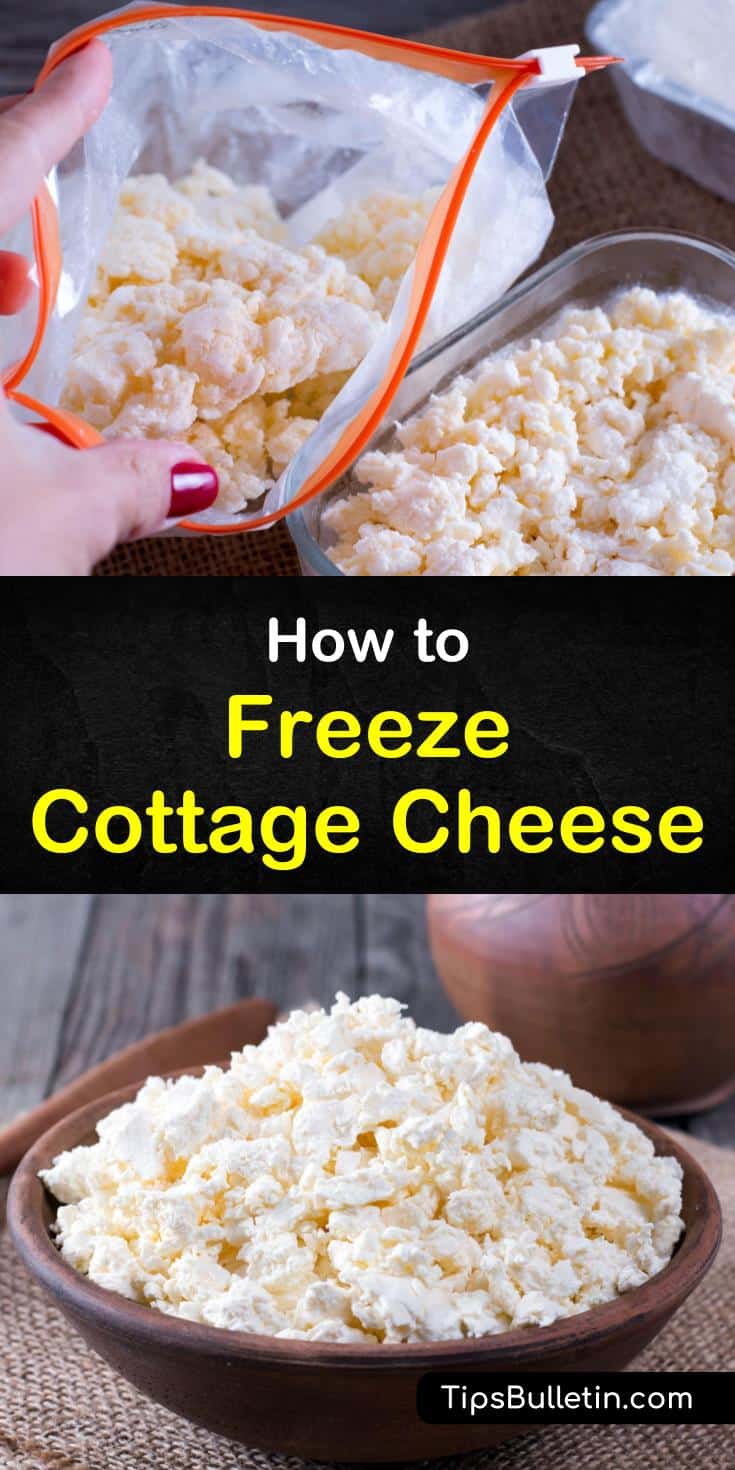 Thank you for reading our tips and tricks to freezing cottage cheese. If this article answered your questions about can you freeze cottage cheese, please take a minute to share our cottage cheese freezing tips with others on Facebook and Pinterest.