What could be worse than burning your evening meal? Scrubbing and scouring away the burnt residue that food left behind. Before you throw that blackened and crusty pan in the garbage, we'll show you how to clean a scorched pan so that it looks like new.
Ending up with a burnt pan while preparing a meal happens to the best of us, even accomplished cooks. Burnt food stuck in the bottom of the pot and scorch marks can be a bit tricky to clean but not impossible if you know the right methods.
The type of cleaning method you use to remove scorched on food depends on the pan type. What works to remove grime from a cast-iron skillet may not work on a non-stick pan or stainless steel.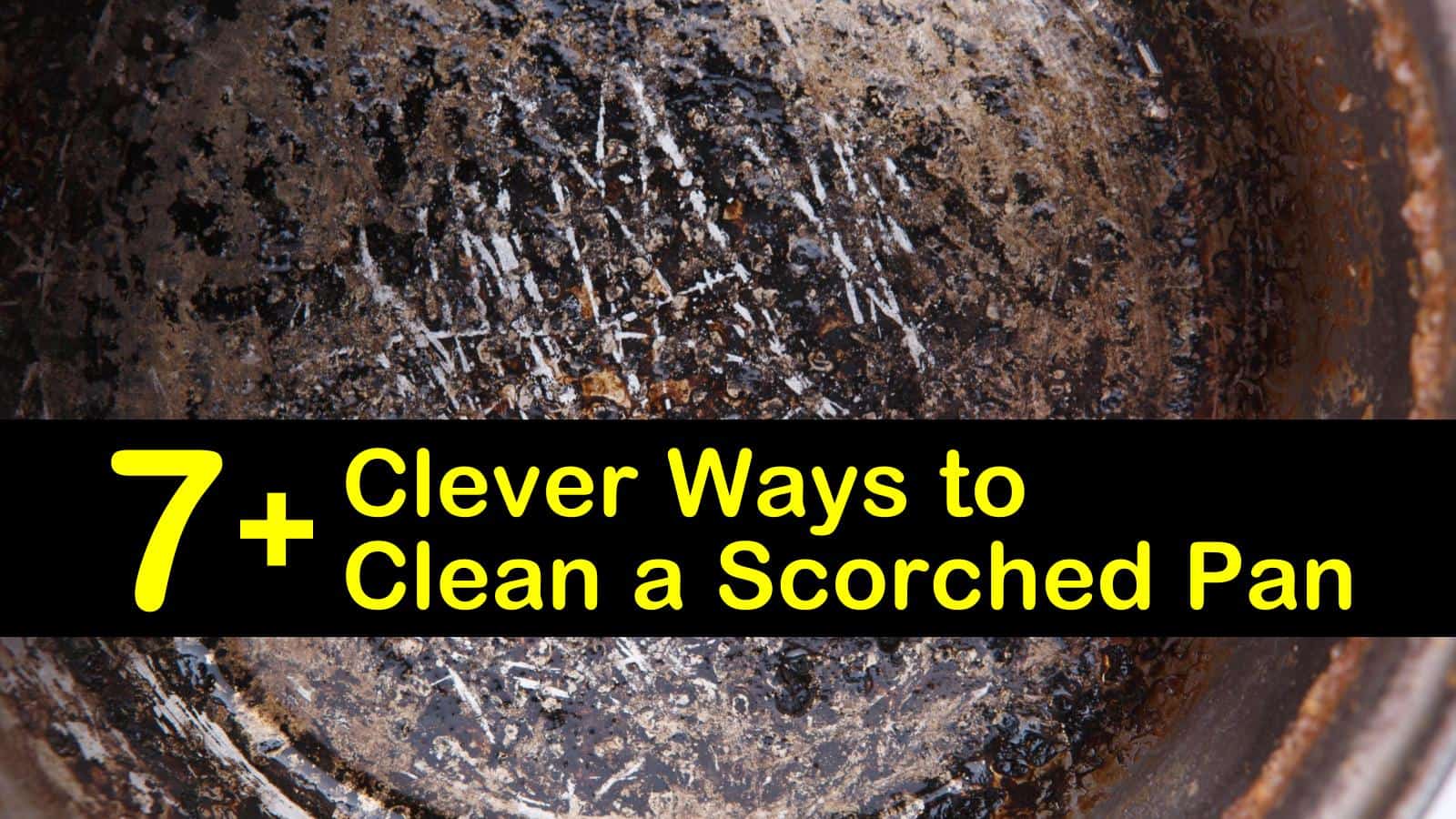 Cleaning Your Scorched Pan
Sometimes we forget to take care of greasing a pan before cooking or leave the pan on the heat just a little too long. Using the wrong technique to clean stuck-on food off your burnt pots and pans can damage them.
We'll show you how to clean burnt food, gunk, and scorching out of stainless steel pots, nonstick pans, and iron pans using the right cleaning products and methods, and a little bit of elbow grease.
Clean a Scorched Pot with Boiled Soapy Water
The best way to clean baking pans or cooking pots is by using some hot water and a degreasing soap. This simple solution eliminates most stains.
Before you give up and toss your burnt pans or dirty cookie sheets, try using this method to get those pots clean. Here is how to clean a scorched pot using only boiling water and soap.
To clean aluminum pans or those made from materials like cast iron or stainless steel, pour enough water into the pan or pot to cover the burned area and place it on the stove top. Squirt some dish soap into the water and turn the burner on high. Once the water begins to boil, remove from the heat and allow the water to cool enough so that you can handle it safely.
Add a little more soap to the scrubber and scrub away loosened grime and burnt food from the pan. Rinse the pot thoroughly with water and dry with a towel.
Use a sponge or nylon scrubber as a way to remove burnt-on food from oven floor or a nonstick pan. For scrubbing stainless steel, use a scouring pad. Do not use this method on cast iron.
Cleaning Scorched Pan with a Dryer Sheet
Believe it or not, but cleaning scorched pan with a dryer sheet works. While it does take a little more soaking time, you can clean copper bottom pots with scorched bits of food.
For cleaning a burnt pan with dryer sheet, fill the pot with hot water until the scorched area is covered. Place a sheet of fabric softener into the water and push it down until it is submerged.
Allow the pot to sit for several hours and then use the softener sheet to scrub away the burnt debris. Wash the pan with soapy water, rinse with clean water, and dry.
Clean a Scorched Skillet with Oven Cleaner
For really tough jobs, use oven cleaner to remove grease from a pan. Do not use this method on nonstick cookware, however, and make sure that you have plenty of ventilation while cleaning as oven cleaners often have harsh fumes.
After reading any safety or precautionary measures listed on the oven cleaner, spray a light layer of the solution onto the bottom of the skillet. Place the correct sized lid on the pot and set outside for half an hour while it does its job.
Use a scrub brush to scour and get burnt food off pan while removing softened burnt debris. Rinse the pot thoroughly to remove any leftover oven cleaner residue.
Use Cream of Tartar to Clean Scorched Pans
If the dish soap and water aren't doing the job, make a cleanser that is more abrasive and useful for scouring away stubborn bits of burnt food.
To clean stainless steel pans with vinegar and cream of tartar to remove scorch marks, sprinkle the cream of tartar into the bottom of the pan and drizzle just enough white vinegar over it to make a paste. Use a sponge to combine the two ingredients and spread throughout the pan.
Allow the mixture to sit and work on the stains for about ten minutes. Use a sponge to scrub away those stubborn bits of caked-on food and scorch marks. Rinse the pot with cold water and dry with a towel.
Combine Baking Soda and Vinegar for Scorched pots
For those tough scorch marks and dried, caked-on food, use the powerful action of white vinegar and baking soda to loosen up and remove grime. Vinegar breaks down the greasy food residue while baking soda provides a gentle scouring agent to scrub them away.
Pour a cup of hot water and a cup of vinegar into the pan and place over high heat on the stove. Allow the liquid to boil for ten minutes before turning off the heat. Add the baking soda to the pan and watch the cleaning solution fizz as it begins to loosen debris.
Allow the pot to cool and then dump out the cleaning liquid. Use a scrubber or sponge to scour away the softened gunk. Rinse all of the residue away with clean water and dry with a towel.
Removing Scorch Marks from Stainless Steel Pans
If you'd prefer using a commercial cleaner to clean away tough scorch stains that are a result of cooking your pans over high heat, we recommend using a cleanser such as Bar Keepers Friend.
Begin by rinsing the pan with hot water and then sprinkle enough of the cleanser into the wet pan to form a paste. Use the scrubber to rub the mixture in circular motions from the inside outward. Wash the pot with hot, soapy water and rinse thoroughly.
Cleaning a Burnt Stainless Steel Pan
One of the best ways to remove burnt-on food debris from a stainless steel pan is to deglaze it. Do not use this method for cleaning nonstick cookware.
Place the stainless steel pan on the stovetop and turn the burner on medium-high heat. Once the pan is hot enough that a drop of water sizzles when placed in it, pour in the water and a squirt of dish soap.
The water should instantly come to a simmer. Use either a wooden spoon or plastic spatula to clean away the bits of burnt debris gently. Rinse the pan thoroughly with water and dry with a towel.
How to Clean Cast Iron Pans
Cast iron skillets are a handy addition to the kitchen, but they do require special care when it comes to cleaning. Learn how to clean cast iron pan using oil to clean away lightly scorched debris.
Place the skillet on the stove on low heat to warm it. Turn off the oven and pour the oil into the warm pan. You can use vegetable, grapeseed, or flaxseed oil to clean your iron pans.
Rub the oil around using paper towels. Discard and replace the paper towels as you remove burnt food bits from the pan. The pot is clean once the paper towel shows no leftover residue while wiping.
In addition to using this solution for cast iron cleaning, you can also use it as a cast iron rust remover. Follow the same instructions to eliminate rust spots that may be leftover on your favorite iron skillet.
Removing Burnt Food from an Iron Skillet
Using dish soap to clean your cast iron pots and pans will remove the seasoning. To clean up an iron burnt pan, apply salt or baking soda to scrub away scorched food and debris.
Get the pan wet with hot water and sprinkle baking soda or kosher salt onto the bottom of the iron skillet. Use paper towels to rub away food stuck to the pan. Rinse the pan clean with water and dry with a paper towel.
Cleaning a Scorched Cast Iron Pan with Water
Seasoned cast iron pans should never be put into the dishwasher or cleaned with soap, as this removes the pan's seasoning. Here's how to clean a cast iron pan using only water.
Pour enough water into the pan or pot to cover the stained area and set on the stove top over high heat. After the water begins to boil, use a wooden spoon to push away tough grime from the surface of the pan.
Do not use metal utensils to clean your pan, or you may end up stripping away the seasoning and scratching the surface. Finish up by rinsing the pot with clean water and dry using a paper towel.
While the dishwasher may be useful for cleaning many kitchen dishes and cookware, we do not recommend it for most types of pots and pans. Dish soap may be suitable for cleaning stainless steel and nonstick surfaces, but you should not use it to clean cast iron.
Understanding the different techniques needed to clean nonstick, cast iron, and stainless steel pans goes a long way to ensuring that your pots and pans continue preparing your meals.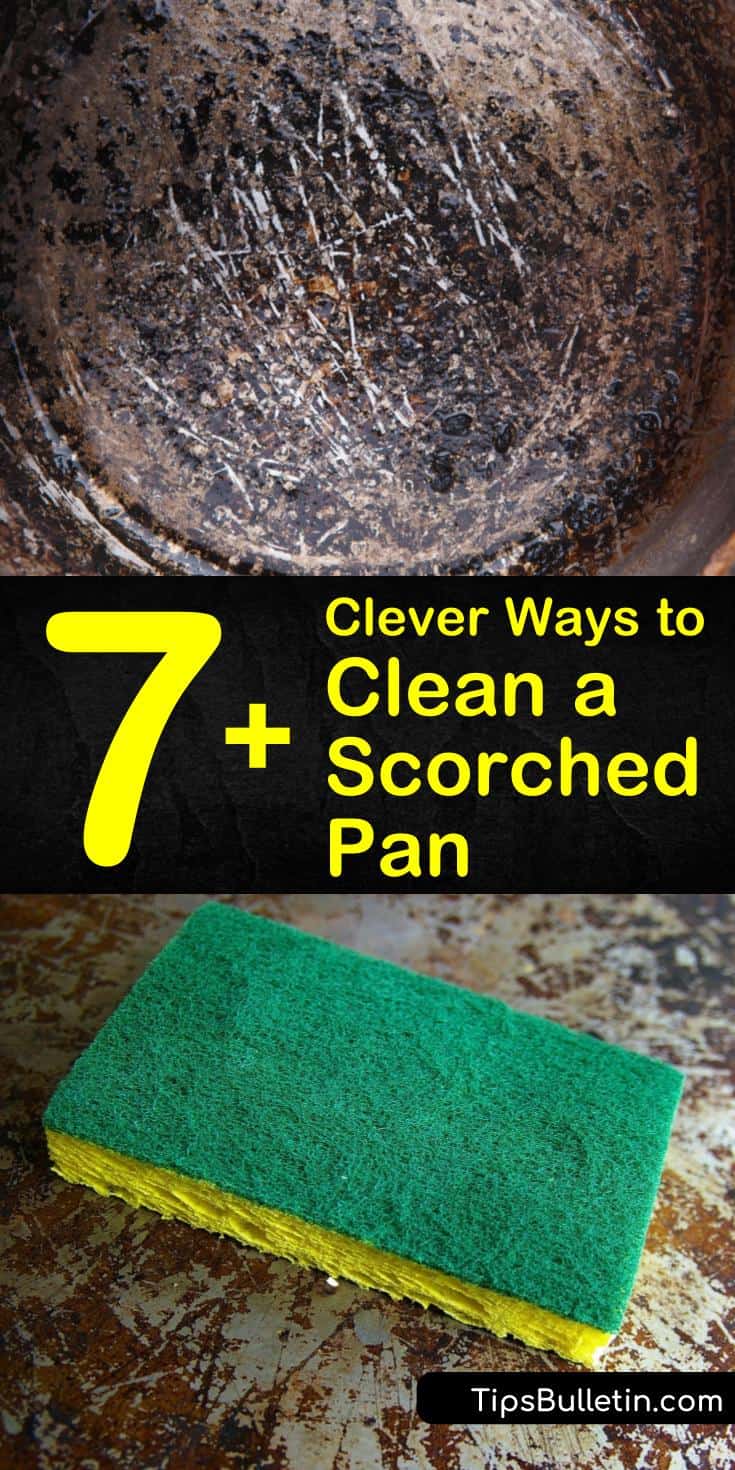 Knowing how to clean a scorched pan eliminates any evidence that you burned your supper, so why not share these burnt pan cleaning tips and recipes with your family and friends on Facebook and Pinterest?