Knowing how to dry shoes properly is an essential part of shoe care. Drying without concern for the type of shoe material or the methods you use to dry them can damage your shoes or leave you with shoes that are still damp with an odor.
Whether your shoes become wet from the weather or through regular cleaning, you need to thoroughly dry shoes before wearing them again. Once your shoes become wet, it's best to remove them as soon as possible.
Aside from wet shoes and wet socks being unpleasant and uncomfortable to wear, damp footwear results in blisters on your feet. Additionally, not allowing your shoes to dry out allows bacteria and mold to grow in moist conditions.
How I Dry My Shoes Quickly
Explore our tips on how to dry shoes quickly and safely to prevent your shoes from becoming damaged and keep your shoes functional for a long time. Unless you plan on wrapping your shoes in a plastic bag to prevent them from getting wet ever again, keep reading for tips on how to dry your shoes.
Like when you wash clothes, you may immediately toss them into the dryer to complete your laundry after pulling them from the washing machine.
While some shoes are fine to put in the dryer, other easy methods to dry your shoes don't involve turning on the clothes dryer after you wash football cleats or another type of shoe.
Using Newspaper to Dry My Wet Running Shoes
After you clean and remove dirt stains from white shoes, drying them shouldn't be a chore. Newspaper is made from recycled materials and wood pulp, soaking up water well. Because of its physical characteristics, stuffing inside and filling your shoes is easy. It also helps prevent creases in shoes after they dry.
Remove the insole and laces of your athletic shoes and pull back the tongue to open the shoe wider. Grab several pieces of newspaper to stuff inside your running shoes.
Pick newspaper pages that do not have a lot of dark ink as this may bleed into the fabric. Stuff the newspaper deep into the shoe's toe before wrapping a towel around each shoe to absorb excess water.
Place your shoes in a well-ventilated dry area but out of direct sunlight. Depending on the moisture level in your shoes, you may need to add new dry newspapers to your shoes periodically.
This method for drying running shoes that does not introduce any direct heat works well on leather boots and suede shoes. Dry wet boots or shoes with ease if you have a little time for the process.
Drying My Shoes with a Shoe Dryer
If you often find yourself with soaked shoes because of the weather in your area or your occupation, you may want to purchase a shoe dryer. There are a variety of shoe dryers, but their mode of operation is the same.
Remove your shoes' laces and insert the individual dryers into each shoe with rubber soles before turning on the device.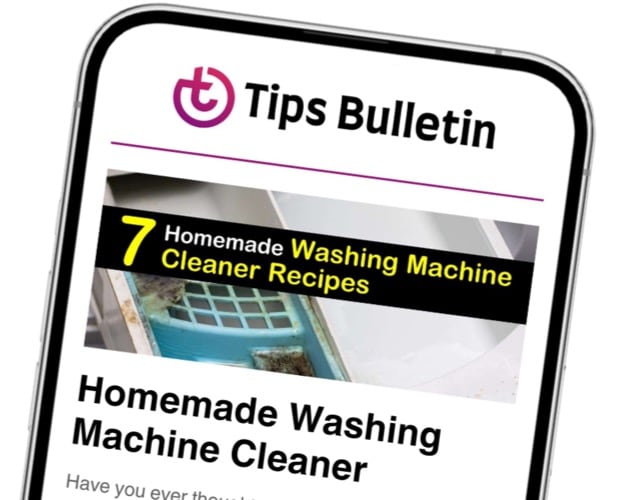 Finally, an email that Transforms Your Home.
Get the latest home and garden tips from our experts, delivered straight to your inbox.
Soaking up Moisture Using Towels
After taking off your damp shoes, loosen the laces and remove the insole. Because the shoe's sole is thin and small, it dries quickly on its own, and without it, you can open up the shoe for better drying.
Place a clean towel on the floor and roll it longways. Bend the towel until it resembles the letter U. Place your shoes side by side and stuff the ends of the towel into the opening of your shoes.
Continue to stuff the towel ends inside until your shoes are stuffed, moving the tongue out of the way if needed.
Tighten the laces and tongue down around the towel to help squeeze out any excess moisture. Tightening your shoe also prevents them from becoming too loose and out of shape due to the towel.
Note: A microfiber towel is an excellent replacement for a towel as microfiber is more absorbent than cotton.
How I Dry My Shoes with a Fan
When drying your shoes, keep in mind that heat causes your shoes to shrink when drying. An easy way to allow your shoes to dry without the risk of shrinkage is to place your shoes in front of a large fan.
Remove the insoles and undo the shoe laces before placing your shoes in front of the front grill of the fan. Alternatively, hook the ends of your shoe to the fan using a string and clip.
Run the fan on high to quickly dry out your shoes. Place a paper towel underneath to absorb any dripping moisture.
Absorbing Moisture with Rice
If you've ever dropped your phone in the water, you've likely heard someone suggesting using rice to save the device; the same idea applies to using rice to draw excess moisture from your shoes.
Find a container that your shoes fit into if they lay sideways with space between them.
Fill the container with uncooked rice about one inch from the bottom and place your shoe on top of the rice, pressing down slightly to bury them in the rice.
Cover the container and wait about three hours before checking the shoes. If they are still moist, cover the container for another hour. However, if your shoes are still extremely wet, you may have to let them sit in the rice overnight.
Eliminating Moisture and Odor with Cat Litter
For anyone with cats, it's no secret that cat litter works well to absorb moisture into fine pebbles. However, just pouring cat litter into your leather shoes may create a bigger mess.
Using an old sock, stuff it into your shoe before pouring cat litter inside. Pour enough litter to fill the shoe before tying the end of the sock.
Leaving your cat litter sock inside each shoe for a few hours allows them to absorb the moisture in the shoe as well as eliminate any lingering orders. It's a great way to clean smelly shoes, including smelly Ugg slippers, while drying them at the same time.
If the cat litter doesn't do what you need it to for odors, try an old sock filled with baking soda instead to get the smell out of shoes. Put these socks in the shoes overnight for the best results.
Drying My Work Boots with a Dryer
Unlike shoes, hiking boots, and work boots are made from a tougher shoe material to withstand the elements and rough conditions.
Boot dryers work slightly differently than shoe dryers and are typically stand up models with vertical drying shafts to place your wet boots on.
The boot dryer works like a fan by pulling in the air before warming it inside and expelling it through holes in the device to dry your footwear.
Using a Blow Dryer to Dry My Wet Sneakers
A blow dryer probably seems like the go-to when drying shoes because of its convenient shape.
Rather than stuffing your blow dryer into your wet shoes, if you choose to dry your shoes with a hairdryer, keep your dryer at least ten inches away from your shoes.
Set the blow dryer up in the bathroom, preferably in the tub. Place your shoes standing up on the heel against the side of the tub to allow water to drain out from the bottom.
Place your blow dryer at least ten inches away from your shoes on a cold heat or low heat setting.
Although drying shoes on high heat seems like the best choice, hot air causes fabric shoes to fray, and running your dryer on high uses a lot of electricity.
The benefit of using hot air won't decrease the time it takes to dry your shoes by much, so settle for using cold air and checking the progress of your shoes every hour or so.
Drying My Shoes in the Dryer
When looking at how to dry shoes quickly, your first thought may be to toss them into the clothes dryer after pulling them from the washing machine.
Using the dryer is a divisive choice, but drying shoes in the dryer is the fastest way to dry shoes properly.
While you can dry sneakers in the dryer, first check the shoe label to see if they can be machine washed. For most shoes, this label is found on the inside of the tongue or stitched onto the sole.
If you cannot locate the label or cannot find care instructions online, consider the type of shoe you're drying. Shoes made of cotton, canvas, nylon, or polyester are typically fine to dry in the dryer.
For the way to dry tennis shoes in the dryer, tie a knot using both sets of laces to tie the shoes together. Hold onto the laces outside the machine with your shoes inside, and close the dryer door, trapping the lace knot outside the dryer.
Run your dryer on the lowest drying setting; this allows your shoes to dry with little to no heat. Shoes can shrink in the heat of the dryer.
Allow your shoes to dry for twenty minutes before checking them. If your shoes are still wet, place them back in the dryer and continue to check on them in increments until dry.
How I Dry My Suede Shoes
Suede shoes differ from leather shoes in that the visible surface is the inside of the leather hide, made to have a velvet-like nap, which are the tiny leather fibers that give suede its signature texture.
With leather shoes, the outside of the hide is what we see on our shoes and is more durable than suede.
The key to drying suede shoes is to dry them while brushing the nap simultaneously to prevent the nap from becoming stiff or brittle.
Blot excess moisture off your shoes with a microfiber towel without rubbing the suede. Using a soft-bristle brush or soft bristle toothbrush, brush the nap back and forth.
Position a hairdryer nearby to apply heat as you continue to brush to aid in drying faster.
While drying with a hairdryer is generally frowned upon, waiting for suede to air dry is time-consuming and requires constant brushing to keep the nap from becoming stiff.
When you use the dryer to dry suede shoes, leave distance between the dryer and your shoes, making sure the surface does not get too hot in the process. Once completely dry, continue brushing the nap until it feels as soft and velvety as it did before it became wet.
What I Know About Drying Shoes in the Dryer
After washing your shoes or you clean slippers with fur, placing them in the dryer for a cycle might seem like the best option to dry wet shoes, but doing so without care can damage your dryer and shoes.
Not every type of shoe should be machine washed like animal-made fabrics. Do not place shoes made of leather or suede in the dryer as the extreme heat dries the material and causes it to crack.
Shoes with sequins or embellishments should also stay out of the dryer because they may fall off during the drying cycle.
If you can't hang your shoes by their laces inside the dryer, consider wrapping them in a towel or placing them in a laundry bag to cushion any banging inside the dryer.
Unless you are drying soaked shoes, use the dryer as little as possible as drying your shoes this way too often causes them to warp or shrink.
Regardless of how your shoes got wet, how you dry them is essential to ensuring your shoes last as long as possible, and you don't cause any unnecessary damage through careless drying.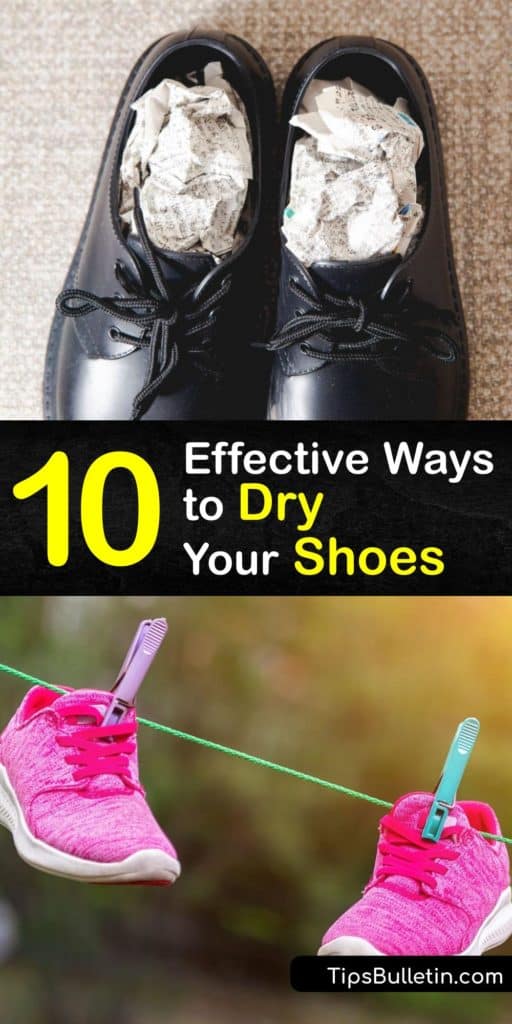 We hope you found tricks for how to dry shoes helpful and consider sharing our advice on drying shoes in the dryer on Facebook and Pinterest with your close friends.