If you ever find yourself in an odd situation where you could only grow a single crop, potatoes would be one of the best choices. We are so used to running to the grocery store and grabbing a five-pound bag of potatoes that we don't realize how easy it is to grow them at home. Learning how to grow potatoes is an intelligent choice for you and your family.
Growing potatoes at home allows you to have a constant supply of root vegetables rich in carbohydrates, proteins, and vitamins. Learning how to grow a potato plant is even better because new potatoes grow from the old ones. Start by cutting a small potato piece of the bud off the plant and watch it sprout.
Of course, growing a potato means you have to have a basic understanding of what you're doing to nurture them successfully. There are many methods for potato growing, and the route you choose is ultimately up to you and the resources available.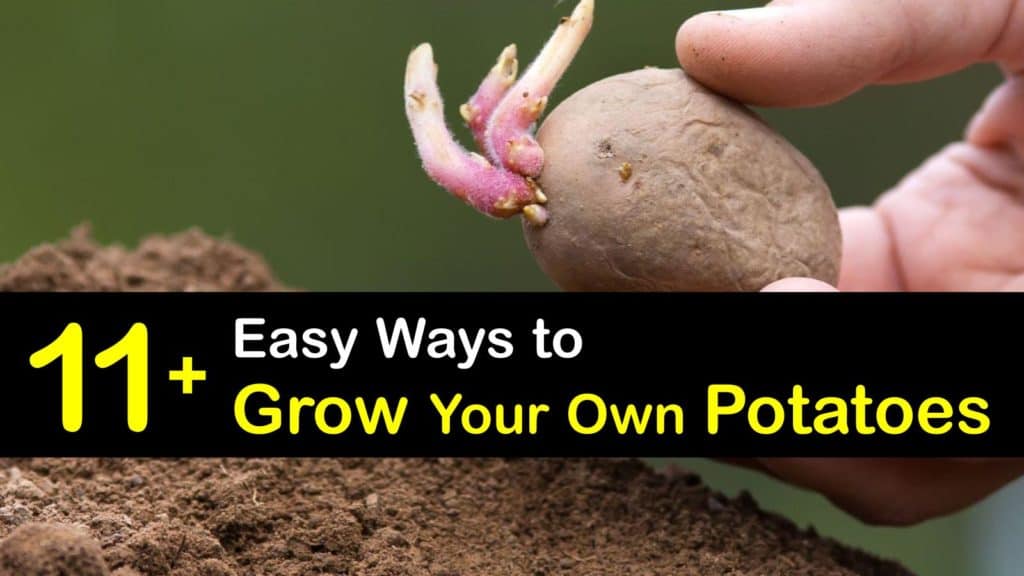 Choosing Potatoes to Grow
Before you plant potatoes during the potatoes growing season, consider the plant. Culinary uses are one of the most important. There are many different potato types that all have different amounts of starch and textures when you cook them.
Starchy potatoes are excellent for absorbing liquid and best for mashing or cutting into fries. Waxy potatoes have less starch and hold together better when they cook. This consistency makes them great for soups and stews.
Some of the most common potato varieties are Kennebec, russet, Yukon gold, fingerling, and sweet potatoes.
Consider how early you want to harvest your plants on top of the culinary uses for them. All types of potatoes do fine in the cool weather, and some crops are ready at the start of summer while others aren't ready to harvest until the end of the growing season.
Heirloom, disease-free seed potatoes are always a wise choice. Learning how to grow a potato plant is already tricky, and buying ones that have disease-resistance built in make the job more manageable.
How to Grow Potatoes
Finding the best way to grow potatoes is only challenging because there are so many options. Were do potatoes grow? Anywhere where there is deep enough soil, and you meet all their basic life requirements.
Seed potatoes grow from tubers. They are available at garden centers or can be produced from sprouting potatoes you already have at home. The way to sprout potatoes is easy and usually takes little to no effort at all. Growing potatoes from a potato is simple and inexpensive.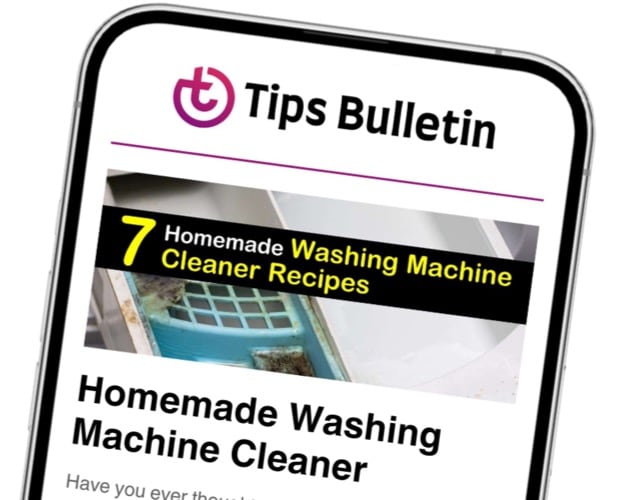 Finally, an email that Transforms Your Home.
Get the latest home and garden tips from our experts, delivered straight to your inbox.
Start growing potatoes in the early spring, about five weeks before the last frost date. They require 75 to 135 degrees Fahrenheit soil temperatures to reach the harvest date.
Growing potatoes requires an area with full sun, rich potting soil or loose soil enhanced with organic matter, and one to two inches of water every week.
Hilling Methods for Planting Potatoes
Most people want to start growing potatoes in their outdoor veggie garden. Start by digging shallow, straight trenches that are at least two feet apart. Place the potatoes 12 inches apart and cover them with three inches of soil. The planting depth of potatoes is important so they don't get scorched by the sun.
Once the shoots reach ten inches tall, use a shovel to scoop soil from between the rows and mound it against the bottom of the plants so that the stems are buried halfway. Repeat this process throughout the growing season to keep the tubers covered.
This method is the cheapest because there's nothing to buy or build, and the soil is already there. It is an inexpensive and proven technique that farmers and home gardeners have used for decades.
It's also ideal for large-scale planting as well. With that in mind, the quality of the soil is essential, and if it's not of great quality, it may limit your yield.
Growing Potatoes in Raised Beds
Because potatoes love well-draining soil, a raised garden bed is a perfect choice when learning how to grow potatoes. Fill the raised bed halfway with loose soil, and space your seed potatoes about a foot apart in each direction.
Cover them with three inches of the soil and immediately water them. As the spuds grow, gradually add more soil until it is full. Harvesting potatoes in a raised bed is possible by removing the side of the bed or gently lifting the dirt to uncover the tubers.
How to Grow a Potato Plant in Grow Bags
We know what you're thinking. Is it really possible to grow potatoes in a bag? Grow bags are specifically designed for the vegetable of your choice. If you don't want to buy grow bags, burlap bags or bags from other fabrics are also acceptable.
Add a few inches of rich soil amended with compost to the bottom of a clean bag. Plant three or four seed potatoes with the cut side facing down.
Cover the potatoes with three inches of soil and continue to add dirt until the bag is full. When ready to harvest, turn the bag over on its side and gently dump out the plants.
Growing Potatoes in Wooden Boxes
You might have some extra wood pallets or lumber laying around going to waste. Use your extra wood to build a simple wooden box to grow your potatoes.
Follow the instructions we described for learning how to grow potatoes in raised garden beds. Don't forget to add mulch or straw to the top of your plants to protect them and retain moisture in the potting soil.
How to Grow a Potato Plant in a Wire Cage
Don't be afraid to get creative when learning how to grow potatoes. Run down to the nearest store in your town and buy some quarter-inch mesh to create a round potato cage about 24 inches tall and 18 inches in diameter.
Add several inches of soil to the bottom of the cage. Plant three or four seed potatoes in the cylinder and cover them with a few more inches of soil.
Add more soil as the potato plant grows. To harvest the potatoes, lift the cylinder and use your hands to loosen the dirt to expose the potatoes.
Planting Potatoes in Straw Mulch
You've already learned that hilling soil around your potato plants protects them so they grow into large, mature potatoes. The same applies to straw mulch. Follow the guidelines outlined for planting potatoes in an outdoor bed.
Instead of covering them with soil, the way to grow potatoes in straw is to add three to four inches of seed-free straw around the base and watch them grow. By the end of the growing season, there will be about a 12-inch layer of straw.
Using Tires to Grow Potatoes
Gardening isn't always a one size fits all process and you don't always have to plant potatoes in pots. People find ways to get creative with the things lying around their house when they don't have the yard space to create a large garden bed.
Repurpose old tires by stacking them two or three high and filling them with dirt. Plant the spuds cut side down in the soil and cover them with three more inches of soil before watering them. Add more soil to the tire tower as the plants grow.
Growing Potatoes in Trash Cans
If you haven't figured it out by now, potatoes grow in many places. Old trash cans are ideal for repurposing old items and growing food. Trash cans are sturdy and deep and produce the best potatoes as long as you poke holes in the bottom to help the soil drain.
Five-Gallon Buckets
Almost all of us have buckets lying around that are taking up space and not being used. The way to grow potatoes in a bucket is just as easy as putting them in the ground.
Buckets are also great if you like the idea of moving your potato plants around so that they get the best warmth and sunlight during the growing season. The way to grow potatoes in pots includes drilling holes in the bottom and sides so your potatoes will thrive.
How to Grow Potatoes in Laundry Baskets
Don't have any of these items sitting around? One thing you probably have is an old laundry basket. Both plastic and natural material baskets work, and they are portable so that you can put your potatoes wherever you like throughout the day.
As always, drill holes in the bottom of the basket to ensure it drains well and keep the potatoes covered with soil, so the tubers are protected.
Potato Plant Problems
Growing potatoes is a rewarding process, but it becomes a bit trickier when you're dealing with pests and potato diseases. Colorado potato beetles are one pest to look out for and it's important to try to prevent potato bugs if you can before they get out of hand.
The adults are much smaller than a golf ball and target your potato plants to lay their eggs. Getting rid of potato bugs is important, as they can destroy your crop. The larvae can overwinter with your potatoes, so make sure to practice crop rotation. You may need to make a natural potato bug spray to eliminate an infestation.
Potato scab is one of the worst tuber diseases that may happen. Scab doesn't usually affect the total yields, but they create significant losses over time since they remain in the soil. Keep your eyes peeled for both of these issues while growing potatoes at home.
Grow some companion plants for potatoes, like basil and parsley to deter bugs and reduce the incidence of disease.
Cooking with Potatoes
Mashed potatoes are an all-time favorite potato dish. However, potatoes are one of the most versatile vegetables, and you shouldn't be afraid to get a little out of your comfort zone.
Try this new potato recipe that will melt in your mouth and become an instant people pleaser.
Place your oven racks in the middle or upper position and preheat your oven to 475°F. Spray a rimmed baking sheet with a few squirts nonstick cooking spray. Add the butter, rosemary, thyme, salt, and pepper to a small bowl.
Cut the potatoes into one-inch-thick slices and discard the ends. Toss the cut potatoes into the butter mixture and put them on the baking sheet. Roast the potatoes for 15 minutes before flipping them over and roasting them for another 15 minutes.
Remove the cooked potatoes from the oven, flip them over one more time, and add the broth and garlic to the baking sheet. Put the baking sheet back in the range and cook them for another 15 minutes until tender. Sprinkle the potatoes with parsley and serve.
Potatoes are incredibly versatile not only in what they can do in the kitchen but in how they can be grown around your property.
If you don't have the space for a traditional garden bed, try one of these methods that take up less space and allow you to move them around so that you can grow a large potato successfully.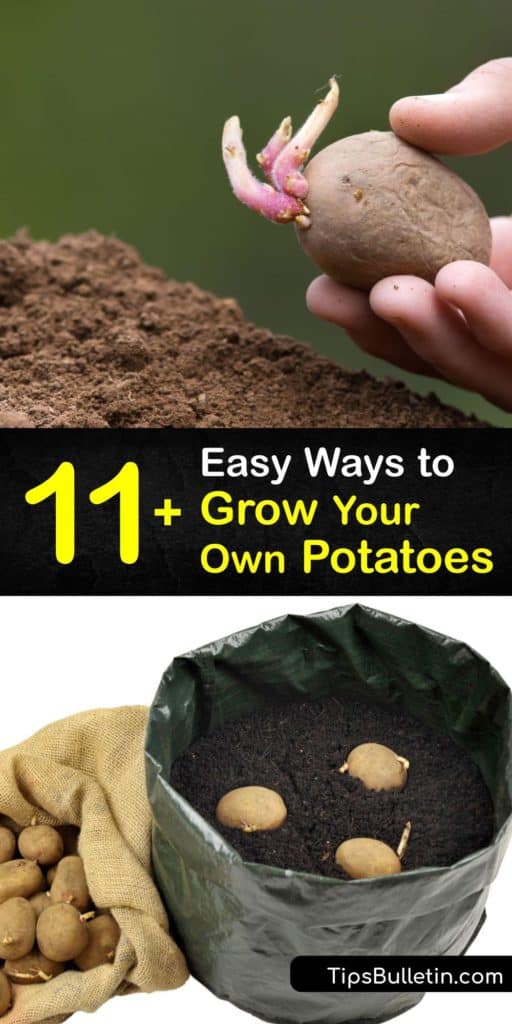 If learning how to grow potatoes in new ways has helped you become a better container gardener, share these tips on how to grow a potato plant on Facebook and Pinterest.