Cauliflower is a cool-weather garden vegetable that's highly nutritious and absolutely delicious. It has a reputation for being tricky to grow, but that's primarily due to the plants' sensitivity to temperature changes. Read on to learn essential tips for how to plant cauliflower and successfully grow your best crop yet.
When it comes to planting cauliflower, all that's required is an area that gets full sun and has rich, moist soil. Cauliflower grows best when the temperatures are between 50-70℉. As such, it's best to cultivate it as a spring and fall crop. Heat stress often leads to buttoning, where the plant forms small button-sized heads rather than a large, singular floret.
Compared to other cole crops, the cauliflower growing season is relatively long. Depending on the variety, cauliflower plants take between 50-100 days to reach maturity.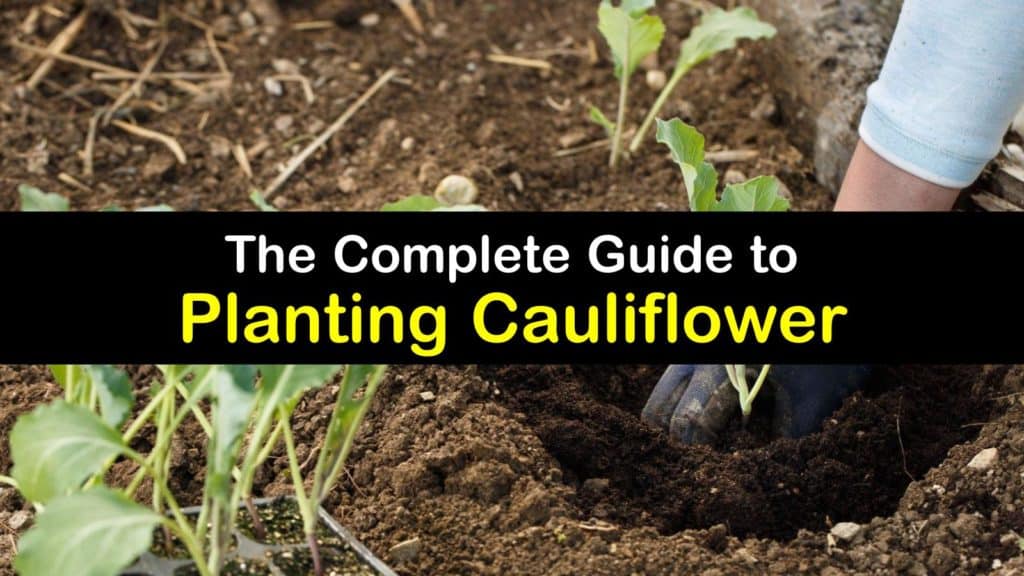 Terrific Tricks for Planting Cauliflower
Some gardeners prefer to get a head start by planting cauliflower seeds indoors in late winter or early spring for slow-growing cultivars. Cauliflower, or Brassica oleracea var. botrytis, is a member of the extensive cabbage family. It's related to broccoli, Brussels sprouts, cabbage, a collard green plant, kale, kohlrabi, turnips, and radishes.
The name cauliflower originates from the Latin words caulis or cabbage and floris, meaning flower. It's thought to be a descendant of wild cabbage originating in Asia.
Like when planting broccoli and other Brassica plants, cauliflower needs cool weather to form that classic, rounded cauliflower head with which we're familiar. Unlike broccoli, which produces several florets, cauliflower typically develops just one central head. It makes a decent substitute for broccoli and tastes delicious in its own right.
Although cauliflower's main attraction is its large, edible flower head, the leaves and stem are also tasty and tremendously nutritious. Cauliflower is an excellent source of antioxidants, fiber, and vitamins B, C, and K.
Adding cauliflower to your diet can improve your digestive health, reduce inflammation, protect against chronic diseases, and even help weight loss.
The beta-carotene in orange cauliflower makes it rich in vitamin A, which boosts the immune system and supports eye health. The purple color comes from anthocyanins, which improve heart health, lower blood pressure, and decrease the risk of diabetes.
Some white cauliflower varieties require blanching before harvest. Green, orange, and purple cultivars are usually self-blanching. Here are several of our favorite types of cauliflower for home gardens.
How to Plant Cauliflower from Seed
The best way to plant cauliflower is by direct-seeding. For a spring crop, grow cauliflower from seed by sowing seeds four or five weeks before your average last frost date. Plant seeds for a fall harvest six to eight weeks before the first autumn frost and once the temperatures are consistently below 75℉.
A week or two before planting cauliflower, cover your garden bed with a thick layer of organic compost, dark-colored mulch, or a sheet of black plastic to warm the soil.
Cauliflower seeds germinate at temperatures as low as 40℉, but it takes much longer. The ideal temperature for germinating cauliflower seeds is between 65-75℉. On average, the seedlings emerge in eight to ten days. The bok choy growing season is similar.
Since cauliflower has a somewhat long growing season, some gardeners prefer to get a head start in the spring by planting cauliflower seeds indoors or purchasing nursery-grown seedlings, similar to when you grow broccoli from stem and small plants.
Transplant seedlings outdoors two to four weeks before the last spring frost and protect them from below-freezing temperatures with a cold frame, row covers, old blankets, or plastic milk jugs with the tops cut off. Cold stress also triggers buttoning.
How Far Apart to Plant Cauliflower
You may be wondering how far apart to plant cauliflower. For best results, the way to grow cauliflower is to plant seeds about three to six inches apart initially. Once the seedlings reach three or four inches tall, thin out all but the most vigorous plants.
After thinning, or if you're transplanting seedlings, cauliflower plant spacing should be 18-24 inches depending on the cultivar. Read the plant label or seed packet for variety-specific recommendations. Leave about 30 inches between rows.
Ideal Growing Conditions for Cauliflower
Cauliflower plants thrive when grown in nutrient-rich soil that's consistently moist but also well-draining and not soggy. It's helpful to mix a generous amount of organic matter like compost or well-rotted manure with your garden soil several weeks before planting.
Although they tolerate partial shade, cauliflower plants grow best in full sun with at least six hours of direct sunlight each day. Also, cauliflower needs consistently moist soil – give your cauliflower plants about two inches of water per week.
Cauliflower plants are heavy feeders and benefit from regular fertilization. When transplanting seedlings, add a tablespoon of organic, all-purpose fertilizer to the bottom of the hole.
Fertilize the developing plants every four to six weeks according to the instructions listed on the product label.
Blanching Cauliflower
Some types of cauliflower require blanching to form a dense, white head. However, the colorful cultivars and certain white cauliflower varieties are self-blanching.
When the plant forms a loose head, or curd, that's two or three inches wide, it's time to blanch. Gather the outer leaves around the head and tie them together with a rubber band or twine. The curd should be ready to harvest after seven to 12 days.
Harvesting and Storing Cauliflower
Cauliflower is ready to harvest when the head is firm, dense, and about six to eight inches wide. The best way to harvest cauliflower is to use a sterile, sharp knife to cut the main stem a few inches below the head. Be sure to keep a few of the outer leaves intact to protect it.
If your cauliflower curds are still undersized but begin opening, it's best to harvest them right away. Otherwise, they'll start flowering.
Store fresh cauliflower in a perforated plastic bag in the crisper drawer of your refrigerator for up to one week.
For more extended storage, freeze or pickle the curds. It's best to blanch cauliflower in boiling water before freezing it. Use frozen cauliflower within eight months.
Solutions for Common Pest and Disease Problems
Another reason cauliflower has a reputation for being difficult to grow is that it's susceptible to a few cauliflower bugs and disease issues. However, problems with growing cauliflower are generally easy to manage.
The most effective defense against attacks from insects and pathogens is keeping your plants healthy by providing the proper amounts of light, nutrients, and water. Practice companion planting and learn what to grow with cauliflower to deter bugs.
Some of the most common insects that feed on cauliflower include aphids, cabbage loopers, cabbage worms, flea beetles, and thrips.
If you're transplanting nursery-grown seedlings, always inspect the plants so you don't bring home imported cabbage worms or other pests.
Cover tender young plants with row covers to prevent insects from laying eggs on them. If you notice an insect infestation, immediately spray all plant parts with an organic insecticide like neem oil or insecticidal soap.
Cauliflower plants are prone to diseases like blackleg, black rot, and clubroot. Blackleg and black rot are bacterial infections that occur in especially wet weather conditions. Blackleg appears as black, slimy decay around the base of the stem.
Plants suffering from black rot exhibit blackening leaf veins followed by light-colored, wet rotting patches. Clubroot, caused by soil-borne fungi, results in stunted growth and a small, misshapen root.
Unfortunately, there are no effective remedies for these conditions. Ensure that you purchase certified disease-free seeds and plants and practice crop rotation to prevent pathogens from accumulating in your garden soil.
Cauliflower isn't the easiest crop to grow in your home vegetable garden. Still, the delicious and nutritious results are well worth the effort. Use these simple gardening tricks to produce an outstanding crop of cauliflower in the spring and fall.
A few important considerations are how far apart to plant cauliflower, maintaining consistent soil moisture levels, and getting your planting time right for optimal temperatures.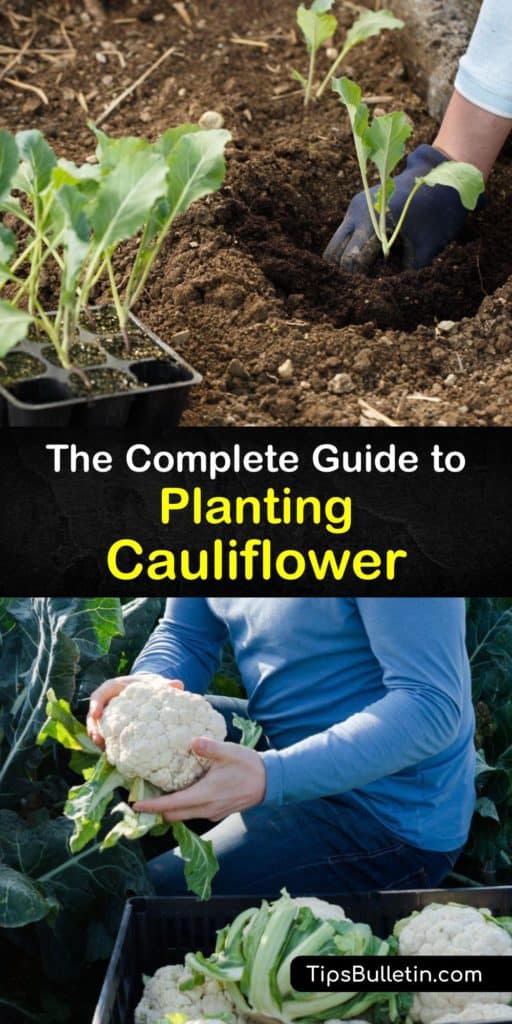 If you enjoyed learning about planting cauliflower, please share this article about how to plant cauliflower with your fellow gardening enthusiasts on Facebook and Pinterest.