One of the healthiest vegetables available at the grocery store or farmers market is Brussels sprouts. Not only are Brussels sprouts incredibly nutritious, but they are also a tasty side dish for a variety of main courses. Learning how to store Brussels sprouts is essential to extend the shelf life as long as possible.
One of the convenient things about keeping Brusselss sprouts is storing them in the refrigerator or freezer. So, if you have Brussels sprouts that will not be eaten right away, placing them in the freezer is an option.
Although keeping Brussels sprouts fresh is simple, you must use the proper storage techniques. Like other veggies in your refrigerator, Brussels sprouts are perishable and have a shorter shelf life than prepackaged foods.
To keep your Brussels sprouts crisp and full of flavor for the longest time, using airtight containers and freezer bags provide the best way to store Brussels sprouts. These easy-to-find tools are an inexpensive way to keep your Brussels sprouts fresh.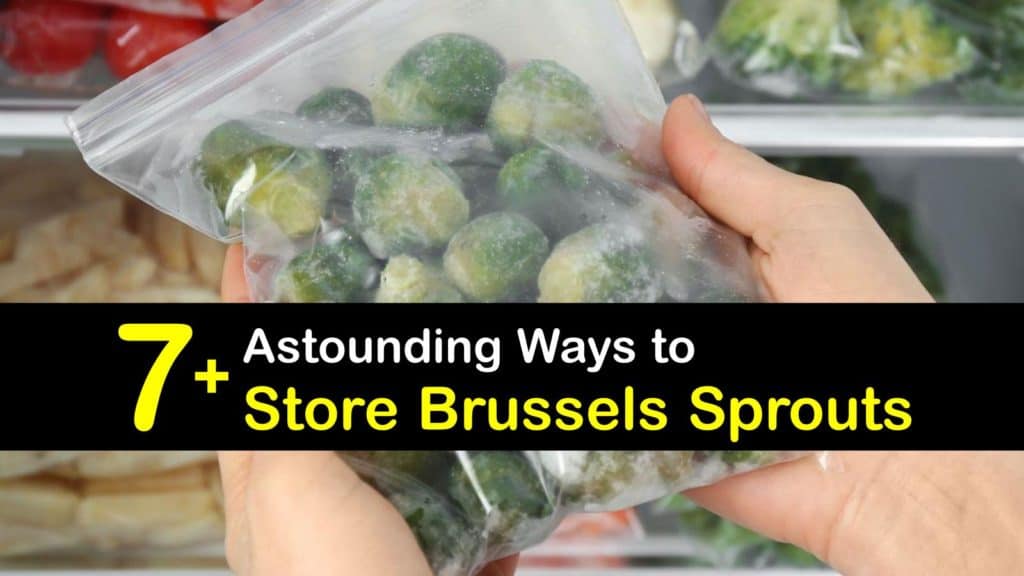 What is the Best Way to Preserve Brussels Sprouts?
Whether you are growing Brussel sprouts from seed yourself or buying them at the grocery store, you need to know how to keep them fresh. It's easy to learn the best way to plant Brussel sprouts so you may want to try it this year so you always have the freshest produce.
Storing Brussels sprouts relies on your personal preference and situation after growing Brussel sprouts or purchasing them. If you use Brussels sprouts in a Brussels sprouts gratin or have roasted the veggie, keeping them refrigerated is the best option.
Freezing Brussels sprouts that have already been used in a recipe does not preserve the flavor very well. However, if you have many extra unwashed Brussels sprouts that you do not plan on eating within the next few weeks, freezing them is ideal.
Freezing Brussels sprouts keeps them fresh and locks in the full flavor for a much longer time than the refrigerator.
Blanching and Storing Brussels Sprouts
Before you store fresh Brussels sprouts, whether you are freezing or canning Brussels sprouts, you have to blanch the veggie after harvesting Brussel sprouts or buying them from the store. Blanching is an easy process that preserves Brussels sprouts' flavor while they are kept in storage.
When you blanch Brussels sprouts or any veggie, the rate that the food loses enzymes slows.
Fill a pot with water and turn your stove on its medium-high heat level. Once the water starts boiling, toss your Brussels sprouts in and let them cook in boiling water for about eight minutes.
Transfer the Brussels sprouts to a bowl of ice water immediately, which preserves the flavor and color of the sprouts. After the Brussels sprouts sit in the cold water for five minutes, drain the water. Now, you are ready to store-Brussels-sprouts.
How to Store Brussels Sprouts in the Freezer
After you learn when to plant Brussels sprouts at home or even if you purchase them at the grocery store or market, you need to know what to do with all the veggies.
If you are wondering where to store Brusselss sprouts that you have leftover, freeze them. Freezing Brussels sprouts is an excellent way to keep these tasty veggies crisp and ready to eat for several months.
Another significant aspect of freezing Brussels sprouts or when you freeze and store broccoli is that you do not have to waste or throw away any leftovers. Storing Brusselss sprouts in the freezer is simple and does not take a lot of time.
After spreading a sheet of parchment paper over a baking sheet, place your Brussels sprouts on the sheet. Make sure the Brussels sprouts do not touch one another, or they freeze together. Set the baking sheet in your freezer and wait until the sprouts freeze.
Transfer the Brussels sprouts into large freezer bags, squeezing out the excess air before sealing them shut. Place the plastic bag in the freezer to keep Brussels sprouts fresh for up to 16 months.
This process is the best way to freeze vegetables of most types and couldn't be any easier.
The Best Way to Store Brussels Sprouts Fresh in the Fridge
Brussels sprouts kept in the fridge's crisper drawer taste fresh when eaten within three to four days. A crisper drawer provides more airflow and cooler temperatures than the shelves in the fridge.
The cold temperatures keep the Brussels sprouts crunchy and ready to eat. Storing Brusselss sprouts in your fridge takes almost no time. To refrigerate your leftover Brussels sprouts, place them in an airtight container or a resealable plastic bag.
When using an airtight container, make sure the lid is sealed. Unsealed airtight containers let in small amounts of air and lead to quicker spoilage. If you use a plastic bag, squeeze out as much excess air as possible before placing the bag in the crisper drawer.
How to Use Airtight Containers to Store Brussels Sprouts
Whether you want to store Brussels sprouts in the freezer or refrigerator, using airtight containers is the best way to store Brussels sprouts or to store cauliflower florets. An airtight container keeps Brussels sprouts fresh longer than plastic bags.
More oxygen makes its way into plastic bags. The container locks out excess air and keeps bacteria from entering and speeding up the spoilage rate.
Another advantage of using airtight containers is that they come in a wide array of sizes. Portion your Brussels sprouts into the right size airtight container for the amount of Brussels sprouts.
Place the container in the fridge or the freezer, making sure the lid is completely sealed so your Brussels sprouts remain crisp and full of flavor.
Thawing Frozen Brussels Sprouts the Right Way
After freezing Brussels sprouts, use a suitable thawing method so your Brussels sprouts do not lose flavor or get soggy. When it comes to thawing frozen Brussels sprouts, there are two options.
One way to soften Brussels sprouts is to set them on the counter at room temperature. The disadvantage to this thawing process is that the Brussels sprouts may be a little soggy.
Another way to thaw your Brussels sprouts is to set the container or plastic bag in the fridge. Usually, the Brussels sprouts take about a day or two to thaw in the refrigerator.
Although this process takes longer than the room temperature method, it preserves more of the Brussels sprouts' taste. Learning how to store Brussels sprouts is as important as understanding how to thaw them.
Identifying When Brussels Sprouts are Spoiled
It's important to learn to identify when your Brussels sprouts are spoiled. Consuming any food that has reached its expiration date increases your chances of contracting a foodborne illness.
Although most foodborne illnesses are minor, some can be fatal. There are many side effects of food poisoning.
If the outer leaves of your Brussels sprouts are yellowing, it is an indicator that they are spoiled. As the Brussels sprouts age, the outer leaves die, wither, and yellow.
Other ways to tell if your Brussels sprouts are spoiled include a foul smell and mold growth. Leafy green veggies are especially prone to salmonella or E. coli because of the short shelf life, so you must be able to tell if they are fresh or spoiled.
The Numerous Health Benefits of Brussels Sprouts
Storing Brusselss sprouts with the proper methods ensures all the nutrients remain in the veggie. If you are looking to include more leafy green vegetables in your diet, consider adding Brussels sprouts to your meals.
Brussels sprouts are incredibly nutritious and offer many vitamins and antioxidants. Antioxidants promote tissue repair and higher immune function.
Vitamin K lowers the chances of blood clots while promoting stronger bone health. Brussels sprouts are also low in calories and help burn stubborn fat.
No matter what cooking process you use for the loose sprouts in your fridge, it is guaranteed they will be packed with nutrients that promote a healthy diet.
How to Use Extra Brussels Sprouts
There are many ways to use veggies in recipes, including a healthy version of hot chocolate.
Brussels sprouts can be incorporated into a slaw, seasoned with balsamic dressing to add a nutty flavor, and roasted. Roasted Brussels sprouts are a wonderful addition to a healthy dinner.
As you preheat the oven the 425℉, line a baking sheet with parchment paper, which prevents your Brussels sprouts from sticking to the pan. Cut each of your Brussels sprouts in half with a sharp knife.
Spread the Brussels sprouts over the pan and drizzle a little olive oil on the top. Roast your sprouts for 20 minutes before tossing them in a bowl with lemon juice, Parmesan, and thyme leaves.
Garnish the roasted Brussels sprouts with red pepper flakes. After the Brussels sprouts cool, they are ready to serve.
The most dependable way to store Brussels sprouts is with airtight containers whether you freeze Brussels sprouts or preserve them in another fashion. Freezing Brussels sprouts allows you to keep the veggies fresh for over a year without losing the taste.
When storing Brussels sprouts in the fridge, make sure to place them in the crisper drawer for much-needed airflow and cooler temperatures.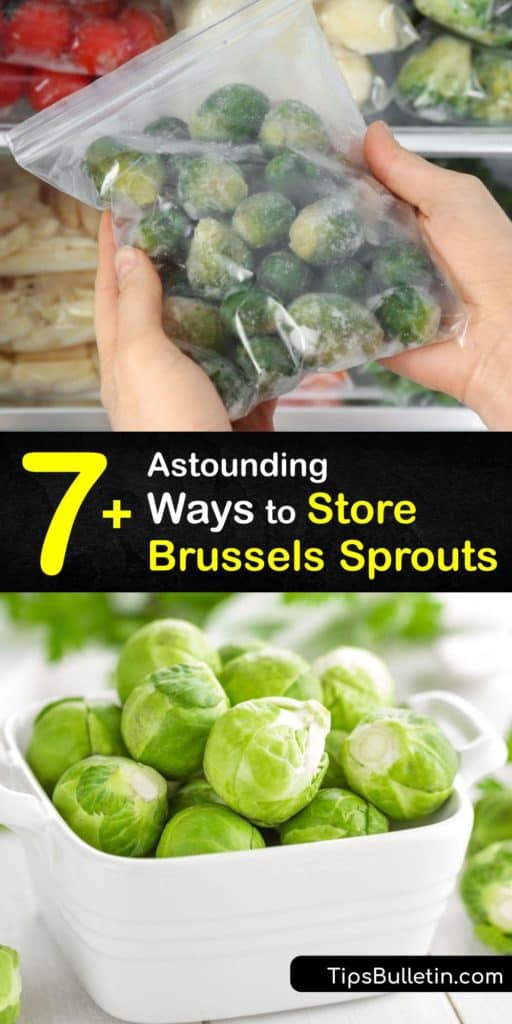 If you discovered how to store Brussels sprouts, share this article about storing Brusselss sprouts with your family and best friends on Pinterest or Facebook.