Beets are a delicious way to provide health benefits and nutrients without tacking on a ton of calories. But with a shelf life of only about two weeks, you want to know how to make the most of these highly nutritious root vegetables. Understanding how to preserve beets the right way not only increases the longevity of these yummy veggies, but it will also give you more flexibility with how you want to use them.
Not only are fresh beets rich in fiber and vitamin C, but they are also a powerful way to lower blood pressure, soothe sore muscles, and improve athletic performance.
Noted for their earthy taste and flavor, all parts of the beet are usable. Even the beet greens are the perfect addition to any side dish, whether as a beet salad or sauteed with olive oil.
Preserving beets is relatively simple and comes in a variety of methods to suit your personal preference, capabilities, and time frame. Whether you want to store beets long term or short term, we've got the best way to preserve beets right here.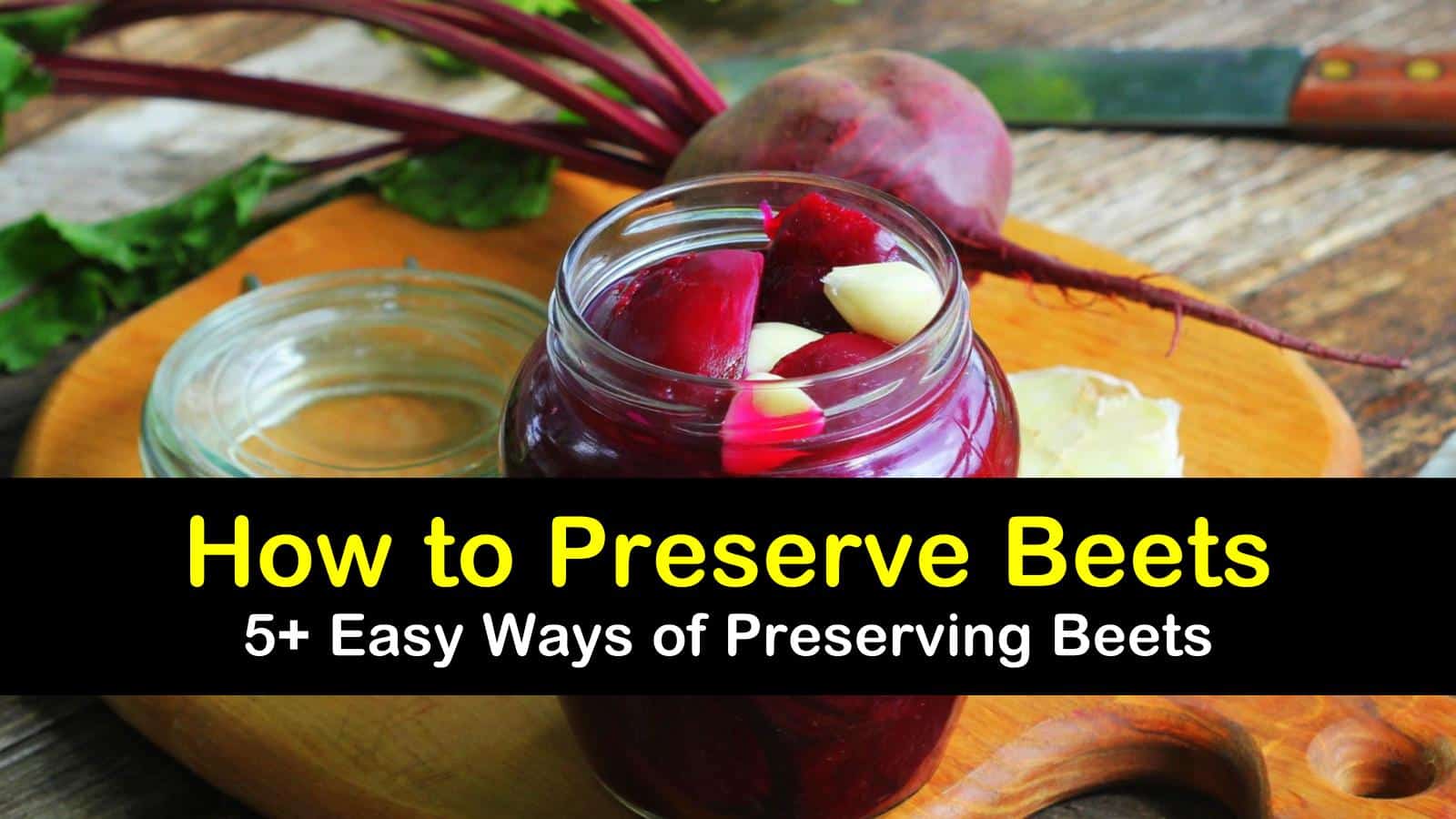 Preserving Beets with Ease
There are a variety of preservation methods for fresh vegetables, from okra to tomatoes to beets. One tip to consider before beginning the preservation process is to select and sort your beets according to size.
What is a beet? This root veggie is not the most popular but can be delicious prepared in a variety of ways.
If you've grown them yourself, first learn about what month do you plant beets, how to take care of them, and the process for harvesting beets. After mastering the basics, you are ready to explore the best ways to store them. Separate them into small beets, medium beets, and large beets.
If you buy them from the store, you have much more flexibility when it comes to selecting similar sizes. Doing this makes storing them much faster and simpler.
Preparing and Choosing the Right Beets
When it comes to preserving beets, your journey starts with choosing the best ones to store. The same principle applies to all fruits and vegetables, including storing okra and plums.
Do you know how do beets grow? If growing these root veggies in your backyard, the best time of year to harvest beets is in late summer or early autumn, though beets sell year-round in grocery stores.
When selecting whole beets, choose ones with the beet tops still attached and about an inch or two of the root still on the beet. Select young beets that are firm, with no bruising, wilting, or browning leaves.
The preparation part changes depending on your storage method. For both avenues, start by using a vegetable brush to remove dirt, rather than washing them. If you do need to wash them for any reason, then dry them thoroughly before storing them.
With short term methods like storing them in or outside of the fridge, leave the skins on them. For longer-term processes, like freezing, pickling, and canning, cut the tap root and trim the leaves, allowing only about an inch of stem left attached to prevent any bleeding of color on purple and red beets when cooking.
Preserving Beets at Room Temperature
How long do beets last? It depends on your preferred method of storage. While storing beets outside of the refrigerator is possible, it's not optimal for keeping them for any length of time.
If you run out of storage in the fridge, however, the best way to store them at room temperature is by ensuring that the temperature is colder than normal.
Ideal places are cellars or basements, where the temperatures are significantly lower than the rest of the house. Otherwise, you can also pack beets into containers with insulating materials, such as moistened sand or sawdust.
The box should be slightly open, allowing for some air circulation to pass through the container. If stored at a cool enough temperature, beets stay fresh for approximately ten days. If not, they only last for a few days.
Refrigerating Raw Beets for Short-Term Storage
If you'll be using your beets within a couple of weeks or so, there are some other ways to preserve them. The best way to store beets on a short-term basis is by placing them in the fridge.
The first step requires checking that the beets are completely dry before being placed in the refrigerator. If they're not, dry them with a paper towel.
If storing the greens, wrap these in paper towels before placing them in a Ziploc bag.Once you've dried the beets, place them in a sealable bag.
Remove all of the excess air from inside the bag, then put them in the crisper drawer in your fridge. This method allows you to store them for anywhere between two and three weeks. They're readily available for use. Just open the drawer and there they are!
Freezing: Best Way to Preserve Beets
The best way to preserve beets long term is by freezing them. It's also the best way to preserve fresh ginger if you find yourself with more than you can use at once. Not only is freezing more straightforward than pickling and canning, it still allows you to keep your beets and other produce for an incredibly long time, up to ten months.
When freezing beets, cook them first to retain their flavor and nutrients. There's no need to cook ginger before freezing.
To blanch your beets, remove the remaining leaves and place them in boiling water for about 30 minutes. Larger beets require a longer cooking time of at least 45 minutes. After the beets cook, remove them from the boiling water and place them in a bowl of icy, cold water.
Allow the beets to cool completely before taking them out of the water. Remove skins with a vegetable peeler and cut off the remaining beetroot and stems. Next, freeze beets by placing them on a cooking sheet and leaving them in the cold for several hours.
Once frozen, place beets in freezer containers or bags and seal out all the air. Labels the freezer bags or bins with the date so you know when they expire.
Pickling Beets as Food Preservation
Pickling is a popular way of preserving squash and other veggies like beets. If you like beets plain, then you more than likely love them when they're pickled, too.
Pickling beets is similar to freezing them, meaning you also need to blanch them before you start. There are many different beet canning recipes you can use, including alternating between white and cider vinegar, but the one here is one of our favorites.
Making pickled beets starts with slicing the beets into long, slender spears like pickles. Quarter the cloves of garlic and slice up the red onions. Next, bring all of the ingredients except for the beets to a boil in a large saucepan.
Place the cooked beets into pints jars with a ladle and fill them up with the hot vinegar mixture, leaving only about a one-half inch of headspace. Let them pickle for at least four hours before taste-testing them.
Use the pickled beets as an accompaniment to virtually any meal. Pickling is one of the best ways to preserve cabbage and many other veggies. It provides a little extra zip to an otherwise sometimes-bland food. They add some unusual but welcome zing and variety to lunch and dinner menus.
Preserve Beets by Canning
Another incredible way to preserve beets is by using canning them. One thing to keep in mind is that canning beets in hot water bath is not possible. Since beets have a low acidic level, you cannot use a water bath canner.
Instead, foods with similar acidic levels require canning in a pressure cooker or canner. When canning beets, they also need to be cooked ahead of time with the skins removed afterward. For a delicious and sweet canning recipe, follow the directions below.
Boil all of the ingredients except for the beets in a saucepan until all the sugar dissolves. Next, pack your jars with the beets, leaving one inch of headspace.
Fill the jars with the canning liquid, remove any air bubbles, then wipe the jar rims clean. Process them in a pressure canner for approximately ten minutes, then let them cool before storing.
Remember that the best way to preserve beets depends on when you plan on using the beets and the equipment you have on hand. If you don't have a canner but want long-term storage, stick to a more straightforward method like freezing.
Likewise, don't make accessing your beets difficult by freezing them when you plan on using them in a couple of days. Whatever method you choose, these easy tips will help you do it!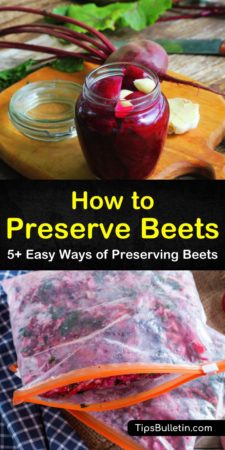 Hopefully, you found this tutorial on the many options for preserving beets useful. If you enjoyed our beet storage methods, please remember to share how to preserve beets with all of your friends and family on Facebook and Pinterest.