Cheese is one of the most popular perishable foods for welcoming guests into your home. You serve fresh cheeses on crackers and cream cheese dip for veggies, and these cheeses often sit out on display for hours. So, how long can cheese sit out before it is no longer safe to eat?
It's a good idea to bring these cheeses to room temperature to help loosen the fat and enhance the natural flavor and texture. But, this is a balancing act since cheese that sits out too long begins to sweat or look crusty and crumbly.
Cheese is amazing and one of the most versatile foods. It tastes delicious spread on a bagel, topped on pizza, or eaten cold with crackers. But, how long can cheese be left out of the fridge?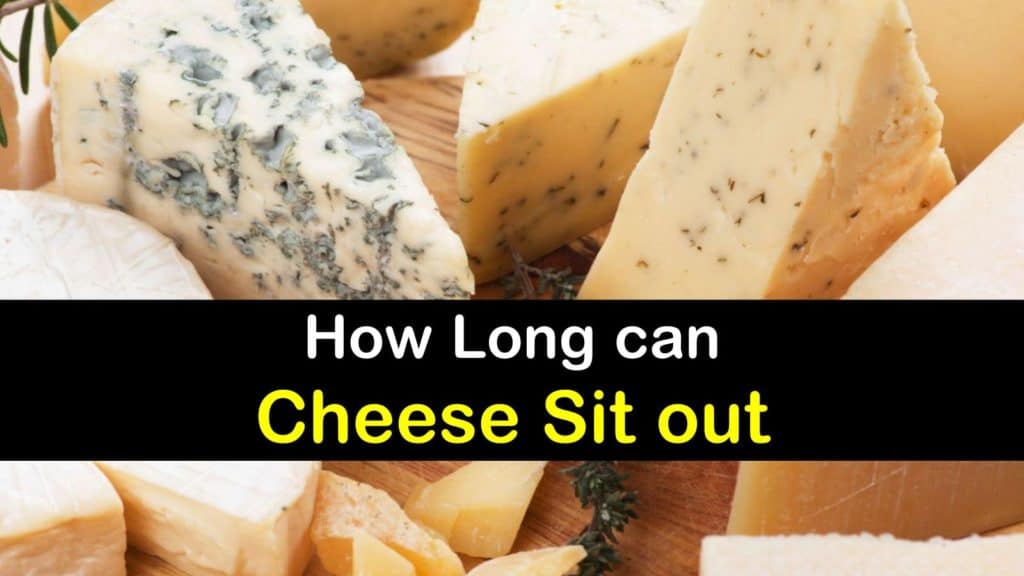 Cheese Types and Ways to Store Them
Generally, it's only safe to let cheese sit out for a few hours, but some cheese lasts longer than others. How long can milk stay out?
How long can you leave cheese out at room temp? The answer depends on the cheese type. Does Parmesan cheese go bad? What about goat cheese and Asiago?
There are so many different varieties of cheeses, from store cheese to deli cheese and soft cheese to hard cheese, and they all have varying levels of moisture content that affect how long they stay fresh.
We explain the different cheeses and how long they last inside and outside the fridge.
How Long can You Leave Cheese Out on the Counter?
While leaving your cheese sitting on the kitchen counter is not common practice, unless you forget to put it away after grocery shopping, there are times when it's necessary to keep it at room temperature.
How long can you leave cheese out on the table or countertop? How long can Brie sit out? What about other cheeses?
While many kinds of cheese taste better when you serve them at room temperature, they can't sit out indefinitely. The general rule of thumb for how long cheese is safe to let sit out is about four hours. At this point, it's best to store it in the fridge.
After the cheese sits out for a safe amount of time, it's time for refrigeration. Do not wrap hard cheese in plastic wrap, which prevents it from breathing. Instead, wrap it in cheese paper or parchment paper and place it in an open plastic bag.
How long does fresh mozzarella last in the fridge? It's safe to wrap soft cheese in either plastic wrap or paper. If the cheese is very soft, store it in a container in its natural liquid so it lasts until the expiration date or a little after.
Place all types of cheese in the crisper drawer of your fridge, where the temperature is between 35 and 45 degrees Fahrenheit.
A block of hard cheese lasts up to six months, while shredded cheese only lasts three to four weeks. Soft cheese lasts about one week. How long can cream cheese stay out? Cream cheese stays fresh for up to two weeks in the fridge but should be left out of the fridge no longer than a couple of hours.
How Long can Cheese be Left out if It's Hard or Soft Cheese?
You've prepared a buffet full of everything from cold deli meats, chips, and crackers to olives, pickles, and cheeses with the idea of munching on the goodies throughout the afternoon.
But, how long can cheese be left out? The answer varies, depending on whether the cheese is soft, hard, or aged.
Some cheeses, such as aged cheeses, are low in lactose, including cheddar, Parmesan, and Swiss.
These are also medium moisture cheeses and do not require refrigeration for safety, as long as they are still packaged or encased in the rind. However, they do last longer if you store them in the fridge.
We don't advise leaving any other cheeses out at room temperature for longer than four hours. How long is cottage cheese good for when sitting out? High moisture cheeses, such as ricotta, bleu cheese, and cottage cheese spoil fastest when sitting on the counter.
Soft cheeses, like camembert and brie, last a little longer. Romano, provolone, and other hard cheeses last the longest.
How Long can Cheese Sit out and When is it Bad?
Long after your guests have left, you realize that you still have a spread of leftover food items to put away, including a variety of cheeses. How long is brie good for?
How long can cheese stay out, and how can you tell if it's gone bad? How long is Swiss cheese good for?
Bad Cheese
It's always a good idea to package your cheese and place it back into the fridge before it hits the four-hour mark and begins sprouting bacterial growth.
What if it sits out too long, or you forgot how long it's been in the refrigerator? The easiest way to tell when cheese is gone bad is to use your senses.
While we often consider moldy food a clue that it's spoiled, this isn't the case with some cheeses. If you spot mold on hard cheese, simply slice the nasty piece off and keep the rest.
However, this isn't advisable if you notice mold growth on unripe cheese, such as cottage cheese or cream cheese.
If you are familiar with the varying cheese smells, using the sniff test is another way to tell when Parmesan cheese is gone bad, if it is still edible or ready for the trash.
If it smells like sour milk, it is time to get rid of it. However, this test is tricky if you are unaccustomed to the different types of stinky cheeses.
The Perfect Cheese for Serving at Room Temp
While some cheeses are suitable for sitting at room temperature longer than others, the idea of having a large wheel of Parmesan or a dish of ricotta cheese dip spoil and go to waste is enough to make you reconsider plating cheese at the next gathering.
However, don't give up on the notion of serving cheese while entertaining friends. Instead, consider preparing cheese fondue as a centerpiece.
Use the garlic halves to rub the inside of the cheese fondue pot and then toss them out. Mix the cheeses, wine, cornstarch, and lemon juice in the pot and cook over medium heat while stirring frequently.
Once the cheese begins melting, add the kirsch and a pinch of ground pepper and nutmeg after about five minutes. Continue cooking and stirring for ten minutes until it is creamy and smooth.
Serve the cheese fondue immediately. If you aren't sure what to dip in the cheese, consider crusty bread, broccoli, cauliflower, bell peppers, roasted potatoes, apples, pears, meatballs, Brussels sprouts, and cured meats.
Don't forget to set out enough small plates and skewers for everyone to enjoy.
Can You Freeze Leftover Cheese?
While we are on the subject of how long different cheeses can sit out of the fridge and which types store longer than others, what about freezing cheese? While not all cheeses are suitable for freezing, some of them hold up to the process better than others.
Hard and semi-hard cheeses are safe to freeze but become crumbly afterward. These include brick, cheddar, bleu, and Swiss cheese, and if you plan on freezing them, they are best to use in cooked dishes.
The worst cheese to freeze is Parmesan, Romano, ricotta, and cottage cheese. However, semi-soft cheeses, such as mozzarella and goat cheese, are great candidates for freezing.
The way to freeze cheese that is whole is in its original packing or wrap it in aluminum foil. To freeze slices, separate them with parchment paper and place them in a freezer bag or airtight storage container.
If you prefer to freeze grated cheese, put it in a freezer safe container with an airtight lid. Set the cheese in the freezer and use it within nine months for optimal flavor.
To thaw frozen cheese, remove it from the freezer and store it in the fridge. It takes seven to eight hours per pound of cheese to defrost, so the right idea is to freeze smaller amounts of cheese for a quicker thawing time.
Cheese is a decadent and versatile food, whether you enjoy popping a cheese curd or two in your mouth as a snack or eating some cottage cheese with fruit.
Refrigeration is best for storing cheese, but this isn't always possible if you're having a family get-together. Fortunately, most cheese types are safe to keep at room temperature for short periods, and some of them are perfect for freezing.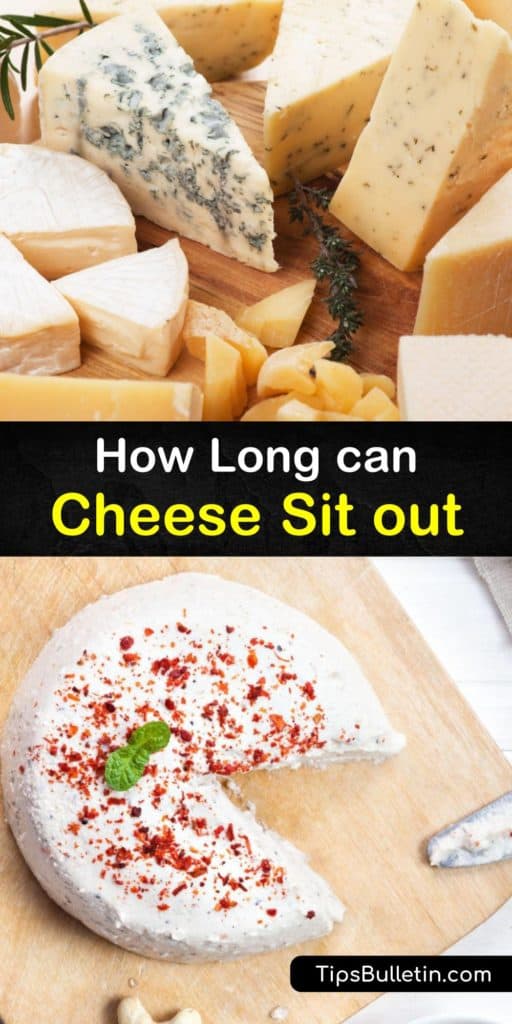 How long can cheese sit out is a common question, and knowing the answer is the difference between enjoying a spread of delicious cheeses and a food safety hazard, so why not share our cheese guide with your family and friends on Pinterest and Facebook?