Bathroom cleaning can be one of the most annoying chores on your to-do list. I know on my list of tasks, cleaning the bathroom always gets pushed further and further back. Sometimes the sheer amount of cleaning products marketed for bathrooms can be overwhelming.
Luckily, vinegar offers the cleaning solution for your bathroom that you need. Time and again, we learn that vinegar, that common household item, is one of the best ingredients for cleaning almost your entire house. It should come as no surprise to learn that cleaning bathroom with vinegar is a sure-fire way to get your bathroom sparkling like new.
When using vinegar to clean bathroom, you can clean multiple surfaces, break up soap scum, and feel comfortable with this natural solution. Using distilled vinegar is beneficial because of the acidic content. It can be used on all types of surfaces to leave a streak-free shine.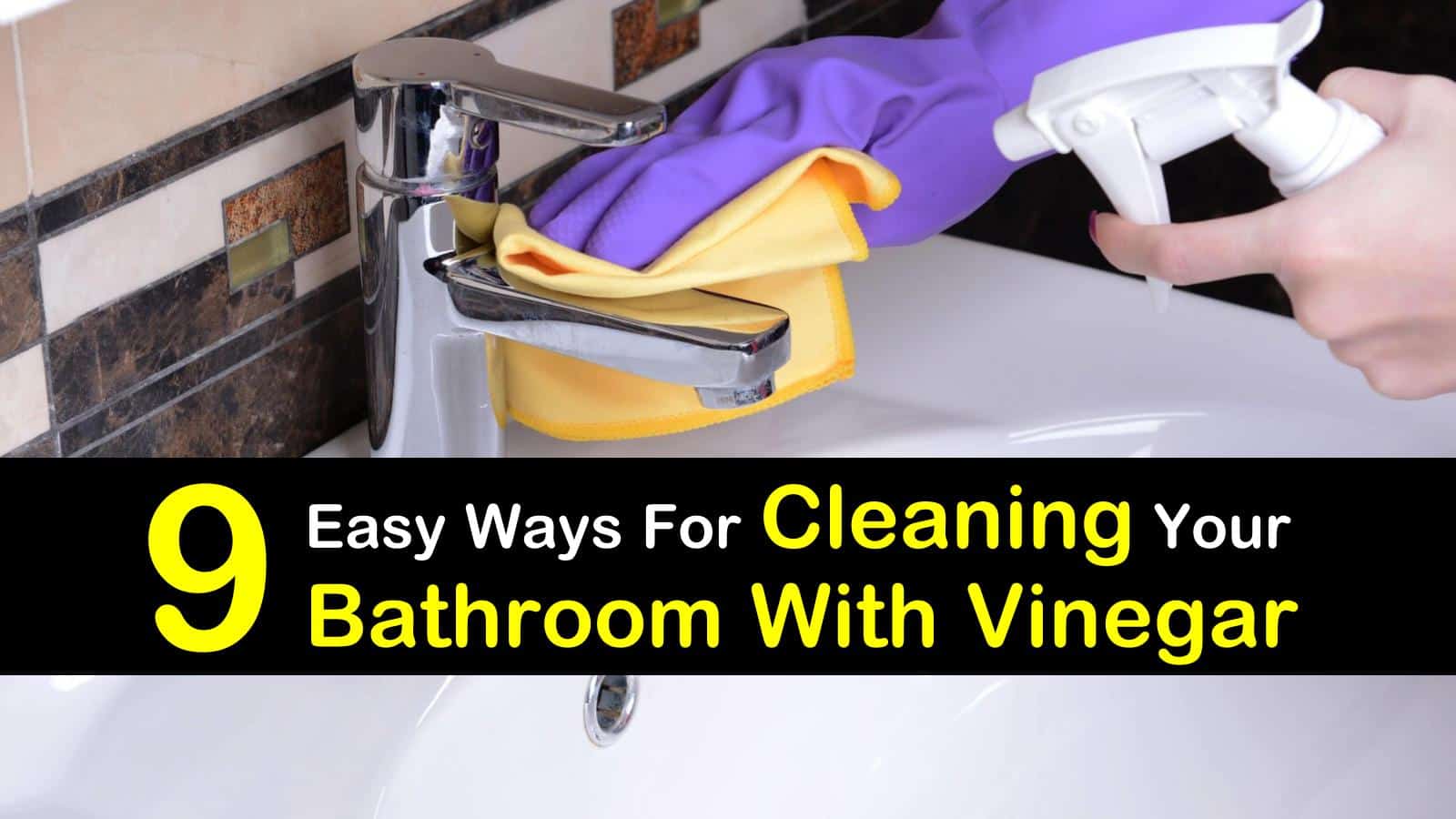 Tips and Tricks to Clean a Bathroom with Vinegar
With a cleaning solution using vinegar, you can get all of your bathroom surfaces shining and germ-free. Additions to your cleaner can include baking soda, water, essential oils, and more.
Cleaning your bathroom is easy and incurs little expense by using vinegar as the main cleaning ingredient for the toilet, tub, countertop, floor, sink, and shower.
Clean Your Mirror
There is nothing more annoying than a streaky and dirty mirror, but with a DIY mirror cleaner, you can tackle this problem with ease. Mix equal parts vinegar and water in a spray bottle for an easy white vinegar bathroom cleaner.
To clean your mirror and eliminate globs of toothpaste and smudges, spritz some of the vinegar and water solution onto the mirror and wipe with a microfiber cloth. The acidity of the vinegar cuts through grime and leaves your mirror streak-free!
Clean Your Shower Head
A dirty shower head can almost make your shower feel not as cleansing as it should. Luckily, white vinegar helps clean your shower head, as well. Disconnect the shower head from the hose. Pour straight vinegar into a plastic bag, filling the bag about halfway.
Place the shower head in the bag and tie it closed. Let the shower head soak overnight. Reattach the shower head and let the shower run for about a minute before taking your shower. Soaking is a great way to remove those pesky hard water stains and build-up and is an easy vinegar cleaning solution for bathroom messes.
Cleaning the showerhead may remove buildup of mineral deposits that can leave a smell behind. However, if your water has a high sulfur content, this may be a consistent problem. You may need to clean the showerhead more often to keep the smell to a minimum.
Clean Your Shower and Shower Doors
Your shower head isn't the only thing in the shower that needs cleaning. With a homemade vinegar shower cleaner, you can take care of the rest of your shower cleaning needs, too.
If you need to give your shower and shower doors a wipe, use vinegar, and rinse with warm water. The vinegar cuts through soap scum, mold, and water spots.
If you need a deep clean, or you have some particularly tough stains, make a shower scrub. Soak a soft sponge in white vinegar and sprinkle on some baking powder. The extra abrasiveness, paired with the fizzing action of vinegar and baking soda, makes those tough stains and soap scum come off much easier.
Clean Your Bathtub
Sometimes cleaning bathroom with vinegar alone won't do the trick and you might need a little bit more cleaning power. Bathtubs often gunk up quickly, so a quick vinegar wash may not be enough. Use one of these bathtub cleaners to help get rid of the build-up.
You need one part white vinegar and one part dish soap, preferably Dawn, to make a natural cleaner for bathtub. Mix the ingredients in a spray bottle and spray your bathtub. Let it sit for 15 minutes and rinse with hot water. Repeat if needed.
If you are still having trouble cleaning your shower and shower doors, this will work well on those, too. Cleaning hot tub filters with white vinegar is a great way to remove build up that is hard to reach otherwise. Remove the filter and spritz with the solution. Let it sit for a few minutes and rinse clean. Replace in the tub.
Clean Your Toilet Bowl
If you have hard water, you may need a toilet water stains cleaner to get rid of them effectively. To clean those unsightly stains and deposits in your toilet bowl and make it shine again, use vinegar to cut through the grime and muck.
Pour the vinegar, preferably "full strength" or undiluted vinegar, into a spray bottle. Spritz the vinegar around the toilet bowl, let it sit for up to half an hour, and scrub with a toilet brush.
To get that hidden build-up from under the rim of your toilet bowl, soak a few paper towels in undiluted vinegar and wedge them underneath the rim. Let them soak for several hours and use your toilet brush to scrub away the stains. This is an easy and low-maintenance vinegar cleaning solution for bathroom chores.
Clean Your Bathroom Faucets with Vinegar
Soak a rag in distilled white vinegar and wrap it around the head of your faucet. If you have separate knobs, do the same for them. This helps break down hard water stains and build-up.
You don't need to worry if you have stainless steel faucets, as you can clean those surfaces with white distilled vinegar, too! Pour some vinegar onto a microfiber cloth and wipe down the faucets along the grain of the stainless steel.
Clean Your Tile and Grout
All you need to clean your tile floors is a bucket of hot water (about a gallon) and 2 cups of vinegar. For a smaller bathroom, cut this in half. Mop the floors of the bathroom to give your bathroom a clean feeling.
If you have a tiny bathroom, use a sponge and get down on your hands and knees for cleaning grout with vinegar, as well as the tiles. You'll be able to more easily reach the corners and crevices that the mop may miss.
Sometimes you need a heavy duty tile and grout cleaner to get those tough stains out. After you've cleaned with the vinegar solution, mix 1 cup of hydrogen peroxide with 1 cup of baking soda to create a paste.
Spread the paste over any stained spots, let it sit for about 5 minutes, and then scrub away with a sponge and some warm water. Cleaning grout was never so simple.
Clean Your Drains
If your drains need a clean shine, plug your drain and fill the sink with hot water and two tablespoons of white vinegar. Let it soak for 15 minutes and release the drain. Wipe around the drain afterward. This low maintenance vinegar cleaning trick will keep that drain sparkling.
If there is an unpleasant odor coming from your drain, apple cider vinegar can help. Pour a ½ cup of apple cider vinegar down the tub or sink drain while the hot water tap is running to neutralize foul odors.
General Vinegar Based Bathroom Cleaner
If you want a multi-purpose cleaner for your bathroom, use this homemade cleaner recipe for cleaning bathroom with vinegar. It will help with counters, sinks, tile, and just about any hard surface and is great for bathroom disinfecting.
Mix the best all-natural bathroom cleaner and keep it in a spray bottle to cut through grime and mess in the bathroom in no time. Keep in mind, though, that tea tree oil is toxic to pets, so if you have furry friends, this may not be the best solution. Omit the tea tree oil for a similar effect.
If you notice mold or mildew on your tiles or grout, use this solution as bathroom grout cleaner to get rid of the toxic material. Both vinegar and tea tree oil are effective for eliminating the fungus and sanitizing the area.
While this recipe for cleaning with vinegar is listed here for taking care of the bathroom, you can also use it with great success in other areas of the home, as well.
The kitchen, hallway, and other rooms in the house can benefit from a DIY vinegar cleaner, too.
Cleaning the bathroom can feel like one of those chores that never ends. However, with this list of tips and tricks for using vinegar to clean bathroom, it doesn't have to be.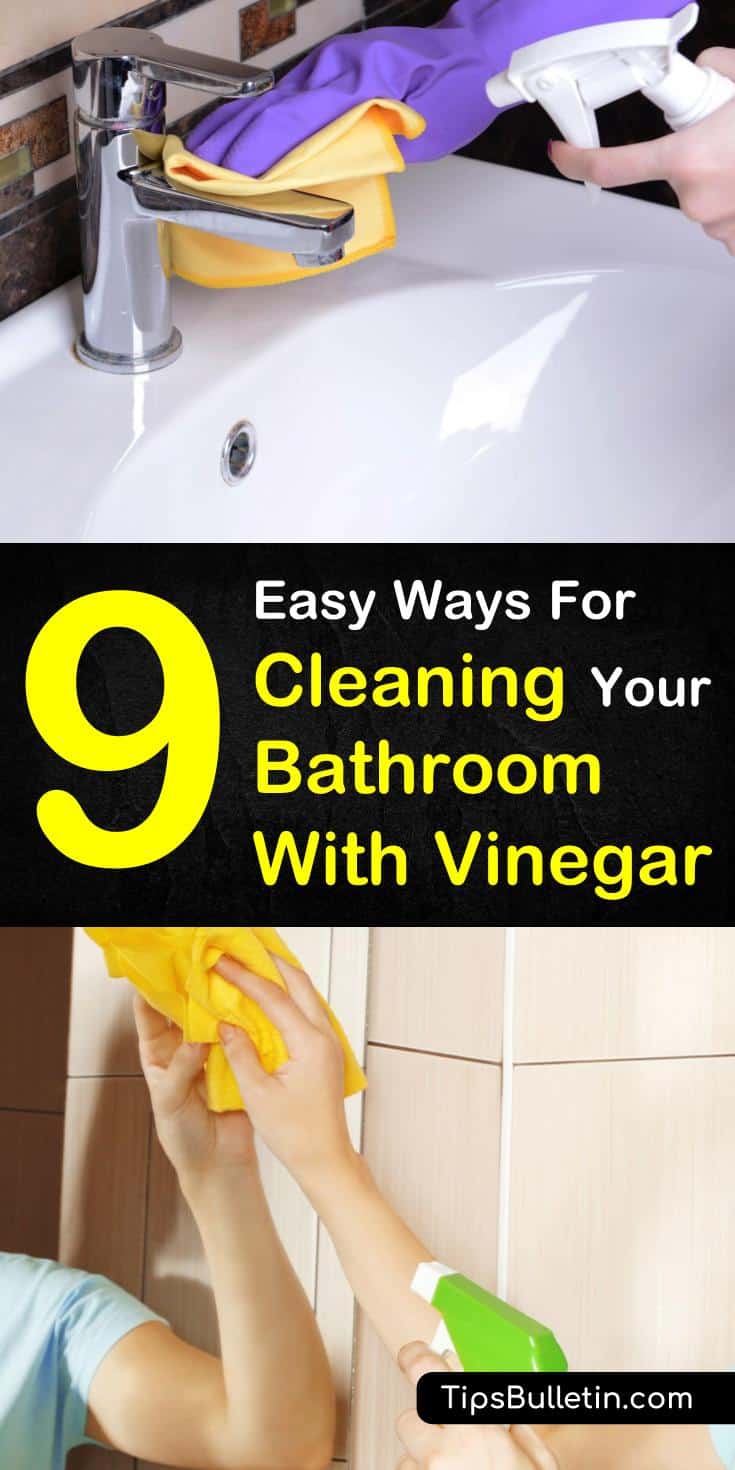 If you found these ideas for cleaning a bathroom with vinegar helpful, share these vinegar cleaning tips on Facebook and Pinterest.