Growing your very own vegetable garden saves you the hassle of sifting through countless unsuitable choices at the grocery store. It also gives you the added peace of mind of knowing exactly where your veggies came from. Surprisingly, some of the easiest vegetables to grow are also some of the most commonly used ingredients for all your favorite household dishes.
Making a salad is never more satisfying than when using ingredients freshly-picked from your backyard. With a setup like that, why wouldn't you want to start your own garden, complete with organic produce?
Just imagine the possibilities of what culinary creations you can make with vegetables like lettuce, peppers, and onions alone. All can be grown in the convenience of your vegetable garden and are easy vegetables to grow, even as a beginner.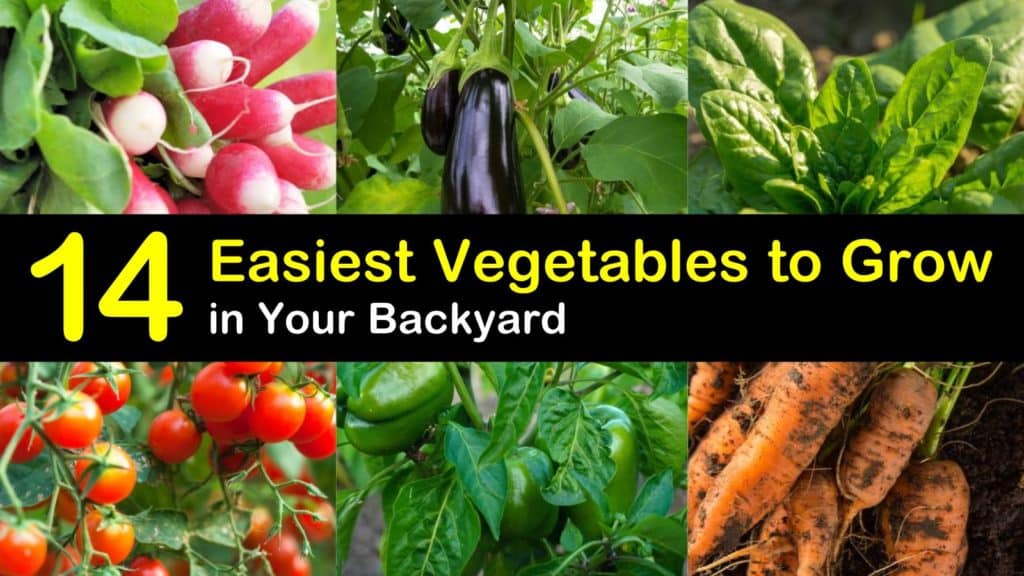 What are the easiest vegetables to grow in raised beds?
For those of you without a backyard, don't let that discourage you! There are also several varieties of vegetables that can be grown indoors or in containers.
Many gardeners can appreciate the convenience and order of raised beds when gardening, regardless of where they are on the learning spectrum.
Raised beds create a neat and tidy atmosphere in your garden and are especially great for those trying to regulate their gardens to one specific area of their yards, whether you are learning the way to plant peanuts or tomatoes.
Beyond that, they are an excellent deterrent for animals and pests, can prevent the infiltration of weeds better than traditional garden beds, and are especially great for those with knee and back problems. So what vegetables should you grow in raised beds? Most of the vegetables on this list will not only do well in a raised bed but will also flourish.
Vegetables like radishes, carrots, and tomatoes require firm control over soil conditions to thrive. Raised beds allow the gardener to control what kind of soil goes into his or her garden.
You can also regulate the quality of nutrients and keep the ground free of restrictive debris like rocks and other plant roots. Other vegetables like onions, and leafy greens like lettuce or spinach, prosper as a result of the excellent drainage raised beds can provide.
Although not included in this list, potatoes do well in raised beds, too. Growing yams, sweet potatoes, and white potatoes is similar.
How deep do you plant potato seeds? Keep adding earth over the potatoes as they grow so they are mounded under "hills" to protect the growing tubers.
Are there any vegetables that are deer-resistant?
A hungry deer will eat almost every vegetable or herb in your garden, no matter what you use to dissuade him. They even eat veggies that may be toxic.
What vegetables are easy to grow that don't encourage deer? The best deterrent for deer consists of plants with a strong odor or those with tough or prickly rinds. Onions, for example, are counted among those few deer-resistant vegetables and shrubs, since the deer can't stand the smell.
Fantastic and Easy Vegetables to Grow in Your Garden
The tough exterior of plants like the cucumber also makes it an unappealing meal for deer to eat. Vegetables like tomatoes and peppers, are from the nightshade family and are considered toxic for deer to consume, meaning deer will sometimes shy away from eating these, too.
If you have a bumper crop of any of your favorite veggies, it's important to learn how to store vegetables in fridge or the freezer. You can also can and pickle or dehydrate most vegetables, as well.
Green Beans (Phaseolus vulgaris): One of the Easiest Vegetables to Grow on a Trellis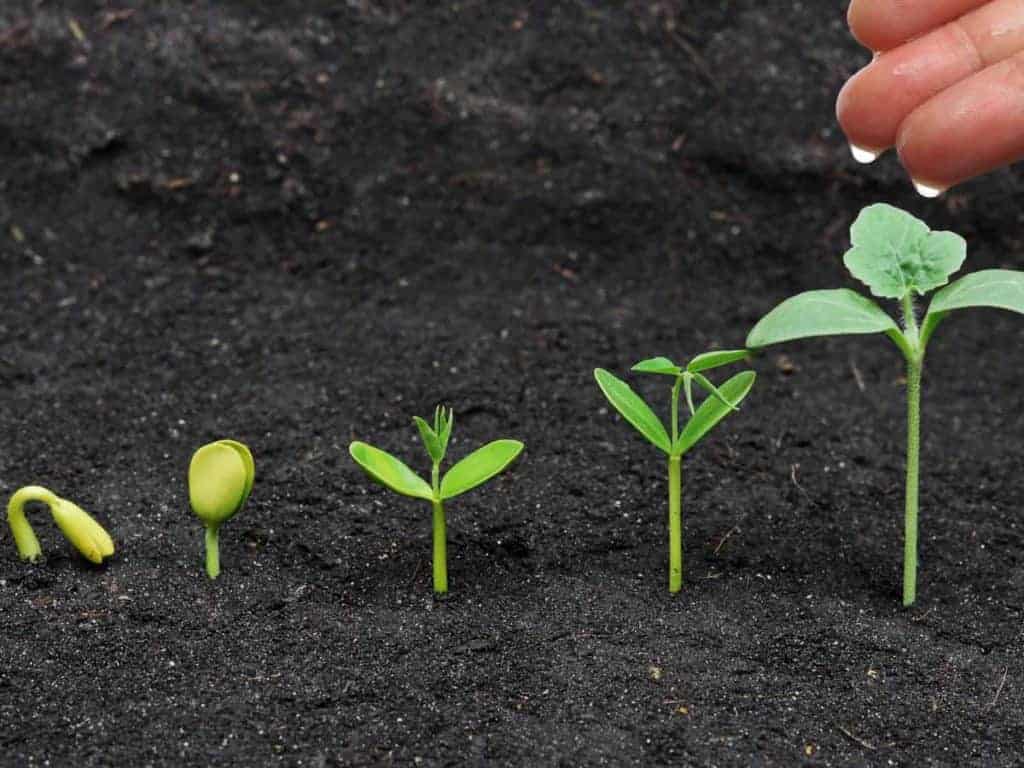 Green Beans, also known as String Beans, come in two main varieties: pole beans and bush beans. Which one you grow depends on your garden size and what you want in your garden.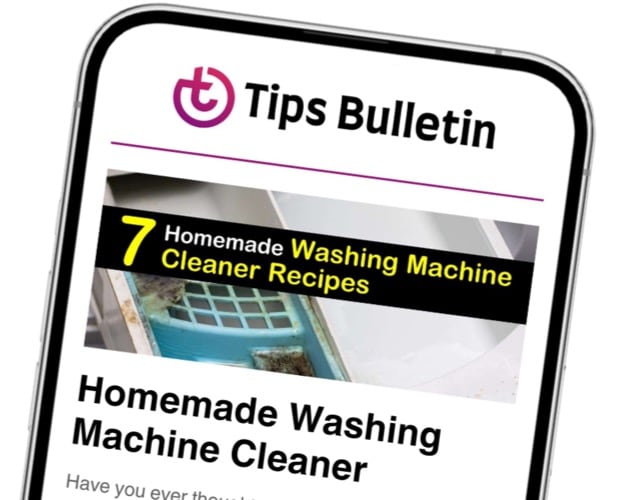 Finally, an email that Transforms Your Home.
Get the latest home and garden tips from our experts, delivered straight to your inbox.
Beans are some of the easiest edible plants to grow as long as you plant them in the right type of soil and give them the sun and water they require.
Bush beans are short plants that only grow to about two feet tall. Pole beans, on the other hand, can grow up to 15 feet high, with long creeping vines that require a trellis to prop them up. Both versions are warm season crops and produce a harvest that lasts throughout the entire summer.
Since green beans continuously produce a crop and are some fast growing vegetable plants, it is crucial to pick them as they ripen to make room for new pods. Green beans can take up to two months to mature when you first plant them, so start them in early spring to prepare them for a productive summer harvest.
There are a variety of delicious recipes to choose from to preserve your green beans, from canning to drying to pickling. Choose one or more for a variety to eat during the winter.
Leaf Lettuce (Lactuca sativa)
No garden would be complete without a few rows of lettuce to sustain it. Lettuce is easy to grow and is usually ready to be harvested within one month from planting it. This cool season produce does best in the spring and fall, like when to harvest broccoli, meaning as soon as you can break the soil, toss those seeds into the dirt.
Lettuce can also be grown in partial shade throughout the summer to prevent it from overheating. For those who want to start planting earlier, or those wishing to build an indoor garden, lettuce is also one of the easiest vegetables to grow indoors.
Lettuce loves loose soil that is cool and high in nutrients. Ensuring both the plant and soil receive enough circulation and sunlight, without drying out, is crucial. Keep the soil consistently moist, and use compost or other nutrient-rich fertilizer to keep it healthy.
After harvesting your lettuce, it's important to know about preserving lettuce so that you have it when you need it.
Do you know where to store lettuce? Storage options include refrigerating for short term use and freezing for longer periods.
Snap Peas (Pisum sativum)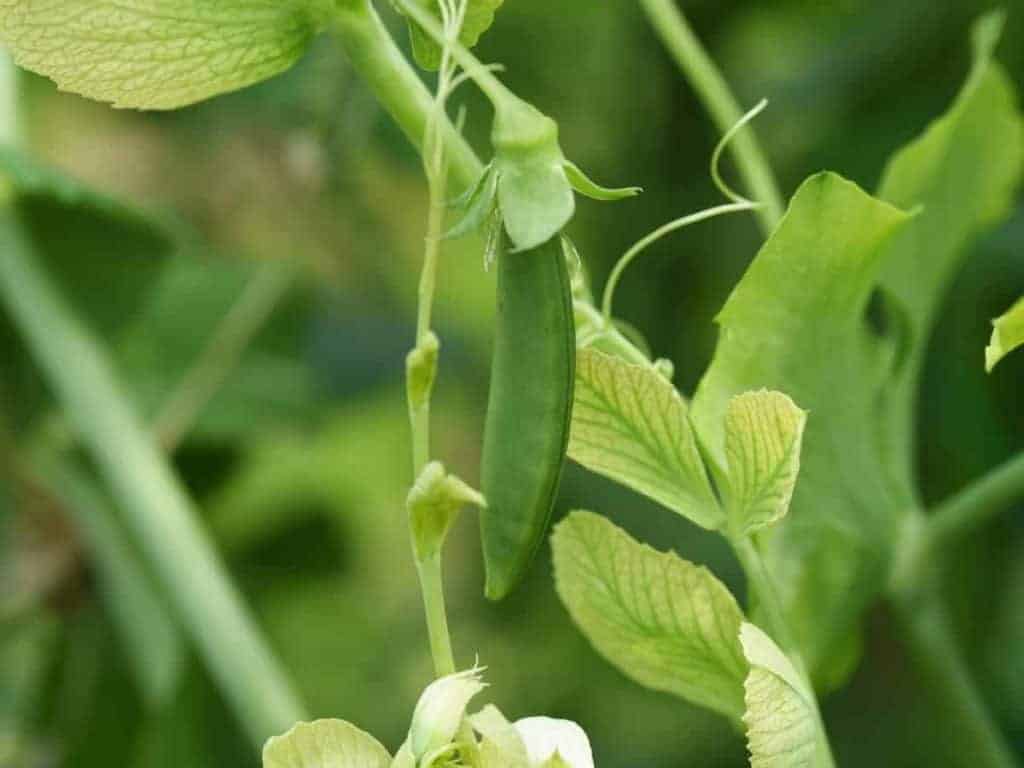 Like green beans, peas grow in the pole variety, as well as bush peas. Both types of peas, however, may require a trellis to keep them fully sustained during development. Pole peas can grow to as high as six feet tall, while bush peas grow up to only three feet tall but may still droop without some form of support.
The way to plant peas includes soil consideration. Moist soil is essential to maintaining the snap pea's healthy development. Placing a layer of mulch at the bottom of the snap peas soil helps lock in moisture. Gardeners should continuously check that the soil does not dry out.
Snap peas absorb vitamins and minerals by converting elements like nitrogen from the air into healthy nutrients. While it generally does this on its own, with the aid of beneficial bacteria, you can help this process along by adding soil inoculants to your garden.
Onions (Allium cepa): The Easiest Vegetables to Grow in Raised Beds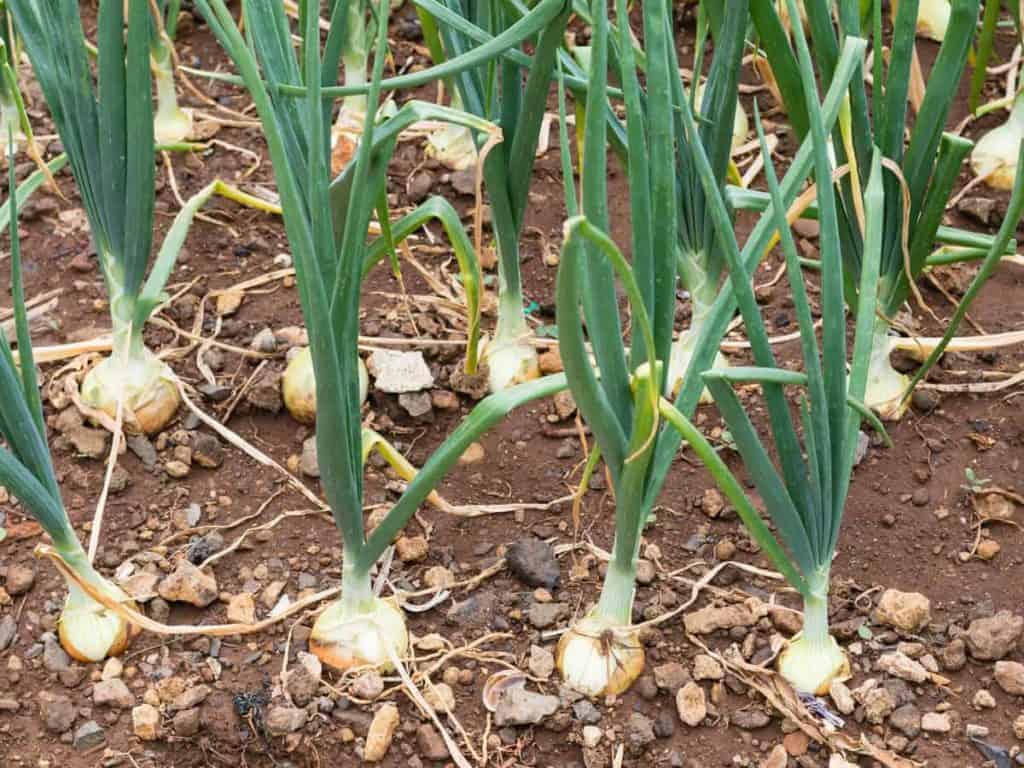 Another cool season vegetable, the onion is a spectacular plant for beginners, mainly due to its hardiness. Like lettuce, begin planting onions as soon as the soil thaws in spring. They are by far the best vegetables to grow in raised beds, needing plenty of nourishment, sun, and adequate drainage, to develop into healthy bulbs.
Planting them in a raised bed regulates their nutrient-rich diet, which begins long before you even plant the vegetable.Start by adding some compost or manure to the soil beds to prepare the soil for planting.
One of the important onion growing tips includes amending the soil with fertilizer. After you plant the onions, add nitrogen fertilizer to the soil every few weeks to ensure their required dosage of minerals.
Onions are ready to harvest when their bulbs begin to wither and yellow. Pull them from the ground and let them dry out in a nice sunny spot before adding them to your pantry.
Carrots (Daucus carota)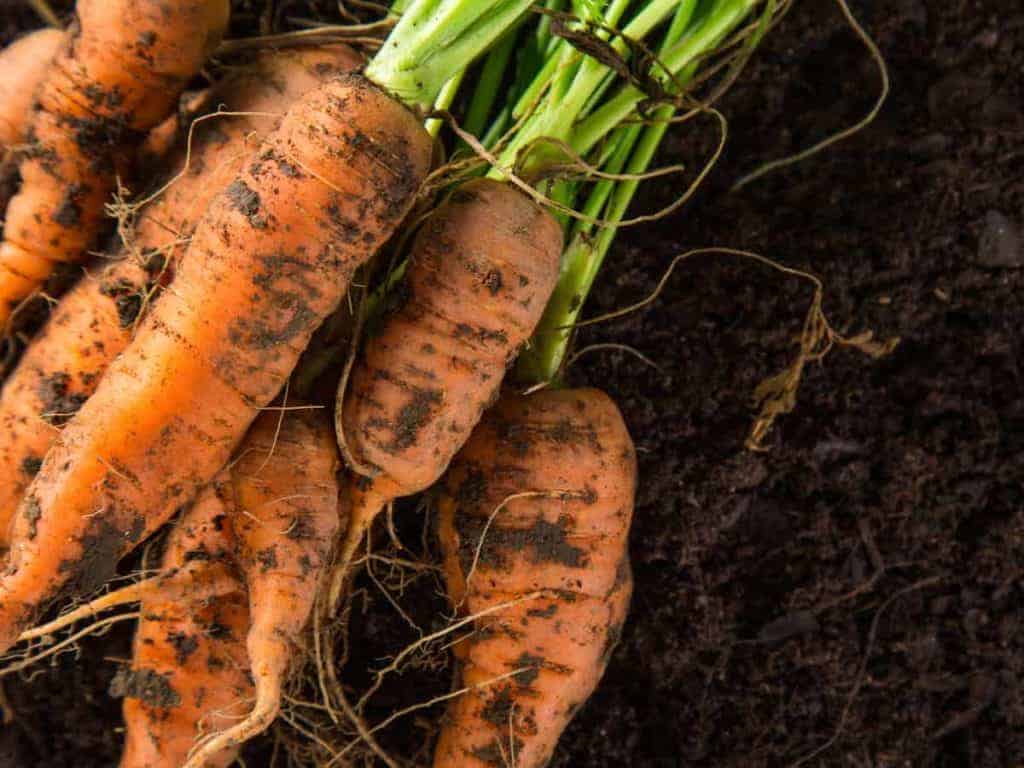 Who doesn't enjoy the crisp, fresh crunch of a carrot or two? They are the perfect addition to a pot-roast, stir fry, and a staple in many home-cooked meals.
This low-maintenance vegetable is also simple to plant and develops rapidly, usually within two weeks of planting. The same applies to different beet types.
As cool season vegetables, carrots develop best when planted in the spring and fall seasons. Carrots prefer loam soil that is well-drained and sandy. Since carrot seed is so small, you can mix them in a small dish with sand to make it easier to sprinkle onto the ground when planting.
The soil should be kept clear of debris like rocks, weeds, other plant roots, and even hard dirt. The root of the carrot, the part we eat, is particularly sensitive during its developmental stages and splits when faced with any obstacles during growth. This defect does not make for attractive produce, nor one that will grow into a healthy vegetable.
If you grow carrots in abundance, you can preserve them in a variety of ways. How to store carrots involves freezing, drying, canning or even leaving in the refrigerator for a period of time before using.
When do carrots go bad? If you notice mold or a slimy appearance on your carrots, it's time to toss them so be sure to eat them or store them properly before they get to that stage. Keep carrots fresh by storing them in your root cellar or wrapped in plastic in the crisper drawer of the refrigerator.
Cherry Tomatoes (Solanum lycopersicum): Fantastic Veggies to Grow in Containers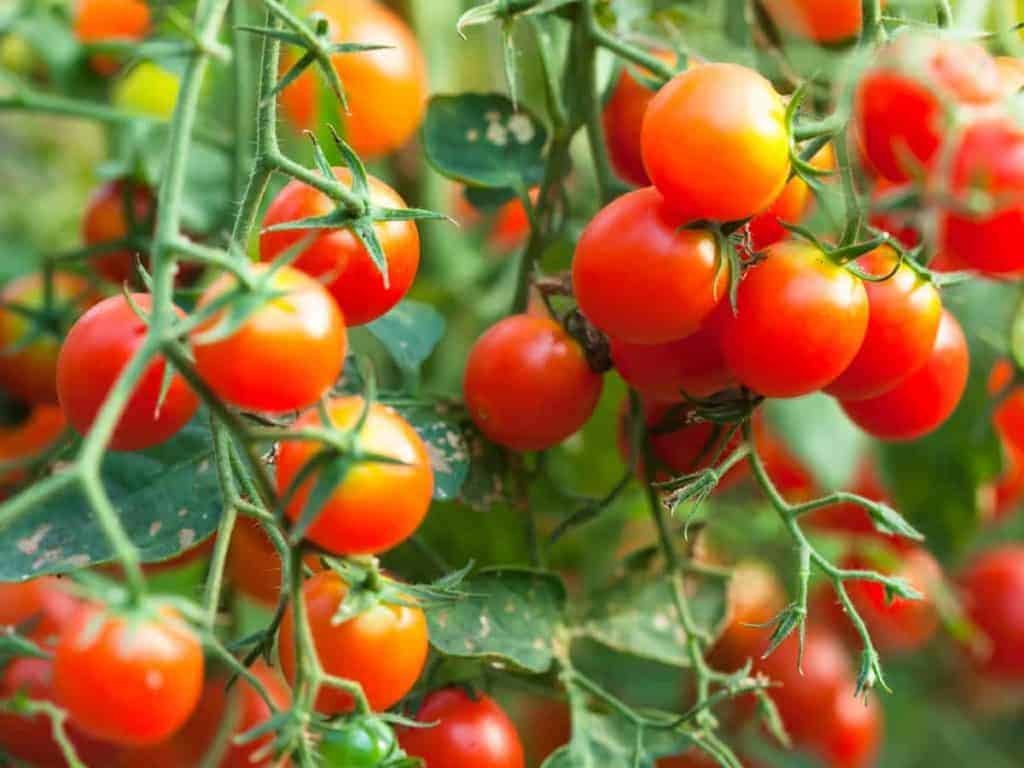 Like when planting tomatillos, cherry tomatoes are an excellent option for anyone wanting to grow plants indoors. While growing tomatoes outside in vegetable gardens is easy, they can thrive in partial shade and can grow indoors as long as there is an adequate light source. Once the product has reached maturity, it ripens better in less light than it does in full sun.
If you're growing potted plants like tomatoes inside, choosing a container that's the right size is crucial.
Cherry tomato plant spacing is important. While cherry tomatoes need plenty of room to grow, a pot that is 20 inches in diameter will be more than enough. Finding the right balance of nutrients in the soil will also help the tomato plants grow properly and give you a nice yield.
When growing tomatoes outdoors, know how far apart to plant tomatoes in a raised bed so they are not too crowded. Plants too close together do not produce as many tomatoes and are more susceptible to disease and pests.
Potassium, for example, protects tomato plants from common bacterial diseases that often attack plants from the nightshade family. Low amounts of nitrogen paired with high levels of phosphorus, on the other hand, assist with the plant's developmental growth.
Learn when to harvest cherry tomatoes for the ripest and freshest specimens. Eat them right off the vine or add them to a salad or other recipe.
Bell Peppers (Capsicum annuum)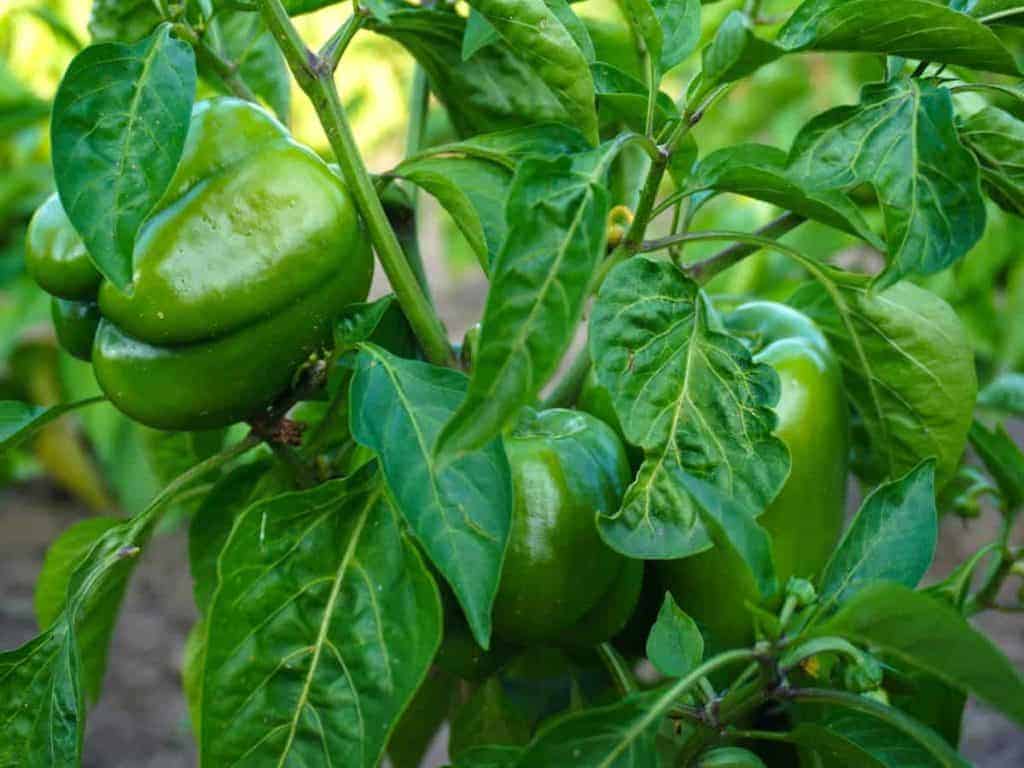 Bell peppers are warm season vegetables that share a long and complicated relationship with their family members: tomatoes. Being from the same family of nightshade vegetables, tomato plants and most peppers make excellent companions in the same plant bed.
They require many of the same soil treatments, maintenance, and nutrients to survive, and do best in a home with proper drainage. This similarity also means they are susceptible to the same diseases, making it a questionable choice to plant peppers as a replacement after uprooting an unsuccessful tomato plant.
This weakness is mainly due to the potential to pass bacterial diseases from one plant to the other, assuming the removed plant had suffered from such a condition. Taking the added precaution of checking your plants for infection, especially before removing and replanting similar plants, lowers the potential to pass on harmful bacteria.
Swiss Chard (Beta vulgaris)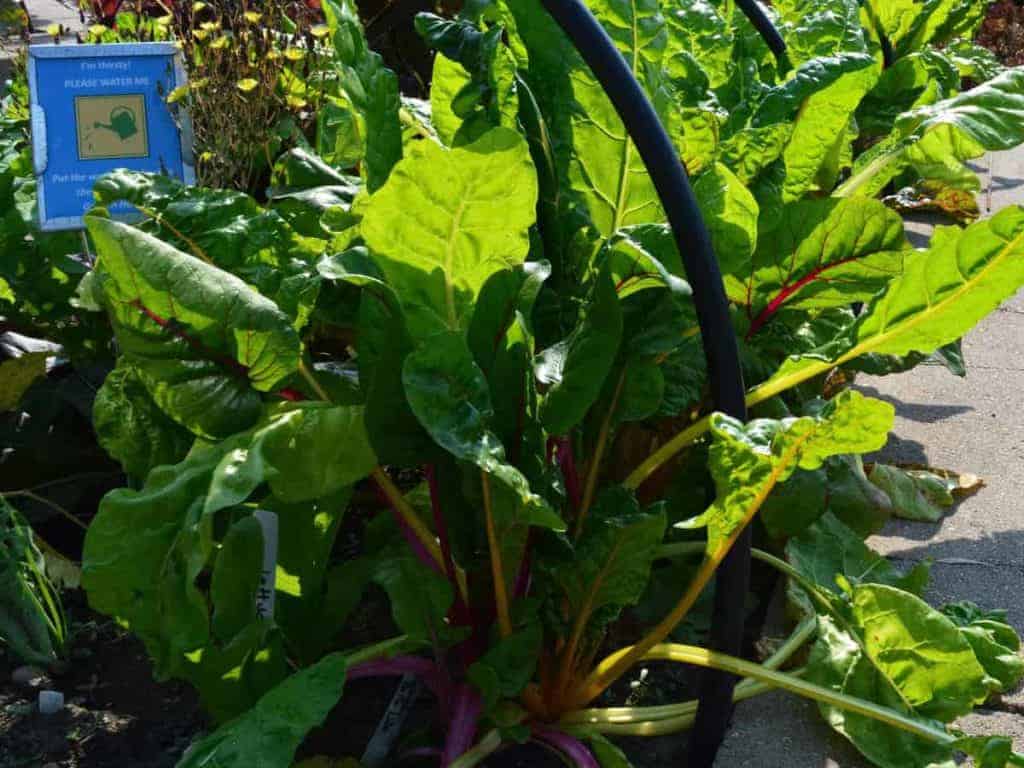 Even though Swiss Chard looks closer to lettuce or spinach, it is actually related to beets and is just as easy as growing beets. A cool season vegetable, it tolerates both cool and warm weather, but typically is grown in the spring for harvest in summer.
In growing in southern or warmer states, like California or Florida, the way to grow Swiss chard is to consider planting in fall instead and harvest the crops in the springtime. The crops can be collected when they are at least six inches tall but no longer than when they reach 12 inches to preserve their taste.
Chard flourishes even without fertilizing, can be grown in containers indoors, and requires just enough water to keep the soil moist. It won't leave you stressed from testing pH levels and soil quality, making it among some of the most low maintenance bushes and shrubs.
How far apart to plant Swiss chard is important, too. Ensure there is enough room between the veggies for them to spread out.
Summer Squash (Cucurbita pepo): Easy Vegetables to Grow with a Variety to Choose from
Summer squash comes in a variety of different sizes and shapes and is known to us by many names. Among the members of the summer squash species are zucchini and pumpkin. Surprisingly, both vegetables are squash plants from the species, Cucurbita pepo, even though we tend to recognize them as being completely separate species.
No matter which candidate you choose, maybe zucchini for eating and pumpkins for festive, fall ambiance, both are tended to in the same way. Both require a ton of space, so spreading them out as much as possible when planting is ideal.
Provide them with warm soil that is well-drained and packed full of nutrients. Plant the summer squash in mid to late summer, when the soil is warm enough, to prepare them for a fall harvest.
As a bonus, if you have an overabundance of squash, you may want to preserve it. Refrigerate squash either raw or cooked for several days if you plan to eat it quickly.
Can you freeze zucchini and other kinds of squash? Yes, freeze zucchini to eat in the winter months to use in your favorite recipes.
Cucumbers (Cucumis sativus)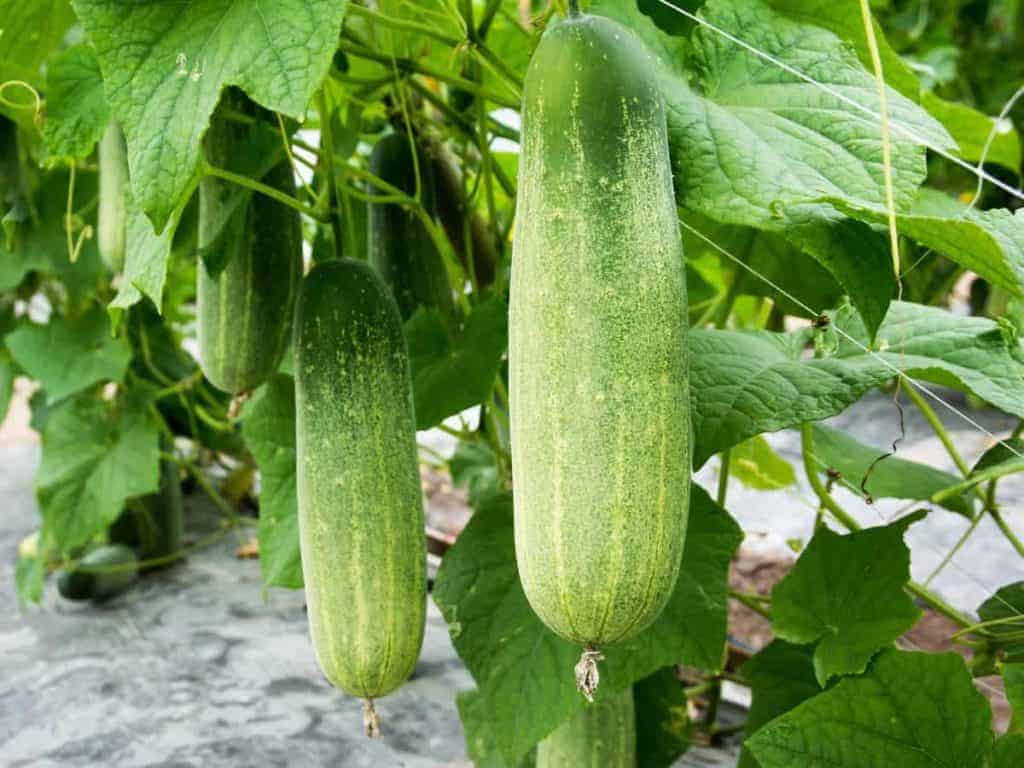 A fantastic addition to your garden when growing your own food for the first time is a cucumber plant. The key to successfully developing cucumbers comes down to the soil temperature. Cucumbers are tropical plants, which means cold weather is not their friend.
They enjoy hot weather, warm soil, and plenty of water and will not even grow unless the ground is above 70° in temperature. For areas with colder weather, growing cucumbers in pots indoors is also a possibility, as long as the soil is kept warm and the plant receives enough sunlight.
Whether you grow cucumbers in a container, inside or outside, vine cucumbers require a trellis or pole to support them. Like beans and peas, cucumbers come in both bush and vine varieties, though vining cucumbers are more common in gardens since they produce more crops than bush cucumbers.
If you end up with more cukes than you can eat before they spoil, learn the way to pickle vegetables so that you and your family can enjoy this delicious veggie year-round.
Hot Peppers (Capsicum frutescens): Simple to Grow Veggies with a Kick!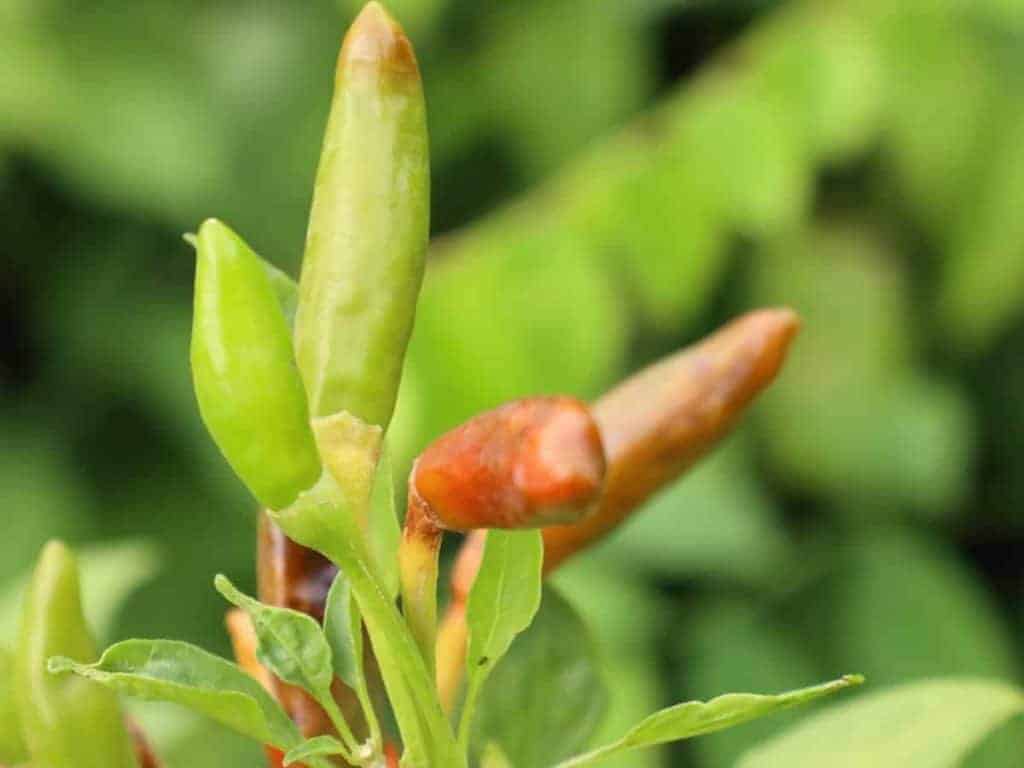 When you want to grow vegetables that will not only make your mouth water but your eyes too, hot peppers are your best choice. These peppers require a little more work than their bell pepper brethren but are the perfect vegetables for container gardening indoors.
Many gardeners initiate the way to grow cayenne peppers inside several weeks before they plant peppers outside. This technique is due to the lengthy time between planting and maturation, approximately five months long.
Hot peppers also love to be planted close together, another added benefit to planting them in containers. No matter if you plant them indoors or outside, make sure the soil is well-drained and kept moist. Think about how much water you're going to need when you eat these veggies, and your pepper plants are going to be just as thirsty.
Spinach (Spinacia oleracea)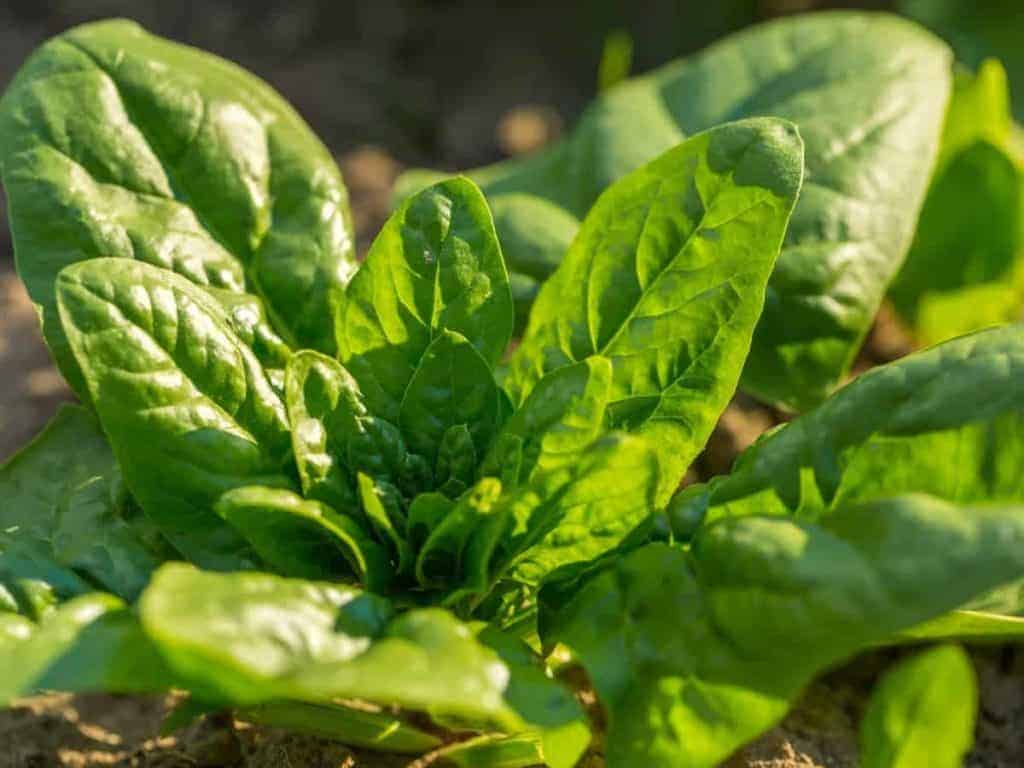 Another tasty plant to add to your salad greens is spinach. Like many of the other leafy vegetables, spinach varieties require minimal maintenance and can be grown indoors in containers. Spinach needs six weeks of cool weather to grow well, meaning gardeners should plant seeds as soon as the first spring frost has passed.
As one of the easiest veggies that grow in shade, for gardens with too much light, plant them with taller plants or near trees to shade them. Spinach does not tolerate hot weather, which is why in warmer climates it is generally replaced with Swiss Chard in summer.
Keeping the soil moist and rich in nutrients like nitrogen produces more healthy leaves to pick and lengthens the period of the growing season, as well.
Radishes (Raphanus raphanistrum)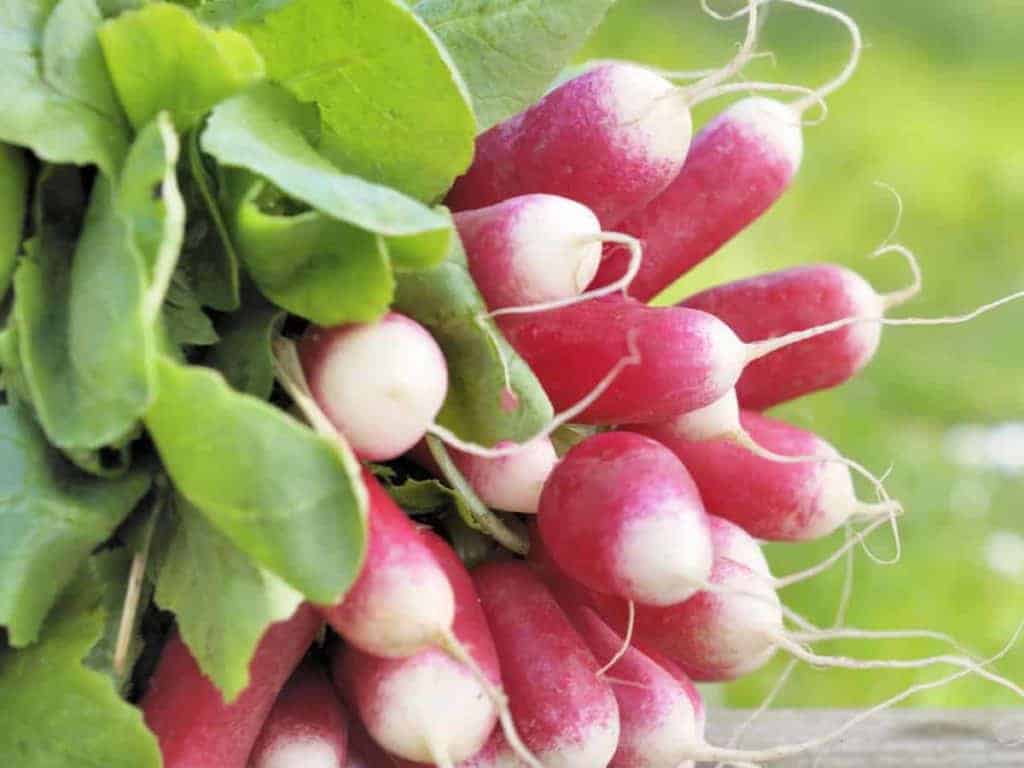 Radishes are another wonderful vegetable for beginner gardeners. Because radishes are root vegetables, like carrots, plant them in loose soil free from debris and pebbles. Water the plants as necessary, making sure to keep a balance of the level of dryness in the ground.
Unlike many vegetables, moist soil is not needed to sustain radishes. However, soil that dries out does not benefit them either. Radishes typically grow within three weeks after you sow seeds. If you were wondering what vegetables to plant in fall, radishes are an ideal candidate.
To see if they are ready, loosen some soil from around the tops of the plants. If the radishes are at least one inch in diameter, they are ready to be harvested. Always test them with a little nibble first, however, before uprooting your entire crop.
Eggplants (Solanum melongena): Tasty Tropical Veggies Perfect for Beginner Gardeners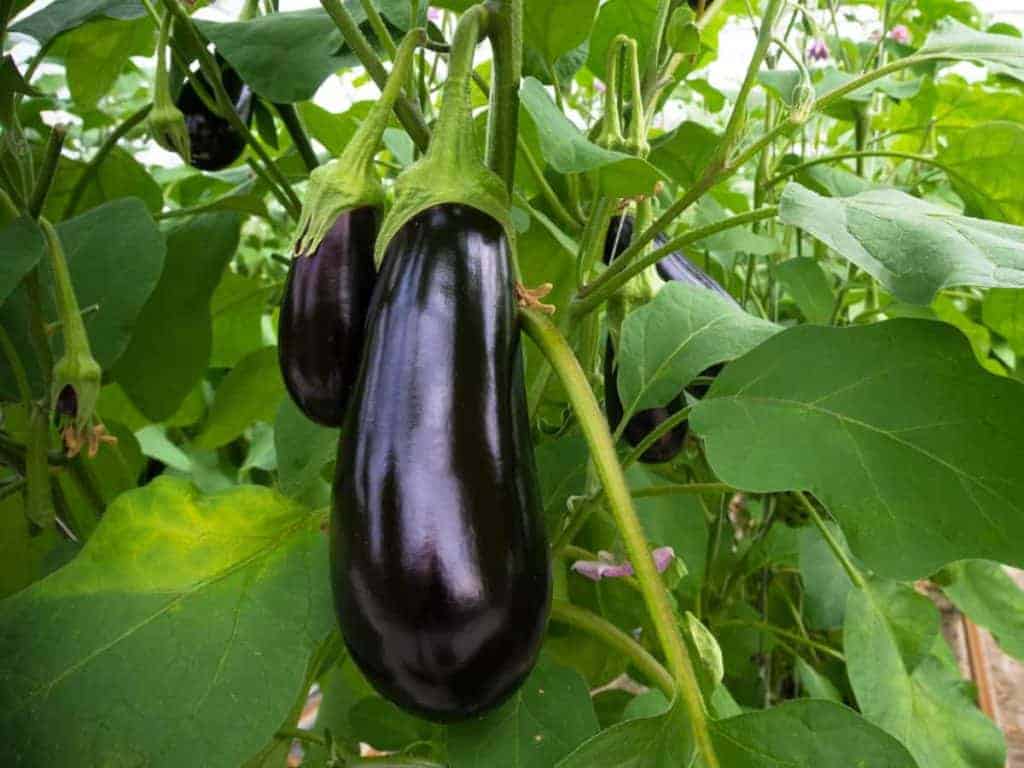 The eggplant is another tropical veggie that loves the heat, bright sun, and warm soil. Similar to hot peppers, the planting process of this vegetable begins inside several weeks before transplanting them to the garden.
Eggplants require warm soil with a temperature of approximately 80° being ideal. Because they can take over 100 days to reach maturity, and require such high temperatures for so long, grow them indoors in containers for the early stages of their development.
When moving them outdoors, a raised bed is the best way to develop them, since this will heat the soil much faster than traditional planting. Keep eggplants thoroughly watered with enough mulch to retain moisture to secure a successful harvest. Use the right eggplant fertilizer to ensure you get tasty fruits at picking time.
Now that you know what types of veggies to grow, nothing is stopping you from planting your own little patch of delicious produce. Whether in your yard, the porch, or even in a container safely perched on a windowsill, starting your vegetable garden has never been more accessible.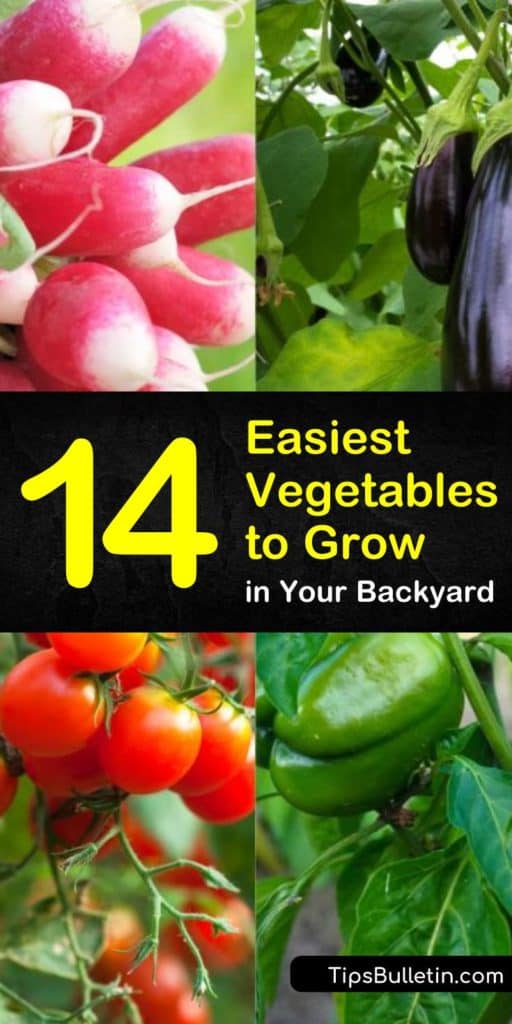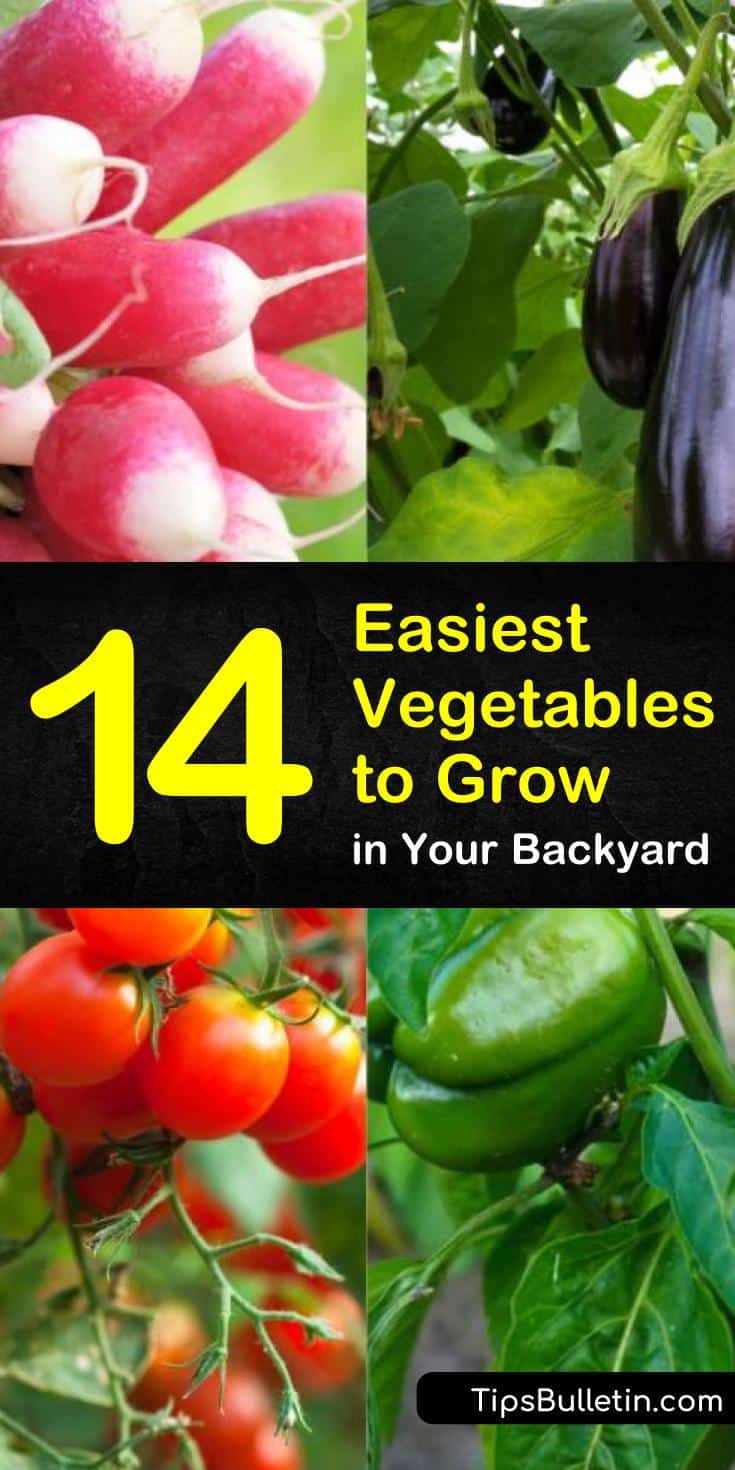 Hopefully, you enjoyed reading about these fun and easy vegetables to grow in your garden as much as you'll love planting them at home. If so, remember these easiest vegetables to grow in your backyard and share them with friends on Facebook and Pinterest.